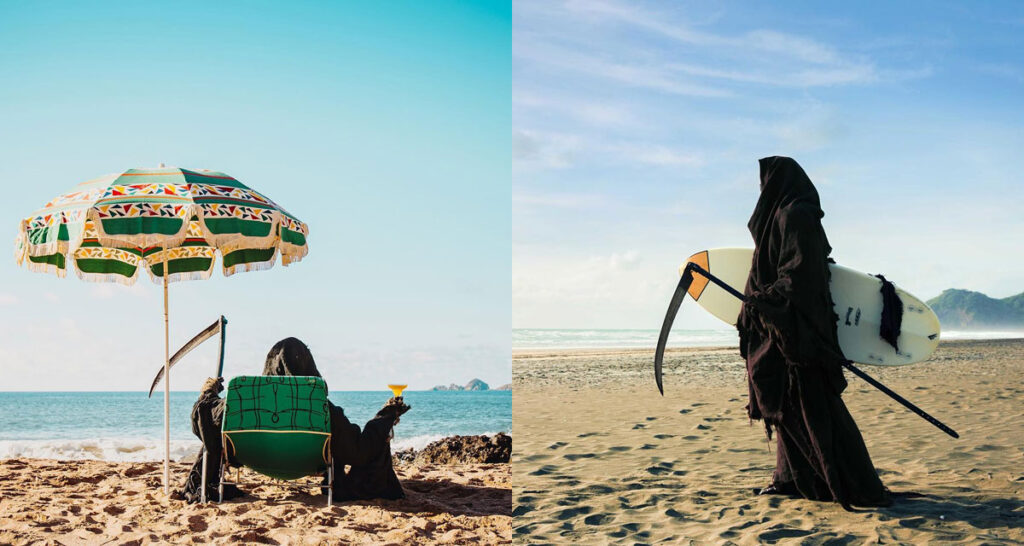 Death enjoys some fun in the sun in these hilarious reminders to stay safe at the beach.

The Swim Reaper
This is what I feel like when I go to the beach. But you can still enjoy the summer even if you're dead inside, right?
The Swim Reaper is a hilarious Instagram account featuring death enjoying some fun in the sun, from enjoying a pina colada with little umbrellas or playing some beach volleyball to floating in an inflatable flamingo.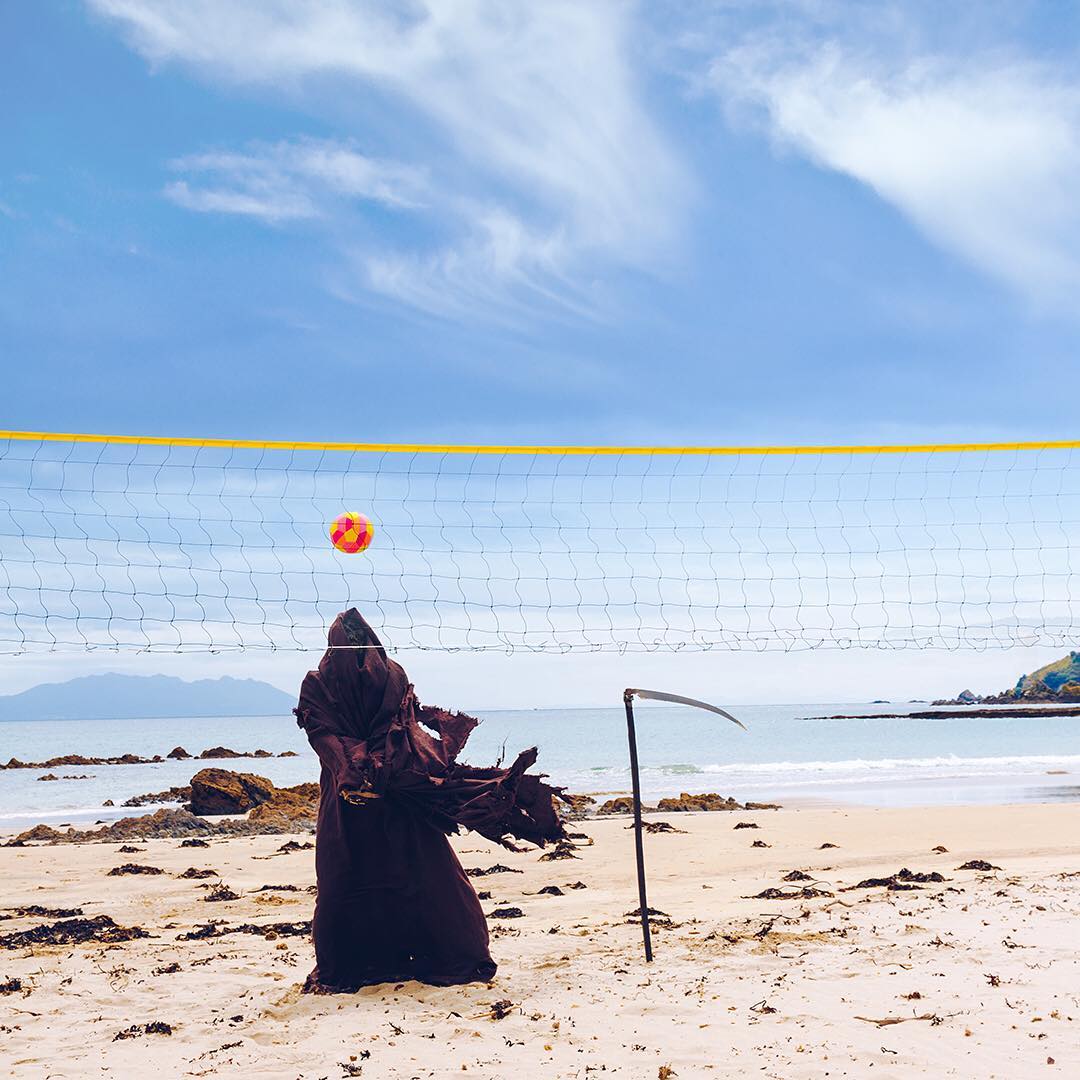 The Swim Reaper was started a few years ago by a group called Water Safety New Zealand to help prevent water-related deaths among men between 15 and 30 with the tagline "Swim dumb and you're done." In case you're not sure what dumb swimming might be, the website features some reminders:
Yeah, calm spots on surf beaches are rips. And yes, they are a free ride to the bottom of the sea. But it's BYO oxygen and you're fresh out.
And:
Think togs aren't your scene? You could always throw on some jeans. At least you'll get in some good cardio as you struggle to stay afloat.
Follow the Swim Reaper's summer hijinks @iamtheswimreaper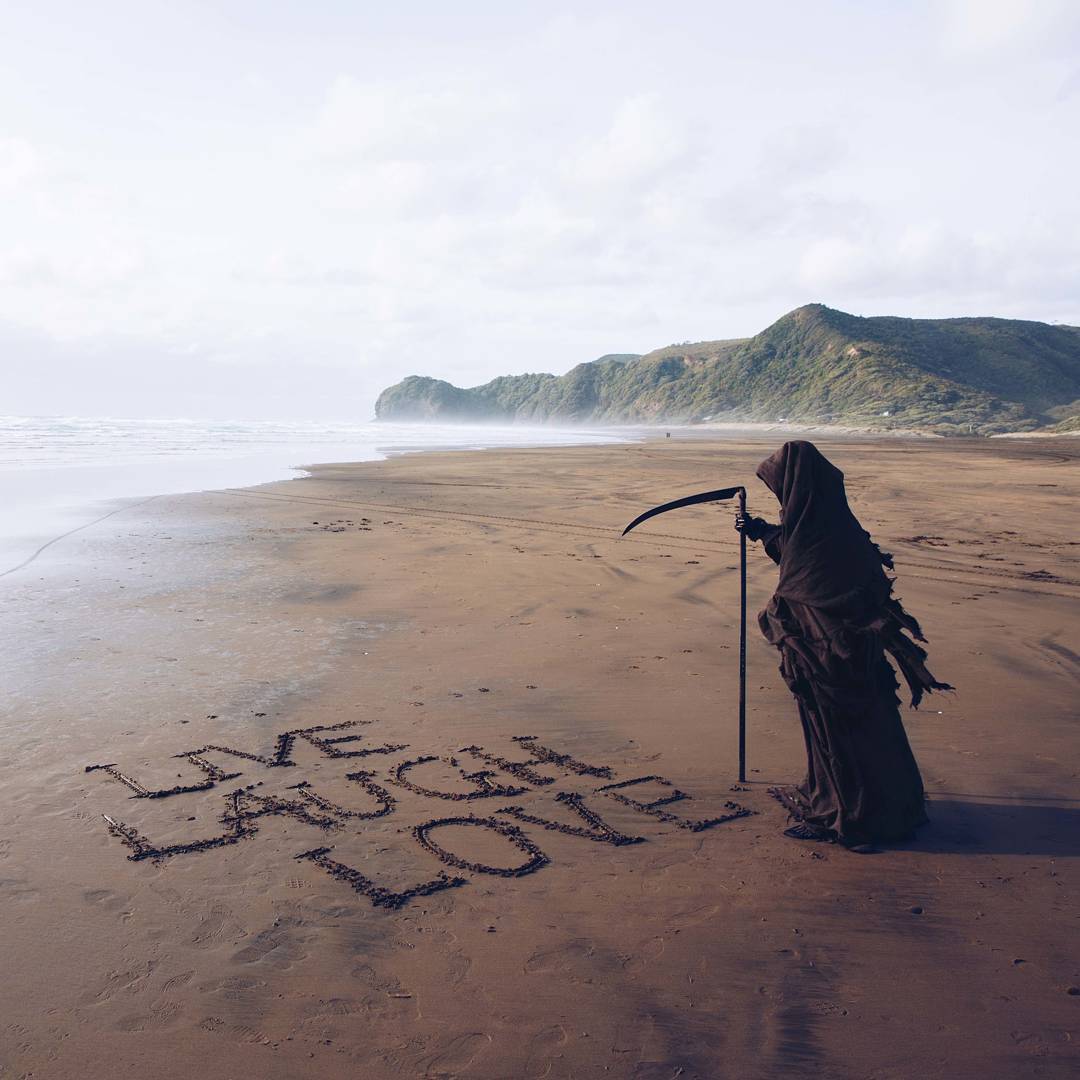 Too much karaoke gives man a collapsed lung
Image Credit: PD – Kane Reinholdtsen
Too much karaoke can be bad for your health. 
A man in China recently ended up in hospital after an evening of belting out songs caused his lung to collapse.
For most of us, the ordeal of singing pop songs in front of an audience is punishment enough, but for one man in China recently, singing karaoke almost had fatal consequences.
The 65-year-old, who has been identified only as Wang, sang at such intensity and for so long that he started to experience difficulty breathing as well as pains in his chest.
When he visited a hospital the next day, doctors discovered that his lung had literally collapsed "because of the high lung pressure caused by singing high notes."
The condition, which is known as pneumothorax, happens when air is rerouted into the area between the lung and the chest wall, putting pressure on the lung and causing it to collapse.
It is believed however that Wang must have had a pre-existing condition beforehand.
"Typically, a collapsed lung requires some degree of architectural abnormalities within the lung," said Dr. Enid Neptune at Johns Hopkins School of Medicine in Baltimore, Maryland. "An absolutely, totally normal lung usually doesn't suffer spontaneous pneumothorax in the absence of trauma."
Source: Live Science
Creepy Dolls Mysteriously Appearing in Missouri are Unexplained and Spreading
"All the dolls look similar. They are very realistic. People living in the community said it is not only the dolls that are creepy but where they are placed that is strange."
The crime reports out of Festus – a small town on the eastern border of central Missouri – usually look like those of any other small municipality … DUIs, break-ins, noise complaints, etc. Residents may be referring to those as "the good old days" now that the city is in the throws of a mysterious epidemic of creepy dolls appearing in odd places that is keeping people and their kids indoors and the police on alert.
"When we found this one, it was laying in front of our building. We picked it up and it was the doll, they've been hanging on top of stop signs, laying in front of the license office."
The worried residents of Festus told local media they're finding the dolls on the ground, on the tops of road sign, hanging from light poles, leaning up against a building and other strange spots. The locations aren't the only creepy part – the dolls are sometimes carefully placed to appear to be small children – sitting, leaning against a wall, on the ground as if they fell, etc. (Video here and photo here.) That causes concerned witnesses to stop and see what's going on, says police chief Tim Lewis.
"If you were to see it from behind it looks like a little girl. If you're out and about and you see that, it looks like a little girl crying, against a pole and someone is going to stop," he said. "In this town, people are good-hearted. People are going to stop to make sure that's not a child. They are going to get hit or they are going to get run over and then you're dealing with a catastrophe."
It's bad enough when they realize they stopped for a doll. What's worse is when they flip it over and find the doll has no face. Some have no heads at all. The doll leaning against the building had its hands sewn to its face. Many of the dolls appear at busy intersections, causing traffic jams. Others are in remote locations. No matter where they are, no one has seen (or admitted to seeing) who puts them out. Some have quickly disappeared and no one seems to have seen that either. Chief Lewis suspects the culprit or culprits are hiding, watching the commotion and laughing. While the number incidents have gone down, local station KSDK reports that at least one creepy doll has appeared in nearby Crystal City.
"Dolls are just creepy in general to me. I don't like them."
Resident Logan Galczynski probably speaks for many people who feel the same way about life-sized dolls as they do about clowns. Some think it's linked to the new Annabelle movie, but it could be something more sinister, like the so-called voodoo dolls found last year all over the Russian town of Zavetny. Those were the size of adult store mannequins but dressed like school girls. The voodoo part comes from the dolls being pierced by needles, some threaded. That thread finally help investigators determine that the dolls were once used in puppet theater, then donated to a museum, threw them out (too creepy?) but they were found and given to a school, which also threw them out (definitely too creepy for school) but someone found them in the trash and began placing them around town. That culprit was never caught.
Are the residents of Festus and now Crystal City doomed to deal with the dolls forever? Will they desert their towns, leaving them to the dolls like the island of haunted dolls in Mexico known as La Isla de las Munecas? Perhaps Logan Galczynski is right.
"Dolls are just creepy in general to me. I don't like them."
Source: Mysterious Universe
World's largest frog builds its own ponds
Image Credit: Marvin Schafe
Imagine finding this in your back garden.
The goliath frog is so ridiculously enormous that it is capable of building small ponds by moving rocks.
The species, which is found only in Cameroon and Equatorial Guinea, weighs in at a whopping 3.3kg.
Due to the frogs' remote location not a great deal is actually known about them, but now, a new study published in the Journal of Natural History has revealed one of the more unusual traits of these gargantuan amphibians – their ability to move rocks around to form their own little ponds.
These small bodies of water are used by the frogs to help protect their vulnerable offspring.
"Goliath frogs are not only huge, but our discovery shows they seem to be attentive parents as well," said study team member Marvin Schafer.
"The little ponds they make at the edges of fast-flowing rivers provide their eggs and tadpoles with a safe haven from sometimes torrential waters, as well as from the many predators living there."

"We think that the heavy work they put into excavation and moving rocks may explain why gigantism evolved in these frogs in the first place."
Source: Geek.com