Death Categorization Drives Healthcare Decisions
By World Mercury Project Guest Contributor Joy M. Fritz, posted here with permission.
I work with doctors, coroners and the local county registrars every day to create death records. It's what I do for a living and I wanted to share my thoughts on the mortality rates being thrown around on mainstream and social media regarding the influenza epidemic. Please note: This information I am sharing is not limited to influenza reporting, but rather, serves as a case study of how the mortality rate recording system (mal)functions at large.
I am sorry to say that death rates are NOT as simple or as valid as every news broadcaster with perfectly-trained vocal delivery makes them sound, and they are absolutely not the infallible pillar of medical history that the CDC purports.
This failed mechanism in the mortality rate 'generator', if you will, is the same for the hotly debated adverse vaccine reactions. This is the reason you see horrible adverse vaccine reactions and deaths being claimed by parents on social media, but no line item for them in national statistics.
An Imperfect System
Our current system for capturing mortality rates can and does provide a mostly uninvestigated and inaccurate picture of what causes a death. The process for creating and registering causes of death for public records is a complicated, convoluted, and politicized one. It is completely open to both ignorance and the manipulations of personal, professional, and governmental interests.
I have come to realize how greatly this reality becomes a public health issue during this current flu season when every major media outlet is providing us with live updates on the accruing death toll. Seeing these reports caused me concern for my family. My husband and I discussed what preventive treatment we might consider. I started reading the FDA package inserts for different flu immunization options to get informed on which might be safest for our infant and six-year-old. What I ultimately wanted to investigate was the risk of death. My kids getting sick is just part of life; other people getting sick is just part of life; lowering the risk of death to my family and the people around me is what I cared about when it came specifically to the seasonal flu.
The process for creating and registering causes of death . . . is completely open to both ignorance and the manipulations of personal, professional, and governmental interests.
I started researching mortality rates to find the line item in the CDC reports for "deaths due to influenza" vs. "adverse reaction to influenza medications and immunizations". I found influenza rates, no problem. Flu medications and shots? No deaths reported. Awesome. What a simple decision to make! But, being in the mortuary industry and curious about how they get these reports, I looked at the last full report for 2014, dug deeper, and eventually found that they simply code and reorganize the data that they receive from death records—the very death records that I am typing up and registering every day.
So my head started to explode. And I felt, and still feel, sick. I realized that without being aware of it, I knew exactly how influenza deaths are recorded, and why there was no line item in the CDC's mortality rates for adverse reactions to common medical treatments.
Before I continue, please know that I will not be explaining all the ins and outs of my job, nor the incredibly rare reality that medication complications and adverse reactions do get captured (usually in box 112 of the death record, not as the primary underlying cause). Those exceptions are made possible by exceptional, and likely, very principled people, choosing individually to go above and beyond the call of protocol, whether that be the family that is aware of the impact of the legal documentation that occurs after death and stays level-headed and involved mere hours after the death of their loved one, or an insanely humble and honest doctor, in conjunction with the coroner medical-legal officer who trusts and cooperates with the honest doctor and vigilant family to think outside the box of their standard procedures. Almost five years and nearly 5,000 death certificates later, I can say with confidence that that kind of post-death communication concoction is at a statistical percentage point that even the CDC would consider insignificant.
What most people don't know is that doctors are not allowed to attest to anything that is not a strictly NATURAL cause of death.
Core Considerations
So, in the spirit of very uncomfortable truthfulness, I will share a snapshot of the core issues embedded in the daily procedures of creating the death statistics that we so desperately need to make prudent health decisions for ourselves and our families. I will also include some examples of how these core issues would manifest into faulty statistical analysis at the level of our public health and lead to the miscalculation of the benefits and risks surrounding our individual medical choices.
Core Issue A: Doctors who provide causes have not all been trained the same way, and therefore do not provide standardized responses. This may at first glance seem minor, as it always has to me, but this directly affects the cause that the doctor lists on the death certificate. Some doctors prefer listing the underlying cause of death as the recent complications that occurred in the last days or weeks before death, such as pneumonia or influenza, while leaving out the more chronic illnesses that had led to the decline in health. Other doctors decide they will provide the more long-standing health conditions as the cause of death (for instance, diabetes, asthma or congenital abnormality) while leaving out the more immediate illnesses. Some doctors include both the short-term and long-term diagnoses.
Many factors play a role in which approach doctors choose. These include in what capacity the doctor saw the patient (hospital vs. hospice care for example) or the immediate availability of the complete medical record within the time frame being impressed by the mortuary due to upcoming funeral or cremation services, or simply the way the doctor personally prioritizes information. Furthermore, doctors feel limited as to what they can provide for a cause by the professional context in which they saw the patient, as determined by their specialty. For example, a primary care physician might provide a cause of death as "coronary artery disease" since that was what he/she was prescribing medication to the patient for, whereas the patient could simultaneously be being treated for stage four chronic kidney disease and be on dialysis. In this case, rather than the objectively more serious health condition being listed on the death certificate, the health condition that the doctor is most comfortable attesting to is listed. Again, way too many factors to go into in this piece, but the basic issue of the lack of standardization in cause of death diagnosis and reporting remains.
In the case of a patient who dies after contracting influenza, this patient could have all of the above-mentioned conditions on his/her medical record simultaneously, from influenza to asthma, pneumonia, congenital abnormality, coronary artery disease and chronic kidney disease. Any ONE of those conditions listed is correct and valid, and could be entered as a stand-alone cause which would then be registered by me and the local and state registrar's offices without a query. It's the doctor's preference and his medical opinion—yet the national attention given, medical research dollars, and yearly health choices we all make are swayed by whichever cause this particular doctor, with his/her own particular training and personality, decides to jot down on the worksheet and send back to me to enter into the official record.
CORE ISSUE B) What most people don't know is that doctors are not allowed to attest to anything that is not a strictly NATURAL cause of death. Falls, medication complications or overdoses, causes with the word "injury" in it, anything that is considered an unnatural or external cause is outside the realm of their jurisdiction as far as the death record is concerned. The coroner would need to be contacted and agree to certify or co-certify a death record that has an unnatural or external cause listed. This is a whole other, very complicated reporting issue that I will not get into in this post. I will say, however, from the perspective of a mortuary representative, that everyone involved (doctor, coroner, registrar and myself) understands that the delay caused by any coroner involvement is highly dreaded and avoided if at all possible due to the amplified grief it can cause the family if they do not want an autopsy or investigation done or have to suffer a delay in services and/or an upset in their own personal closure process.
However, the majority of doctors are aware of their own limitation to certify only natural causes of death. And usually in the interest of serving the grieving family, they will provide the simplest natural cause that they know will quickly pass the approval of the local registrar's office, fulfill their duty as a signing physician, and enable the grieving family to move forward with their scheduled burial or cremation services. It should be noted here that doctors are under an additional pressure since they have a limited time set out by their State Health and Safety Codes to provide causes of death to a funeral home. In California, it is within 15 hours of death, although that is rarely achieved. Delays of more than a few days after death would risk them getting their license reported to the state medical board for lack of compliance.
What Works About This System?
The system is created in such a way that naturally occurring infectious disease (such as influenza) can be and is being reported and recorded in national mortality rates. However, the lack of standardization in the way doctors report it creates an unreliable number to set as the threshold for what constitutes an epidemic.
What Does NOT Work About This system?
It does not report on the true consequential timeline of the patient's medical treatment, including unnatural and external complications and errors in their medical care and is therefore woefully inadequate as the basis for ANY medical claims or recommendations.
The first example to illustrate the impact of this issue is as follows:
I read a post from a nurse the other day that shared her story of being hospitalized due to complications of the flu. Even though she had gotten the flu shot every year, she had only gotten influenza this year. Five days after experiencing flu symptoms, she went to her medical provider and was prescribed Tamiflu. She went through her course of medication. Her flu symptoms eased but she started getting a tightness in the chest, which further worsened until she needed to be hospitalized for pneumonia and a close call with sepsis. The conclusion of her post—and her medical opinion as a nurse—was that this year's flu was very dangerous and anyone less healthy than she could have easily died with her symptoms, so she urged everyone to please get the flu shot to prevent the flu from spreading.
The saddest part about reading her story was discovering that she must not have read the Tamiflu manufacturer's insert, which states that "No influenza vaccine interaction study has been conducted" and "Efficacy of TAMIFLU in patients who begin treatment after 40 hours of symptoms has not been established" and furthermore, "Events reported more frequently in subjects receiving TAMIFLU compared to subjects receiving placebo in prophylaxis studies, and more commonly than in treatment studies, were aches and pains, rhinorrhea, dyspepsia and upper respiratory tract infections." (emphasis added)
This would lead to an alternate, very feasible medical conclusion that her hospitalization and pneumonia was the result of using a medication that has not been tested on a population of her vaccination status and symptoms duration, which also has the adverse reaction of a URTI.
…the likelihood of influenza causing the death is greater than the medication causing the death because of mortality rates—but they are the ones creating the mortality rates…
But what if someone less healthy than herself with her exact symptoms and medication course HAD died? Her medical opinion, and many other medical care providers' opinions would have been that it was influenza that had caused the death, instead of the complications of the medication. In the medical provider's mind, the likelihood of influenza causing the death is greater than the medication causing the death because of mortality rates—but they are the ones creating the mortality rates—so what is considered reasonable likelihood is being created in a closed loop, a regurgitating cycle.
So, whether the attending physician at the hospital was aware of this medical misstep by the other medical provider or not, in this case the hospital physician could simply put "Influenza" on the causes of death worksheet and send it back to me. Influenza would be entered in the death record and be reported in the state and then national database as such with no question from me or the government registrars.
A Public Health Reporting Conundrum
What this has created, then, is a serious public health reporting conundrum. Death due to complications of improperly prescribed medications are NOT being calculated into the national reporting agencies in a real-time setting. Neither would they be communicated in real-time to the public. Instead, people would simply hear of the rising influenza death toll and run for more medication (and likely not be reading the manufacturer's insert either to verify if they truly are good candidates for that medication).
I have many friends and family in the medical industry and it is easily admitted that legal and personal liability is a factor in the considerations of proper reporting.
In this medication example, as you can imagine, even IF the recorders realize that the medication was prescribed erroneously, it would not be in the professional best interest of the medical provider or medical facility to report this prescription error and its possibly fatal complications to the family or public health officials. I have many friends and family in the medical industry and it is easily admitted that legal and personal liability is a factor in the considerations of proper reporting. However, if and when this possibly fatal prescription misstep was ever reported, it would be in some very passive EMR analysis many months or years later, with no urgency or real-time public health warning. The ability for government to cross-check and minutely examine nearly three million decedent medical records of varying electronic availability—annually—is just not there.
This failed mechanism in the mortality rate "generator", if you will, is the same for the hotly debated adverse vaccine reactions. This is the reason you see horrible adverse vaccine reactions and deaths being claimed by parents on social media, but no line item for them in national statistics. It is not because they don't exist or don't happen. The real-time data reporting system of death recording is not set up to calculate these deaths. The families that become aware of the adverse reactions in time to request investigation (<24 hours after death), and are able to request any relevant pathological specimens to be procured before the burial or cremation of their loved one, would then need to have the time and resources to go through the lengthy reporting and court procedures through the Vaccine Adverse Event Reporting System (VAERS) and the National Vacine Injury Compensation Program (NVICP). A very few families do, and if they can establish enough scientific evidence (like pathology reports) and find and produce enough experts and professional support, they MIGHT eventually get the causes of death amended and compensation for their loss paid out by the allotted government fund. And after five, 10, 15 or 20 years, this passive data capture system might accrue enough statistical information to be reported back to the medical community so that they adjust their recommendations. However, with the HHS claim that only around 1% of vaccine injuries are reported to VAERS, even this may not be realistic.
So, just like in the medication example, any death due to an adverse reaction to the flu shot or for ANY regularly scheduled wellness immunization, would similarly not be captured in the standard process of death recording. As before, the doctor can still provide either influenza or any other natural-occurring immune response as the only cause of death. He would send it to me and I would enter it in, get the state to approve it, and "Voila!"—a thoroughly inaccurate mortality rate reporting. 
Impacting Informed Consent
One of the most difficult realities for me to recognize in examining the mortality rate reporting system that I am a part of, is that the medical community itself is suffering from the ignorance that this kind of circular mortality rate generating system creates. Doctors and coroners are limited by the already existing mortality rates to gauge the likelihood of what caused death. That kind of system can only regurgitate the same causes of death over and over again by forcing its reporters to use the same types of "acceptable" death diagnoses that already exist.
And these are the statistics the medical community uses to educate themselves and provide informed consent to the patient on what the most prudent option is for medical care to safeguard health and prevent death.
And, yes, I will take the opportunity here to say that we can logically apply this critical analysis of the lack of proper data capture to those reluctant to vaccinate or use medications. There is no current national data capture system that records the morbidity or mortality rates of those who choose less medical intervention or choose to not vaccinate themselves or their kids. We don't know what their life expectancy, quality of life or mortality rate is in our modern day, with the advancements in hygiene, technology and post-disease-diagnosis medical care availability being considered. It could absolutely be worse, statistically, but we wouldn't know.
For nationally reported statistics, we are left then with bad data on one side, and no control group data on the other. Hardly the recipe for safe or settled scientifically guided medical care.
Now where does that leave you and me? Our highly subjective—yet somehow infallible—weaponry of mortality rates, whether from national statistics or the social media horror stories, has us and all our friends and family swinging the manic flag of "People are dying!"
This flu season, for example, some of our friends are saying, "People are dying from flu! Get vaccinated! Take medication!" while other friends are saying, "People are dying from adverse reactions to medications and shots! Don't get vaccinated! Drink elderberry!" And we are all running for the nearest remedies that we are sure will help us because of statistics—OR because we don't see statistics reflecting our lived reality, so we do the best we can to discern our health without statistics.
But I'm the one creating these statistics and I offer you this: If you take one thing away from this, take away a healthier skepticism about even the most accepted mainstream, nationally reported, CDC or other "scientific" statistics. Humans who had no concept of their widespread impact made them. The numbers are not hard—they are very, very fluid. And conversely, have a healthier skepticism about all the alternative remedies we welcome as hopeful scientific-ish options. There is no unbiased, century-long, data capture system set up for these choices either.
As a parent, the most painful part of taking a step back and looking at all this, is having to humbly admit—I don't know what the right thing to do is.
I don't have the unbiased data I need to make the safest decision for my children.
I don't know what the right thing to do is for myself, or for my husband.
I don't know what side of the fence to stand on in the vaccination and mainstream medicine battlefield, and I don't want to stand on a side: I just want the unbiased, uncorrupted and standardized data needed to accurately assess the benefits vs. the ultimate risks for my family's health.
For nationally reported statistics, we are left then with bad data on one side, and no control group data on the other. Hardly the recipe for safe or settled scientifically guided medical care.
A Self-Reporting System
In the face of this fallible data capture system, my own resolution that I am willing to publicly recommend—no matter what medical choices you decide are best—would be:
Become self-reporters. Keep a health journal for each family member complete with dates and times and severity of symptoms of illness, and track dates and dosages of any medical treatment administered. Track degree of fevers, severity of migraines, frequency of ear infections, changes of behavior, hospitalizations, medication dosages and immunization combinations, etc.
Think critically and ask questions when you see inconsistencies in any health recommendations offered to you or your family. Request and encourage a satisfactory discussion of benefits and risks with your medical provider.
Download and thoroughly read the manufacturer's insert provided on the FDA's website for any medication or immunization you are considering, and verify that you are a good candidate for that medication. If you decide to use that medical treatment, record any minor reactions in the health journal, immediately report any somewhat severe reactions to your medical provider, and ask for that information to be added to your electronic medical record so that it might inform any future medical provider on your individual contraindications you may have in other medication courses. Remember that each of us is liable for our own health choices; you cannot expect a medical provider to be a perfect assessor of what's best for you.
Follow up and make sure proper reporting was done on the medical provider's part to the appropriate national databases, or report it yourself:  MedWatch reports for medications and VAERS reports for vaccines. This recommendation is less for you and more for others and for the sake of having the appropriate authorities informed so they can eventually take medical treatments off the market and create the demand for safer ones. Those kind of databases can only function well for the populations they serve if they are being used by everyone.
Yes, people are dying. Each and every day. I do their death records every flu season or surfing season. And try as hard as we do—and no matter how absolutely shredded inside I am, especially when I do an infant or child's death certificate—we will never eradicate death. We CAN work to slowly eradicate and reform bad systems and misinformation. And even though there is no immediate gratification in it, we will probably save more lives when we work intelligently, truthfully and ethically towards a better future. That usually starts with a lot of humility and admitting that change is needed.
Sign up for free news and updates from Robert F. Kennedy, Jr. and the World Mercury Project. Your donation will help to support us in our efforts.
13 spooky vintage board games to play this Halloween
Battle monsters, ghosts, voodoo curses, boobytrapped mansions, haunted carnival rides, and more with these vintage spooky board games.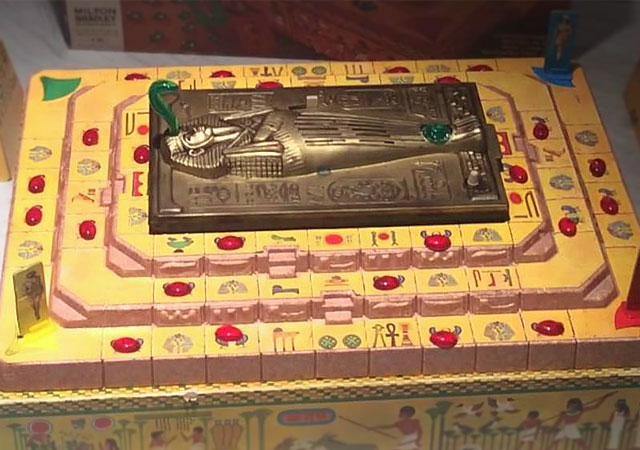 Voice of the Mummy board game
The Ouija board is the only board game known to cause so much fear that people refuse to touch it. But these vintage board games from the 1960s, 70s, and 80s are considerably spookier. We're talking about games where a mummy's voice echos from its tomb, an electronic Deathhead determines if you win a battle against demons or perish, a game where you put voodoo curses on the other players, and plenty of haunted mansions with traps, treasures, and monsters lurking around every corner.
With their eerie box art and creepy themes, these board games will add some spooky fun to the Halloween season without putting your mortal soul in danger.
1. Seance (1972)
Your dear Uncle Everett has died in this rare board game from Milton Bradley. According to the directions, Everett was a spiritualist. He believed his spirit would return from the grave to guide the distribution of his wealth.
Although he left the bulk of his estate to his parrot, players (his nieces and nephews, of course) gather in his creepy Victorian mansion to hold a seance and bid on his remaining possessions of unknown value. Everett's ghostly voice emanates from an actual record player hidden inside the seance table. When everything has been bought, Uncle Everett reveals how much each item is worth, or how much each player owes in taxes.
The player with the most money wins.
"When the game is over and the room is plunged into darkness," the instructions read, "it is said that the image of Uncle Everett may be seen."
2. Ghost Castle (1985)
Based on Milton Bradley's earlier Which Witch? and Haunted House (The Real Ghostbusters board game was also a re-themed version of this), players had to collect ghost card and avoid traps as they made their way up the stairs to close the coffin lid and "lay the ghost."
3. Mystic Skull: The Game of Voodoo (1964)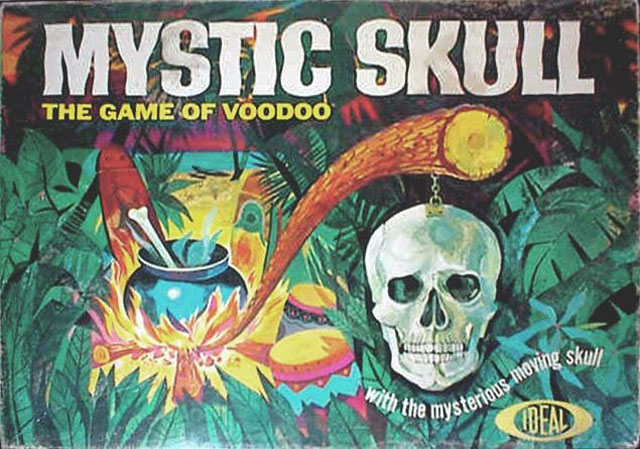 Each player is a witch doctor with a voodoo doll. When you stir the cauldron, the Mystic Skull spins and determines where you will place the next pin in your opponents doll.
4. Escape from Frankenstein (1983)
Players move around Frankenstein's castle looking for the key that matches their color, hoping to reach the laboratory and shut off the power before the monster comes alive.
5. Green Ghost (1965)

The Green Ghost board is on stilts, players can fall through trap doors, there's keys, bat feathers, bones, snakes, ghost children, pets, and it was the first board game to glow in the dark. I have no idea what you need all of these things, but the inclusion of everything creepy means it's obviously amazing.
6. Alien (1979)
Aliens have invaded the Nostromo. Each player is an astronaut trying to make their escape on the shuttle while using their own personal xenomorph to eliminate other players. While it may seem tempting, please refrain from laying eggs inside your opponents.
7. Ghost Train (1974)
Based on the Ghost Train amusement park ride, this game simulates the experience by including sudden and jolting changes of direction, dead stops, getting stuck, and mechanical ghosts. I'm keeping my fingers crossed for the expansion pack where you have to buy tickets, wait in line, and exit the ride feeling like you got seriously ripped off.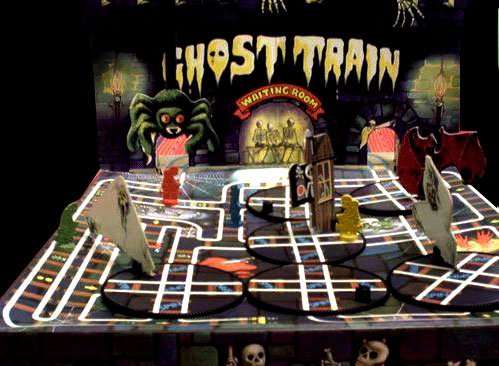 8. Mystery Mansion (1984)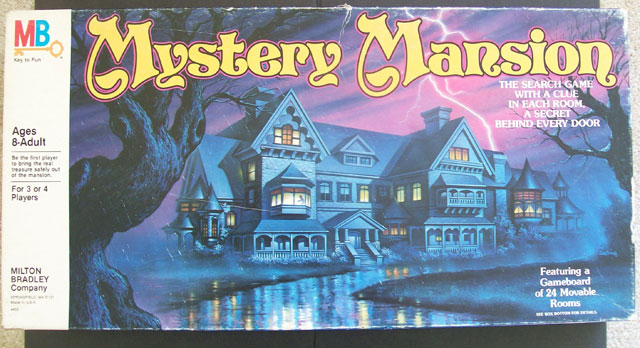 Roll the dice and search for clues as you build a Victorian mansion room by room in hopes of finding a treasure chest filled with gold and jewels rather than cobwebs and dust.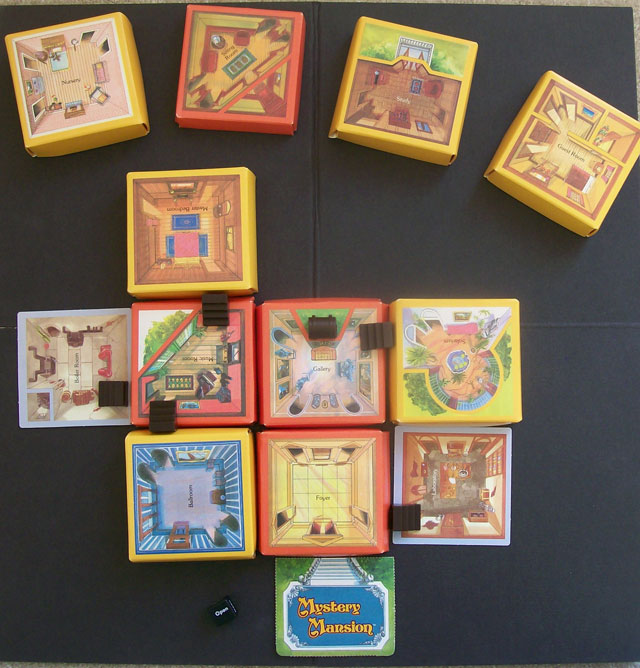 9. Voice of the Mummy (1971)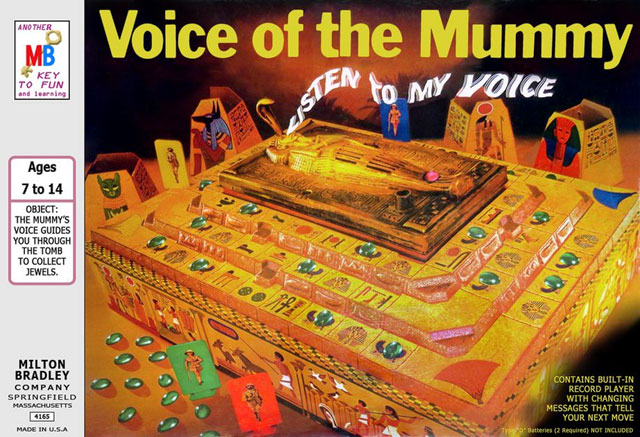 The precursor to Seance, Voice of the Mummy also has a record player inside. The mummy doles out instructions while players race around the three levels of the sarcophagus collecting gems. All the fun of looting tombs without all those pesky death curses.
10. Scream Inn (1974)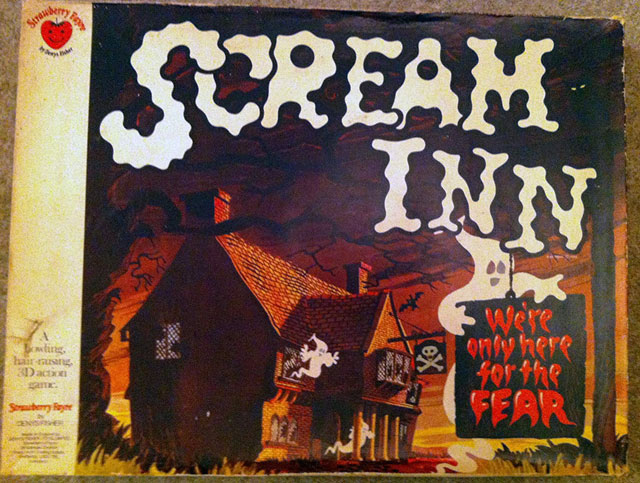 With a slogan like "We're only here for the fear!" this must be the world's first (only?) dark tourism board game. Players spin the wheel and try to get all of their pieces out of the haunted inn without disturbing a ghost.
11. Superstition (1977)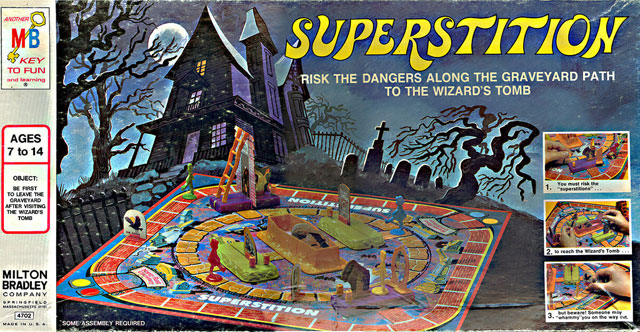 Players wander around a cemetery trying to reach the Wizard's Tomb, but the graveyard is full of rubberband-powered traps with superstitions like a black cat and a broken mirror that may fling your piece off the board.
12. It from the Pit (1992)
Players have to dash for the treasure chest while a giant green mechanical monster tries to pull their tiny plastic explorers into the pit full of bubbling green goo.
13. Horror House (1986)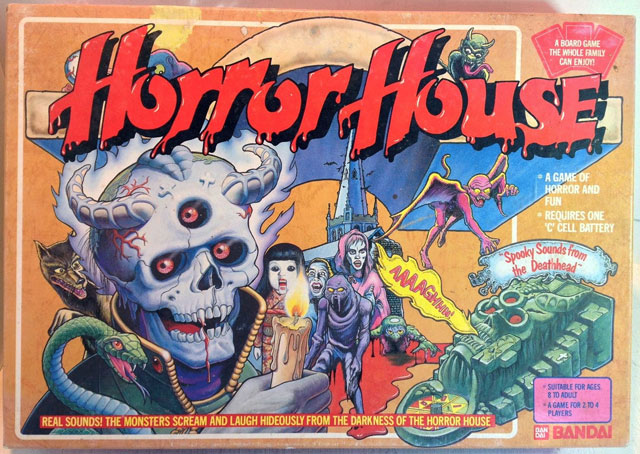 Face off against 45 monsters from around the world (including the dreaded Umbrella Monster!) in this electronic board game from Bandai. Players move through the house fighting these monsters while the Deathhead Roulette determines the outcome of each battle. The demons scream if you win. If you lose, a wicked laugh emanates from the Deathhead.
Be careful with this one, though. Bandai recommends you never play alone.
Which of these spooky board games was your favorite to play when you were young? Let me know in the comments below.
This Newly Approved European Copyright Law Is Going To Break The Internet
The European Parliament just approved a new sweeping copyright law that could make the internet a much worse place for pretty much everyone.
Today, the parliament voted on the "Copyright Directive", a piece of legislation intended to protect the digital property of digital publications. It passed — 438 members of parliament (MEP) for, 226 against. That's a big deal because it includes two extremely controversial provisions: Article 11 and Article 13.
Article 11 is meant to give publishers on the internet the ability to make an extra buck by imposing a "link tax." Put simply, it's supposed to shift some of the massive profits away from powerful news aggregators like Facebook and Google by allowing smaller publishers to charge them each time the aggregators link to their sites.
The problem? Publishers who can afford to charge news aggregators like Facebook and Google lower rates will thrive. Smaller publishers who can't afford the cutthroat rates will be boxed out.
Article 13 forces platforms like YouTube to filter all newly uploaded content for any copyright infringing material using specially implemented algorithms. News outlets have been referring to these as "censorship machines,"; others have declared Article 13 as starting a "war on memes" since these filters could easily end up flagging the endlessly-shared, slightly-altered images.
Unsurprisingly, the internet is not in love with that decision. High-profile internet personalities like Wikipedia founder Jimmy Wales have already voiced their discontent. Article 13 could end up having a direct negative impact on freedom of speech because sites must carefully monitor every upload to ensure they don't infringe any copyright. If YouTube is any example, those kinds of filters aren't exactly foolproof — content creators on the video platform have been complaining for years about how YouTube has been mistakenly flagging their content for copyright infringement.
Even though the European Parliament passed the Copyright Directive, it's not locked into law quite yet. There's still one more Parliament vote in January. If the Directive passes then, it will be up to individual EU member countries to decide on how to put it into practice, and that could open up a huge range of adoption and enforcement. As we have seen with the General Data Protection Act, implementing far-sweeping new rules on the world wide web is far from straightforward, and it will take a lot of time until EU members have decided on how to implement them.
Though we're a long way from a link tax, critics of the new law think the European Parliament's decision sends a strong message: in Europe, free speech might be at risk.
READ MORE: European Parliament Approves Catastrophic Copyright Bill That Threatens the Internet [Gizmodo]
More about EU copyright law: The EU's Proposed New Copyright Laws Show No Government Knows How to Govern The Internet
Photos show unexplained cattle mutilation in Australia – Dead cows found in paddock with udders, ears and tongues removed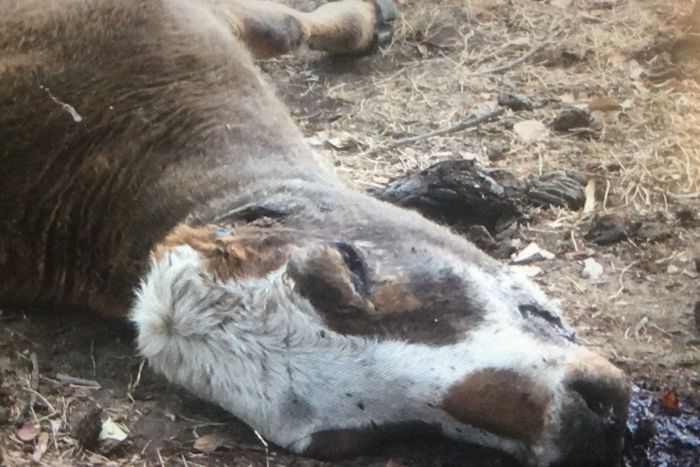 Tara Cassidy
ABC News
A north Queensland couple has been left baffled by a bizarre finding on their property, which seems like something straight from a horror film.
Graziers Mick and Judy Cook were working on their property in Cloverly, north-west of Mackay, when Mr Cook noticed a dead cow carcass which appeared to have had its body mutilated, with its entire udder, ears and tongue removed.
Warning: This story contains images and content that some readers may find disturbing.
"It was like it had been surgically removed, I certainly couldn't do as neat a job with a very sharp knife, and it definitely wasn't an animal," Mr Cook said.
"I thought at first it might have been poisoned, but then I got closer … I saw the body parts missing, there was no blood, even where the parts had been removed, no sign of struggle, just dead.
© ABC Tropical North: Kim Kleidon
Photo Cloverly graziers Mick and Judy Cook were baffled by the bizarre finding on their property.
"There was just no reason or rhyme for it to be done the way it was done, people don't use those parts, it's just not something you would wish on your worst enemy."
On the same trip, Mr Cook said he travelled down a little further on his property, about an hour's drive from his house on rough terrain, when he found another dead cow.
The second one looked like it had been there for some time.
"By that point we are probably two hours from your nearest neighbour, it's very mountainous country … there's no way anyone can get there unless they come straight past our house.
"When I got down there I noticed another carcass, this one was a bit more deteriorated, looked like it had been rotting there for a bit.
"We don't know how it happened, but we got onto the neighbours just to let them know."
Local veterinarian David Lemmon said in his 40 years working in the industry, often with livestock, he had never heard of or seen anything like it.
"I deal with everything, you know – all creatures great and small. And I can't think of any explanation for it, that's not normal human behaviour is it? That's something quite bizarre and ill, I would say the person that has done that is not mentally stable.
"We're talking eyes, we're talking ears, we're talking udders. No, I've never heard of anything like that ever, that's something or someone very ill who's done that."
© ABC Tropical North: Supplied
A dead cow found at Eungella near Mackay with its udder, ears and tongue removed.
In a statement, Queensland Police said it had not been notified about the cow mutilations, however, Mr and Mrs Cook said they had attempted to contact local police unsuccessfully.
Not the first sighting
According to Mr Cook, he and his wife came across two dead cows with their udders removed around the same area about ten years prior.
"I didn't think much about it at the time, we didn't really say anything about it," he said.
"We just thought it was a bit strange, let it go and put it to the back of our minds.
"But when we saw it again just recently we decided to tell someone, we came back later and my daughter tried to do some research, she found a YouTube link to other similar stories.
"They basically said other people around the world have been finding similar cases since '75 and starting in Yankeeland, it's even left police confused."
Cases of cow mutilation and murders have been reported around the world for over four decades, with carcasses found, sometimes one or two, sometimes dozens, with body parts such as ears, lips, eyes, noses, anuses and genitalia removed with "surgical precision".
Speculation surrounding who – or what – might be responsible for the killings and mutilations ranged from satanic worshipers and government agents to aliens.
In the mid 70s the American FBI launched an investigation into the widespread cow deaths, however, were unable to offer a conclusion stating that their investigation was hindered by a lack of jurisdiction.
While no solution has been confirmed to date, some scientists have also attempted to justify the findings, stating they could simply be ordinary decomposition or even carrion animals.
Animals such as vultures, Tasmanian devils and coyotes often eat soft tissue body parts first which could explain why parts of the mouth, tongue, anus and eyes are often the parts found missing on the cows.
Scientists have also explained that when an animal dies, blood will naturally begin to clot and coagulate, creating the appearance that it had disappeared.
They weren't, however, able to offer an explanation for the mass number of cow deaths over the years – for now it remains a mystery.