DB Cooper witness finally shares his story
A passenger who sat near Cooper during his infamous plane heist has spoken out about his experience.
The hijacking occurred in 1971 when a mysterious man, who at the time went by the name Dan Cooper, boarded Northwest Orient Airlines Flight 305 to travel from Portland to Seattle.
During the trip, Cooper called over one of the flight attendants and asked them to write out a note declaring that he had a bomb in his briefcase and that the plane was being hijacked.
When the aircraft stopped at Tacoma International Airport, he allowed the passengers to leave in exchange for four parachutes and the sum of $200,000 in cash.
After the plane had taken off again, Cooper strapped the bag of money to himself, put on one of the parachutes and jumped out somewhere between Seattle and Reno. No trace of him was ever found.
One passenger who got a good look at Cooper during the original flight was Bill Mitchell – a University of Oregon sophomore who remained sitting nearby when the other passengers moved up front.
"The pilot came on and said, 'We had engine trouble and so we're going to have to run out some fuel'," he recalled. At the time, he had no idea what Cooper was up to but became somewhat suspicious when one of the flight attendants went to sit down next to him.
"My ego got in the way of this," said Mitchell. "It sort of bugged me that this flight attendant was talking with this older guy with a suit and smoking, and here you had a University of Oregon sophomore sitting right across the aisle and she wouldn't make any eye contact or anything."
His description of Cooper would later be used to help create the image of him seen above.
As for what ultimately happened to the culprit, Mitchell is unconvinced that he got away.
"My theory from day-one, or three days after I realized what was going on, is that he's plunked down on the ground some place in southern Washington dead with the money," he said.
For all we know, he could be right.
Source: Komo News
Mysterious lights in the sky scare Arizona city dwellers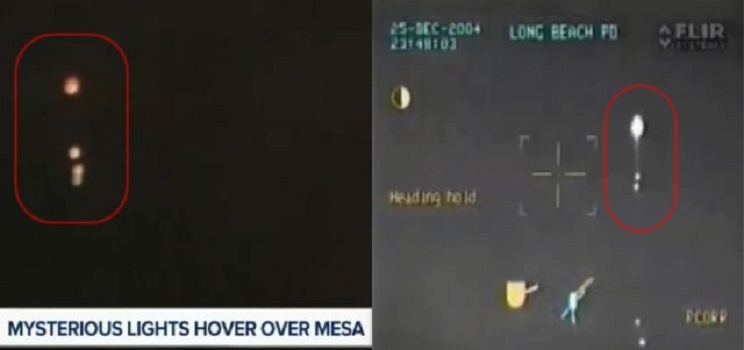 Mysterious lights hovering over the valley east of Mesa, Arizona, make residents wonder if they had a close encounter.
D.J. Maier and Kerri Burnett describe what they saw:
It started moving kind of diagonal across, I was trying to figure out which way it was heading, and that's when we noticed it started dropping things from it.
The couple say they saw the phenomenon outside their home in Mesa on Sunday around 9 pm.
They say the object seemed to come from the southeast.
Burnett said:
Began to move diagonally, I was trying to figure out where it was going, and that's when we realized that it started dropping things from it.
The object captured on two cell phones looks like a bright orb hovering silently in the sky. Every few moments, the object appears to drop what looks to be flares towards the ground
Maier said:
And it wasn't just us, our neighbors next door they were out, they weren't even filming. They were more in amazement, like statues, just watching it.
And it wasn't just us, our neighbors next door they were out, they weren't even filming. They were more in amazement, like statues, just watching it.
Maier said:
Some said it may be an aircraft, others said aliens or a comet.
The whole event dates back to 1997 and the mysterious phenomenon known as The Phoenix Lights – a mystery that remains debated today.
The ABC15 channel team contacted several aviation experts who theorized that the lights seen on Sunday could be from parachute flares used by the military or even helicopters or other aircraft dropping flares during training.
In fact, the Outlaw Military Operations Area sits not far from where the video was shot. But video found online of those types of exercises just doesn't seem to match.
Meier said:
There were no navigation lights. Even the military has to have navigation lights on. That's an FAA rule.
ABC15 contacted the Federal Aviation Administration, Luke Air Force Base, and the Army National Guard, but no one knew for sure what it was.
This leaves the answer to what was captured on camera for anyone.
Maier also said:
I know what I saw, and I don't think it was from here, and I think it was definitely something else.
NASA has photographed a UFO in Antarctica
This new discovery is undoubtedly of great global impact for those who believe in the existence of UFOs and Extraterrestrials on our planet. The image of NASA depicting a UFO on the Antarctic continent was published on Google Earth. Antarctica has constantly aroused many mysteries, from the entrance to the Hollow Earth to the discovery of alien bases and the discovery of pyramid structures.
Even so, today all its secrets are hidden, although it begins to reveal some clues that amaze geologists, archaeologists, scientists, popularizers and even great personalities of the world. Whatever the mysteries of Antarctica, they will have to be discovered little by little. Who is not fascinated by the secrets of the most arid, windy and cold continent in the world? What is the truth about this unexplored and frozen continent? In the images provided by Google Earth we can see a silver circular object that has nothing to do with the rest of the surface.
It is clearly an artificial object and very similar to the classic flying saucer. This discovery was made by Argentine researcher Marcelo Irazusta and published by Sandra Andrade on her YouTube channel. This new discovery is undoubtedly of great global impact for those who maintain the existence of UFOs on our planet. The image is from NASA published on Google Earth. With this new discovery no doubt, it is of great global impact for those of us who believe in UFOs and extraterrestrials on our planet. We know that they discovered internal structures similar to the ruins of a technologically advanced ancient civilization, and it was also leaked that some frozen bodies of non-human beings appeared.
The Mystery of the Taman Shud Case
The mystery of the Taman Shud case has puzzled law enforcement and intelligence agencies all over the world for more than half a century now.
Also referred to as "The Mystery of the Somerton Man", this unsolved case refers to an incident that took place on December 1, 1948 where and unidentified male body was found dead at 6:30 a.m. on the shore of Somerton Beach in Adelaide, Australia.
Police found his body after a handful of various witnesses reported what they suspected was a man who was either drunk or asleep, reclining on the sand with his head resting against the seawall.
He was clothed in fine European attire, but all of the labels had been deliberately torn off from his clothing, indicating a possible attempt to conceal his identity. His dental records did not match any known individual in Australia.
Police searched his pockets in an attempt to find some type of identification, but to no avail; their search only produced a redeemed bus ticket, an unused second-class railway ticket, a half-empty pack of Juicy Fruit gum, some cigarettes, and a partially empty box of matches.
After several unsuccessful attempts to confirm the man's identity and potential cause of death, police turned to an autopsy.
According to Sir John Burton Cleland, a noted University of Adelaide pathologist, the man's body had all of the signs of a death by poisoning, including severe congestion in the liver, kidneys and brain.
The man's spleen was enlarged about three times the normal size, and a significant amount of blood was located in his stomach as well.
Interestingly enough, several toxicology experts attempted to determine what type of poison was used, but it was completely undetectable in his body.
Authorities ruled the death a suicide by an unknown poisonous substance, but after a careful re-examination of the body by Sir Cleland, a small rolled-up piece of paper was discovered deep within a small fob pocket inside of the deceased man's trouser pocket.
The paper contained the words "Taman Shud" (meaning "ending", "finished" or "the end" in Persian) printed on it, and the reverse side was blank.
Public library officials were able to determine that the phrase came from the text of a collection of poems known as The Rubaiyat by Persian philosopher Omar Khayyam.
Police conducted a widespread campaign to find the book that the text was torn from, circulating images of the piece of paper in the press all over Australia.
A man whose identity has been kept anonymous by the police came forward and revealed that he had discovered a very rare copy of The Rubaiyat in the backseat of his parked, unlocked car on Jetty Road in Genelg about two weeks prior to the discovery of the body.
The man said that he had no idea that the book had any connection to the case until he read about it in the newspaper.
The book was missing the phrase "Taman Shud" on the very last page, and microscopic tests confirmed that the small piece of paper found in the Somerton man's trouser pocket was indeed torn from the final page of the book.
Five lines of all-capital letters were scrawled in pencil in the very back of the book, delineating what authorities have ruled as some type of code.
Investigators first conjectured that the lines represented a foreign language, but that was later ruled out in favor of some type of cipher or cryptographic message. The five lines are as follows:
WRGOABABD
MLIAOI (this second line was struck through in the original message, indicating a possible mistake due to its similarity to line 4)
WTBIMPANETP
MLIABOAIAQC
ITTMTSAMSTGAB
A phone number was also written in the back of the book, which police later discovered belonged to a woman who resided on Moseley Street in Glenelg, only about a quarter of a mile from the location where the body was discovered. (Side note: Glenelg was also the destination listed on the bus ticket found in the Somerton man's pocket.)
After being questioned by police, she stated that she did own a copy of The Rubaiyat during the time when she worked as a nurse at the Royal North Shore Hospital (in Sidney) during the second World War, but that she had given her copy to an Australian Army lieutenant named Alfred Boxall in 1945.
Police were now certain that the dead man could be identified as Alfred Boxall, until the real Alfred Boxall surfaced later with a different copy of The Rubaiyat (a 1942 edition), with the last page containing the phase "Taman Shud" intact!
The woman and did not claim to have any connection to the dead man discovered at Somerton beach. She asked to remain anonymous since she was newly married with a toddler, and did not want to be associated with a murder mystery or Boxall.
Amazingly, the police agreed to grant her anonymity, although she was considered to be the best lead in the case.
To this day, the identity of the Somerton man has not yet been confirmed, and the meaning of the cipher (if any) has not been determined.
Many have speculated that the mysterious man may have been some type of spy since his death occurred during a particularly intense period of the Cold War.
Several intelligence specialists, cryptanalysts, mathematicians and astrologers have attempted to decipher the code, but no one has been successful as of yet.
Perhaps the enigma of the Taman Shud case will never be solved, but it still carries an air of mystery and intrigue that fascinates people all over the world.