David Wilcock – The Solar System Is Moving Into A New Area Of Vibration
by Gregg Prescott, M.S. In5D.com
According to the research of David Wilcock, there is an impending shift going on within our solar system that will give us all the opportunity to make a quantum leap in consciousness.

I was watching a "Contact In The Desert" video featuring David Wilcock and he brought up some information that is quite fascinating.
The following is an excerpt from "The Brown Notebook" which is a channeling from Walt Rogers that was done in the 1950's.
Much of what was channeled is proving to be true in today's society.
Man in his present state on your planet must change in order to survive. Many things will take place on this planet. Therefore man will have to change with the planet.

This solar system is moving into an area of space where the vibrations are much higher. This will cause changes in your planet's features. It will also cause changes in your peoples.

The vibrations on the planet will become higher. Therefore man will have to raise his vibrations in order to exist on your planet. These vibrations can only be raised by the people's thinking: thinking better thoughts of everything in the creation, more spiritual thinking, thoughts that will lift the people of Earth out of the darkness and mud they have lived in for so long.

This planet and solar system are moving into a new area of vibrations in which conditions as they are now on this planet will not survive.

Many, many planets live as we do. However, there are others that do not, because they have not come to the understanding of life of which we have. They are beginning to understand, however, some more slowly than others.

Our life is an ideal way of life. We have everything in plenty. Everyone is free. We do not try to rule one another. Our children are allowed to express themselves, not the wishes of the parents, as you call them. Each individual is ruled by none but the Creator.

We are all ruled by love, love of the Creator, love of one another, love of everything in the creation. We find this way of life very enjoyable, not the drab existence had by your people on Earth.
Wilcock talks about "The Brown Notebook" material at the 1:19:52 marker of the following video:
The photon belt and DNA
Many people believe that our sun is not in a fixed position and that it is traveling throughout space in a heliocentric manner in which our planets follow along. Under this premise, it is quite possible that our solar system could be moving into an area of space where the vibrations are much higher.
This may be related to the Photon Belt or it may just be an area of the solar system that infuses our bodies with higher energy vibrations, which may explain how numerous children have been born with additional DNA codons turned on.
According to Gregg Braden's research, we are only utilizing 22 of the 64 codons in our DNA.
An unprecedented OPPORTUNITY!
If we are moving into a higher vibrational area of space, then it only reinforces the importance for all of us to make the proper adjustments in order to take advantage of this opportunity. Everyone has a chance to dramatically raise their vibration but it may require some work. In other words, those who do not raise their vibrations may find it very difficult to move forward and may be left behind for another 26,000 year precessional equinox time period while those who have done their work will move forward with Mother Earth.
According to this channeling, "vibrations can only be raised by the people's thinking: thinking better thoughts of everything in the creation, more spiritual thinking…"
Alternate realities, parallel universes and "The Shift"
As you can see, even your thoughts play a huge role as every thought contains energy that either creates a positive or negative reality, not only for you but for the world you live in.
I tend to view "The Shift" as the playing out of the highest probabilities that exist within alternate realities and parallel universes. For example, every time someone wakes up and starts working on raising their own vibration, our current realty changes into a new and positive probability for humanity. Conversely, when we live in fear, our reality changes toward a more negative outcome.
The shift doesn't require the entire planet to wake up…
Fortunately, it doesn't take a lot of people to change our current reality as love is much, much stronger of a vibration than fear.
The following is an excerpt from an article entitled, " Proof That Group Meditation Can Change The World":
Meditation has the potential to literally transform the world. In 1978, what is known as the "Maharishi Effect" took place when a group of 7000 individuals over the course of 3 weeks were meditating in hopes of positively effecting the surrounding city. They were able to literally transform the collective energy of the city which reduced global crime rates, violence, and casualties during the times of their meditation by an average of 16%. Suicide rates and automobile accidents also were reduced with all variables accounted for. In fact, there was a 72% reduction in terrorist activity during the times at which this group was meditation.
Humanity will have to change with the planet
According to this channeling, we can either adjust with Mother Earth or get left behind. As I have written in a previous article, "Schumann Resonance And The Time Speeding Up Phenomenon," Mother Earth has been raising her vibration. The Schumann Resonance is basically the "heartbeat" of the planet and has remained as 7.83 for several thousand years but recently, the resonance has risen as high as 8.50 and has remained over 8 for as long as I have been recording it on In5D News. What this means is that our planet is already making these adjustments and she is giving us all the opportunity to rise in vibration with her. She is also giving notice to those who continue to live in a lower vibrational reality that they either change their ways or they will face the consequences of not doing so. According to the channeler, " Man in his present state on your planet must change in order to survive." He also added, "… man will have to raise his vibrations in order to exist on your planet."
This doesn't necessarily mean that you need to live the life of a saint. According to Wilcock, you only need to be 51% of positive vibration to make the shift.
The material presented corroborates with many other sources, such as Dolores Cannon and how she sees the "New Earth". EVERY thought is playing a huge role in determining our present individual and global realities. In the end, we all will move forward but some may have to wait another 26,000 years for this opportunity to present itself again.
The BIG payoff
Please do not construe this channeling as fear mongering and try to view it as an observer. Also, as always, please use your own discernment in any informtaion you receive.
Based on Wilcock's information:
For those who do not make the shift, this is a wonderful opportunity to learn more of life's 3rd dimensional lessons in order to make the soul complete.
For those who make the shift, your work will pay of in ways that are unimaginable!
About the Author:
Gregg Prescott, M.S. is the founder and editor of In5D and BodyMindSoulSpirit. He hosts a spiritual show on In5D Radio and promotes spiritual, metaphysical and esoteric conferences in the United States through In5dEvents. Gregg is currently working in collaboration with Michelle Walling, CHLC, in opening a holistic walk-in clinic called Alternative Holistic Healthcare (AHH) in Sarasota, FL with subsequent subsidiaries around the world based upon this model
KOI-5Ab, the curious planet that orbits in a system of three suns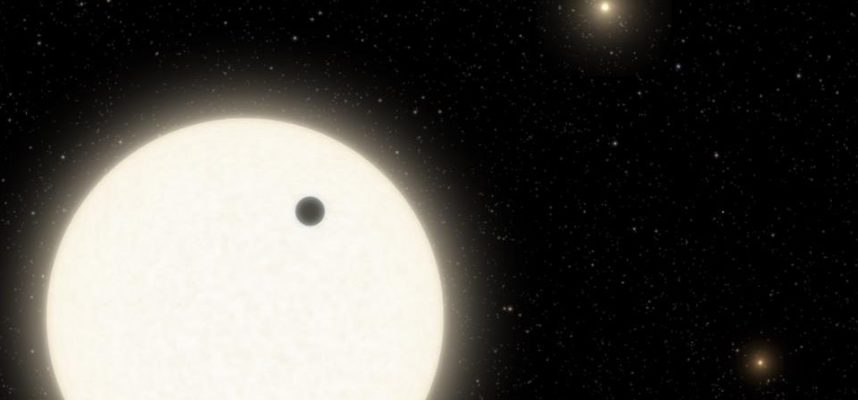 To us, the Sun alone seems perfectly normal, but our solar system is actually a strange exception.
Most stars in the Milky Way galaxy have at least one companion star. In a system 1,800 light-years away, astronomers have finally confirmed the existence of a gas giant planet orbiting stars in a triple star system.
Called KOI-5, the system is located in the constellation Cygnus, and the exoplanet was confirmed ten years after it was first detected by the Kepler space telescope.
In fact, the planet – now known as KOI-5Ab – was discovered by Kepler when it began operations back in 2009.
"KOI-5Ab was dropped because it was difficult and we had thousands of other candidates," astronomer David Siardi of NASA's Exoplanet Science Institute said.
"There were lighter dives than the KOI-5Ab, and every day we learned something new from Kepler, so the KOI-5 was almost forgotten."
Exoplanet hunters tend to avoid the complexities of multi-star systems; of the more than 4,300 exoplanets confirmed to date, less than 10 percent are multi-star systems, although such systems dominate the galaxy. As a result, little is known about the properties of exoplanets in multi-star systems compared to those orbiting a lone star.
After Kepler's discovery, Chardy and other astronomers used ground-based telescopes such as the Palomar Observatory, Keck Observatory, and the Gemini North Telescope to study the system. By 2014, they had identified two companion stars, KOI-5B and KOI-5C.
Scientists were able to establish that the planet KOI-5Ab, is a gas giant that is about half the mass of Saturn and 7 times the size of Earth, and is in a very close five-day orbit around KOI-5A. KOI-5A and KOI-5B, both of roughly the same mass as the Sun, form a relatively close binary system with an orbital period of about 30 years.
A third star, KOI-5C, orbits the binary system at a much greater distance, with a period of about 400 years – slightly longer than Pluto's 248-year orbit.
"By studying this system in more detail, perhaps we can understand how planets are created in the universe."
The discovery was announced at the 237th meeting of the American Astronomical Society.
Why the universe does not fit into science
Science can be compared to an artist painting what he has never seen, or to a writer describing other people's travels: objects that he has never seen, places where he has never been. Sometimes such scientific "arts" turn out to be beautiful and interesting, but most of them will forever remain only theories, because they are beyond human capabilities.
In fact, science has the right only to speculate: how our universe appeared, how old it is, how many stars and other objects it contains.
Universe model
How many stars are there in the sky?
With an unarmed eye, a person can see about nine thousand stars in the sky in one cloudless and moonless night. And armed with binoculars or a telescope, much more – up to several million. However, this is much less than their true number in the universe. Indeed, only in our one galaxy (the Milky Way) there are about 400 billion stars. The exact amount, of course, is not known to science. And the visible universe contains about 170 billion galaxies.
It is worth clarifying that scientists can see the universe 46 billion light years deep in all directions. And the visible (observable) universe includes the space accessible to our eyes from the moment of the Big Explosion. In other words, only this (accessible to human perception) space science refers to our universe. Science does not consider everything that follows.
It is believed that there are supposedly a ceptillion (10 to 24 degrees) stars in our universe. These are theoretical calculations based on the approximate size and age of the universe. The origin of the universe is explained by the Big Bang theory. This is why the universe is constantly expanding and the more time passes, the more complex the universe and its components become.
It is not entirely correct to consider and perceive this scientific theory "head-on". Scientists always claim that that explosion was not exactly an explosion, and the point that exploded was not the only one. After all, it was everywhere, because space did not exist then. And in general – everything happened quite differently from what is described in the Big Bang theory, but all other descriptions of the origin of the universe are even more incredible and inaccurate.
Separate but interconnected
That which is beyond the reach of human perception is usually discarded by science, or recognized as non-existent. Recognizing one thing, science does not want to recognize the existence of the other, although everything in our world is interconnected and is not able to exist separately – by itself.
Each object of the universe is a part of it much more than an independent, separate object.
Any person, like any material object of our world, consists of components: organs, cells, molecules, atoms. And each of its constituent parts can represent the whole world. Separate, and at the same time connected with all the others.
However, science, as a rule, perceives all the components of the universe – people, animals, plants, objects, the Earth, the Sun, other planets and stars – as separate subjects, thereby limiting itself.
Even what is considered the visible universe, one of the atoms of which could be called our solar system, is not subject to the boundaries of human perception. But perhaps the atom is an exaggeration, and our solar system is not even an atom, but one of its elements!
How, being so far from the truth, can one reason about something with the degree of probability with which science tries to reason about the origin of the universe?
An unexplained wobble shifts the poles of Mars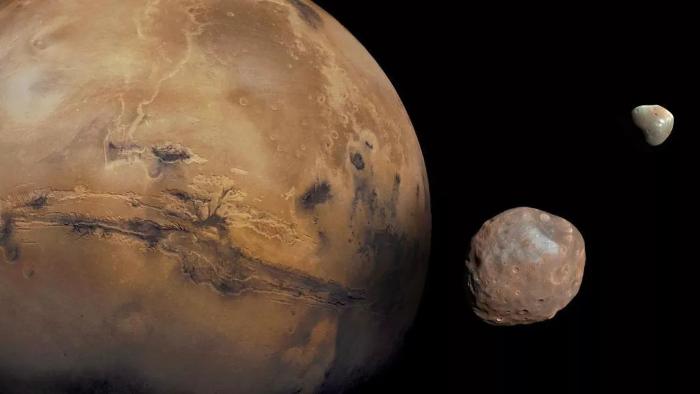 The red planet sways from side to side like a whirligig when it loses speed. The new study allowed scientists to notice that the poles of Mars deviate slightly from the axis of rotation of the planet. On average, they move 10 cm from the center with a period of 200 days.
Such changes are called the Chandler Oscillations  – after the American astronomer Seth Chandler, who discovered them in 1891. Previously, they were only seen on Earth. It is known that the displacement of the poles of rotation of our planet occurs with a period of 433 days, while the amplitude reaches 15 meters. There is no exact answer why this is happening. It is believed that the fluctuations are influenced by processes in the ocean and the Earth's atmosphere.
Chandler's wobbles on Mars are equally perplexing. The authors of the study discovered them by comparing data from 18 years of studying the planet. The information was obtained thanks to three spacecraft that orbit the Red Planet: Mars Odyssey, Mars Reconnaissance Orbiter and Mars Global Surveyor. 
Since Mars has no oceans, it is likely that the Red Planet's wobbly rotation is due to changes in atmospheric pressure. This is the first explanation that researchers have shared. In the future, there should be new details about the fluctuations that have so interested the scientific community.