Dan Aykroyd Is A Fourth-Generation Ghost-Hunter, UFOlogist, And Paranormal Master
Dan Aykroyd, the Canadian comic master behind Ghostbusters, Saturday Night Live, and The Blues Brothers, is a UFOlogist. Now that Aykroyd is essentially retired from the comedy game, he spends his time researching paranormal activity, alien abductions, and UFOs from his haunted farmhouse in Canada.
Aykroyd has no qualms being open about his belief in the obscure and occult – he talks about it freely. Some even refer to him as a master of the subject.
So, what does it take to be a paranormal master? According to Aykroyd: a lifetime of commitment to the truth, and a family that believes in uncovering the mysteries of the universe.
His Family Farmhouse Has A Spiritual History
Aykroyd isn't some Johnny-come-lately to the paranormal investigation game. The Aykroyds have been searching for the truth about ghosts for a while. Their history dates back to the comedian's great-grandfather, who was a spiritualist and dentist.
Aykroyd still lives in the family farmhouse that has been host to seances and spiritualist get-togethers for decades. Aykroyd says the house has "a history of spiritual activity that would blow your mind." Despite living in the spooky farmhouse, he's yet to have direct experience with an apparition as an adult.
He Claims The Ghost Of A Famous Musician Liked To Cuddle In Bed
One of the many houses owned by Aykroyd is a Los Angeles bungalow, where notable musicians like Mama Cass (The Mamas and the Papas) and Ringo Starr lived in the '60s and '70s. When Aykroyd lived in the home, he claimed a ghost – which he believes to be the spirit of Mama Cass – was haunting the place because someone would turn on his StairMaster and mess with the family jewelry.
But perhaps the biggest revelation Aykroyd made about the ghost:
It once even crawled into bed with me. I rolled over and just nuzzled up to whatever it was and went back to sleep… I'm sure it's Mama Cass because you get the feeling it's a big ghost.
He Says He Has Seen Four UFOs
In a 2015 interview with Huffington Post, Aykroyd tried to play it cool about the fact he's witnessed a series of phenomena that would drive ordinary people crazy. When asked about his experiences with extraterrestrials, he said he's seen four UFOs, though he's not sure if they were alien or human:
I can't say that they are alien craft and neither can the Air Force. The Air Force has been very interested in this. They don't deny the existence of these hyper-dynamic, super aerodynamic craft.
Two of the crafts, he claims, were seen one night in Martha's Vineyard. He said they were "flying side by side. They were at about 100,000 feet up, and they were going fast."

He Purchased UFO Footage From A Tarmac Worker At O'Hare Airport
On November 7, 2006, an employee at O'Hare International Airport allegedly saw a large disc floating in the middle of their airspace and recorded footage of the event. The footage never turned up, but Aykroyd supposedly has it. He claimed to have purchased the footage from a tarmac worker.
After announcing he had the footage, Aykroyd alleged he would be releasing a DVD with the never-before-seen footage and photographs. Some of it made it into his documentary, Dan Aykroyd Unplugged On UFOs.
He Believes Aliens Walk Among Us
Many people believe aliens are flying through our skies at night, but Aykroyd believes extraterrestrials are already here and living among us. In 2010, he appeared on Larry King Live and made the claim we're living in a They Live scenario, albeit without the cool sunglasses.
He explained to King that while aliens are living as our friends and neighbors, they haven't shown themselves because "they don't want anything to do with us."
Ghosts Visited Aykroyd As A Child
While Aykroyd admits he's had somewhat bad luck with seeing full-body apparitions as an adult, as a child he was apparently a ghost magnet. He claimed that when he was a kid, there was a time when his mother, a skeptic, actually saw the ghosts of his great-grandparents watching him sleep.
My mother speaks about a time when she was nursing me, and an old couple came to the end of the bed. The image faded away. She pulled out an album and saw that it was my great-grandfather Sam and Jenny, his wife, coming to approve the new child.
He Has A Documentary Called 'Dan Aykroyd Unplugged On UFOs'
In 2006, Graviton Productions released the documentary Dan Aykroyd Unplugged On UFOs. The film follows Aykroyd as he talks with author and fellow UFOlogist David Sereda about the potential existence of alien life.
The documentary also features interviews and footage from the likes of astronaut Gordon Cooper, NASA engineer John F. Schuessler, and President Ronald Reagan.
He Thinks There Should Be More Science In Parapsychology
As much as Aykroyd loves the fantastical elements that go along with hunting ghosts and UFOlogy, he also believes there should be more legitimate science applied to parapsychology. He thinks there would be major discoveries if physicists began analyzing ghosts.
He explained to the Daily Beast, "Are oxygen and nitrogen and hydrogen molecules coalescing to produce these visions in front of people? I'd love it if some research were done on materialization."
As an example, he discussed mediums who were able to produce fully formed limbs from their mouths. He thinks it would "be nice to get some DNA and see if it's the DNA of the person exuding this mass of ectoplasm or the DNA of another being."
He Thinks The Government Knows About UFOs
Aykroyd believes the government is aware of extraterrestrial life, and he also thinks they are keeping it a secret for a reason. When talking to the Huffington Post, Aykroyd said, "The Air Force cannot just come out and admit that there are extraterrestrial beings far in advance of our culture that have built these machines."
Furthermore, according to Aykroyd, the government can't openly say there are "many species coming and going" to Earth every day without people losing faith in the structure of the government and causing a "complete breakdown of society."
Crystal Head Vodka Is His Nod To An Alleged Central American Alien Discovery
When Aykroyd introduced Crystal Head Vodka in 2008, he was making a direct reference to the legend of the Crystal Skulls that also appeared in the movie Indiana Jones and the Kingdom of the Crystal Skull. Before rolling out the vodka, Aykroyd said he was nervous about incurring the wrath of Steven Spielberg. Fortunately, when the two met to talk about their similarly named products, Spielberg requested the vodka be served at the film premiere.
Speaking to The Telegraph, Aykroyd claimed the vodka is made in the "last government-owned distillery in the world in the province of Newfoundland and Labrador" and had won a double gold medal at the "spirit Oscars."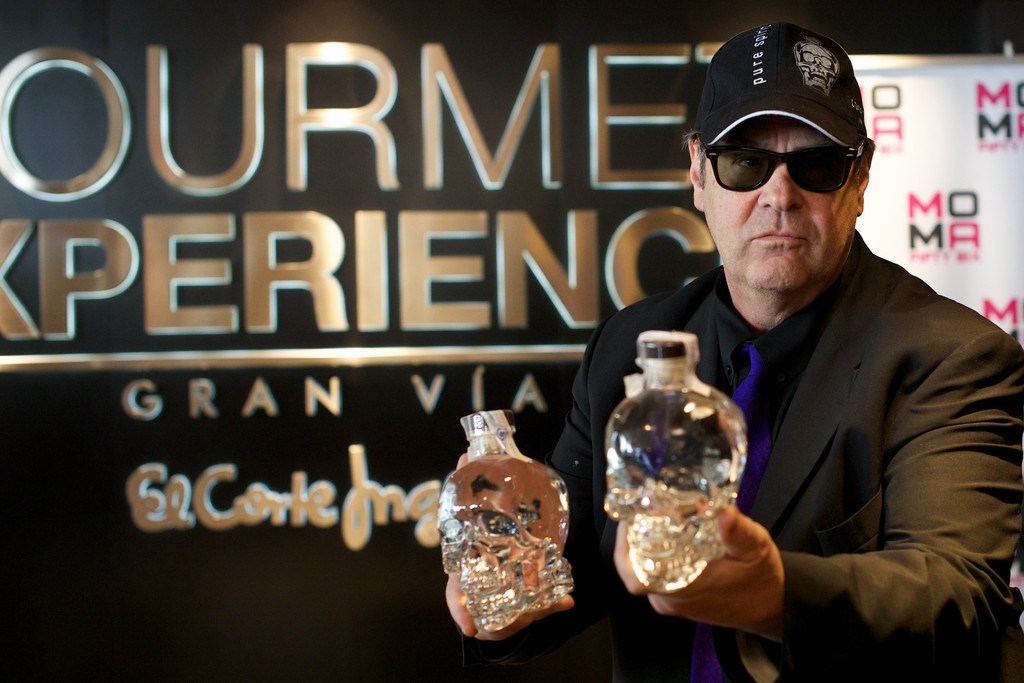 His Father Wrote A Book About Paranormal Activity
In 2009, Aykroyd's father, Peter Aykroyd, released an exhaustively researched book called A History of Ghosts, which tells the story of the rise of spiritualism in the Western world while paralleling it with Aykroyd family history. Speaking about the book and paranormal research, the Ghostbusters star said, "It's the family business, for God's sake."
Much of the material in the book was recorded by Peter Aykroyd and his father, Samuel Aykroyd, during séances. While researching the book, Peter Aykroyd found the notes locked in a trunk and began working them into the book.
He Believes In Some Kind Of Afterlife
Even though Aykroyd is a total believer in spirits and extraterrestrials, he's still not sure about what happens after we die. When asked in a 2012 Telegraph interview if he feared death, the multi-hyphenate actor/paranormal investigator/vodka aficionado said he knows "the spirit survives" but he hopes he's "not sliced in half by a plate-glass window."
Aykroyd said his preferred way to pass from this mortal coil would be to "pass through the veil in my 90s at the farmhouse by the lake where the seances took place with all my great-grandchildren around me."
His Father Approved Of The Opening Scene In 'Ghostbusters'
Since Aykroyd comes from a family of parapsychologists and paranormal investigators, you might think they were tough on him for taking the family business and turning it into a comedy goldmine in Ghostbusters. That's not the case, said Aykroyd. His father, Peter, was "elated" with the film and thought that the opening scene where a ghost completely wrecks the basement of the New York Public Library was incredibly accurate.
Peter Aykroyd told the Daily Beast, "It was a pure poltergeist phenomenon and absolutely true to form. Let's face it, he was writing this thing from conviction. There was truth in that, even though it seemed fantastic." As much as Peter thought the opening scene was an accurate depiction of a poltergeist, he did feel the Stay Puft Marshmallow Man was a bit much.
Source www.ranker.com
Another TR-3B? Huge triangular UFO flew over New York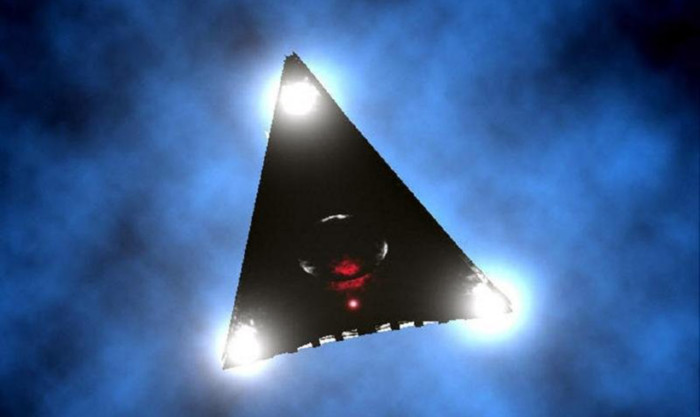 A resident of Bronx, New York, on January 16, 2021, saw three UFOs above the houses in his area, moving synchronously in the form of a huge triangle. The brightly shining points were very clearly visible in the night sky.
The man managed to capture a triangle slowly floating in the sky on video (see below) and posted it on his YouTube channel.
Since he was a very modest blogger who had only a few subscribers, his video went unnoticed for several days by UFO lovers, until finally it was re-posted on social networks, and from there it got to news sites.
The video shows how the author of the video is very surprised by what is happening, he looks up into the sky and says:
"They fly nearby and look like stars. It's a triangle and I don't know what it is."
Then he tried to ask someone from the passers-by about whether they knew that it was in the sky, but they could not answer either.
On social networks, this video caused a lot of comments from curious people who offered their versions of what they saw. From the fact that someone has programmed the drones to move in the form of a triangle, to the fact that they are actually Chinese lanterns.
The lantern version was quickly criticized, as the lights move at such a high altitude that Chinese lanterns could not continue to burn so brightly.
The drone version also drew a lot of criticism, because in order to launch several large drones over residential buildings in New York, you need to obtain special permission and it is not so easy.
The most popular was the theory that what he saw was a secret American reconnaissance aircraft TR-3B, about which there have been many rumors for a long time. Allegedly, it was developed on the basis of an alien ship that fell in Roswell, it can move silently and is practically invisible to radars.
Indians and aliens – "I was told that there are four aggressive species in the universe, and humans are one of them."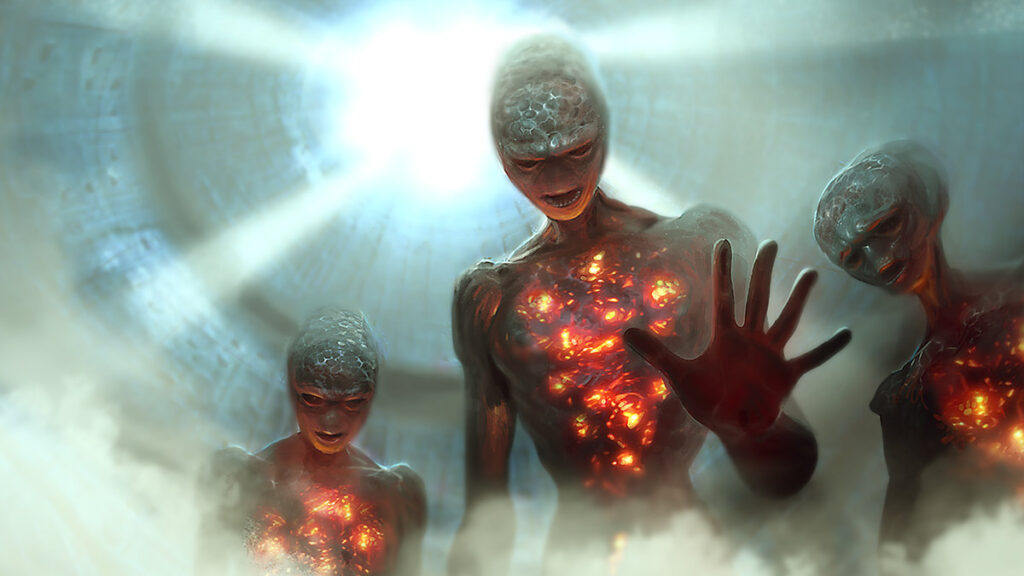 Dr. Ardi Sixkiller Clarke, professor emeritus at Montana State University, who is a native of the Cherokee tribe, has studied Indian stories about the "Star People" and collected stories of encounters between aliens and native Indians over the years.
Here is one of the stories she recorded, which she recorded from the words of a female elder named Tali:
I have seen star creatures all my life. The first time I was about 8 years old. I picked berries by the river. I watched the ship descend and land across the river. I crossed the river, stepping carefully over the rocks so as not to get my feet wet. I was curious; I've never seen anything like it.
As I approached, the door opened and I went inside. I remember that the star beings greeted me. There were two women. One combed my hair and said that I was beautiful. After that, I often met with them.
Sometimes I brought them flowers, sometimes stones. My grandmother told me that stones have a soul, and I tried to explain it to them. I don't think they understood. But they taught me to heal with my hands. Star doctors taught me how to treat diseases with my hands. They taught my grandmother how to heal.
When my grandmother died, the star beings were very saddened and I was tasked with continuing her work and learning about herbs and healing people naturally and metaphysically.
They are light, tall and thin. They are much smarter than us, but they are interested in our development. They travel the stars and learn from others throughout the star system. They collect information about the aging process of earthlings. They are trying to understand why we die so young.
Star people live much longer than we do. The normal age for them is 1000 Earth years. They do not have such diseases as we do. Their civilization does not consume alcohol and tobacco.
They choose who they will be, their job and stay on it forever. They become experts in their field, which leads to many discoveries that improve their lives. Star physicians visit Earth constantly. They mostly watch, but all over the world there are "helpers" who serve them. Both my grandmother and I were their assistants.
Star people call themselves observers.
They weren't cruel. I was told that there are four aggressive species in our universe. People are one of them."
Dr. Clarke ends the story like this:
"For the next five plus years, I frequently visited the reservation to meet Tali. She remained strong and mobile until her death at 95. On the day of her funeral, several people saw a UFO appear and hover in the sky. I was one of them."
Observers
In the stories of many people who have come into contact with representatives of extraterrestrial civilizations, there are references to the fact that they are just observers. It seems that some of these creatures are just curious observers of planet Earth, collecting data, as if some of them are carrying out scientific missions to bring information about other planets and civilizations back to their planet.
We are not alone in the universe. Perhaps one day we ourselves will become aliens for someone exploring another planet.
Can we change?
As for the fact that humans are one of the most violent species in the universe … We are empathetic beings with tremendous potential for good. We really can, but we do not change, and if you were an alien watching what is happening on our planet, you would probably be intimidated by how aggressive and cruel we are …
It is a pity that we are in a group of worlds characterized as aggressive, but I really hope that we will change. People can change, but only by standing at the edge of the abyss and realizing that if they do not change, human civilization will simply disappear. We are already on the edge of the abyss. We have actually destroyed the house we live in and the name of this house is Earth.
Humanity has only two ways – to change or die out.
The CIA has laid out all its information about UFO's in the public domain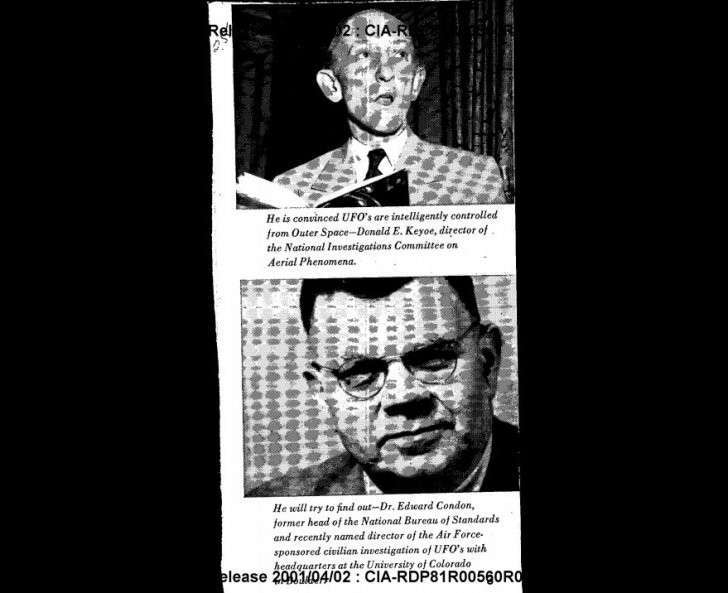 The Black Vault, which publishes declassified data, has posted on its website an impressive archive of CIA documents related to UFOs. The founder of the project, John Greenwald, says that he received all the documents by official means from the hands of the organization's employees.
And suddenly, the CIA declassified its entire database of UFOs. That is, the secret service has documents from the 1980s and everything shows that conspiracy theories are becoming a reality. Already, the "Black Vault" website contains several relevant documents, which can be downloaded by anyone.
The term "Unidentified Flying Objects" is commonly used in the documents.
Some of these may be due to light reflections or errors in the pilot instruments. However, some are objects of inquiry by the Pentagon.
The CIA claims that they have nothing else, but it is not possible to verify this statement.
It was possible to obtain information thanks to the Law on Freedom of Information, and the process itself was launched at the turn of the 70-80s of last century.
The representatives of the special services had to admit that the public ultimately has the right to find out the secrets of the government, but the process of transferring information is not really regulated. According to Greenwald, he spent 25 years in endless meetings, disputes and bickering with the CIA, until he finally got what he wanted.
But not everything is so simple – the researcher was handed a box with about 10,000 printed sheets of very low quality. He had to scan them manually, some things could not be disassembled at all, many documents were scattered. 
"Starting about 20 years ago, I struggled for years to get additional UFO records from the CIA," Greenwald said in an email to Motherboard. "It was like pulling teeth! I went around with them to try and do it, finally achieving it. I received a large box with a couple of thousand pages, and I had to scan them one page at a time."
The CIA used the rather outdated .tif format, so software processing is also difficult. Ufologists don't have to talk about a gift, it's more like trying to get rid of garbage in order to get rid of annoying researchers. 
"Researchers and curious minds alike prefer simplicity and accessibility when they look at such data dumps," says Greenwald. "The CIA made it INCREDIBLY difficult to use its archives in a sensible way. They offer a very outdated format (multi-page .tif) and offer largely unusable text output, which I think they intend to use as a "search" tool. In my opinion, this outdated format makes it very difficult for people to view documents and use them for any research purposes."
However, there are also enough mysterious stories there.
Thousands of files were uploaded in the first 24 hours after release, Greenwald said. Some documents are crisp and clear, while others are almost impossible to decipher.
According to Greenwald, one of the most interesting documents in this article relates to the fact that the Assistant Deputy Director of Science and Technology passed on some serious information about UFOs to the CIA back in the 1970s. After that, it became extremely difficult to obtain information from the government about extraterrestrial phenomena.
The release of the documents comes six months before the UFO report to be released by the US government. This means that the revelations are not made at this time randomly.
In particular, intelligence experts have 180 days to formulate an official report on signs or secret aircraft near US military bases, which will be released later.
Greenwald posts the files in the Black Vault, as he claims that publishing the files is a matter of public interest and notes that citizens have a right to know.
"The public has a right to know!" Greenwald says. "When I started my research almost 25 years ago, at the age of 15, I knew there was something about this topic. Not from viral online pranks, not from secret meetings with insiders that no one has ever seen. No, this is all UFO evidence straight from the CIA and NSA. I feel like I've almost achieved what I set out to do – give people easy access to important material so that people can form their own opinion about what's going on."
The aliens are already among us.