Anyone can become a priest of the church. In Phoenix, Arizona, the First United Church of Cthulhu appeared – a registered non-profit religious organization that, according to documents, "worships and glorifies our God Cthulhu." The founder of the church calls himself Khave Head.
The organization's website says that the Church of Cthulhu is a "gathering place for monsters, eccentrics and other dark souls." In addition to praising the character of Howard Lovecraft's short stories, the church has one more task – to circumvent American rules on holding wedding ceremonies.
According to the laws of most states, any official can conduct a marriage ceremony: judges, senators, congressmen, mayors, as well as clergymen, regardless of confession. Khave Head invites anyone to register as a priest of Cthulhu Church. To do this, you just need to insert your name and surname into a special form, mark the date of the ordination and download the certificate. For an additional $ 20, Khave Head can send a self-signed certificate, notarized.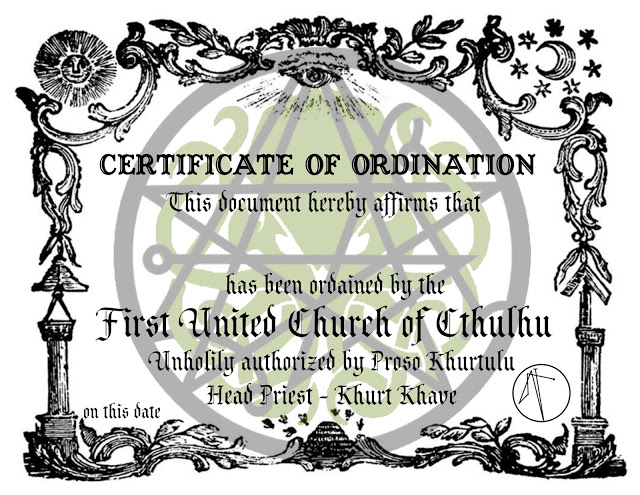 After this, the newly-made priest has the right not only to hold wedding ceremonies, but also to issue appropriate official letters. The church also offers several examples of marriage instructions to assist the priest in conducting the ceremony.
"Life is a disgusting thing, and against the background of what we know about it, we see indifferent demonic allusions to the truth, which sometimes make it a thousand times more disgusting. However, [name of bridegroom] and [name of bride] challenged such astronomical differences and found this truth in each other. And together, each of them makes the other's life 999 times less disgusting, "is an example of parting words of the newlyweds by the priest of the Cthulhu Church.
Cthulhu Church is by no means the first religious organization to assist in wedding ceremonies. So, the Church of American Marriage Ministries has nearly 700,000 official priests. The church professes only three postulates:
"All people, regardless of race, gender or sexual orientation, have the right to marry. "All people have the right to conduct a ceremony of marriage, and all people have the right to choose those who will marry them."