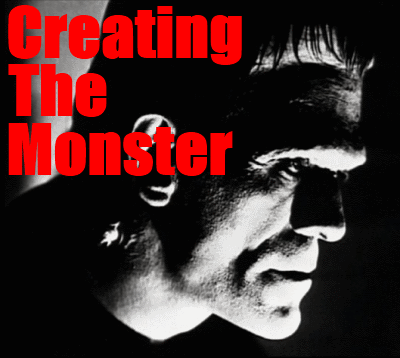 "Beware; for I am fearless, and therefore powerful." ― Mary Shelley, Frankenstein
Dr. Victor Frankenstein was based on the real-life Johann Konrad Dippel (1673-1734), an 18th century scientist and alchemist who was born in 1673 near Mühltal and Darmstadt, Germany at, you guessed it, Castle Frankenstein. The story of Victor Frankenstein and the monster he created come from the novel Frankenstein
by Mary Wollstonecraft Shelley, wife of the acclaimed poet Percy Bysshe Shelley.
Educated as a physician, Dippel set up a laboratory at Castle Frankenstein where he would be free to conduct his unusual experiments. Dippel (who often went by the name Konrad Frankensteina) spent a lot of his time with his hobby of alchemy…a popular pursuit of the day. Alchemy is a kind pseudo-scientific experimentation with the elements…whose ultimate challenge was to be able to turn lead into gold. Like Victor Frankenstein, Dippel was also fascinated by the possibility of immortality through scientific means. He really did use the parts of butchered animals and exhumed human corpses in his vain attempt to "engender life in the dead," in his own words.
Instead of rigging up the body parts to elaborate lightning-powered gizmos and spark generators, Dippel boiled skin, muscle, bone, blood, hair and organs in large vats. When the surrounding community got wind of what Dippel was up to, they eventually forced him out of town.
Shelly undoubtedly based her novel on Dippel's antics, since it is documented that she visited Castle Frankenstein in 1814 when she eloped with Percy.
"Life, although it may only be an accumulation of anguish, is dear to me, and I will defend it." ― Mary Shelley, Frankenstein
MARY SHELLEY: THE WOMAN BEHIND THE MONSTER
English Romantic novelist, biographer and editor, best known as the writer of FRANKENSTEIN, OR, THE MODERN PROMETHEUS (1818). Mary Shelley was 21 when the book was published; she started to write it when she was 18. The story deals with an ambitious young scientist. He creates life but then rejects his creation, a monster.
"But success shall crown my endeavours. Wherefore not? Thus far I have gone, tracking a secure way over the pathless seas: the very stars themselves being witnesses and testimonies of my triumph. Why not still proceed over the untamed yet obedient element? What can stop the determined heart and resolved will of man?" from Frankenstein

Mary Wollstonecraft Shelley was born in London. Her mother, Mary Wollstonecraft, died of puerperal fever 10 days after giving birth to her daughter. Mary's labor lasted 18 hours and then it took four hours to remove the rest of the placenta. She was one of the first feminists, the author of A Vindications of the Rights of Woman
(1792), and the novel Maria, or the Wrongs of Woman
in which she wrote: "We cannot, without depraving our minds, endeavour to please a lover or husband, but in proportion as he pleases us." In the intellectual circles of London, her acquaintances included the painter Henry Fuseli, Erasmus Darwin, Charles's grandfather, and William Blake, who illustrated an edition of her book, Original stories, from real life; with conversations, calculated to regulate the affections, and form the mind to truth and goodness, by Mary Wollstonecraft.

Mary Shelley's father was the writer and political journalist William Godwin, who became famous with his work Enquiry Concerning Political Justice
(1793). Godwin had revolutionary attitudes to most social institutions, including marriage. In feminism he found an "amazonian" element. Among his other books is Adventures of Caleb Williams
(1794).
In her childhood Mary Shelley was left to educate herself amongst her father's intellectual circle, the critic Hazlitt, the essayist Lamb, the poet Coleridge and Percy Bysshe Shelley, who came into Godwin's circle in 1812. Godwin took a second in 1801, but Mary never learned to like her. In 1812 Godwin sent her to live in Dundee. Mary published her first poem at the age of ten. At the age of 16 she ran away to France and Switzerland with Shelley; they had met at the end of 1812. Percy and Mary married in 1816 – Shelley's wife Harriet had committed suicide by drowning. Their first child, a daughter, died in Venice, Italy, a few years later. In History of a Six Weeks' Tour Through a Part of France, Switzerland, Germany and Holland: With Letter
(1817) the Shelleys jointly recorded their life. Thereafter they returned to England and Mary gave birth to a son, William.
The story of Frankenstein started on summer in 1816, when Mary joined with Percy Shelley and Claire Clairmont near Geneva Lord Byron. She took a challenge, set by Lord Byron, to write a ghost story. With her husband's encouragement, she completed the novel within a year. At the Villa Diodati she had been a "silent listener" of her husband and Byron, who discussed about galvanism. At Eton College Shelley had become interested in Luigi Calvani's experiments with electric shocks to make dead frogs' muscles twitch. It is possible that his teacher, James Lind, had demonstrated the technique to Shelley. Byron and Shelley talked Dr Darwin's experiments with a piece of vermicelli. In her 'Introduction' to the 1831 edition Mary revealed that she got the story from a dream, in which she saw "the hideous phantasm of a man stretched out, and then, on the working of some powerful engine, show signs of life, and stir with a uneasy, half vital motion."
FRANKENSTEIN; OR, THE MODERN PROMETHEUS (1818) The novel starts with series of letters from Robert Walton to his sister. Walton is an English Arctic explorer who spots a strange creature on a dog-sled. The exhausted Victor Frankenstein arrives, in pursuit of the creature,and while recuperating tells his story. He has been born into a wealthy Geneva family. After his mother dies of scarlet fever and becomes a student of natural philosophy and medicine. Inspired by occult philosophy and the teaching of his mentor, Waldman, he builds a creature in the semblance of a man and gives it life. It body is assembled from parts which Frankenstein has stolen from butcher shops, dissecting rooms, and charnel-houses. The creature is repeatedly rejected by those who see it, but the monster proves intelligent, and later highly articulate. Receiving no love, it becomes embittered. Frankenstein deserts his creation, who disappears. "I had worked hard for nearly two years, for the sole purpose of infusing life into an inanimate body. For this I have deprived myself of rest and health. I had desired it with an ardour that far exceeded moderation; but now that I have finished, the beauty of the dream vanished, and breathless horror and disgust filled my heart." (from Frankenstein) Frankenstein hears that his younger brother has been strangled, but Justine, his family's servant confesses the murder. However, later the monster tells that he murdered William and framed Justine. Frankenstein then agrees to make a mate for the monster so that it will not bother anyone again. A wave of remorse makes him destroy the female. The lone creature swears revenge. He kills Frankenstein's bride, Elizabeth, on their wedding night. The scientist becomes mad, but recovers and chases the creature across the world. The two confront in the Arctic wastes. Frankenstein dies. The creature describes eloquently to Walton his efforts to seek out beauty and how crime has degraded it beneath the meanest animal. "He is dead who called me into being; and when I shall be no more the very remembrance of us both will speedily vanish. I shall no longer see the sun or stars, or feel the wind play on my cheeks. Light, feeling, and sense will pass away; and in this condition must I find my happiness." The monster leaps from the ship on a ice-raft, disappearing again in the darkness. – The novel contains no supernatural elements; the creation of the monster is described in the third edition on a rational scientific basis. Frankenstein is a scientist who challenges the Creator of the world with the possibilities of modern science, but is destroyed because he cannot anticipate the outcomes of his own acts. The story has also been interpreted as an exploration of the artist's – creator's – relation to society.
The first edition of book had an unsigned preface by Percy Shelley. Many thought that it is also his novel, disbelieving that only 19-year-old woman could write such horror story. However, when the book was published in 1818, it became a huge success, although it received mixed reviews. John Wilson Croker wrote in Quarterly Review (January 1818) that "the dreams of insanity are embodied in the strong and striking language of the insane, and the author, notwithstanding the rationality of his preface, often leaves us in doubt whether he is not as mad as his hero." Walter Scott, on the other hand, noted that the work was "written in plain and forcible English, without exhibiting the mixture of hyperbolical Germanisms with which tales of wonder are usually told" (Blackwood's Edinburgh Magazine, March 1818).
In 1818 the Shelleys left England for Italy, where they remained until Percy Shelley's death – he drowned during a heavy squall on July 28, 1822, in the Bay of Spezia near Livorno. In 1819 Mary suffered a nervous breakdown after the death of William – he died of malaria at the age of 3. Mary had also lost a daughter the previous year. In 1822 she had a dangerous miscarriage and she believed that she would die. Mary Shelley wrote to her friend Maria Gisborne about this loss and her husband's death, concluding the letter: "Well here is my story – the last story I shall have to tell – all that might have been bright in my life is now despoiled – I shall live to improve myself, to take care of my child, & render myself worthy to join him. soon my weary pilgrimage will begin – I rest now – but soon I must leave Italy -". Of their children only one, Percy Florence, survived infancy. In 1823 Mary returned with her son to England, determined not to-re-marry. She devoted herself to his welfare and education and continued her career as a professional writer. Sir Timothy Shelley, her father-in-law, was not eager to help her and her son Percy financially. Mary Shelley never married, but she flirted with the young French writer Prosper Merimee, and hoped to marry Maj. Aubrey Beauclerk.
None of Shelley's novels from this period matched the power of her first legendary achievement. Shelley gave up writing long fiction when realism started to gain popularity, exemplified in the works of Charles Dickens. She wrote a numerous short stories for popular periodicals.
The story of Frankenstein's monster has inspired over 50 films. James Whale's version from 1931, Frankenstein
starring Boris Karloff, is considered a classic, and became the major source for a number of other adaptations. The monster kills little Maria on the lake and is hunted down and killed. All reviews of the film were not positive: "I regret to report that it is just another movie, so thoroughly mixed with water as to have a horror content of about .0001 percent… The film differs greatly from the book and soon turns into a sort of comic opera with a range of cardboard mountains over which extras in French Revolution costumes dash about with flaming torches." (Creighton Peet in Outlook & Independent, December 9, 1931) Mel Brook's parody Young Frankenstein
(1974), starring Gene Wilder in the role of the famous doctor, was beautifully photographed – Brooks used many archaic optical devices, including the old 1:85 aspect ratio for height and width of the frame. The film received an Academy Award nomination for its script. Among its highlights is the scene in which Peter Boyle as the monster visits a well-meaning, lonely blind man, Gene Hackman, who nearly manages to destroy his guest. Kenneth's Branagh's film Mary Shelley's Frankenstein
(1994) was faithful to the book. The director himself was Frankenstein and Robert De Niro played the monster under a heavy mask. – http://kirjasto.sci.fi
"Hateful day when I received life!' I exclaimed in agony. 'Accursed creator! Why did you form a monster so hideous that even you turned from me in disgust? God, in pity, made man beautiful and alluring, after his own image; but my form is a filthy type of yours, more horrid even from the very resemlance. Satan had his companions, fellow-devils, to admire and encourage him; but I am solitary and abhorred.' – Frankenstein's monster" ― Mary Shelley, Frankenstein
Frankenstein (75th Anniversary Edition) (Universal Legacy Series)

The Bride of Frankenstein (Universal Studios Classic Monster Collection)

The Ghost of Frankenstein / Son of Frankenstein (Universal Studios Frankenstein Double Feature)

Universal Classic Monsters: The Essential Collection [Blu-ray]
Earth in 2118 And He's on CIA mission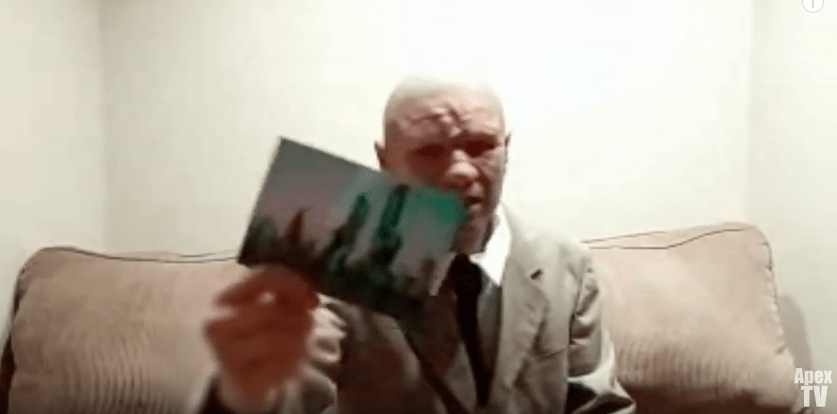 A SPOOKY image that claims to show what the world will look like in the year 2118 have surfaced on YouTube after an interview with a time traveller who says he's visited Earth more than 100 years into the future.
Alexander Smith, an elderly gentleman who travelled from the year 1981, indicates he has seen what the future looks like because he was involved in a secretive CIA experiment.
In a video on YouTube, the former secret service operative admits he is risking his life by talking about his time travel because the CIA "are looking for me and I am living in hiding".
He said: "I visited the year 2118 as part of a top secret CIA mission.
"As to my knowledge, it was one of the first times that time travel had been successfully completed.

"I went to the future and then back to the past."This all happened in the year 1981."Later in the video, the man offered proof of his venture to the future to ease the concerns of those who did not believe his tale.Reaching into the pocket of his jacket the man then pulled out a picture aimed at confirming his journey.He said: "I do have something to show you today.
"This picture was taken in the year 2118.

"This picture was the city I walked in.

"I'll never forget when I took that picture.

"It was right outside the city, before I had walked into it."
The blurry picture appears to show a number of tall green buildings, each one oddly shaped.
Far from being a crowded city like London or New York, the buildings in the photo seem to be spaciously spread out.However, little more can be deciphered from the poor quality photo.The mysterious Mr Smith added: "I chose to wait until now to reveal that picture to you because I didn't know if the world was ready to see it."That was a picture from the future which I was able to take back."There was only a minor amount of distortion on it that was caused by the time travelling process."
"The Government confiscated the original photo, but before they took it from me, I did manage to make the copy I held before you."
Detailing what the world will look like in the next century the old man also explained how humans will have received visits from aliens, speak a new language and climate change will get much worse.
The time traveller said: "Aliens do visit us, there are intelligent extraterrestrials that do come to earth.
"They visit first in the mid 21st century."
Source:https://www.express.co.uk/
Spate of UFO sightings reported near air field base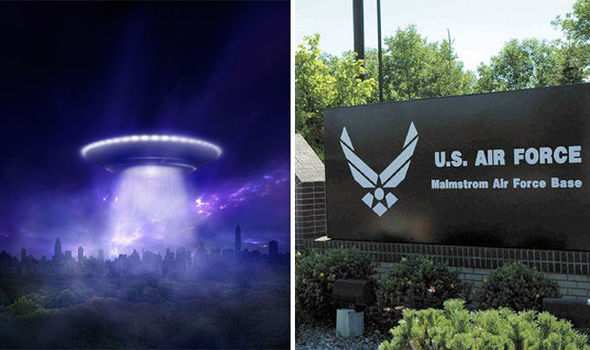 A GLUT of supposed UFO sightings near a military base in the US has alien enthusiasts concerned extraterrestrials are monitoring our planet's war preparations.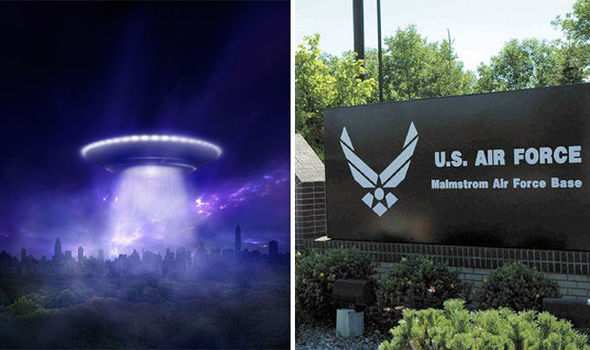 Alien hunters believe that extraterrestrials are watching the goings on at the Malmstrom Air Force Base in Montana after a spate of sightings there.
The most recent sighting of an unidentified space craft came on January 24, when a black object, which was reportedly over "half an acre" in size was spotted near the base.
According to website UFO Hunters – which monitors and collects records of sightings – there was a power outage in the region for around 10 minutes at the same time as the sighting.
The website also shows there have been close to 20 sightings within the past decade, making it a true hotspot for UFO activity.
However, sightings there stretch back much longer than the last 10 years.
One former employee at the Malmstrom Air Force Base claims a UFO shut down 10 missiles in 1967.
Capt Robert Salas said: "I was on duty when an object came over and hovered directly over the site.
"The missiles shut down – 10 Minuteman missiles. And the same thing happened at another site a week later. There's a strong interest in our missiles by these objects, wherever they come from. I personally think they're not from planet Earth."
UFO hunters believe aliens are monitoring military bases in the US.
A recent map from the US-based National UFO Reporting Center (NUFORC) was released which shows UFO sightings across the States.
Black 'UFO' object seen during Falcon Heavy test flight
However, it has been suggested the most dense areas for sightings coincide with US military installations.
Alex Hollings, a retired US duty marine, now writes for Sofrep.com, a news and intelligence service provided by former special operations veterans.
He wrote: "When laying that same map of reported UFO sightings over a US map showing the locations of all military installations, an interesting trend starts to emerge.
"Many of the regions that seem to show a high frequency of UFO reports coincide with the locations of military installations.
"For the conspiracy minded, this might mean our alien visitors have taken a particular interest in what our military is up to.
"Others might be inclined to conclude many of these supposed UFO sightings may be nothing more than misidentified military aircraft."
Source: https://www.express.co.uk/
'Aliens will return to Earth within 20 years', Chariots of the Gods author predicts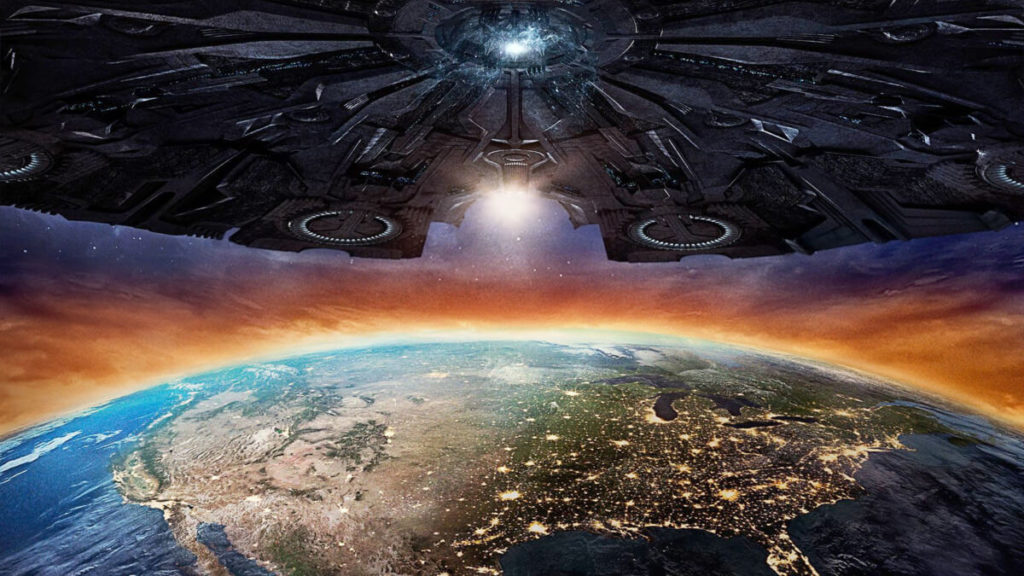 Erich Von Daniken the author of Chariots of the Gods, was presented with the Stella Citizen Award by Ancient Aliens TV regular Giorgio A. Tsoukalos, at the Princess Anne Theatre, Bafta, London last month.
In a two hour presentation Erich used video clips, computer animations, slides and diagrams to back-up his claim that thousands of years ago there was a war in heaven. He said,
'The E.T.'s know about us because we are part of their DNA. The Bible speaks of the daughters of men having intercourse with these visitors, and many worldwide myths and legends repeat the same story. These stories always say the E.T.s will return to us.'
Erich thinks this could be in the next twenty years.
The 'Erich Von Daniken Legacy Night' celebrated 50 years of his groundbreaking book that dramatically claimed humanoid extraterrestrials visited us in our distant past and caused the building of the Great Pyramids, Stonehenge, the Nazca lines, Stone Age cave paintings, Mexican temples and in more recent times UFO sightings and crop circles.
Evidence of this is contained in ancient Indian religious texts as well as in the Christian Bible, Daniken claims. Erich emphasised that their concept of heaven is really a reference to outer space, so the angels were E.T. visitors rather than spiritual creatures.
Visions by the likes of Ezekiel and Enoch strongly suggest they saw E.T. shuttlecraft and spaceships. After telling NASA scientists at a secret meeting about Ezekiel's vision, Erich claims they developed a multi-directional wheel from the Biblical descriptions and went on to patent the idea.
After his remarkable presentation he was interviewed on stage, where he confessed that he had always had an enquiring mind and was intrigued by the thought of alien visitors at an early age. He went on to work in the leisure and hotel industry, and worked as a hotel manager whilst writing Chariots of the Gods.
On its publication in the late 1960s it achieved worldwide success, and his books have now chalked up more than 70 million sales. They have inspired Hollywood blockbuster movies, TV series like The X-Files and numerous documentaries expounding his ideas and have become a cultural phenomenon far beyond his greatest expectations.
Source uk.news.yahoo.com