By Vladimir Hernandez, BBC Mundo
Does God exist? Does the Devil exist? The Catholic church believes they both do – and some priests say they are currently having an immense battle in Mexico.
To some it may seem extraordinary, but priests say the country is under attack by Satan, and that more exorcists are needed to fight him.
This attack, they say, is showing itself in the gruesome drug-related violence, including human sacrifice, that has engulfed the country since 2006.
According to the latest official figures available, at least 70,000 people have died in this period, including gunmen, members of the security forces, and many innocent civilians.
But, the priests say, it's not just the numbers. The savagery also stands out.
In recent years it has not been uncommon in many parts of Mexico for children to find dismembered bodies on the streets on their way to school. Or for commuters on busy roads to drive past bridges with severely tortured corpses hanging from them. Scenes from hell.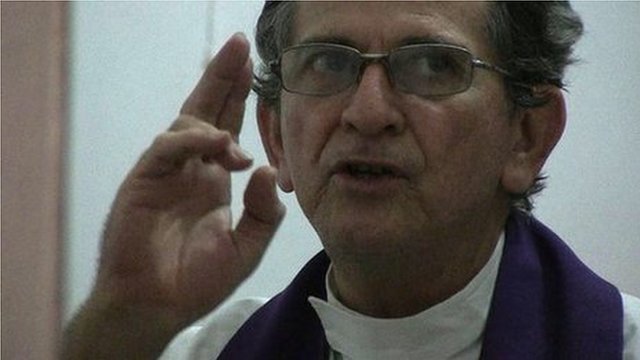 A mass exorcism at a church in Veracruz in Mexico
"We believe that behind all these big and structural evils there is a dark agent and his name is The Demon. That is why the Lord wants to have here a ministry of exorcism and liberation, for the fight against the Devil," says Father Carlos Triana, a priest, and an exorcist, in Mexico City.
"As much as we believe that the Devil was behind Adolf Hitler, possessing and directing him, we also believe that he (the Devil) is here behind the drug cartels."
Mexico's exorcists say there is unprecedented demand for their services.
Some are even not taking new cases, as they are having to exorcise demons almost every day.
"This didn't happen before", says Father Francisco Bautista, another exorcist in Mexico City.
Most of the cases, he explains, require a lesser form of exorcism, called liberation prayers – effective when a person still controls part of his or her mind and body.
Only rarely does the Devil possess someone completely, he says, but when that happens, the bishop of the diocese must intervene.
In Bautista's view, the rising demand for exorcism is partly explained by the large numbers of Mexicans joining the cult of Saint Death, or Santa Muerte.
It is estimated that the cult, whose followers worship a skull in a wedding dress carrying a scythe, has some eight million followers in Mexico – and more among Mexican migrants in Central America, the US and Canada.
"It has also been adopted by the drug traffickers who ask her for help to avoid arrest and to make money," Bautista says. "In exchange they offer human sacrifices. And this has increased the violence in Mexico."
Another reason for the surge in exorcisms, he argues, is the decriminalisation of abortions in Mexico City, in 2007. Both the cult and abortion have given evil spirits a foothold in the country, he insists.
"Both things are closely related. There is an infestation of demons in Mexico because we have opened our doors to Death."
If it is surprising how many Mexicans believe in Saint Death, it may also be surprising how many believe, like Father Triana and Father Bautista, that the Devil and demons are at work in the country.
Exorcism is an ancient practice and one that appears in many different religions, but many believers doubt the existence of demons.
A frontline of sorts for Mexico's exorcists is the northern region of the country where, for the last seven years, the Mexican military has been waging war against the heavily armed and cash-rich drug cartels.
In parallel with the soldiers, priests have been waging a spiritual conflict. One is Father Ernesto Caro, based in Monterrey, a city blighted by frequent shootouts and kidnappings.
He has exorcised several members of the drug cartels – and there is one case he cannot forget. It was a gang hitman, who confessed to horrific crimes. Father Caro said the man had been in charge of cutting the bodies into pieces and he said he enjoyed hearing them cry as he did so. Others he burned alive.
The priest says the man had committed his life to the service of Saint Death.
"The cult is the first step into Satanism and then into this band of people [the drug traffickers], that's why he was chosen for that job."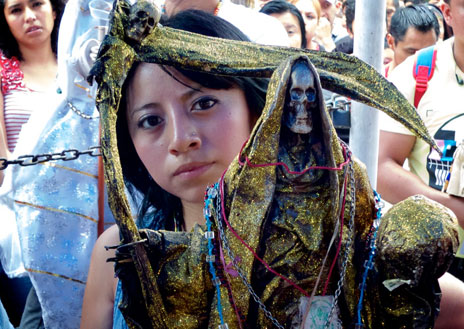 "Santa Muerte is being used by all our drug dealers and those linked to these brutal murders. We've found that most of them, if not all, follow Santa Muerte," he adds.
The cult is also followed by criminals, policemen, politicians and artists.
"The biggest presence is in the poorest sectors of Mexican society," says journalist Jose Gil Olmos, who has published two books on Saint Death.
The first references to Saint Death occur in the 18th Century, he says, not in Aztec times, as many believe.
"In modern times the numbers of followers exploded, especially after the early 1990s economic meltdown."
Many middle-class Mexicans found themselves in misery. In despair they searched for hope, and some turned to Saint Death, Olmos says.
"From approximately eight years ago we have seen Santa Muerte having a big presence with drug cartel members, from the bosses all the way down. Why? Because these people say that Jesus or the Virgin Mary can't provide what they ask for, which is to be protected from soldiers, police and their enemies."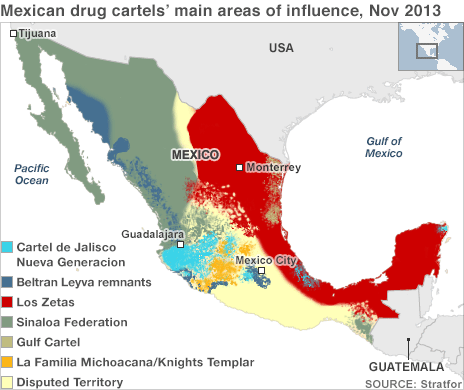 I went to see what this cult was all about at its biggest annual ceremony in the neighbourhood of Tepito, in Mexico City, a place riddled with drug trafficking and crime.
It's here that one of the biggest sanctuaries of Saint Death in Mexico is located. It's kept tidy by Enriqueta Romero, a woman in her sixties, whose life changed dramatically 12 years ago when she shocked her neighbours by putting a Saint Death figure in her window.
Over the years, more and more people started arriving to pay tribute to the skull figure in a dress. And now thousands gather for the cult's most important ceremony on 31 October, the eve of Mexico's Day of the Dead festival.
"She loves us and heals us. People come here to ask her for help – a son in prison or with Aids, or something to eat," says Romero.
During my visit, some people reach the shrine walking on their knees. One of them is a man who carries a 20-day-old baby in his arms. He's come to present his daughter to the skull.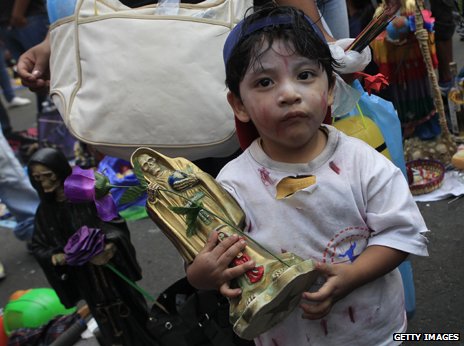 I also see ordinary working-class families, pregnant women asking Death to protect the life of their unborn child, and plenty of people heavily tattooed with the female skull.
Are these people possessed, as the church says?
"No, I also believe in God, in the Virgin, and all the saints, but I am more devout to [Saint] Death. She is the one that helps me the most," says Jose Roberto Jaimes, a man in his 20s who's come on his knees to thank the skull after surviving three years in jail.
I get similar answers from all of the cult followers I talk to.
Romero says the church itself bears responsibility for the rise of the cult, having shot itself in the foot with the worldwide child abuse scandal.
"They finished off our faith with the things that the priests did. What can they criticise? That we believe in Death? That is not bad. What's bad is what they did," says Romero.
But does she feel comfortable knowing that people behind horrific crimes also follow this cult?
"We are in a free country and everyone can do what they want. We all will have to answer to God at some point," she says.
It was former President Felipe Calderon who launched the offensive against drug cartels in Mexico in 2006, by deploying troops to the worst-hit areas.
Over the years the military has discovered numerous shrines, temples and even churches of Saint Death across the region, and plenty of evidence of human sacrifice.
"He [Calderon] started a war against them and he started a war as well against the cult of Saint Death, and he asked the church to help him," says Father Ernesto Caro.
"The Church is not going to go on TV and say: 'Look, we think that Mexico is going to get better and be saved if we do exorcisms because the Devil is behind all of this.' We have to be discreet [with exorcisms] or else we may be ridiculed, even by our own followers," adds Father Carlos Triana.
Whether exorcisms can help reduce the drug-related violence in Mexico – especially the sadistic killings – is debatable. Although at this point, many in Mexico would probably welcome any help if it brings them some peace.