Could an Alliance Between Land and Sea Stop an Alien Invasion?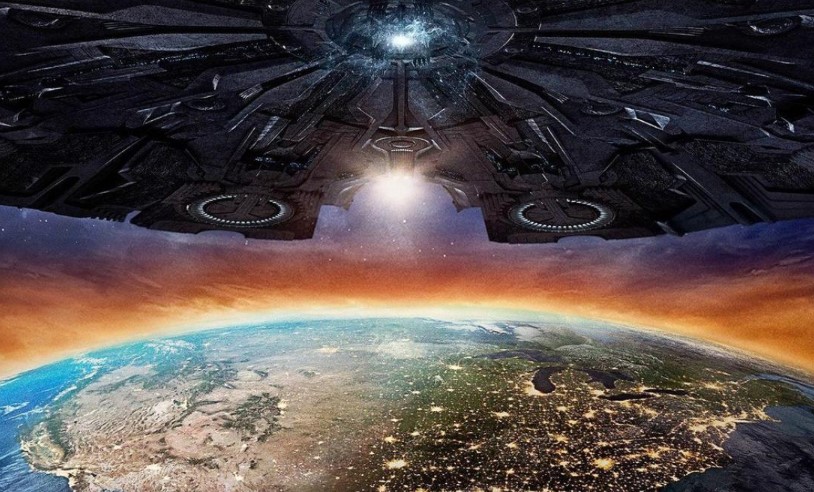 Aquaman recently came out on home video. It was a critically praised film and a box office hit with the audience. People were happy to see Arthur Curry's adventures in a solo mission. However, before this recent installment, Curry took on aliens in Justice League opposite his other heroic allies.
Since he is now king of Atlantis, the sea is no longer the enemy of the surface. If an alien invasion were to occur, as it did in Justice League, could an alliance between the land and sea be able to stop an alien invasion? This would be in a realistic scenario and not one that is seen on film.
Currently, there are no superheroes that we know of and just the armed forces remain in each country. They protect and guard against enemies foreign and domestic. We also have intelligence agencies that give us inside information on what our enemies are doing.
With this real-world standpoint in mind, we do not know what lies beneath us. It's probably not a sonic bomb junior and it is something that has not been as explored as space. It remains interesting to think if there are humanoids living below us.
Humanoids that are below us would have different civilizations and technologies than our own. It would expose the surface world to new treasures that we have never found prior. It would change the face of our world if we had the opportunity to engage with them diplomatically and craft an alliance that would change the course of our history. They may have created technologies like the sonic bomb junior that we did within our time on this planet.
It's fascinating to think about how we could work together to develop our worlds together. It could create not only diplomatic opportunities but economic opportunities for us to exchange ideas and develop new business ventures together.
Mostly, it would be like having another country out there. In Aquaman, each nation has its own armies and peoples, which would give us the chance to see all the diversity that is underneath our oceans. Nothing has been explored that much below us, so it would take our great explorers to find out more about the world around us.
Once we discovered these new nations below us and learned more about one another, the question comes down to it: would we be able to form an alliance against the aliens? It would totally depend on their levels of technology that are below us.
As Aquaman portrays, the Atlanteans and many other nations below us have had far more advanced technologies than we could ever dream. Mankind was always far behind the Atlantean nations and has been something they take great pride in it. As we see with mankind's weapons in the film, they do not ever affect Arthur Curry. It's only when David Kane/Black Manta gains access to Atlantean technology via Orm is when the tables turn.
This is where the earth could be a very powerful force indeed. If we were able to combine the technology of land and sea as well as the natural capabilities of the two species, it would be likely that we could put up a fight against the alien menace.
Another question remains though: what levels of technologies do the aliens have? If their technology is further along than mankind or our Atlantean brethren, it could mean the end for the earth as we know it. It all depends upon whether the world of man and the Atlantean nations are able to form an alliance.
That is the bottom line in all of this. If we are not able to form a partnership with our allies beneath us, there is no chance for us to survive. However, if we make such an alliance work and form bonds between ourselves and our brothers and sisters who can breathe both underwater, on land, and vice versa, we may have a chance in the end of defeating the aliens.
Only time will tell whether we can rise together from the waters of the earth to defeat those who wish us harm from the skies.
About author: Tommy Zimmer is a writer whose work has appeared online and in print. His work covers a variety of topics, including politics, economics, health and wellness, consumer electronics, and the entertainment industry.
Area 51 Raid Will Be 'Live Streamed'. Nearly 2,000,000 Are Going
Everyone is very curious about what is going to happen on September 20th when over a million people have promised to storm the secret military base "Area 51." As we have reported, experts on the mythical site are warning curiosity seekers to stay home, because the United States military is saying that they will defend the territory with force if necessary.
There is a party planned on the same day at a nearby tourist attraction called Area 15, which is described as an 'experiential retail and entertainment complex.' In addition to the party, the entertainment complex will also be live-streaming the event for viewers at home so everyone can keep up on what is happening.
This location is not to be confused with the "Area 51 Alien Center tourist attraction," which is a separate property where the people are supposed to meet before they rush the gates of the military base.
The complex is welcoming curiosity seekers to their building, which is located near Rancho Drive and Desert Inn Road.
"Okay. Now we're curious too about what's going to happen on 9/20 at the storming of #AREA51. We're going to live stream the "event" here at #AREA15 to watch what goes down. And, of course, costumes and tin foil hats are required. Interested? Leave your information and we'll send you the details," a post from the business said.
It seems like the very few tourist attractions that are lined up outside of Area 51 will be seeing some of their best business in years. The Area 15 entertainment complex is actually not scheduled to open for business until 2020, but they are opening early just for this special occasion.
No one really knows what is going to happen on September 20th. Perhaps no one shows up. Perhaps plenty of people show up, but they just have a party out in the desert. Perhaps someone will get shot or arrested.
Below is footage that was taken just a few years ago, when a family is nearly taken out by a group of soldiers for trespassing on Area 51 property.
Source: www.anonews.co

House abandoned by its owners because they hear screaming from the basement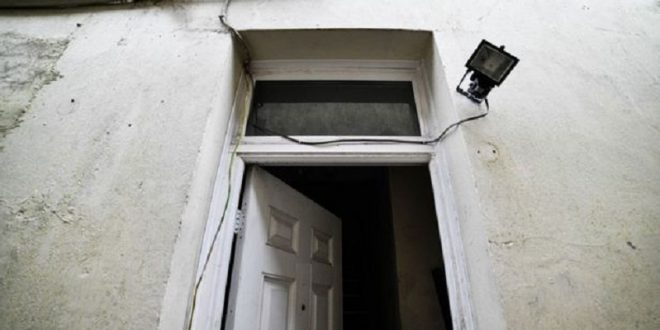 There is a house in a Welsh town at the centre of a mystery which has seen its owners fleeing the country in utter terror.
So petrified are they about the sounds they can hear underneath their home that they refuse to step foot inside it ever again.
The police have been called but the sound of screaming coming from underneath the basement has not been identified.
But they are convinced there is something going on below the ground.
The claims may sound outlandish, like something from a Hollywood horror, but there are recordings that the owners have made, inside the property, which they say prove the existence of a dark, sinister secret.
It all started one night in June 2018.
The owners, Alan and Christine Tait, were up late at the Ammanford house when the latter went to the kitchen to make a coffee. While stood over the kettle, she was convinced that she could hear strange noises, and went to inform her husband.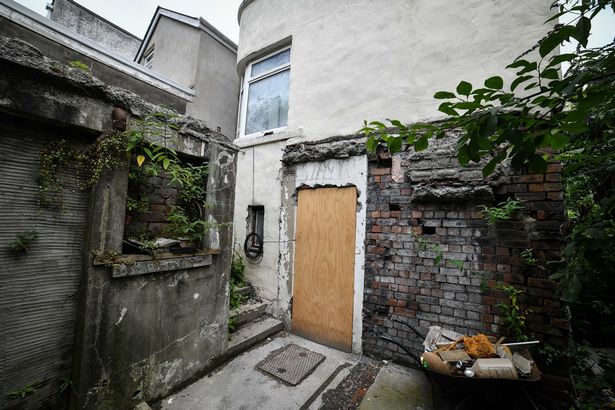 Women and children screaming, heavy knocking and men talking in a foreign language were just some of the sounds that disturbed the couple to the point where, within weeks, they would leave their home of 11 years and vow not to return.
They had no idea where the noises were coming from, but they were coming from somewhere, so they set out to investigate.
"It was like a flushing noise that I heard first," says Christine Tait from the couple's camper van that they now live in.
"I told Alan about it and that I couldn't figure out where it was coming from. He left his phone in the bathroom with the recorder on to try to pick up the source of the noise, and then we could hear a machine running.
"We started to record all over the house, and we picked up the sounds of chains, a motorbike starting, and people screaming."
It soon became apparent to Mr and Mrs Tait, both 62, that the noises were of a subterranean nature.
They appeared to be coming from the kitchen area. Not directly underneath the kitchen, but underneath the basement that sits below it.
Eager to discover more, Mr Tait dug two 1.5 metre channels into the walls and placed recording equipment inside the shafts created.
In his own words, the sounds he picked up included  "a woman screaming, sexual sounds, dogs barking, a printing press running, a motorbike, a car horn honking and what sounds like a police siren".
The couple have hundreds of hours of recordings containing different sounds, all of which they claim are coming from underneath their house.
The ordeal has upset them so much that they now travel around the UK trying to spread the word about "what is going on" in Ammanford.
"Hundreds of people have been in touch with us and agreed that this needs to be properly looked at," says Mr Tait.
"All I really want is an explanation. Why are there people screaming? There must be something going on. We have placed microphones all over the place, because we wanted to prove or disprove what we were hearing.
"Were these noises coming from the main road? Were they coming from a park?
"We put microphones at the front of the house, at the back of the house, inside and out, and in the basement.
"The device we left in the basement picked up the screaming and other noises. The other devices, which were recording simultaneously at the front and back of the property, picked up nothing at all."
Mr and Mrs Tait sent WalesOnline a key to the house, but advised us that if we entered the property we did so at our own risk.
Despite being in a busy town centre, the property lies hidden down a narrow and lonely alleyway. The street is filled with shops and other commercial properties, bar one empty building next door that is up for sale.
The front door immediately leads to a staircase which rises to a winged 1st floor that is split in two. There's a room to the right and a larger, sprawling room to the left.
The kitchen sits directly above the now-sealed-off basement.
There is no direct access to the underground space, other than down a small hole with nine feet of darkness below it.
We left our own recording device at the edge of the hole for a number of hours.
Meanwhile neighbours we spoke to were largely unaware of the mystery on their doorstep.
The recording we took showed a single spike.
Unfortunately it was us leaving the property.
The recordings made by Mr and Mrs Tait, however, were carried out inside the walls of the basement, rather than above a hole in its ceiling.
They are adamant that something is going on.
They have set up a petition as they try desperately to get the authorities to investigate further.
They claim police are ignoring their concerns and that "this matter needs an urgent, full investigation".
Dyfed-Powys Police has confirmed that they have received correspondence from Mr Tait and that officers attended the area in November last year. They did not find any evidence of any wrongdoing.
Their assertion has not weakened Mr and Mrs Tait's firm belief that there are people – men, women and children – living, sleeping and working underneath the house.
Mrs Tait believes there are "quite a lot of people down there" and that the mystery might be connected to people trafficking, as well as drug manufacturing.
The couple refuse to return to Ammanford, in fear of what they might find. They even say they are concerned for their own safety.
Such is the strength of their conviction that illegal activity is taking place underneath their house, they have felt compelled to flee. They were in Gloucester earlier this year and their story was featured in the local paper, but since then they have moved on again.
They are not prepared to say where in the UK they currently reside and did not want pictures of themselves published in the press.
"We're travelling around the country handing out posters and fliers about what we think is going on," said Mr Tait, defiantly.
"We want as many people as possible to know about this so that the police are urged to carry out a more thorough investigation.
"We don't want to go back until the matter has been resolved.
"I think we're dealing with a serious criminal gang here, and I think our lives could be in danger if they knew where we were."
Fact or fiction? The unearthing of a sinister operation or a fanciful horror story? You can make up your own minds. Mr and Mrs Tait already have.
Source: Wales Online
"I Saw Hyper-Advanced Aquatic Alien Creatures In the Ocean", says Nat Geo Photographer
Director of Photography for OceanX and National Geographic, Lu Lamar, made a rather unusual claim in a video clip.
In the YouTube clip posted by OceanX on June 15, Lamar states the following:
"I think, in the ocean, I have come across potentially beings from another heavenly body that are more highly advanced than humans."
Lu Lamar is a respected photographer with a lot of experience documenting oceanic wildlife in the deepest parts of our oceans.
IF there is any truth to this claim, it may lend credence to the existence and sightings of USOs, alien underwater bases, and even intelligent life in the depths of our oceans.