Cosmic Rays as Triggers for Solar Flashes, Earth Core Eruptions & Pole Shifts (Part 3)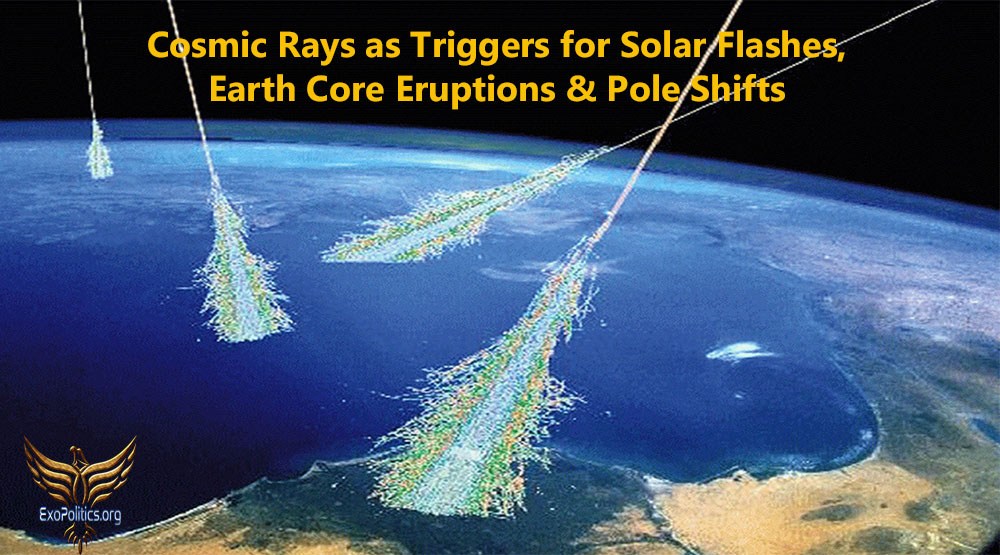 On January 11, one of the world's top science journals, Nature, reported an unexpected acceleration in the movement of the Earth's magnetic poles that has required an immediate update of the World Magnetic Model used for global navigation by ships at sea, Google Maps and smartphones. Scientists have speculated that the unexpected acceleration is due to "liquid iron sloshing within the planet's core", and that in the case of the north magnetic pole, the likely culprit was a "high-speed jet of liquid iron beneath Canada moving the pole towards Siberia".
Importantly, scientists widely agree that the acceleration in the movement of the magnetic poles points to something very unusual happening in the Earth's outer core which is filled with a nickel-iron alloy surrounding a solid inner core of iron. In part 2 of this series of articles investigating issues raised by Ben Davidson in his Earth Catastrophe Cycle video series, I discussed a CIA document authored by a geologist, Chan Thomas, that was only declassified in 2013. Thomas hypothesized that the inner core of the Earth, behaves just like a star in terms of emitting plasma or "neutral matter" in periodic bursts every few thousand years into the outer core, thereby triggering both magnetic and geophysical pole shifts.
In part 1, I examined evidence of solar flash (aka micronova) events in history, and the prospects for one recurring in the near future. This raises the possibility of the connection of some kind between solar flash events and "neutral matter" eruptions that occur deep inside the Earth's core. In this article, I examine whether high energy cosmic rays from outside our solar system are the trigger mechanism for both solar flashes and neutral matter eruptions that lead to pole shifts.
It's important to first point out that the accelerated movement of the magnetic poles is happening at a time when the Earth's magnetic field is weakening and the Solar Minimum (low sunspot activity) have both made the planet more susceptible than ever to cosmic rays.
Cosmic rays are the atomic nuclei of hydrogen, helium and larger molecules that have been stripped of their electrons. They have been generated from galactic events such as supernova and quasars, and travel throughout the universe at almost the speed of light.
While our sun also generates cosmic rays, it is the cosmic rays from the galactic core that carry the most energy as they penetrate deep into our solar system, into our sun, and finally into the Earth's interior.
Cosmic rays are impacting both the Earth and the sun with increasing impact because the energy shield created by the solar wind is at its weakest level as a result of the current solar minimum. Some scientific models predict the solar minimum will continue until October 2020, and may even stretch out into a grand solar minimum lasting until 2070, during which time humanity witnesses a mini-ice age similar to the Maunder Minimum that occurred from 1645 to 1715.
Scientists have for decades tracked solar and cosmic ray activity and confirmed that cosmic rays peak during solar minima as shown in the following diagram.
The intensity of cosmic rays impacting our solar system and the Earth depends largely on the strength of the solar wind generated by our sun which acts as a shield as explained by NASA:
Our first line of defense is the sun: The sun's magnetic field and solar wind combine to create a porous 'shield' that fends off cosmic rays attempting to enter the solar system. The shielding action of the sun is strongest during Solar Maximum and weakest during Solar Minimum.
NASA studies have confirmed that cosmic rays, during a solar minimum increase the radiation exposure of astronauts thereby shortening the time they can spend in Earth orbit.
It is worth emphasizing that cosmic rays typically are either deflected by the Earth's magnetic field (magnetic field) or attracted by the field towards the polar regions where most of the world's cosmic ray detectors have been assembed.
Studies have shown the Earth's magnetic field, which acts as the second line of defense against cosmic rays, as well as being a shield against the solar wind, has been steadily weakening throughout the 20th century. Since the year 2000, however, the weakening has dramatically increased as illustrated in the following image provided by Davidson in his Earth Catastrophe Cycle series.
The weakening of the magnetic field has led to some scientists concluding that this is a prelude to a magnetic pole flip.
In 2014 Rune Florberghagen, the mission manager of the European Space Agency's Swarm project, confirmed that the Earth's magnetic field was weakening 10 times faster than normal, and that this was a sign of a future magnetic pole flip.  Florberghagen said that this "would take many hundred if not a few thousand years…. They have happened many times in the past."
However, other scientists studying paleomagnetic data cut the time dramatically in Florberghagen's estimate. A Berkeley University study said that the pole flip could happen in less than a century, anytime during our life-time.
The dramatic weakening of the magnetic field means that fewer cosmic rays are being deflected, and more of these have been absorbed into the Earth, especially at the polar regions where the magnetic field lines attract cosmic rays into the North and South magnetic poles.
This raises important questions about what scientists have recently discovered about the unexpected acceleration in the movement of the magnetic poles, and what we know about the increasing influence of cosmic rays during a solar minimum that may extend well beyond the projected 2020 start of solar cycle 25.
First, are cosmic rays entering the Earth's magnetic field at the polar regions penetrating deep into the Earth's interior, thereby impacting the molten outer core in some way? Second, were cosmic rays recently detected coming out of Antarctica, in any way related to the "neutral matter" eruptions described by Chad Thomas? Finally, were the mysterious seismic global waves detected on November 11, 2018, in any way related to neutral matter eruptions from the core, and/or cosmic rays?
CONTINUE READING @ exopolitics.org
Source:
https://www.exopolitics.org/cosmic-rays-as-triggers-for-solar-flashes-earth-core-eruptions-pole-shifts/
Luciferase 666 Beast – Bill Gates' "Implantable Vaccine"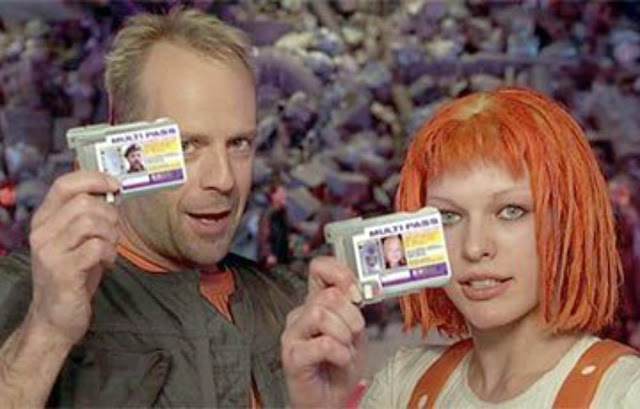 Every day you never cease to be amazed at the information that is widely discussed abroad regarding the pandemic and the secret springs that move this process around the world.
I'm not even talking about foreign conspiracy theorists, who are vying to announce all the new facts that underlie not only a well-planned pandemic, but also its future accompaniment – a possible vaccine – an antidote, which is supposedly created for the universal vaccination of the world's population.
Naturally, against the background of conspiracy information, the ominous figure of B. Gates and the organization – Alliance ID2020
Bill left Microsoft to become a founding partner: ID2020 Alliance
The ID2020 Alliance is a public-private partnership that seeks to improve quality of life with a user-centric, portable, privacy-protecting digital identity. This year's summit, convened by the ID2020 Alliance, brought together leaders and innovators in the field to discuss technical and non-technical requirements to develop a common roadmap that will lead us towards widespread adoption of "good" digital identity for all.
The ID2020 Alliance is a digital identity program that aims to "use immunization" as a means of injecting tiny microchips into people's bodies. In cooperation with the Global Alliance for Vaccines and Immunization – "GAVI"
Here is what the commentators from B. Gates cite as arguments about the main goal of the Alliance:
"We are implementing proactive approach to digital identity that gives people control over their personal information, while providing existing systems and programs" – says ANIR Chowdhury, political adviser in A2I, government programs the Government of Bangladesh "access to information" …
While ID2020's landfills are mostly in Third World countries, the group says it is also working with the governments of Bangladesh, and it is also expected to work primarily in the United States to begin microchipping people through vaccination.
"For example, in Austin, Texas, the homeless population is now used as a collective guinea pigs for vaccination programs microchip ID2020, which, according GROUPS, HELP" expanded opportunities "Homeless ALLEGEDLY provide them with" control "over your personal data, identity " .
Source: BiometricUpdate.com.
ID2020 is also vaccinating refugees with microchip vaccinations through the first two pilot programs known as iRespond and Everest.
Most of the conspiracy research, regarding the coronavirus pandemic, was puzzled both earlier and now by the information that the vaccine will be based on some nanotechnology that will lead humanity to total chipization.
Quite recently, on the pages of a number of foreign publications, specific data appeared regarding the nature of the chip vaccine.
She was even nicknamed symbolically – "LUCIFERASE"!
"And he makes everyone, both small and great, rich and poor, free and narrow, to receive a mark in their right hand or on their forehead: and no one can buy or sell, except for the one who had this mark, or the name of the beast or his name number. Here is wisdom. Let him who has understanding count the number of the beast, because it is the number of man; and its number is six hundred and sixty and six. " Revelation 13: 16-18
"Do not let anyone deceive you, for this day will not come unless apostasy first comes and that man of sin, the son of perdition, is revealed; Who opposes and exalts himself above all that is called God, or who is worshiped; so that he, like God, sits in the temple of God, claiming that he is God. " Thessalonians 2: 3,4
Implantable vaccination of human quantum dots
Gates is building something we call the human quantum dot implantable microneedle vaccination system and it's made up of more things. But the attention of many researchers goes to one component, the quantum dot micro needles that will deliver the vaccines and a very unique biochemistry that makes it all work.
These quantum dot micro needles would be an enzyme called "luciferase", which with a near-infrared bioluminescence "is the chemical that will make quantum dot vaccination readable through a special application for mobile devices.
That's right, the enzyme that will light up the human implantable microneedle vaccination delivery system, which is about to be marketed by Bill Gates, is called Luciferase, this is what makes vaccination readable long after the injection of the victim.
With each passing day, it becomes clearer and clearer for those of us who believe the Bible that we live in a truly unique period of time. So unique, in fact, that we could be witnessing the fact that the Antichrist system and the Mark of the Beast system are coming together before our eyes. Have you ever heard of Luciferase?
We are experiencing the Antichrist, we are experiencing the battle between good and evil. And what is happening right now, the Antichrist system, is an equally difficult thing to understand, but here we are.
Bill Gates is building something we call the Human Quantum Dot Implantable Microneedle Vaccination Delivery System and it's made up of multiple things. At its core we have the COVID-19 vaccination it wants to administer to every human on earth, there will be quantum dot microneedles, an ID2020 digital identification mark, and a human implantable device for buying and selling cryptocurrency with a number of patent of # 060606.
In its center, COVID-19 vaccination, which will be obligatory for every person on Earth – "microneedles with quantum dots".
The digital ID (identity) will come in the form of something called an immune passport. All of these things, and all funded by one man, Bill Gates, together represent at least one extraordinary precursor to the worldwide Mark of the Beast system.
Well, what other comments are still needed here? …
The UN openly warns that a famine of biblical proportions is looming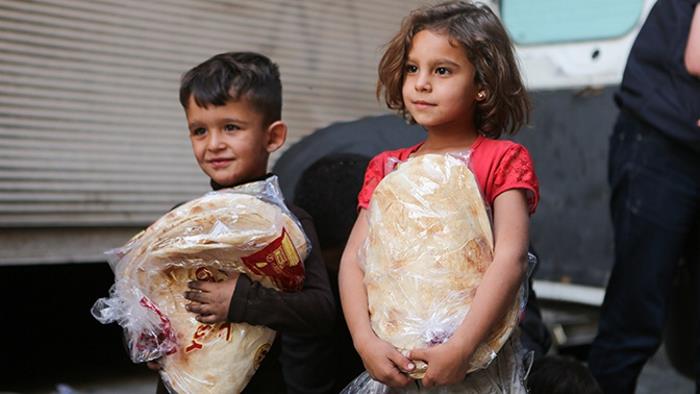 The Covid-19 pandemic could lead to a catastrophe on a grand scale, with millions of people around the world facing hunger, warns David Beasley, Executive Director of the World Food Program.
"All the data we have, including the UN World Food Program (WFP) forecast, suggests that the number of people suffering from malnutrition will grow 80 percent by the end of the year. All of this points to a real disaster," David Beasley says.
"The rapid increase in the number of people unable to feed themselves will only be the immediate result of a pandemic that has disrupted the growth of food production and logistics around the world. In the coming years, longer-term damage will inevitably be done and we risk a famine of truly biblical proportions. "
"It is obvious that social tension will grow, migration will intensify, conflicts will escalate, and hunger is likely to affect those who have not experienced it before," echoes the words of the head of WFP TASS.
"According to WFP forecasts, the situation in Latin America will change dramatically in the first place: the number of undernourished there will increase by 269 percent. The same figure for the countries of East and Central Asia is 135 percent. In sub-Saharan Africa, the number of hungry people could almost double," says the head of the WFP.
Beazley warned that global hunger is already high. If bold action is not taken now, "many will die, children will suffer the consequences of malnutrition for years, and the world will lose all the progress it has made in fighting hunger over the past decade," he said.
The cost of inaction will be incredibly high. Some 138 million people in 83 countries are counting on WFP alone for food supplies this year, the official said. For many of them, the UN humanitarian body is "the last hope for survival." In South Sudan, 1.6 million have been added to the 5 million already in need this year. In Yemen, WFP feeds 13 million people.
The situation in Lebanon has become particularly bleak since the devastating explosion two weeks ago in Beirut. The explosion not only destroyed grain stocks, but also cut supply chains as the damaged port was used to deliver about 85 percent of the food Lebanon needs.
Beazley called on international donors to provide the organization with additional funding to deal with the impending disaster. WFP will need $ 4.9 billion over the next six months to support its humanitarian programs.
Yes, this impending famine will be of biblical proportions. And this will not only affect the "poor countries". Be ready.
In China, for the first time since the 1960s, posters about atomic bombs and bomb shelters have appeared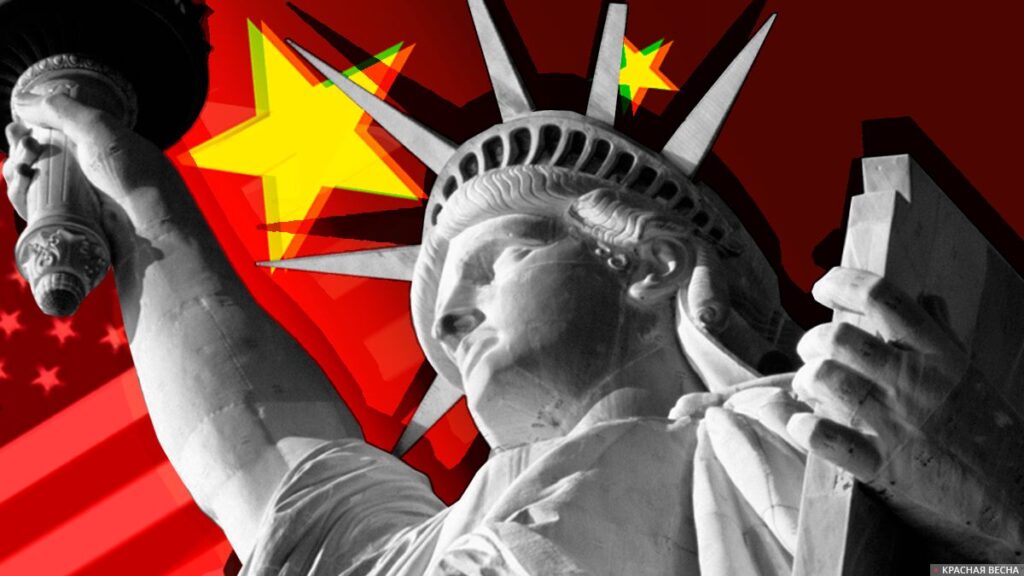 In early July 2020, the vigilant residents of the town of Pembri in Wales noticed a very strange picture – an Airbus A400M Atlas transport aircraft landed on a local beach right on the sand:
Airbus A400M Atlas is a new four-engine turboprop military transport aircraft manufactured by the European concern Airbus Group.
The reason for its creation for military experts, as it was incomprehensible 20 years ago, remains a mystery: this aircraft is not capable enough to transfer armored vehicles, but there are already many of them for the transfer of infantry, especially considering the fact that it is undesirable for a heavy aircraft to land on unprepared airfields. 
Nevertheless, since it was made and adopted, then, presumably, it was driven out in all modes – including on landings almost on rough terrain. Therefore, we are hardly talking about aircraft testing – rather, it is about training pilots.
However, pilots are also trained not by stupid people, and from time to time they are taught to land at field airfields, including even fighter pilots. And for this they choose not a beach, but a special airfield.
In the light of these considerations, the vigilant British immediately realized that the pilots were being prepared for war, during which there would not always be convenient landing strips. But with whom? And when will this war be?
And now, as if by order of perplexed British conspiracy theorists, such videos suddenly come from China:
Thus, in the Chinese megalopolises, some people walk the streets and place in prominent places visual agitation about how to hide from a nuclear explosion and where to run to an anti-nuclear bomb shelter. 
Such posters are a worldwide practice, especially for small and proud totalitarian countries. We have never been to North Korea, but we are sure that such visual agitation is there at every corner – so that citizens do not relax and understand that only the great supreme leader Kim Yeo-jong protects them from the aggression of imperialism. That is, enemies can start bombing at any moment.
However, in more or less normal and conventionally normal countries, such posters are hung out on the streets only in a situation when there is a real need for them. For example, in the USSR and Germany in 1944, such posters were hung everywhere, but after 1945 they were removed even in the USSR so that people would not be afraid.
In China, such visual agitation was present only in the 1960s, but again, this was not agitation for communist power, but a real guide to action, for the Chinese leaders every day voiced threats to start a war with the United States. That is, the war was quite real.
And now it seems that the 1960s are returning to China, and Dunkirk and 1939 in general are returning to Britain, so we will not be surprised if they start hanging loudspeakers there in London and train people to react to the FAA's flights.
It is obvious that similar events are now being held in other countries, only people do not really notice this. Therefore, since the authorities are already making the last preparations in preparation for the war, the war may come very soon.