Copper bullets were discovered in limestone (age about 70 million years)
In Sevastopol, incomprehensible inclusions were discovered in rock, which is more than 70 million years old.
The head of the enterprise, whose employees discovered the find, Sergei Chumak, said that the stone was mined at a depth of about 100 meters. This breed belongs to very old layers.
A block of limestone began to be cut into pieces and strange objects were discovered in its bowels. "Rossiyskaya Gazeta" reports that they are definitely of artificial origin.
Experts concluded that these "artifacts" very much resemble arrowheads or bullets. Two of them are crescent-shaped and slightly flattened. The metal resembles copper, but for now it is impossible to say for sure without a special chemical analysis.
Other fragments were also found nearby, which in appearance resemble wooden fragments. They have grown quite a long time into stone and oxidized.
Workers of the enterprise noted that this is the first time that entire products have been discovered.
The age of the rocks is approximately 70 million years. Back then, dinosaurs still roamed the earth. The first person who could do something with his own hands appeared only about 3 million years ago. People began to process metal even later.
Missing European Teenager Found Dead in Malaysian Jungle Under Mysterious Circumstances – Another Missing 411 Case?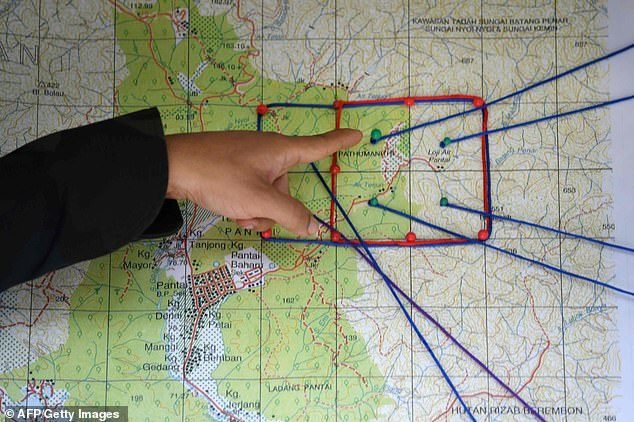 Niall Bradley
Sott.net
A Royal Malaysian Police officer points to a map showing the search and rescue operation area
Details concerning the discovery of the body of missing Irish-French teenager in the Malaysian jungle on August 13th point to it being another 'Missing 411' case.
15-year-old Nora Quoirin was on holiday in Malaysia with her two younger siblings and their parents, staying at the Dusun eco-resort in Negeri Sembilan state.
Situated at a trailhead on the west side of the Berembun Forest Reserve, the resort is a mere 35kms as the crow flies from Kuala Lumpur International Airport, but is nonetheless surrounded by dense rainforest.
The Quoirin family had arrived there on August 4th, checked-in to their villa at the resort, then Nora was noticed missing by her father at 8am the next morning when he discovered she was not in her room and that the window was open.
As search-and-rescue (SAR) teams began looking for her, Malaysian officials' working theory was that she had left the bedroom at some point in the early hours, wandered off and become lost. But Nora was born with the brain defect holoprosencephaly, an unusual condition in which the forebrain is not fully divided into left and right hemispheres.
Nora's medical condition meant that she was highly dependent on full-time care and, as her mother insists, "would not have wandered off on her own." Her siblings, who were sleeping in the same room as her, did not notice her leave, and CCTV cameras at the resort did not capture her leaving. Even if she had been motivated to do so, it's unlikely Nora could physically negotiate the rigors of leaving the resort and trekking through steep, dense jungle. For these reasons, her parents insisted that local investigating authorities consider that she had been abducted.
Police are keeping an open mind about a criminal angle, but they have reported that:
there was no sign of any intruder entering the property. They did not find any footprints inside the villa or forensic evidence to suggest an unknown person was inside. The entire area around the villa where the family were staying is covered with soggy vegetation and the single-track road leading to the resort is covered with mud.

Had someone entered through the window and climbed a flight of stairs to an upstairs bedroom where Nora was sleeping, it is assumed there would have been traces of mud on the floor. It is because of the lack of evidence of any crime that police treated the case as primarily that of a missing person.
In any event, multiple SAR teams searched the area, as far as 4kms away from the resort, for 9 days until she was found on the 13th. By then over 350 people had been involved in intensive searches of the surrounding jungle and the nearby river, using helicopters with thermal detectors, drones, sniffer dogs, and even local shamans. The spot where she was found is described as "particularly inaccessible" by the local police chief.
The distance between the resort where Nora was last seen, and where her body was found 9 days later
At one point in their search, they found footprints, but they didn't lead to her. They deployed cadaver dogs, but those didn't pick up her scent. They even had her mother, Meabh Quoirin, record messages that were played on bullhorns as SAR teams trekked through the jungle:
Bizarrely, they found Nora's body next to the Lata Berembun waterfall, which is located 1.6 miles (2kms) from her villa. What's more, she was found at a site that had already been searched. It's not that they missed her the first time; her body was naked and it wasn't obscured by canopy or other vegetation. It was just… not there – and then several days later, just lying there.
Trekkers searching for Nora. We don't know how close they are to the ultimate location, but if those boulders are any indication, Nora was likely surrounded by them. Large boulders and boulder fields are a common profile point in Missing 411 cases…
Here's drone footage of the jungle Nora Quoirin – a 15-year-old from London, England, with a pronounced disability – would have had to trek through to somehow end up at that waterfall:
The location is so remote, her body had to be extracted by helicopter. While she presumably would not have been wearing much more than pajamas or underwear, no clothing or personal items have so far been found. Sean Yeap, who was part of the 25-man SAR team that made the shocking discovery, reported that as they approached her:
"It looked like she was sleeping. Her head was resting on her hands. But we all knew she was dead. It was very sad and two women in the group did not want to come close and they started crying."
A post-mortem carried out on the body by a senior pathologist from Kuala Lumpur was initially judged "inconclusive" as to the cause of death. They're now saying she "probably died of stress and starvation," but have so far ruled out "violence, abduction or kidnapping," and have found "no evidence of foul play for the time being", although tests are still ongoing.
Nora's parents Meabh and Sebastien thank Malaysian police, military and volunteers for their search efforts
This must be very sad and traumatic for the family. Unfortunately, such sudden and unexplained disappearances happen all too often.
This case has pretty much all of the profile points seen in Missing 411 cases. These are sets of missing person cases that have been re-investigated and catalogued by retired California police detective David Paulides in his Missing 411 series of books. While his books primarily focus on cases in North America, the author notes that such incidents take place around the world.
Sometimes people vanish without a trace; sometimes they are found, but what these cases typically have in common are several or more profile points from among a set of strange but strikingly similar circumstances:
the victim had a disability or impairment of some kind
the victim disappears from/is found in a location with large boulders or boulder fields
the victim 'wandered off' suddenly, unseen
the victim is found with no clothing or missing clothing
the victim is found at or near water
the victim is found a substantial distance away from her last known location, in rough terrain, where it would ordinarily be difficult if not impossible for the victim to walk themselves
the cause of death is 'inconclusive/unknown'
the victim is found in a spot that had been previously searched
In fact, the only Missing 411 profile points this case does not (as yet) meet are:
a weather event (which typically occurs right around the time of the disappearance or during the early stages of the SAR operation);
geographical clustering – whether this occurred in a location with past or concurrent unsolved missing persons cases is unknown.
Perhaps researchers in or familiar with Malaysia can clarify these latter points.
I should mention that the specific detail in Nora Quoirin's case which spurred me to take a closer look was the description of her having been found naked beside water, looking as if she was sleeping. This description matches one of the female cases featured in Paulides' recent documentary, Missing 411: The Hunted.
In fact, one subset of cases Paulides catalogues in North America is missing hunters, who are typically armed, healthy men, very familiar with the outdoors, and even the specific location they disappeared from. So it can happen to anyone, but the best – and perhaps the only – defense against something like this happening to you or someone you know is awareness of the phenomenon…
Nora Quoirin
In the meantime, we can only wish the Quoirin family well as they grieve their daughter, and encourage readers to familiarize themselves with the phenomenon of mysterious disappearances.
Author Reimagines the Life and Crimes of Ed Gein as a Novel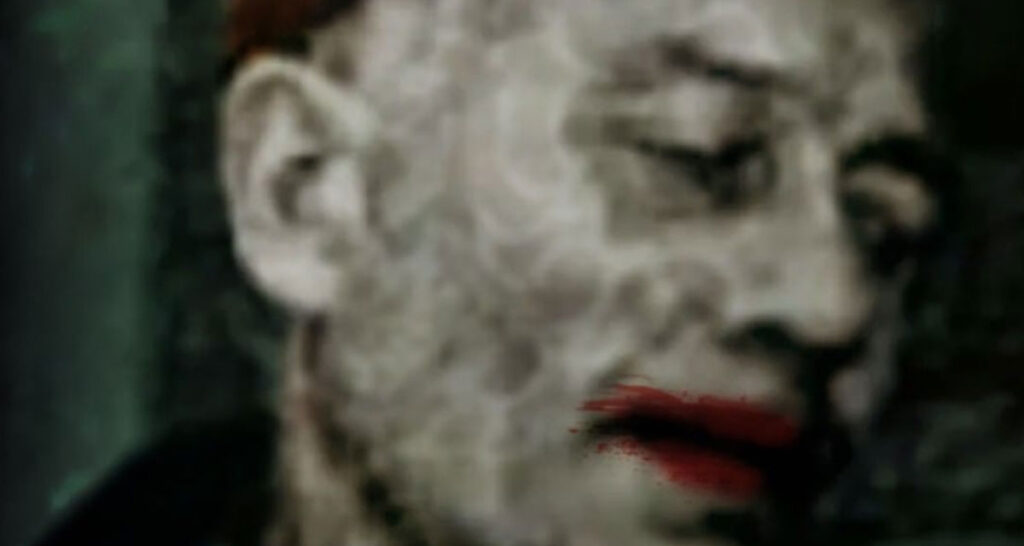 Wisconsin serial killer and grave robber Ed Gein's deviant acts are the subject of author Frank Ladd's first novel.

Author Frank Ladd with the Ed Gein house in the background, via @frankwladd
I've been researching and writing about Ed Gein a long time. I answer questions from visitors all over the world interested in Gein, some hoping to dig up additional facts to flesh out their school reports. If fact, I recently learned that my work is apparently being taught in at least one Canadian high school classroom. For better or worse, that will probably be the pinnacle of my achievement.
I am fascinated by this particular ghoul because his story is horrific, tragic, and, most importantly, he's local – a gruesome campfire story that really happened right in my own backyard. This isn't ghosts or goatman. Ed Gein really exhumed freshly buried corpses and filled his farmhouse with the creations he made from those remains.
Related:
While there is still much mystery surrounding the case, it's a story over 60 years old and there seems to be little new to add. Gein admitted to two murders, and was only tried and convicted of one. Yet there is evidence, including unidentified body parts found amongst his collection, that he may have killed least several other young women. Two hunters who went missing in 1951, along with their entire truck, may be buried somewhere on the Gein property. Some even claim to know where, though most of those stories come second or third hand these days.
Then there is the cauldron that hit the auction block a few years ago with a dubious story that can never be confirmed because anyone who could is long dead.
The Real Ed Gein
I thought there was nothing left to get excited about when it comes to Ed Gein, until I stumbled onto an Instagram account run by Frank Ladd, a writer who set his sights on the Butcher of Plainfield as the subject of his first novel.
Ladd's account @therealedgein showcases "research on Ed Gein and Plainfield, Wisconsin in 1957 from my novel in progress." Posts include vintage photos and relics of Gein and Plainfield history, which would be enough to get my attention. But it's the captions, Ladd's inspection of a scene in which the object or location in the photo may have been involved in Gein's story, that drew me in.
Of course, Ed Gein has inspired numerous books, movies and other media over the years. But the historical fiction Ladd is constructing feels different, deeper – a mold-covered and moth-eaten thing exhumed from the past, still stinking of damp earth and worms. The combination of photos and prose with each post captures what feels like an authentic and eerily intimate moment, the isolation and desperation of small town life in mid-century rural Wisconsin that both enabled and drove Gein to seek companionship with the deceased.
This post, written from the perspective of Waushara County Sheriff Art Schley (whose abuse of Gein during interrogation caused the killer's initial confession to be ruled inadmissable):
The western bite of the county felt like a lost cause. The great dead heart of Wisconsin—Sheriff Schley had heard the old saying and found little reason to argue with it. Plainfield put on a good show with its shops and diner and crumbling theater, but the Opera House had closed a decade ago. Same for the Mitchell House. Two filling stations counted for something, he supposed. Worden's sold most of what notions folks might need, and Gamble's carried the rest. The bank still gave out subsistence loans. Plainfield scratched out just enough livelihood to call itself a town.

But drive six miles west and the farms sagged. Fields browned with decay. A scatter of turkey vultures kited in the distance, late for their yearly migration, stalking the scent of death. If he kept on county trunk D into Adams county, the pine barrens and wild marsh would swallow him.
Here is another example – Ed's perspective of his mother's room which he sealed off after her death, and the grave directly in front of the Gein family plot in Plainfield Cemetery that Ed robbed. The grave is still empty today, though the headstone marking what was intended to be Eleanor Adams' final resting place remains.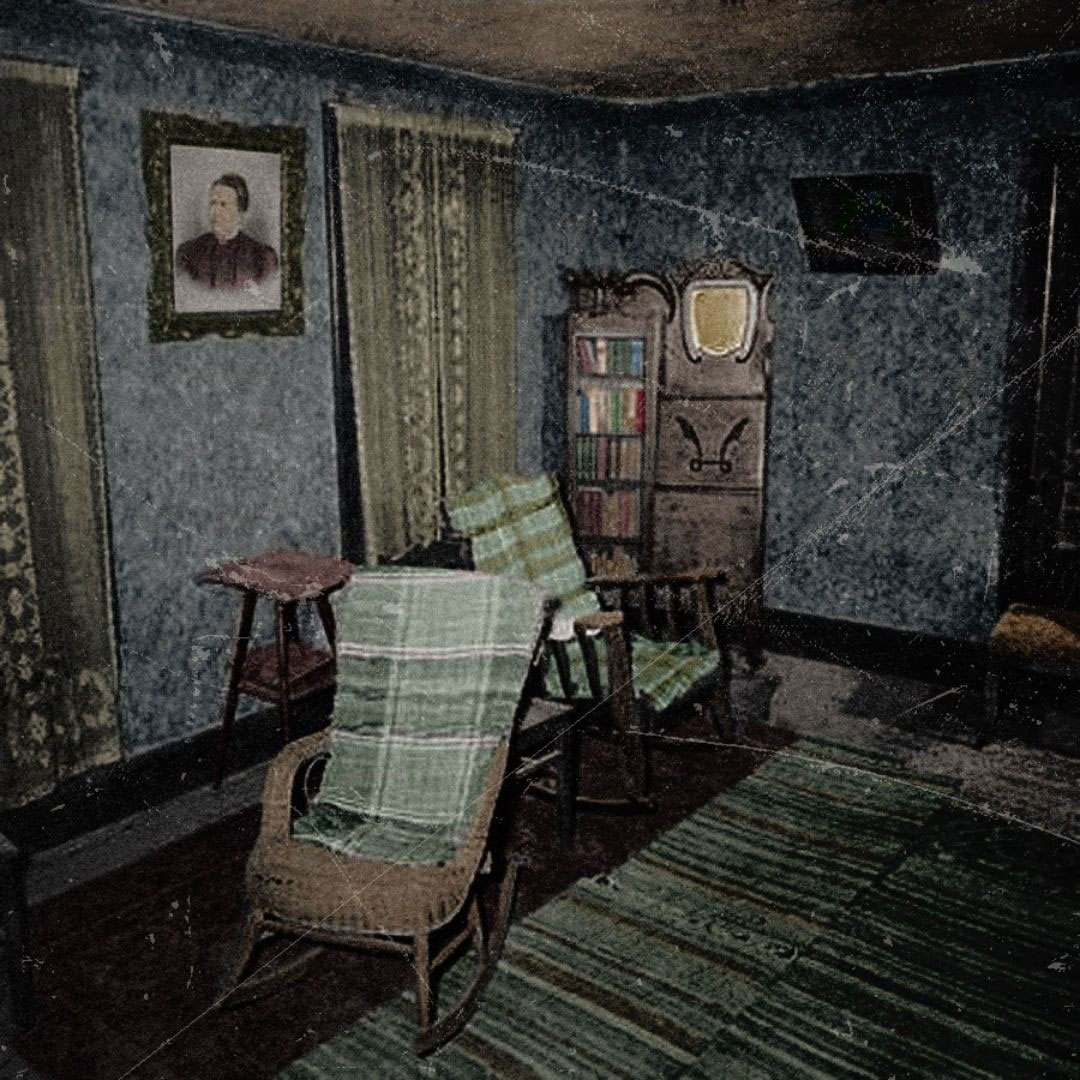 The summer kitchen opened to the kitchen proper. Vines and berries on the wallpaper—that's Ma. Her old lace curtains twitched in the early winter draft. This would always be her house. We kept it for her. How many times she fried tongue or creamed peas at that cook stove, we didn't care to reckon.

A knot in the board nailed across the hall door showed into the parlor. Her rocking chair didn't move an inch. Ma was stubborn. We'd stood at her grave until our knees locked and neck ached for a week from all the concentrating and focusing our powers on her cold body. She refused to rise. The woman next plot over was appealing, though. We'd felt something. Maybe the ground was softer there, now that we recall. Early spring of '46 and still brutal cold.
Here's another: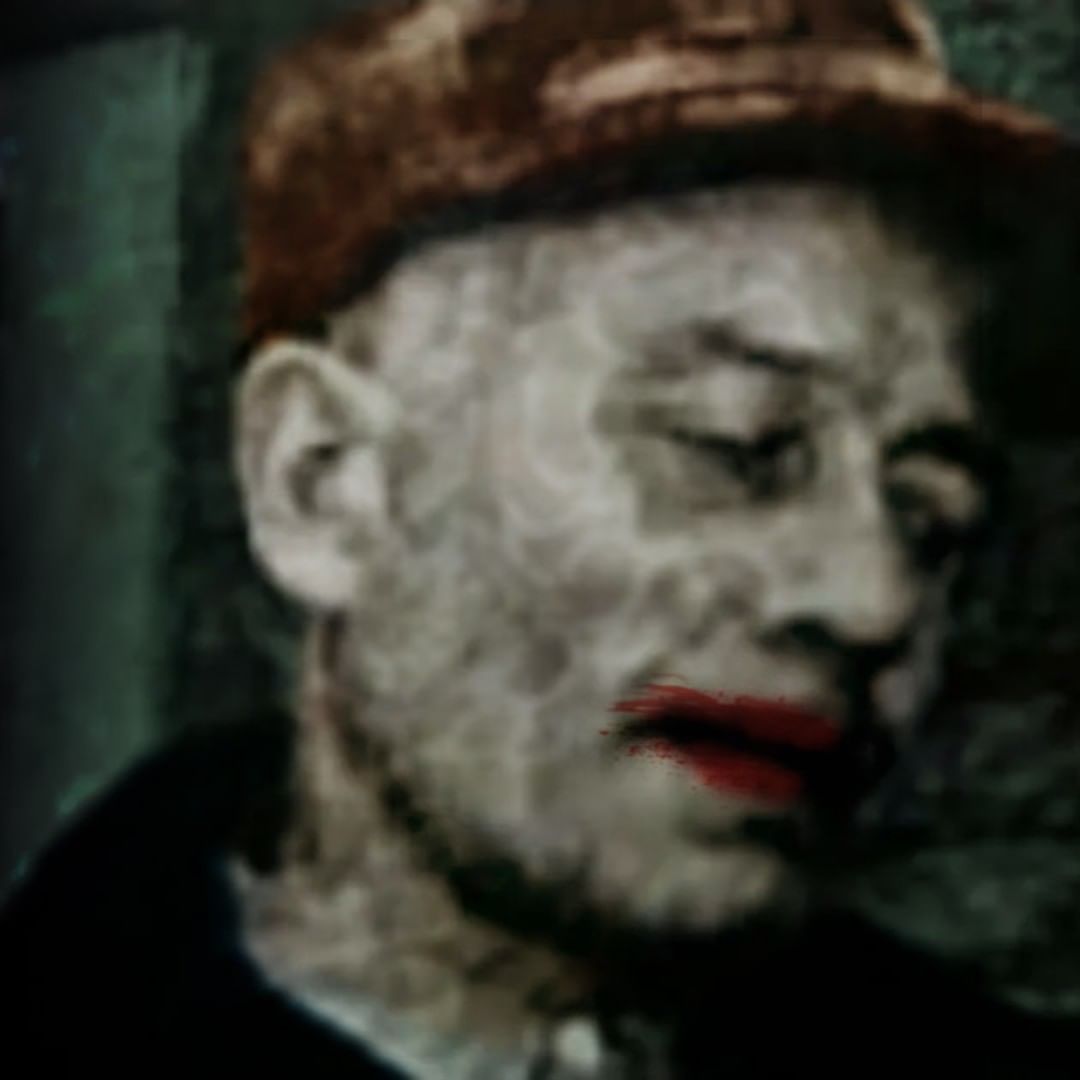 We lit a candle by Ma's cloudy mirror. Unwrapped the secret we'd borrowed from Georgia—found among her oddments and sundries, the powders and scenty waters laid atop her dresser. Soft wax packed in a bullet shell. We unscrewed the base and a round stick rose like butter, red for a tart's lips and dark as dried blood. Tasted of burning fat. Bitter as wormwood. We slid the lipstick across our mouth: a bright slippery gash. It was still our face staring back. A wash of moon through sooted lace mottled our skin with shadow, like the tattooed savages we'd read about in magazines, island tribes who ate their own.
You'll notice throughout the posts that anytime Gein is referring to himself, Ladd uses "we" instead of "I" – an interesting choice I'm eager to explore.
With his work, Ladd is weaving the historical details and desolate reality of life in Plainfield into a compelling narrative of Ed Gein's state of mind as he committed the crimes that still scar the town and its people. I feel like I can swipe a finger through the dust and grime accumulating on the garbage piled up in Gein's house, and smell the mildew on the discarded human remains mouldering within.
If these posts are any indication of what to expect from the novel, I'll be first in line for the pre-order.
Follow @therealedgein to keep up on Frank Ladd's work and Ed Gein research.
Mystery Boom Heard, Felt Across Four Western Illinois Counties Remains Unsolved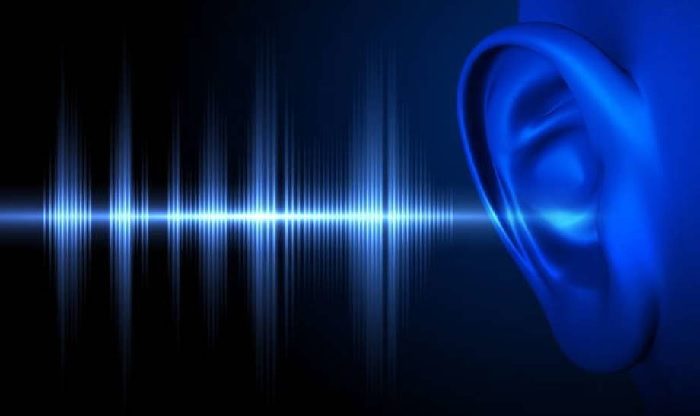 What's certain is that dozens of people across at least four counties heard a loud boom or felt a shaking Thursday afternoon.
What's a mystery is where it originated.
Emergency and law enforcement agencies in Greene, Morgan, Scott and Pike counties received numerous reports of a loud, explosion-like sound that shook the ground and buildings about 1 p.m. Thursday.
Some who felt it quickly took to social media looking for clues. Although there were a few erroneous reports of explosions, most people were left scratching their heads.
"It sounded like a jet or something that blew up," Joe Harwick of White Hall said. "It echoed for some time."
Greene County Chief Deputy Cale Hoesman said there were reports about the sound, but the source could not be verified.
"I heard what I thought was thunder, but further north in White Hall there were reports of a loud boom," Hoesman said. "So far the cause is unknown."
The boom was heard throughout Greene County and along the edge of Pike County. It was heard as far east as Jacksonville and as north as Naples.
Mary Jane Steelman of White Hall said the boom shook her house.
"I wasn't sure what it was, though. It was a loud boom — an explosion," Steelman said. "Then my grandson texted me, he thought it was a [sonic boom]."
Angie Heberling of White Hall said it felt as though something hit her house.
Pike County Sheriff David Greenwood said his agency received calls but no one had reported any damage or fires.
Theories being looked into include that it was a sonic boom from an aircraft or some type of gas explosion, Hoesman said.
The U.S. Geological Survey did not have any reports of activity near the region that could have produced the sound. National Weather Service representatives said there was nothing atmospherically that would have caused the sound.
There have been hundreds of similar reports scattered across the U.S. over the past few months, from Block Island, Rhode Island, to Liberty, Ohio, and Louisville, Kentucky. The Louisville boom was attributed to someone legally using the explosive tannerite.
The others, like the one Thursday, remain mysteries.
Marco Cartolano contributed to this report.
Samantha McDaniel-Ogletree
My Journal-Courier