Controversial Illustrations That Expose The Dark Side Of Society
Although some of these illustrations can certainly be considered controversial, all of them inspire us to ask important questions about the society and world we live in.
This is important, because only through asking questions can we ever learn about our problems, and then from there explore potential solutions.
With that said, here are some of the best art illustrations I could find from around the web, captioned with my own interpretation of what their deeper meaning is to me.
Please note, this is not for sensitive viewers.
We're so blinded by our ignorance and rage, that while we blame each other for our mutual struggles like fools, we're getting screwed by the same people/Artist Credit: Lubomir Arsov
We are bound by nothing, except belief. Be careful not to imprison yourself/Artist Credit: Unknown
"All I wanna say is that, they don't really care about us." /Artist Credit: Unknown
Look deeper, sometimes the most dangerous and toxic people in life come disguised as people that pretend to care/Artist Credit: Luis Quiles
There is no greater currency than time, be careful not to waste it/Artist Credit: Unknown
Don't let your phone blind you from life and the world around you. Don't let it turn you into a dumb Ass/Artist credit: Paweł Kuczyński
Perspective…/Artist credit: Larry Torro
Some more perspective…/Artist credit: Larry Torro
Facebook and social media might seem like a nice place to relax in our free time, but beware, beneath the surface there are sharks swimming…/Artist credit: John Holcroft
In spite of overwhelming historical evidence proving powerful elitists engage in child sex abuse, and it occurs in the shadows of every element and class of society, many of us pretend not to see, which is a shameful betrayal of our children/Artist Credit: Lubomir Arsov
The most dangerous ride in the world because psychopaths control it — Safety not guaranteed/Artist credit: John Holcroft
Looks like we finally found Nemo…/Artist Credit: Luis Quiles
What justice for animals would look like if it truly existed/Artist Credit: Unknown
If we don't make a conscious effort to educate our children, the internet most certainly will/Artist Credit: Gunduz Agayev
"The problem is not that there is a lack of money, food, water, or land. The problem is we've given control of these resources to psychopaths."— Gavin Nasicmento/Artist Credit: Lubomir Arsov
They may appear to be different, but the establishment media are ultimately being steered and controlled by the same force/Artist credit: Paweł Kuczyński
This world will never be saved by arrogant assholes, it can only be saved by those who are made of heart/Artist Credit: Gunduz Agayev
Related Post: 20 Controversial Art illustrations Exposing The Madness Of Our World
Written by Gavin Nascimento, Founder of aNewKindOfHuman.com
All 34 bishops in Chile suddenly resign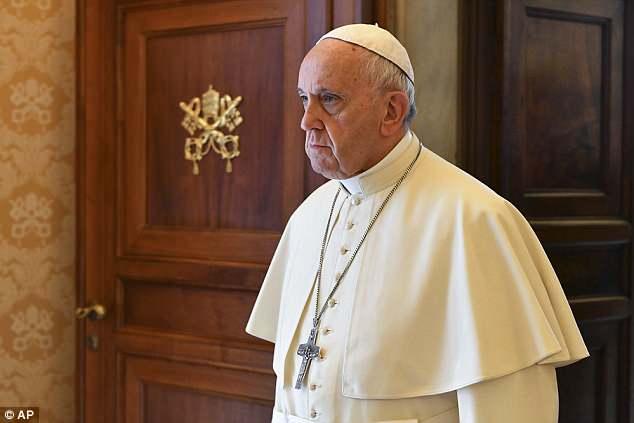 … over "absolutely deplorable" pedophile priest scandal
All 34 bishops in Chile have tendered their resignations in the wake of yet another pedophile priest scandal in which high level officials covered up the institutionalized sexual abuse of minors – even threatening officials tasked with investigating sex crimes and the destruction of evidence.
Thirty-one active bishops and three who are retired signed a document with their offers to resign following an emergency meeting this week with Pope Francis. Francis can accept the resignations one by one, reject them outright or delay a decision.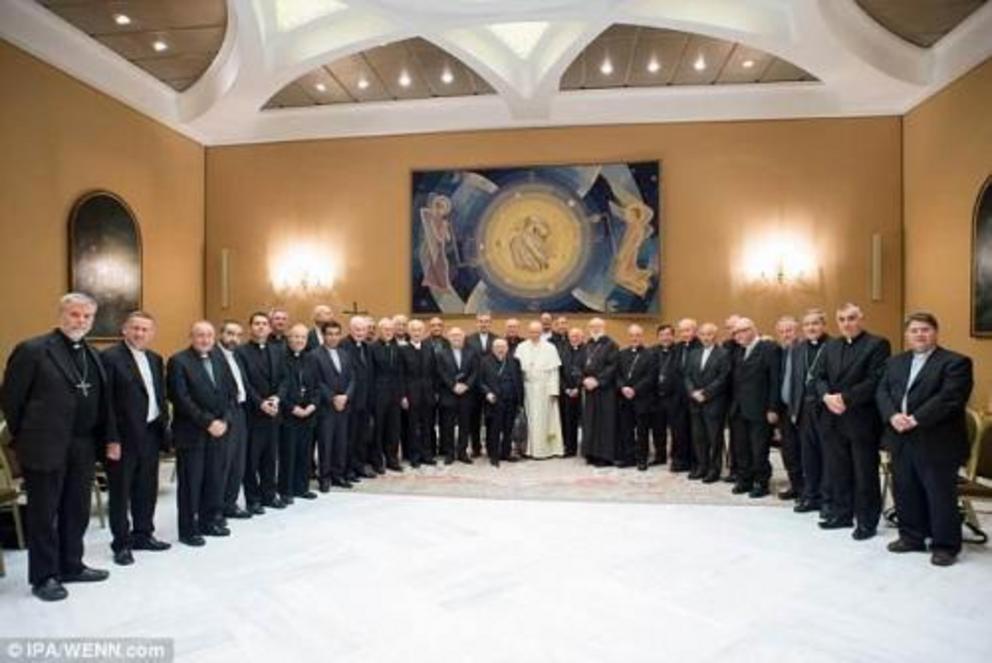 Calls had mounted for the resignations after details emerged of the contents of a 2,300-page Vatican report into the Chilean scandal leaked early Friday.
Francis had accused the bishops of destroying evidence of sex crimes, pressuring investigators to minimize abuse accusations and showing 'grave negligence' in protecting children from paedophile priests.
In one of the most damning documents from the Vatican on the issue, Francis said the entire Chilean church hierarchy was collectively responsible for 'grave defects' in handling cases and the resulting loss of credibility that the Catholic Church has suffered. –Daily Mail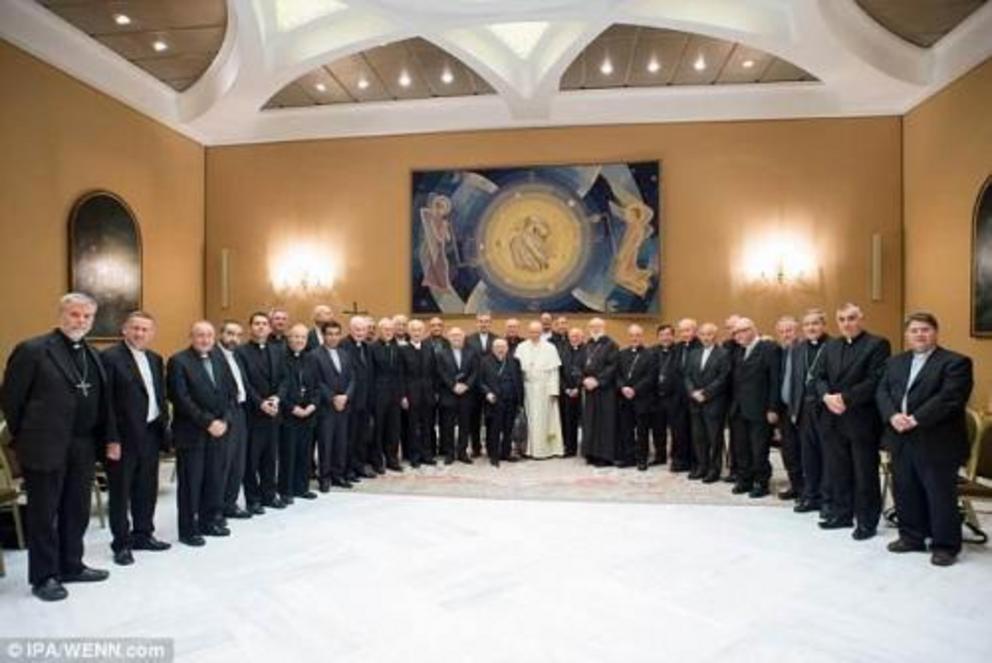 "No one can exempt himself and place the problem on the shoulders of the others," Francis wrote in the document published by Chile's T13 television and confirmed as accurate Friday by the Vatican.
Responding to the 2,300-page report, Chilean bishops called the contents of the document "absolutely deplorable," and showed an "unacceptable abuse of power and conscience," along with sexual abuse.
The bishops asked for forgiveness from the victims, the Pope and all Catholics worldwide.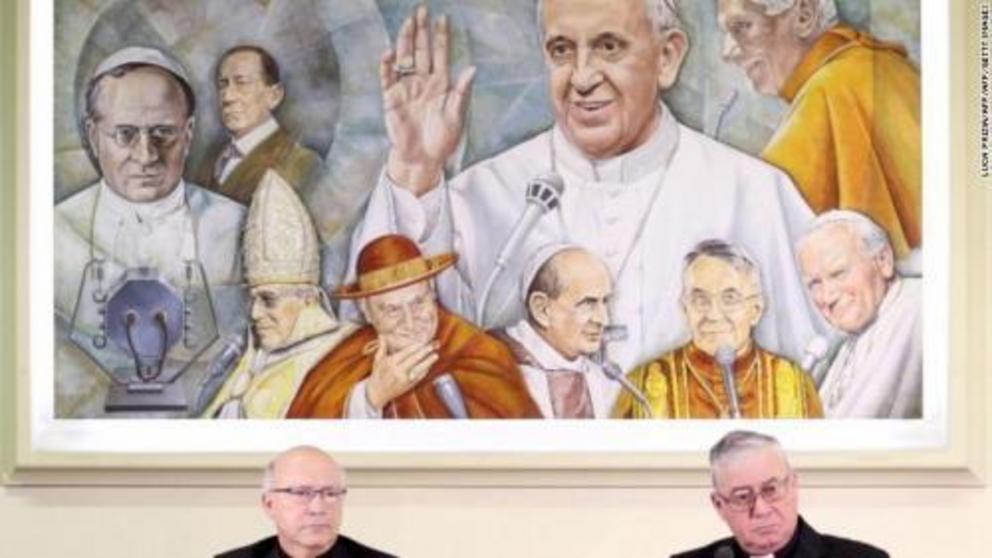 Pope Francis summoned the entire bishops conference to Rome after he said he made "grave errors in judgement" in the case of Chilean priest Juan Barros – who stands accused of victims of pedophile Rev. Fernando Karadima of witnessing and ignoring their abuse.
But the scandal grew beyond the Barros case after Francis received the report written by two Vatican sex crimes experts sent to Chile to get a handle on the scope of the problem.
Their report hasn't been made public, but Francis cited its core findings in the footnotes of the document that he handed over to the bishops at the start of their summit this week.
And those findings are damning. –Daily Mail
While some of the pedophile priests and brothers were expelled from their congregations following the discovery of "immoral conduct," many had their cases "minimized of the absolute gravity of their criminal acts, attributing them to mere weakness or moral lapses," wrote Francis.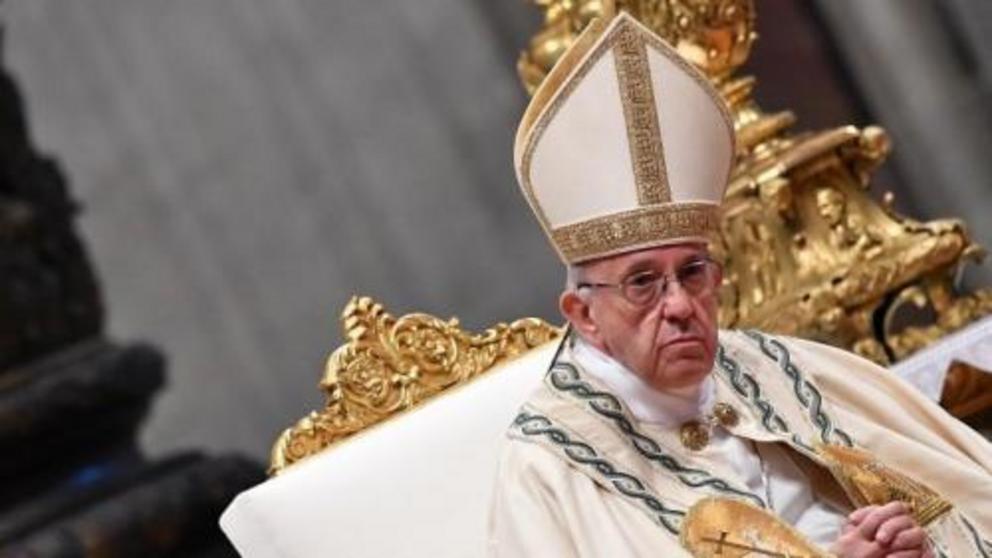 Those same offenders "were then welcomed into other dioceses, in an obviously imprudent way, and given dicoesan or parish jobs that gave them daily contact with minors," wrote the pope.
The harsh assessment of the quality of seminaries suggests that a possible next step might be a full-on Vatican investigation of Chilean schools of priestly training.
Pope Benedict XVI ordered such an investigation into Irish seminaries after he convened the entire Irish bishops' conference for a similar dressing-down in 2010 over their dismal handling of abuse cases. –Daily Mail
"The problems inside the church community can't be solved just by dealing with individual cases and reducing them to the removal of people, though this – and I say so clearly – has to be done," Francis wrote.
"But it's not enough, we have to go beyond that. It would be irresponsible on our part to not look deeply into the roots and the structures that allowed these concrete events to occur and perpetuate."
Francis Knew
For all of the "holier-than-thou" admonishments in his letter, Pope Francis is not without blame. The Associated Press reported earlier this year that Francis drew scorn over his appointment of Barros bishop of Osnoro, Chile, in 2015.
The Associated Press reported earlier this year that Francis did so over the objections of other Chilean bishops who knew Barros' past was problematic and had recommended he and other Karadima-trained bishops resign and take a sabbatical.
The AP subsequently reported that Francis had received a letter in 2015 from one of Karadima's most vocal accusers, Juan Carlos Cruz, detailing Barros' misdeeds. That letter undercut Francis' claim to have never heard from victims about Barros.
Francis further enraged Chileans and drew sharp rebuke from his top abuse adviser when, during a January trip to Chile, he said the accusations against Barros were 'calumny' and said he was 'certain' he was innocent.
Not so certain now, are we Pope?
Source: zerohedge.com, dailymail.co.uk
These 5 Organizations are the Reason Cannabis is Still a Crime
It's often half-jokingly said that if there was one thing that could bring Americans together, it would be cannabis. That might seem a little farfetched at first, but once you discover how many people want cannabis legalized, it will make sense.
As of 2018, nine states allow recreation use in some form, while 30 allow medicinal use and 16 allow only CBD, an active component of the cannabis plant which aids in pain relief and sleep.
According to a poll from the Marist College Institute for Public Opinion, 52% of American adults have tried marijuana at some point in their lives, while 44% of those adults who have tried it are also current users.
To bring it all together, a Gallup poll from 2016 sums up the situation by showing that roughly 60% of Americans support legal use of marijuana. However, these numbers are likely to only rise as people better understand the safety and medicinal benefits of the cannabis plant.
So, if for years most people have agreed on legal cannabis, why does it remain a federal crime? As you may have guessed, several powerful interests are playing gatekeeper over our rights as citizens to use cannabis. Here are the top five offenders.
Big Alcohol
As it turns out, alcohol companies are deadly afraid of competition from cannabis, which is a much safer and therapeutic drug than alcohol. From the National Beer Wholesalers Association to the Wine & Spirits Wholesalers of America, these organizations have spent more money on political candidates as the demand for legal cannabis goes up.
So far in 2018, the Beer, Wine & Liquor industry spent a total of roughly $7.7 million on lobbying efforts and super PAC's, with the biggest offenders being Anheuser-Busch InBev and Distilled Spirits Council. Ironically, that number is down greatly from a peak of over $30 million in 2017.
Big Police
In order to meet the proper quotas, police need to arrest a certain number of people each week. Without proving their necessity with these numbers, police departments don't have the same ability to gain funding than they otherwise would. Because a significant number of arrests come from cannabis, this makes them afraid of legalization.
In 2012, the National Fraternal Order of Police spent a peak $110.2k on lobbying and super PAC spending, while the National Association of Police Organizations have spent a consistent $160k from 2008-2017.
When you take into account statistics from the ACLU such as the fact that 52% of all 2010 drug arrests were from cannabis while making a pot bust every 37 seconds on average, the situation looks more like a government subjugation of the people than "protect and serve".
Big Prison
As prisons gain prisoners, they also gain profit and the prison-industrial complex is no stranger to this controversy. These are the corporations and state facilities which are most likely to lobby for stricter enforcement, longer sentences, and overall greater criminalization of innocuous activities such as smoking cannabis because it means higher profits for them.
Although cannabis is not proven to be heavily addictive and much of the violent drug-related crime problem in America is due to prohibition, prisons still lobby for the criminalization of cannabis under false pretenses of addiction and violence. Not to mention the fact the illegality of marijuana has created a massive black market and has never been proven to reduce its use.
In the face of all this, organization such as the GEO Group (a "Florida-based company specializing in privatized corrections, detention, and mental health treatment,") the American Federation of State, County & Municipal Employees, and the Association of Administrative Law Judges have all spent large sums lobbying for greater criminalization.
Big Pharma
Perhaps the most unsurprising is Big Pharma. Due to a growing awareness of the medicinal benefits of cannabis oils and cannabis-derived CBD, pharmaceutical companies are having a frenzy trying to suppress its use.
For the full fiscal year of 2017, Pharmaceutical Health Product companies spent a combined $280 million on annual lobbying. More specifically in the realm of pharmaceuticals, Pfitzer Inc spent $10.5 million, Eli Lilly & Co spent $7.4 million, Express Scripts spent $2.8 million, Merck & Co spent $6.3 million, and AstraZeneca PLC spent $2.8 million.
Big Government
Last but not least comes big government. According to the Economist, prohibition has essentially become a $20 billion federal jobs project. In 2010, Jeffrey Miron, a senior lecturer at Harvard University studies the impact that drug legalization would have on the American economy. What he found was that roughly $8.7 billion could be saved on law enforcement spending, while another $8.7 billion would be obtained through taxes on cannabis alone. After inflation, that number would add up to more than $20 million today.
However, the current bloated government does not take this situation lightly. As government overreach is often fueled by drug war policies, government bureaucrats are spending a lot of money to keep cannabis illegal. These include the American Federation of Government Employees who in 2016 spent $1.6 million on lobbying and the National Active & Retired Federal Employees Association who spent $1.2 million.
Cannabis Liberty Could Bring America Back Together
As both big government and big business are behind the trampling of a right which most people agree we should have, if the answer to America's division problem lies in any one issue, it is most likely cannabis.
About the Author
Phillip Schneider is a student and a staff writer for Waking Times.
This article (These 5 Organizations are the Reason Cannabis is Still a Crime) was originally created and published by Waking Times and is published here under a Creative Commons license with attribution to Phillip Schneider and WakingTimes.com. It may be re-posted freely with proper attribution, author bio, and this copyright statement.
War On Cash Goes into Full Effect — Purchases Over $10,000 ILLEGAL in Australia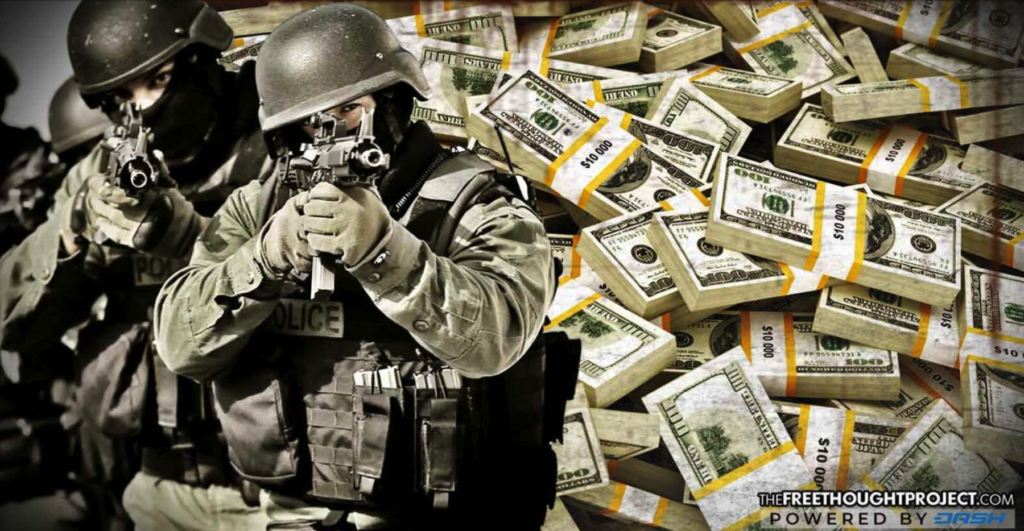 (Jay Syrmopoulos) As government attempts to track every purchase to increase their power, Australia is spearheading this war on cash by outlawing any purchases in cash over $10,000.
Canberra, Australia – The Australian government announced that it will soon be illegal to use more than $10,000 cash to purchase anything, forcing individuals that wish to buy more expensive items to use a cashier's check or electronic transfer, ostensibly in the name of fighting organized crime and money laundering.
The move reportedly comes in response to the government's Black Economy Standing Taskforce. In addition to the cash purchase ban, the government has allocated a $319 million package to the Tax Office to develop new strategies to target the black economy.
Treasurer Scott Morrison said the Black Economy Standing Taskforce will include a rigorous identification system and "mobile strike teams," in an effort to detect people making suspicious cash transactions, as well as a black economy hotline for citizens to report anyone suspected of engaging in illegal transactions.
"Cash provides an easy, anonymous and largely untraceable mechanism for conducting black economy activity," the response said. "Cash payments make it easier to under-report income and avoid tax obligations. This allows businesses transacting in cash to undercut competitors and gain a competitive advantage."
It said the task force had identified examples of "large undocumented cash payments being made for houses, cars, yachts, agricultural crops and commodities", which contribute to the $50 billion black economy and "hurt honest businesses."
Revenue Minister Kelly O'Dwyer said the ban on cash purchases of more than $10,000 would begin on July 1 of next year.
"This cash payment limit will capture high-value transactions and help stamp out opportunities for criminals to launder the proceeds of crime into goods and services, or for businesses to hide transactions to reduce their tax liabilities," she said.
This of course is not a phenomenon unique to Australia, as there is an ongoing international "war on cash." In the United States, Larry Summers, a former U.S. Treasury Secretary and Harvard president, pushed and effort during the Obama administration to abolish $50 and $100 bills. There has also been talk within the EU of doing away with the €500 note. India has already made such moves. 
While the publicly stated reason for these policies is to fight criminals, terrorists, money launderers, drug dealer, etc., by making it more difficult for them to move cash, the actual reason for the international "war on cash" is to give government more control and power.
A report in The Atlantic explains that while some believe that a cashless system would be "simple and elegant," there are ominous implications about further centralization of power that must be considered:
Federal, state, and local law enforcement, as well as tax authorities, want to bring as much of the economy under their direct supervision as possible. … Forget folks who like cash. Never mind worries about forcing us all to run all spending through a corrupt corporate-banking system. Never mind the resilience of having a medium of exchange in the non-digital world that works when the power grid is down, when one's smart phone is dropped in water, when one's identity is stolen by hackers, or one's account frozen by Visa or Bank of America because a purchase on vacation was deemed suspicious.
Friedersdorf goes on to clarify how the elimination of cash could dramatically erode financial privacy; pointing to Supreme Court case U.S. v. Miller:
There is no legitimate "expectation of privacy" in the contents of the original checks and deposit slips, since the checks are not confidential communications, but negotiable instruments to be used in commercial transactions, and all the documents obtained contain only information voluntarily conveyed to the banks and exposed to their employees in the ordinary course of business.
In a report for Forbes magazie, founder Steve Forbes elaborates on this line of thinking:
The real reason for this war on cash–start with the big bills and then work your way down–is an ugly power grab by Big Government. People will have less privacy: Electronic commerce makes it easier for Big Brother to see what we're doing, thereby making it simpler to bar activities it doesn't like, such as purchasing salt, sugar, big bottles of soda and Big Macs.
The movement against cash is clearly about centralized control of the economy, as international bureaucrats believe they can control the global economy better than the free market.
Forbes goes on to explain:
The move to destroy cash feeds into the economic commissars' fantasy that they can better control the economy. Policymakers in Washington, Tokyo and the EU think the reason that their economies are stagnant is that ornery people aren't spending and investing the way they should. How to make these benighted, recalcitrant beings do what they're supposed to do? The latest nostrum from our overlords is negative interest rates. If people have to pay fees to store their money, as they do to put their stuff in storage facilities, then, by golly, they might be more inclined to spend it. To inhibit cash hoarding—when Japan announced it was imposing negative interest rates, the sale of safes soared—the authorities will want to do away with large notes.
Of course, one of the primary purposes of the Australian government's movement against black markets and large cash purchases comes down to lost revenue for the state. In fact, the government reported that the package against black markets could potentially net the state billions of dollars more in revenue.
So, while governments like to use fear mongering about terrorism and drugs as a means of eliciting support for policies restricting the use of cash, the real motive behind these laws is clearly to give government more power. The ability to track every transaction provides an invaluable asset to a global spying apparatus (Five Eyes) that aims to sweep up all available information with no regard for the existence of individual privacy.
About the Author
Source:
https://thefreethoughtproject.com/war-on-cash-goes-into-full-effect-as-purchases-of-10000-are-now-illegal-in-australia/