Contractor for Pentagon and secret government research speaks out on UFO study he conducted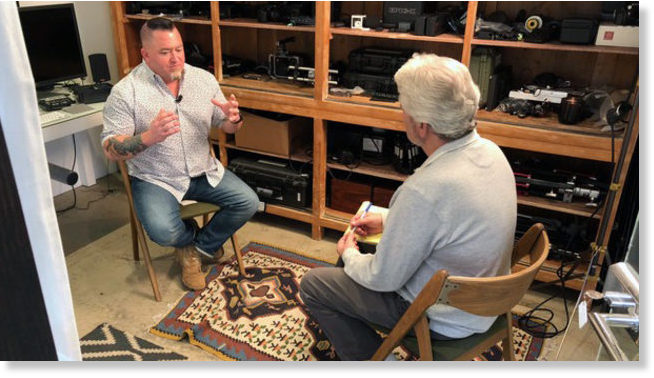 George Knapp
Las Vegas Now
A secret Pentagon program to study unknown aerial objects — otherwise known as UFOs — may not be finished after all.
The civilian contractor for the program was Bigelow Aerospace, based in Las Vegas. Their contract ended in 2012, but the man who managed the program inside the Pentagon thinks it is still operating.
His name is Luis Elizondo, and most of us first heard his name last October when he stood on a stage with rock star Tom DeLonge and other government insiders.
Elizondo said he had spent 10 years as the head of a secret study of unidentified aerial objects. He also was instrumental in the release of official UFO videos recorded by military pilots.
The I-Team sat down with him earlier this week to ask, among other things, why the Pentagon considered UFOs to be a potential threat.
"Is it a threat? And if it's a threat, is it the Russians or Chinese? These are the normal questions, whether dealing with terrorism or weapons of mass destruction or you'd ask for any national security issue de jour, and yet here we are with something that….."
Reporter George Knapp: "Doesn't fit."
Luis Elizondo: "That doesn't fit, doesn't fit."
Elizondo has spent most of his adult life protecting his country, on active duty in combat hotspots, handling terrorists at Guantanamo, and at the Pentagon, where he was the point man for AATIP, the Advanced Aerial Threat Identification Program. That program collected and analyzed information about encounters between the U.S. military and spectacular but unknown technology, what some would call UFOs.
"My job in the government at the time with AATIP was two-fold, to determine what it was and how it worked, not really focusing on who was behind the steering wheel or whatever. If we can answer the first two things, everything else we will be able to explain later," Elizondo said.
He says that even his immediate supervisor in the Pentagon was unaware of the program. Only a small list of people scattered in different branches and agencies had a need to know. The word threat is built into the name of AATIP, and even though the unidentified craft being reported by pilots and others didn't launch an Independence Day type attack on humanity or zap major cities with death rays, the defense department had to consider the possibilities.
The so-called Tic Tac UFO, for instance, was detected over several days in 2004 by personnel with the U.S.S. Nimitz battle group off the coast of San Diego. It didn't attack, but it demonstrated vast superiority over America's most advanced defense systems.
"I think if you were to take this issue that we've seen and we have something coming into our air space that we control that has a Russian star on the tail or a North Korean tail number, I think people would have a much different reaction and response because there's something we can identify and say, this is in our air space and shouldn't be here," Elizondo said. "You DOD, you CIA, you DHS, have the responsibility of protecting us, how did this happen? And yet, here we have the same scenario but there are no flags or numbers on the tail. In fact, there may not even be a tail on some of these things, and yet it's crickets. Nobody wants to have that conversation."
In 2007, a small group of senators led by Nevada's Harry Reid, initiated a program to change the culture surrounding UFO reports. Reid was motivated, in part, because of classified reports he'd read about UFO encounters over U.S. nuclear bases in which atomic weapons were somehow disabled.
"The communications in the missile defense installation was shut down. It didn't happen once. It happened more than once," former Senator Harry Reid said. "We have things in ships at sea, things in the water. What is that?"
Reid says he was also concerned that if adversaries like Russia or China could master the technology displayed by the Tic Tac or other UFOs, the U.S. military would be at a great disadvantage. Elizondo agrees.
"I think it is ridiculous to presume that other nations that are very sophisticated, very capable, aren't looking at this as well. I cannot go into detail about why I think that, but I am very confident they are aware," Elizondo said.
The program set up by the Pentagon to assist AATIP was housed at Bigelow Aerospace in southern Nevada. The contract ended in 2012, but Elizondo believes some version of the study is ongoing. Elizondo thinks it makes sense to study Tic Tacs and other UFOs and compares it to how you might react if someone pierced your home security system.
"The first thing you do, you come down your stairs as you look in your living room, you see muddy boot prints in your living room on the carpet that weren't there the night before. Nothing has been taken out of your house, nothing has been disturbed, no one has been harmed and yet every night, despite you locking the front door, closing the windows and turning on the alarm, there are muddy boot prints that keep showing up on your carpet. now, is that a threat?"
So, what about those Pentagon videos? Are they legit? And when will we get to see more of them released?
George Knapp was born in Woodbury, N.J., and raised mostly in Northern California. He graduated from high school in Stockton, Calif.; earned a bachelor's degree in communications from West Georgia College; and later earned a master's degree in communications from the University of the Pacific, where he also taught speech and debate and served as director of forensics. George also taught speech at California Polytechnic University, coached the debate team at the University of California at Berkeley and taught broadcast journalism at UNLV.

Along the way, George also worked as a hod carrier, farm laborer, carpenter's assistant and house painter. He moved to Las Vegas in 1979 and landed a job as a taxi driver. Later, he worked at KLVX-TV Channel 10 as a part-time studio cameraman and production assistant. KLAS-TV hired him in 1981 as a general assignment reporter. George also has co-anchored various newscasts for KLAS-TV.

Since 1995, George has been the chief reporter on Channel 8's I-Team investigative unit. In that capacity, he has earned five regional Edward R. Murrow awards and a national Edward R. Murrow award for his investigative stories on the voter registration fraud in the Clark County election of 2004.

Knapp has won the prestigious Peabody Award twice and 19 Emmy Awards. Nine times, he has won the Mark Twain Award for best news writing from the Associated Press. And in 1990, his series about UFOs was selected by United Press International as best in the nation for Individual Achievement by a Journalist.
Belgian incident. UFO invasion in 1989-1990
The events of November 29, 1989 were confirmed by at least thirty different groups of witnesses and three separate groups of police officers. All witnesses described a large object flying at low altitude. The vessel was flat, triangular in shape, with lights below. This giant ship made no sound, slowly moving over the Belgian landscape.
A free exchange of information was organized as the Belgian population tracked this ship as it moved from the city of Liege to the border of the Netherlands and Germany.
This is the first astounding sight to turn into a wave of UFO sightings over the next few months. In two cases, a pair of F-16 fighters pursued a mysterious object, but to no avail. On March 30, 1990, the military headquarters received a desperate call from the captain of the Belgian national police. He reported a giant triangle flying past him, and simultaneously two ground-based radar stations showed on their screens an object of unknown origin.
One of these bases was under NATO control near the city of Glons, located southeast of Brussels. After contacting other radar installations, they learned that at least four other stations also report the object on their screens. The object moved slowly along their screens, and could not send a transponder signal to identify itself.
Two F-16s received orders to intercept and identify this phenomenon, and one of the aircraft radars recorded the object. It appeared like a small diamond on the pilot's screen. The pilot reported that just a few seconds after capturing the target, the object began to gain speed, quickly moving away from the radar zone. An hour-long chase followed, during which the F-16 two more times intercepted the signal of a strange ship and saw that it had disappeared from sight. The triangular ship seemed to play cat and mouse and finally got lost in the night lights of Brussels.
Fighter pilots reported that UFOs made maneuvers at speeds exceeding the capabilities of their equipment – the radar showed a sharp decrease in an unknown aircraft from 3 kilometers to 150 meters in 5 seconds! Unusual aircraft continued to appear for several months, and a triangular UFO was spotted more than 1,000 times, both day and night. The object fell low enough to be easily seen with the naked eye, and this event became one of the most high-profile stories in the Belgian media.
Another unusual phenomenon associated with the Belgian UFO was the inability to take a clear photo of it. Many observers kept their cameras ready and shot what they thought should be a clear image, but when the film showed up, the image was blurred,
This anomaly was examined by physics professor Auguste Meessen, who worked at Catholic University in Louvain. Meessen's study gave the theory that infrared light should be the reason that almost all images were unclear.
To test his theory, he exposed the film to infrared radiation, and then photographed objects in ordinary light. The results were the same as in the photographs of a triangular UFO. One good image was finally shot in April 1990. This image showed the bottom of the ship's hull with spotlights at three angles.
US President declassifies UFO materials
We are talking about the "Roswell incident" when in 1947 a balloon crashed in the USA, which was used to record sound waves from Soviet nuclear tests. The military hid the origin of the wreckage, which gave rise to many conspiracy theories.
US President Donald Trump promised to think about removing the secrecy stamp from materials about unidentified flying objects and the "Roswell incident."
In an interview dedicated to Father's Day, to his son Donald Trump Jr., which was broadcast on Thursday, the American leader said that many asked him a question about UFOs.
"Millions of people want to go there and see. I won't tell you that I know about it, but it's very interesting."
The son of a Republican asked him if he was prepared to declassify materials about UFOs and the "Roswell incident." "I have to think about it," Trump answered.
On July 4, 1947, the so-called Roswell incident. A balloon crashed on a ranch near Roswell, New Mexico, which was used to record sound waves from Soviet nuclear tests as part of the US Air Force's secret Mogul project. The military hid the origin of the wreckage, which gave rise to many conspiracy theories widely circulated by local and then national media – in particular, about the extraterrestrial origin of the crashed "unidentified apparatus."
At the end of April, the Pentagon published videos of the US Navy, which, as noted in a press release, captured "air events" that were described as "unidentified." We are talking about shots taken by the crews of American military aircraft in November 2004 and January 2015. 
As noted in the message, the videos got into the network back in 2007 and 2017, but then the Ministry of Defense did not give their permission to publish them, although the authenticity of the records of the US Navy was subsequently recognized.
At the end of 2017, it became known that the Pentagon had a classified program for collecting and analyzing data on "anomalous aerospace threats." In 2007-2012, $ 22 million was allocated for it. At first, the program was administered by the intelligence department of the US Department of Defense.
Not the only US politician announcing a UFO in Roswell
It is worth noting that Donald Trump is not the first American politician to promise to declassify UFO information during the pre-election period. During the 2016 campaign, a similar statement was made by Trump's main rival, former US Secretary of State Hillary Clinton.
During an interview on Jimmy Kimmel's program, she was asked a similar question about UFOs. In response to him, the former first lady clarified that "now it is called differently." 
"These are unidentified air phenomena, illegal armed groups, such is the new nomenclature," Clinton said. 
Then the politician said that if she wins the election, all information about such phenomena will be declassified, if this does not affect the sphere of national security.
A similar promise in 2019 was made by another candidate from the Democratic Party – Socialist Senator Bernie Sanders. In an interview with TV presenter Joe Rogan, he noted that if he heads the state, he will definitely declassify UFO documents, as his wife constantly asks about this. 
Recall also that during the 1976 campaign, the future 39th president, Jimmy Carter, did not hesitate to say that in 1969 he witnessed the appearance of UFOs in the state of Georgia and even turned to the NICAP ufological organization with testimonies.


An armada of thousands of UFOs is gathering near the Earth?
After the significant launch of American astronauts to the ISS with the help of Elon Musk's rocket, during the live broadcast of which, the cameras recorded the appearance of many UFOs, a similar incident happened during the broadcast of the recent launch of satellites on the SpaceX rocket live broadcast from the camera installed on the outer hull of the ISS. The camera was later disabled.
If you go to the channel of the live broadcast, there is a looped repetition of the previously filmed fragments of the video.
There is one more, little-known channel of live broadcasting from the ISS, which is not streaming video, where astronauts talk with the control center. The camera there is aimed at the control monitor for cameras installed on the ISS and usually it is just a blue screen or a window of the camera control program. Few people look at this camera…
The camera control program has two windows that broadcast video from the ISS in live mode and yesterday in one window, some amazing scenes were infold.
We don't know for what reason, maybe the person in charge of the broadcast walked away or it was broadcast intentionally. However, it did not last very long and it was seen as someone closes and disables the windows of the broadcast, and then there was a blue screen and it just turned off completely.
Then the camera turned on the monitor, but already showed just a screen on the PC where you could see the control menu and nothing else.
What was on the video broadcast from the ISS camera?
A huge number of UFOs, lining up in tight rows and forming something like a "space network" in Earth's orbit.
It is clearly seen that the "network" is constantly replenished with new UFOs that cruise along the already lined UFOs, take their places or fly higher or lower.
These objects move at different speeds and along different trajectories. Most stand in even rows.
These are not StarLink companions. First, Elon Musk did not launch so many satellites. Secondly, its satellites fly in a low orbit. Here you can see how the camera is moved to the right and left, observing precisely this UFO cluster.
Earth is not visible, which means that the camera is directed towards outer space. The question which arises is where are these UFOs. How far are they from our planet. Whether they are in high orbit in the upper layers of the Earth's atmosphere, where the ISS flies, or are they grouped outside the Earth, at a small distance from it.
In one moment in the video, the approach of the camera to the UFO cluster begins to decrease and an entire incredible large-scale UFO fleet becomes almost visible, which continues to form something incomprehensible to us. New UFOs arrive and take their place in the system. Interestingly, in the center of this, there is something that they form but hidden – an object of enormous size.
Please note that the camera does not show what is in the center of the system. There the image is blurry, as if what is located there is specially hidden. Lurking seems to be aliens themselves. What are they doing? Judging by the form of what they are building, their task is nearing completion and they have to align the left edge of the formation. But what is in the center? a planet? a giant ship?
And again, we have several options for the development of further events:
Pessimistic Scenario
1) Preparations are underway for the invasion and establishment of control over the Earth
2) Preparations are underway for making contact with earthly civilization
3) There is evacuation from planet Earth of everything important and valuable, samples of plants, animals and other species have been collected to create a kind of "repository of species", an "Ark", in anticipation of some kind of global cataclysm.
Optimistic Scenario
1) We will finally come into contact with a highly developed alien civilization, which will give us the wonders of medicine and technology and we will live happily ever after.
2) Yes, our planet is threatened by a cataclysm that will either destroy it or all life on it, but good aliens rushed through the expanses of the universe. to take us from our doomed planet and transport us to our new home, which will be a wonderful world for people.
It seems that the audience takes places in the auditorium after the third call. We are waiting for the show, we are just extras in it.