Contractor for Pentagon and secret government research speaks out on UFO study he conducted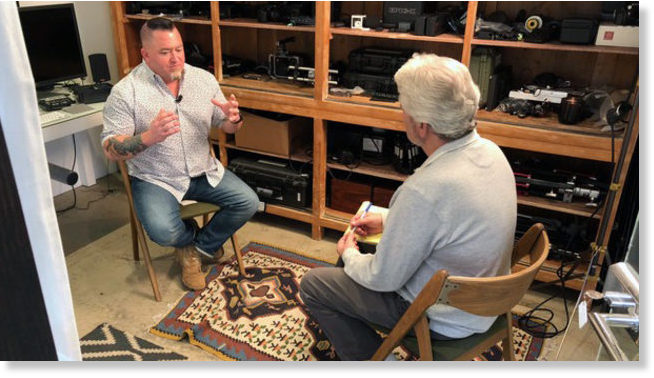 George Knapp
Las Vegas Now
A secret Pentagon program to study unknown aerial objects — otherwise known as UFOs — may not be finished after all.
The civilian contractor for the program was Bigelow Aerospace, based in Las Vegas. Their contract ended in 2012, but the man who managed the program inside the Pentagon thinks it is still operating.
His name is Luis Elizondo, and most of us first heard his name last October when he stood on a stage with rock star Tom DeLonge and other government insiders.
Elizondo said he had spent 10 years as the head of a secret study of unidentified aerial objects. He also was instrumental in the release of official UFO videos recorded by military pilots.
The I-Team sat down with him earlier this week to ask, among other things, why the Pentagon considered UFOs to be a potential threat.
"Is it a threat? And if it's a threat, is it the Russians or Chinese? These are the normal questions, whether dealing with terrorism or weapons of mass destruction or you'd ask for any national security issue de jour, and yet here we are with something that….."
Reporter George Knapp: "Doesn't fit."
Luis Elizondo: "That doesn't fit, doesn't fit."
Elizondo has spent most of his adult life protecting his country, on active duty in combat hotspots, handling terrorists at Guantanamo, and at the Pentagon, where he was the point man for AATIP, the Advanced Aerial Threat Identification Program. That program collected and analyzed information about encounters between the U.S. military and spectacular but unknown technology, what some would call UFOs.
"My job in the government at the time with AATIP was two-fold, to determine what it was and how it worked, not really focusing on who was behind the steering wheel or whatever. If we can answer the first two things, everything else we will be able to explain later," Elizondo said.
He says that even his immediate supervisor in the Pentagon was unaware of the program. Only a small list of people scattered in different branches and agencies had a need to know. The word threat is built into the name of AATIP, and even though the unidentified craft being reported by pilots and others didn't launch an Independence Day type attack on humanity or zap major cities with death rays, the defense department had to consider the possibilities.
The so-called Tic Tac UFO, for instance, was detected over several days in 2004 by personnel with the U.S.S. Nimitz battle group off the coast of San Diego. It didn't attack, but it demonstrated vast superiority over America's most advanced defense systems.
"I think if you were to take this issue that we've seen and we have something coming into our air space that we control that has a Russian star on the tail or a North Korean tail number, I think people would have a much different reaction and response because there's something we can identify and say, this is in our air space and shouldn't be here," Elizondo said. "You DOD, you CIA, you DHS, have the responsibility of protecting us, how did this happen? And yet, here we have the same scenario but there are no flags or numbers on the tail. In fact, there may not even be a tail on some of these things, and yet it's crickets. Nobody wants to have that conversation."
In 2007, a small group of senators led by Nevada's Harry Reid, initiated a program to change the culture surrounding UFO reports. Reid was motivated, in part, because of classified reports he'd read about UFO encounters over U.S. nuclear bases in which atomic weapons were somehow disabled.
"The communications in the missile defense installation was shut down. It didn't happen once. It happened more than once," former Senator Harry Reid said. "We have things in ships at sea, things in the water. What is that?"
Reid says he was also concerned that if adversaries like Russia or China could master the technology displayed by the Tic Tac or other UFOs, the U.S. military would be at a great disadvantage. Elizondo agrees.
"I think it is ridiculous to presume that other nations that are very sophisticated, very capable, aren't looking at this as well. I cannot go into detail about why I think that, but I am very confident they are aware," Elizondo said.
The program set up by the Pentagon to assist AATIP was housed at Bigelow Aerospace in southern Nevada. The contract ended in 2012, but Elizondo believes some version of the study is ongoing. Elizondo thinks it makes sense to study Tic Tacs and other UFOs and compares it to how you might react if someone pierced your home security system.
"The first thing you do, you come down your stairs as you look in your living room, you see muddy boot prints in your living room on the carpet that weren't there the night before. Nothing has been taken out of your house, nothing has been disturbed, no one has been harmed and yet every night, despite you locking the front door, closing the windows and turning on the alarm, there are muddy boot prints that keep showing up on your carpet. now, is that a threat?"
So, what about those Pentagon videos? Are they legit? And when will we get to see more of them released?
George Knapp was born in Woodbury, N.J., and raised mostly in Northern California. He graduated from high school in Stockton, Calif.; earned a bachelor's degree in communications from West Georgia College; and later earned a master's degree in communications from the University of the Pacific, where he also taught speech and debate and served as director of forensics. George also taught speech at California Polytechnic University, coached the debate team at the University of California at Berkeley and taught broadcast journalism at UNLV.

Along the way, George also worked as a hod carrier, farm laborer, carpenter's assistant and house painter. He moved to Las Vegas in 1979 and landed a job as a taxi driver. Later, he worked at KLVX-TV Channel 10 as a part-time studio cameraman and production assistant. KLAS-TV hired him in 1981 as a general assignment reporter. George also has co-anchored various newscasts for KLAS-TV.

Since 1995, George has been the chief reporter on Channel 8's I-Team investigative unit. In that capacity, he has earned five regional Edward R. Murrow awards and a national Edward R. Murrow award for his investigative stories on the voter registration fraud in the Clark County election of 2004.

Knapp has won the prestigious Peabody Award twice and 19 Emmy Awards. Nine times, he has won the Mark Twain Award for best news writing from the Associated Press. And in 1990, his series about UFOs was selected by United Press International as best in the nation for Individual Achievement by a Journalist.
The MUFON World UFO Center receives a strange report from an "Extraterrestrial Entity"
A strange report was presented at MUFON, the world's largest UFO research organization. The report comes from a person who claims to be an alien to the Extraterrestrial Entity that would have stranded on Earth. The Mutual UFO Network, MUFON, a UFO research organization and Alien Contact, commonly regarded as the world's largest organization that investigates reports of aliens and UFO sightings may have recorded the first extraterrestrial contact to receive a strange relationship presented by someone who claims to be an extraterrestrial entity This report was sent on February 8, 2016. The case ID is 74362.
The relationship of this apparently afflicted "alien" and is identified as "Mogay" seems to ask for help, and according to MUFON, it is the first time that the organization has received a relationship of an "entity" that claims to represent a form of intelligent extraterrestrial life.
Mogay claims to have arrived on Earth because of an apocalyptic event on his planet and he needs urgent help, having arrived in September 2015 from a distant sector of the galaxy. Morgay at the moment says he is waiting for an answer from MUFON, Mogay resides in a human body, says that occupies the body of a human with his consent. Mogay has revealed that in its natural state it exists as an electromagnetic wave (or energy field) and is also able to take control and reside within the bodies of humans and other extraterrestrial species.
The strange being seems to have difficulty learning English in his new human body (which he supposedly borrowed). Al MUFON wrote: "I am an alien adopted by humanity. You can call me Mogay. " Explain that he and a group of his species were refugees from a distant world called Matif. They escaped to Earth after a catastrophic collision between their homeworld Matif and a celestial body that hit him. Mogay writes in characteristic English: "We remain like an electromagnetic wave, and normally we use replaceable bodies to work with.
A celestial body made the majority of our team unable to work, we tried to escape from Matif, but we failed and the celestial body (perhaps a comet or asteroid) hit our planet. Despite the adverse effects of the celestial body, we had time to take refuge using a transfer system. The disaster in Matif brought us to Earth. "
Mogay also reported that the group of Matif's alien refugees arrived on Earth in September 2015, but nobody was aware of their presence because they are like pure electromagnetic waves, and they do not look like little green men as Earthmen think. But Mogay apparently found a human being who was willing to "adopt" him.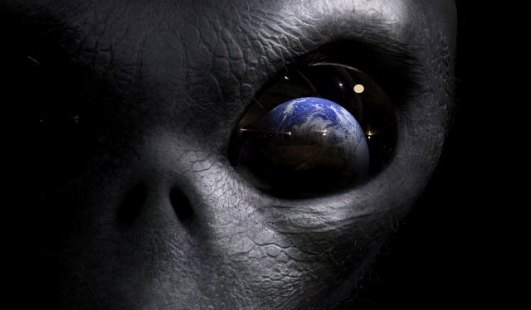 "We are extraterrestrial beings who do not have enough protection on Earth and we need your help. I live in a human body now, and this is also the reason why your people have adopted me. I learned their languages in this body, so I can talk to you, "writes Mogay. But despite having found a human body and the opportunity to learn about human culture and language, I have not been able to convince governments that I really am an alien from a distant galaxy that needs help. In the end, Mogay decided that the best way to get in touch with the government was through the largest organization in the world of UFO researchers, namely MUFON.
MUFON admits on its website that it often receives false reports. Therefore, MUFON officials say it is very likely that this SOS of Mogay is just another false alarm.
The MUFON verdict
MUFON on its reporting website UFO has cataloged this report as HOAX, or False. However, on 15 February (2016) the same supposed extraterrestrial entity that calls itself Mogay sent another report (with case ID: 74503), this time claims to be interested in getting in touch with UNOOSA ("Office of United Nations for space affairs. "Mogay also tells MUFON that if they help him, they will get a good reward and that if they wish, they can prove their identity, which is why a presumed letter (e-mail) provided by the Nations Unite, is attached to the report and is shown below:
The sender of the previous post (it has not yet been confirmed that it was really her) is Kerith McFadden, associate librarian of the Dag Hammarskjöld Library of the United Nations. Presumably, she would have replied to Mogay's emails, but nothing has been confirmed yet.
Mogay also claims to have a Twitter account, where he can receive private messages from MUFON officials if they wish. Although this story has all the clues of being a farce; the case to date is still under investigation. Above all, the authenticity of the email attached to the report should be validated, so MUFON experts consider authentic emails. Is all this true or false? Or is it just a joke at MUFON?
The case of Alien abduction of an American soldier who witnessed three races of aliens (know the truth)
A couple of weeks ago on the conspiracy sites, there was an unusual video with the story of a soldier of the US Army about how he was abducted by aliens. An unnamed black man is surrounded by other soldiers and talks about how he was abducted and what he saw being among the aliens.
On the board behind him, he tries to sketch the described, but the video does not clearly see what he painted. Judging by the grins on the faces of the soldiers, they do not particularly believe his story, but the kidnapped man tells in detail and seriously and seems to believe what he is saying.
According to the soldier, after he was kidnapped, he saw representatives of three races of aliens. The first were typical large and short "gray", the second were "tall white", and the third were reptiloids. On the board he tried to portray these creatures. Then he tells that he visited the gray planet and that there he breathed the usual air, as the atmospheres of their planet and Earth are very similar. But the gray planet is in a double star system and there are two suns (as in Star Wars on the planet Tatooine), so the climate is much drier. "The bones of the" gray "are also much more fragile than human bones."
The most aggressive race of the three he saw, according to the soldier, is reptiloids. They are the real enemies of mankind. They are two-legged, taller than two meters tall and very muscular. According to the soldier, he was told that there was a big war between the gray and reptilians and that the gray had killed a lot of reptiles. After that, the reptiles decided to capture our planet and supposedly a huge asteroid that flies to Earth, it's actually their ship. Then the soldier says that between the Earthmen and the Gray there has long been a secret cooperation program called "Majestic 12" and that 12 earthlings for the past 13 years have been sent to the gray planet. And that Steven Spielberg's famous film "Secret Contacts of the Third Kind" was very close to the truth.
Watch the video:
All American presidents, including Barack Obama, were allegedly well aware of the existence of aliens. When colleagues ask a soldier whether Jesus Christ was a stranger, he answers that he asked the same question in gray and they answered that he was a man.
However, he was also told that the DNA of all people, including Jesus, by the hands of the aliens was changed 68 times since prehistoric times. When the video appeared on other sites, it was found out that it was posted on the network a few years ago, but then very few people noticed it. However, despite the past years, there is still no known name of the soldier, nor the exact year of recording the video.
Buzz Aldrin: On the Moon we were ordered by aliens to move away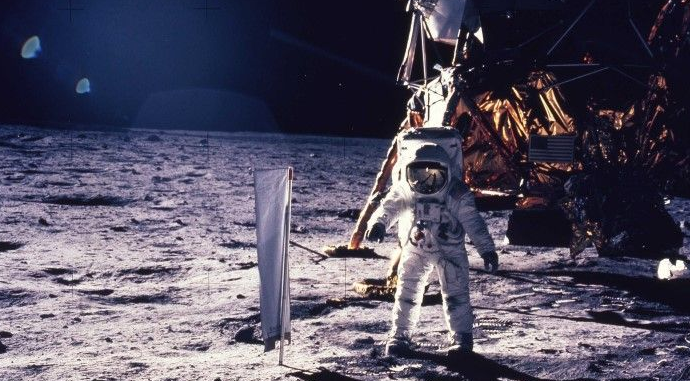 THE FOLLOWING IS TRANSLATED:
Here are the statements by the former astronauts:
Professor: What really happened out of Apollo 11?
Buzz Aldrin: An amazing thing, even though we have always known of this possibility. The fact is that they (aliens) have ordered us to turn away!.
Professor: What do you mean "warned to move away"?
Buzz Aldrin: I can not go into details, there are structures on the Moon, and not ours. I can only say that their ships were far superior to ours both in size and technology. Wow if you were big! … And menacing!
Professor: But NASA also sent to the moon missions after Apollo 11 ….
Buzz Aldrin: Naturally, NASA had already announced at that time, and could not risk panic on Earth .
According to the American ufologist Vladimir Azhazha, "Neil Buzz Aldrin said to Mission Control that two large unknown objects were watching him and Aldrin after landing on the moon. But this message was never heard by the public, because NASA censored it. "But a 2006 video interview made astronaut Neil Buzz Aldrin, it is analyzed the footage of the meeting between the Apollo 11:02 UFO. This was just one of many "encounters" with aliens, duration the journey to the moon.
Aleksandr Kasantesev says Buzz Aldrin made a color film of the UFO from inside the ship and continued filming them (Buzz Aldrin and himself), even when they were out. Buzz Aldrin confirmed that the story was true but refused to give more details, then admitted that the CIA wanted to hide the incident.
It should also add that for some time circulating on the Internet an audio file that contains the conversation between the astronauts and control center in Houston, captured from various terrestrial radio stations frequency ultra-fast, before NASA suppressed in the telecast that illustrated the ' arrival of Apollo XI on the moon (NASA despite assertions to the contrary, there was in fact a slight shift between the real-Apollo NASA communications and those relayed to the world).
Here is the full text:
Astronaut 1: But what is that?
Astronaut 2: Do you have an explanation?
Houston: Do not worry, stick to the program!
Astronaut 1: My God, it's amazing, that's great, do not you could ever imagine!
Houston: We know this, go to the other side!
Astronaut 1: What the hell is that? It's amazing …… God … but what is it? So, you tell me?
Houston: Change frequency, use Tango, Tango!
Astronaut 1: Then it is a form of life, that one!
Houston: Change frequency.
Houston: Use Tango Bravo, Bravo Tango, choose Jezebel, Jezebel!
Astronaut: …… yes! Matutto … .. this is incredible!
Houston: Switch on Bravo Tango, Tango Bravo!
At this point the connection is broken.