Conservationist Plants Super Grove Of Ancient Redwood Trees Cloned From Ancient Stumps
An old-growth Redwood is a sight to behold. The Sequoia sempervirens stands at around 320 feet, whilst covering a trunk width of 27 feet. To add to that, they live for about 2,000 years. Let's just say, they are the biggest trees on the planet. Also, it would not be amiss to say that some of these giants may have been alive when Caesar was wreaking havoc all across Europe.
Prior to the 19th century, the old-growth redwoods had an area coverage of around 2 million acres which spread along the coast of California. It started at Big Sur and stretched the entire road into the south of Oregon. It is sad to note that while humans co-existed with these trees up to a certain point in time, the Californian Gold Rush led to the deforestation of the Redwoods. Now, only 5% exist, covering a strip of 450 miles. Considering Global Warming is a gradually increasing issue, the future of the Redwoods looks bleak. While animals can move from tundras to temperate regions of the globe, trees can't.
This is where David Milarch comes in.
Back in 1991, David Milarch's near-death experience with renal failure gave him a new perspective to look at life. This arborist from Michigan then decided to take care of the genetics of the old-growth redwoods, simply because he wanted to assist them in migration. Milarch mentioned that his sorrow was tremendous when he heard that 95% of the trees had already been uprooted. The fallacy in the entire situation was that humans had no clue how these trees affected our balance with nature and this planet. Milarch believes that it is his job to walk around the trees and convince them, (or maybe himself) that he can let them grow anew. He would be their anchor to take them to a new location, where their genes would safely grow. He declares that he would bring every single human being to this place and prevent it from being a remnant of the past.
His process- cloning. With the process of cloning and planting the trees again, Milarch is going to give these trees a new lease of life. Cloning will not only help increase their population but also help in the overall success ratio of their longevity in different places, which are conducive to their growth. And there are two benefits to saving the old-growth Redwood trees. One, the overall benefit of afforestation that is a chain between saving trees and saving lives. And second, as the Moving the Giants project mention, Redwood trees are very important in sequestering the carbon that will help plan a positive map for humanity to follow. Milarch's efforts are one with the global efforts to help stabilize the nature and ensure that humanity lives.
If you are interested in knowing more about David Milarch and his work on the old-growth Redwood trees, here is a short film that will give you all the necessary insight into the project.
You can learn more about this project here: Archangel Ancient Tree Archive.
Image Credits:
Space sailing ship sent amazing pictures of the Earth
The space ship LightSail 2, launched in June last year, received amazing photos of our planet.

LightSail 2 is a project of the Planetary Society; It was launched in June 2019 with the SpaceX Falcon Heavy booster rocket. Unlike other spacecraft, the solar sailboat does not rely on traditional rocket engines – it uses solar energy.
The device has been operating in Earth orbit for about eight months; all in all, its mission should last about a year. According to experts who studied the work of LightSail 2, the design of a space sailboat with solar panels on only one side caused a number of technical problems, so in their opinion, future similar vehicles should have solar panels on both, Space.com reports.
The Planetary Society showed several images taken by the LightSail 2 camera. The solar sail of the apparatus is partially visible on them (in general, the sail area is about 32 square meters), and our planet is also visible.
Immediate enormous volcanic disaster predicted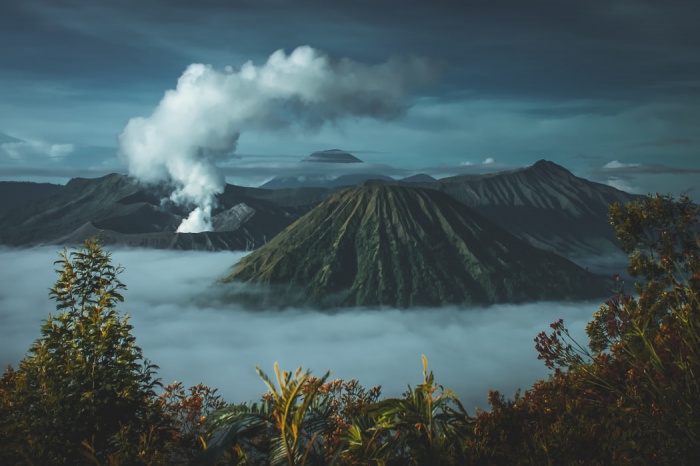 Researchers at the Cambridge Mining School in Britain have predicted an imminent catastrophe, which is associated with the eruption of a large volcano in South America.
The Tungurahua volcano in Ecuador, also known as the Black Giant, shows signs of instability on the slopes, which can lead to a huge landslide. The reason for this is the recent volcanic activity and the imbalance between the erupted and incoming magma, which led to the deformation of the western flank of the mountain and increasing stress.
Since 1999, Tungurahua has often been active, then 25 thousand people had to be evacuated from nearby settlements. The previous large eruption of the Black Giant occurred about 3 thousand years ago and provoked a partial collapse of the western flank of the volcano cone. A landslide from soil, stones, snow and water covered an area equal to 80 square meters. km Later, the cone gradually recovered, reaching a height of 5 km.
A huge meteorite hit the Indian state of Rajasthan, creating a 20-meter crater and turning night into day
When it fell, the meteorite created a huge crater with a diameter of 20 and a depth of 7 meters in the factory complex at Tuesday dawn in the industrial zone of Itaran Alvara, Rajasthan.
Suddenly a rocket-like object appeared, falling from heaven to earth, changing night to day. A celestial phenomenon occurred in the Fauladpur region of Shahjahanpur in the Alvar region around 5:00 a.m. on February 12, 2020.
In the following video surveillance frames, flashes and the subsequent meteorite fall to the ground are visible. People living in the immediate vicinity were not harmed.
People living in the area woke up from weak shocks, similar to an earthquake. The birds began to scream.
Many surveillance cameras were able to record a meteorite explosion. People who witnessed the heavenly event were shocked.
Local resident Rajesh Kumar Gupta said that he felt an explosion and after leaving his house felt a gust of strong wind. Farmers in the city of Fauladpur Shahjahanpur also saw a meteorite.
Ajay Chaudhari, a resident of the Kotkashim region, said that light suddenly appeared and an object similar to a rocket appeared in the sky.
A team of scientists was sent to the crater to explore the mysterious meteorite.