Communications Are DOWN in Parts of California: Radio, TV, Internet, Cell Towers Fall Victim to PG&E Blackouts As Wildfires Rage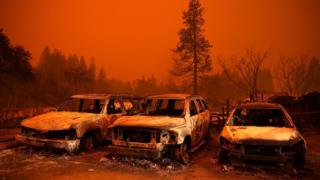 GETTY IMAGES
(Dagny Taggart) California is burning, and the planned power outages initiated by Pacific Gas and Electric Company (PG&E) have understandably enraged a lot of residents, particularly due to an unexpected consequence: the blackouts have cut power to many cellphone towers.
Not having cell phone service is contributing to a dangerous lack of access to vital information. Many impacted residents are also without television and the internet, and 26 radio stations were out of service as well, further limiting emergency communication.
Without cell service, signing up for emergency wildfire evacuation notices or using backup chargers to keep phones going during a power outage is useless.
According to the San Francisco Chronicle,
On Tuesday, nearly 224,000 customers across the state were without communication services — television, internet, and phone — according to data that companies reported to the Federal Communications Commission. That number dropped from more than 450,000 Monday.

Hundreds of cell sites were down. In Marin County, 35% of cell sites were down. In Sonoma County, it was 22%; Napa County: 15%; Contra Costa County: 3.8%; and San Mateo County: 3.5%. (source)
This afternoon, The Wall Street Journal reported that according to Federal Communications Commission data, cable and wireline phone companies said 173,058 subscribers were without service as of Wednesday morning.
When cell service is down, so is the ability to call 911.
"The biggest concern is that when it comes to 911 calls, 81 percent of 911 calls are made from your wireless phone so having cell sites down it's an incredible public safety concern that consumers cannot access emergency services," Ana Maria Johnson with the California Public Utilities Commission (CPUC) told KTVU Fox 2. She added that cell towers don't have back-up power systems because cell companies are not required to do so. The Public Advocates Office, an independent organization within the CPUC, has petitioned cellular companies to have generators and back-up batteries on-site.
The reasons that cell service may be lost during blackouts are complex and are explained in detail in the article California Wildfires: Cell Companies Can't Promise Indefinite Service. To gain a more in-depth understanding of the issue, I recommend reading that article, but here is an excerpt:
Most cell stations in California have backup options, like batteries and generators. However, some major cell phone carriers told the Federal Communications Commission in filings this week that if physical access to cell towers is cut off, they can't guarantee service.

Backup power options "are not effective for mitigating the disruption to wireless communications when our facilities are damaged by fire," AT&T told the FCC.

Verizon said some of its sites in California don't have backup generators due to zoning and other restrictions, so the company will use portable generators that can be refueled. But whether to refuel a generator during a wildfire depends on access to the area, the safety of workers and the potential impact of wildfire, the company said.

"If (sites) lose commercial power, batteries kick in. If commercial power is lost for longer than the life span of the battery, the generator will kick in. We have a refueling plan for the generators if there's a prolonged outage," Verizon spokeswoman Heidi Flato said. "If there's an active wildfire, we don't always have access to the site, and that may impinge on our refueling plans." (source)
"You don't appreciate how essential cellphone service is until you lose it," Chris Ungson, deputy director for communications and water policy for the California Public Advocates Office, an independent agency within the state's Public Utilities Commission, told The New York Times. "It's not just a matter of inconvenience; it's a matter of public health and safety. It's a lifeline to many, many people."
Emergency calls to 911 are one indicator: The Governor's Office of Emergency Services said more than 80 percent of such calls in California last year were made by cellphone.

For years, state and federal regulators have pressed the cellular companies to better reinforce their networks for emergencies. The Federal Communications Commission said Monday that it was conducting "a comprehensive review of the wireless industry's voluntary commitment to promote resilient wireless communications during disasters."

The F.C.C. wrote to cellular carriers last month to express concern about service reliability as California's wildfire season neared, asking for an account of steps being taken "to promote the continuity of communications for public safety officials and residents." (source)
If you can't call 911, you won't be able to request help for medical emergencies.
And even if you ARE able to call 911, there is no guarantee medical facilities will be able to help you during a blackout.
Healthcare leaders told The Sacramento Bee that they are "confronting a level of disruption to delivering care and running their businesses that they have never seen in their careers" as a result of the California wildfires and PG&E's planned blackouts. Here are a few excerpts from The Sacramento Bee's report:
"I actually have never experienced a power outage where we were on emergency generator backup for 40 hours or more," said Dr. Brian Evans, the chief executive officer at Sierra Nevada Memorial Hospital in Grass Valley. "We've had short-term disruptions, but typically it wasn't one of these planned outages that lasted for quite some time. I would say, for me personally, it's been a career first."

Across California, wildfires and outages have forced healthcare providers to close hospitals and medical clinics, or greatly limit services. Both Kaiser Permanente and Sutter Health evacuated their hospitals in Santa Rosa last weekend, the second time in three years the medical centers had to be abandoned as flames and fumes approached.

Healthcare leaders said power outages create challenges for patients. They have to reschedule appointments, drive farther to get the service they need and, in the case of medically frail individuals, take extraordinary steps to ensure they have what they need to survive.

"It's really tough on patients, on the finances, on everything," Evans said. "You don't know all the various impacts. One thing that was interesting and very surprising was how it affected people in our community who are on oxygen. … We ended up admitting 11 people to the hospital during the first outage because they didn't have power to run equipment they needed."
This problem isn't going away anytime soon.
PG&E said its latest blackout would affect about 1.5 million people in 29 counties. At the same time, about 1 million people were still without power Tuesday after a shut-off over the weekend that affected nearly 2.7 million. Today, PG&E announced it would begin restoring power to certain areas – some today, some tomorrow – but many areas still have no estimated time of restoration listed.
The blackout Tuesday was PG&E's third in a week and the fourth in a month. It included the Sierra Nevada foothills and parts of Marin County, population 260,000, north of San Francisco. Many people in Marin have been without power since Saturday.
Meanwhile, more wildfires have erupted in Southern California, and about 26,000 people are being ordered to evacuate (most of which are mandatory), reports the Associated Press.
At an emergency meeting earlier this month, PG&E Chief Executive William D. Johnson said that California residents can expect to face widespread, precautionary blackouts for the next 10 years. He said the bankrupt utility giant will need that much time to be able to prevent its power transmission lines from sparking fires. While the need for widespread shutdowns should lessen every year, Johnson told commissioners, "I think this is probably a 10-year timeline to get to a point where it's really ratcheted down significantly," the Los Angeles Times reported.
What does this mean for you?
Even if you do not live in California or in a region that is prone to wildfires, let the dire situation there serve as a cautionary tale: Please be sure to have backup sources of communication and a medical kit ready just in case a natural disaster strikes your area and knocks out access to emergency services.
What do you think?
Are you prepared for emergencies like wildfires and the potential loss of cell phone usage.
About The Author
Dagny Taggart is the pseudonym of an experienced journalist who needs to maintain anonymity to keep her job in the public eye. Dagny is non-partisan and aims to expose the half-truths, misrepresentations, and blatant lies of the MSM.
Source:
https://www.activistpost.com/2019/10/communications-are-down-in-parts-of-california-radio-tv-internet-cell-towers-fall-victim-to-pge-blackouts-as-wildfires-rage.html
What is the real cause of explosions and fires around the world in the past few days?
What has caused all these giant explosions and apocalyptic fires in China, North Korea, Lebanon, India, USA, Iraq, Iran over the past few days?
China
It all began on August 3, 2020 in the Chinese province of Hubei, where an instant explosion at a chemical plant killed at least six people and injured four. The reason is under investigation.
North Korea
This first explosion was followed a few hours later by a giant explosion following a possible "gas leak" in Hyesan, Yangan Province, North Korea, killing 9 people and injuring at least 30 residents. The reason is being investigated.
Lebanon
The next day, the port area of ​​Beirut, Lebanon, was destroyed by a giant explosion, killing more than 140 people and injuring thousands.
India
Also on the afternoon of August 4, 2020, an explosion caused panic among residents living around the Vijayshree Pharma Company plant in the Rambilli Zone FEZ in Vishakhapatnam in Andhra Pradesh, India. The reason is being investigated.
Great Britain
On 4 August, an explosion occurred again in the middle of a residential street in Birmingham, UK, causing smoke and fireballs to rise into the air and residents fleeing to seek refuge. The explosion was so strong that fire alarms went off in the houses.
United States of America
Finally, on Tuesday, firefighters put out a massive fire in downtown St. Paul, Minnesota, that engulfed a building under construction. When the firefighters arrived at about 4:20 am, the flames were flying high into the air, and the glow was visible for miles.
Iran
A fire broke out on Tuesday inside three industrial warehouses east of Tehran. The fire destroyed production materials, including lumber and leather.
Then, on August 5, at least seven ships burst into flames at a shipyard in the southern Iranian port of Bushehr. According to reports, the reason remains unclear, no casualties.
United Arab Emirates
On 5 August 2020, on Wednesday evening at 18:30, a fire broke out in a market in the emirate of Ajman, 50 km from Dubai, in the United Arab Emirates. The reason is being investigated.
China
A gas pipeline exploded and several roads collapsed after torrential rains flooded parts of Yulin, a city in China's northwestern Shaanxi province. Local authorities evacuated about 600 people from the area. The reason is being investigated.
United States of America
On the same day in Midland, Texas, an investigation is under way of an explosion and subsequent fire in an oil storage facility. The reason is also unknown.
Iraq
Again, on August 6, 2020, a major fire broke out in over 20 wholesale market warehouses in Najaf, Iraq. The reasons are being investigated.
Geneticists have clarified the origin of American slaves
It is the largest study of DNA from people living in the Americas. It shows where the slaves came from in the United States and reveals the details of their abuse.
The work includes information on 50 thousand people, of which 30 thousand are of African origin. The article, published in the American Journal of Human Genetics , serves as "evidence that genetics can shed light on history," said Alondra Nelson, professor of social sciences at the Institute for Advanced Study in Princeton.
The study began with the work of Joanna Mountain, senior director of research at the company 23andMe. Together with the team, she created a genetic database, which included mainly information about the company's clients, whose grandparents were born in regions where slavery flourished. Dr. Stephen Micheletti, the geneticist at 23andMe who led the study, compared it to data from the Slave Travels digital project, which contains information about the people brought in: information on ports of embarkation and disembarkation, the number of enslaved men, women and children. He also collaborated with historians to learn more about the plight of African regions, such as contemporary Angola and the Democratic Republic of the Congo, in the 17th and 19th centuries.
Scientists have found out: the DNA of the study participants from the United States showed their Nigerian origin. This means that there are far more ships that transported enslaved people directly to America from Nigeria than would be expected based on historical records. 
At first, historians "could not believe how many Nigerian ancestors were there in the United States," Micheletti said.
Later, after consulting with experts, the study authors learned that slaves were first sent to the British Caribbean Islands, and only then sold to the Americans.
Experts estimate that more than half of the people were brought into the United States and Latin America from West Africa. The study found that the modern black population is genetically related to six regions, among them Senegal, Gambia, Nigeria and Benin. Moreover, according to historical sources, there were more regions from which slaves were exported.
The work also showed that the brought women made a much greater contribution to the modern gene pool than men, although there were much fewer of them. Scientists have calculated that in the United States there are 1.5 times more descendants of slaves, and in Latin America and the Caribbean – 13-17 times. Moreover, in the United States, European men have influenced the modern gene pool of people of African descent three times more than European women, and 25 times more in the Caribbean.
The collapse of humanity is predicted with a 90% probability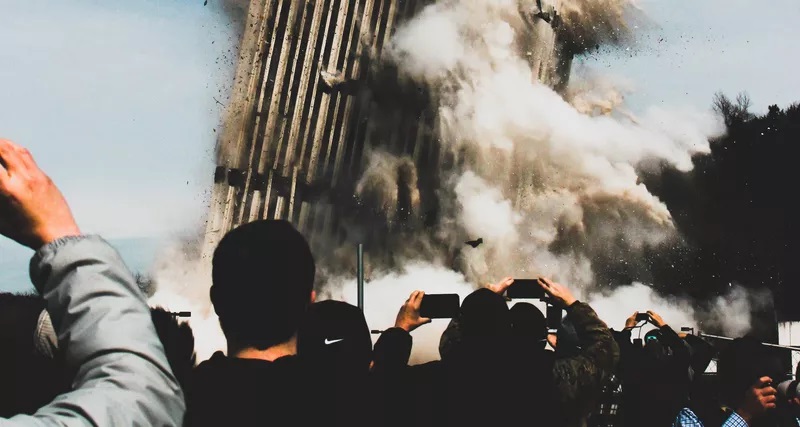 A new study by theoretical physicists cites truly horrifying numbers. The results of a great deal of work have shown that if human society continues to move in the same direction, then civilization in the form in which we know it now will come to an "irreversible collapse" in a few decades.
The research findings, published in Scientific Reports, are a model for our future. The work is based on data on current rates of deforestation and other resource use. Scientists say that even the most positive forecasts show a 90% chance of disaster.
Physicists at the Alan Turing Institute and Tarapaki University predict that the last forests on Earth will be cleared somewhere between 100 and 200 years of this century.
Combined with global population changes and resource consumption, this is an incredible blow to humanity. In light of this, scientists say that society as we know it may cease to exist within the next 20 to 40 years. There is good news, the researchers note that from a global perspective, the rate of deforestation has actually slowed in recent years.
However, they are still too large and continue to suffer losses as newly planted trees cannot protect the environment as well as mature forests.
"Calculations show that while maintaining the real rates of population growth and consumption of resources, in particular forest resources, we have several decades left before the irreversible collapse of our civilization," the article says.
A fundamental transformation will be required to prevent collapse. The authors say that the main driving force behind the collapse right now is that the consumption of planetary resources is not taken seriously because it is driven by the economy.
Our civilization gives preference to the interests of individuals, countries or territories, without caring about the entire ecosystem. Therefore, in order to stop the catastrophe, people need to reconsider the current model of society, and accept the one that puts the interests of the ecosystem above the individual.