Communications Are DOWN in Parts of California: Radio, TV, Internet, Cell Towers Fall Victim to PG&E Blackouts As Wildfires Rage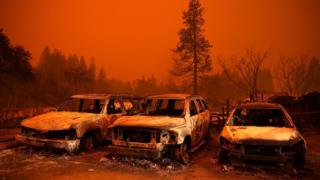 GETTY IMAGES
(Dagny Taggart) California is burning, and the planned power outages initiated by Pacific Gas and Electric Company (PG&E) have understandably enraged a lot of residents, particularly due to an unexpected consequence: the blackouts have cut power to many cellphone towers.
Not having cell phone service is contributing to a dangerous lack of access to vital information. Many impacted residents are also without television and the internet, and 26 radio stations were out of service as well, further limiting emergency communication.
Without cell service, signing up for emergency wildfire evacuation notices or using backup chargers to keep phones going during a power outage is useless.
According to the San Francisco Chronicle,
On Tuesday, nearly 224,000 customers across the state were without communication services — television, internet, and phone — according to data that companies reported to the Federal Communications Commission. That number dropped from more than 450,000 Monday.

Hundreds of cell sites were down. In Marin County, 35% of cell sites were down. In Sonoma County, it was 22%; Napa County: 15%; Contra Costa County: 3.8%; and San Mateo County: 3.5%. (source)
This afternoon, The Wall Street Journal reported that according to Federal Communications Commission data, cable and wireline phone companies said 173,058 subscribers were without service as of Wednesday morning.
When cell service is down, so is the ability to call 911.
"The biggest concern is that when it comes to 911 calls, 81 percent of 911 calls are made from your wireless phone so having cell sites down it's an incredible public safety concern that consumers cannot access emergency services," Ana Maria Johnson with the California Public Utilities Commission (CPUC) told KTVU Fox 2. She added that cell towers don't have back-up power systems because cell companies are not required to do so. The Public Advocates Office, an independent organization within the CPUC, has petitioned cellular companies to have generators and back-up batteries on-site.
The reasons that cell service may be lost during blackouts are complex and are explained in detail in the article California Wildfires: Cell Companies Can't Promise Indefinite Service. To gain a more in-depth understanding of the issue, I recommend reading that article, but here is an excerpt:
Most cell stations in California have backup options, like batteries and generators. However, some major cell phone carriers told the Federal Communications Commission in filings this week that if physical access to cell towers is cut off, they can't guarantee service.

Backup power options "are not effective for mitigating the disruption to wireless communications when our facilities are damaged by fire," AT&T told the FCC.

Verizon said some of its sites in California don't have backup generators due to zoning and other restrictions, so the company will use portable generators that can be refueled. But whether to refuel a generator during a wildfire depends on access to the area, the safety of workers and the potential impact of wildfire, the company said.

"If (sites) lose commercial power, batteries kick in. If commercial power is lost for longer than the life span of the battery, the generator will kick in. We have a refueling plan for the generators if there's a prolonged outage," Verizon spokeswoman Heidi Flato said. "If there's an active wildfire, we don't always have access to the site, and that may impinge on our refueling plans." (source)
"You don't appreciate how essential cellphone service is until you lose it," Chris Ungson, deputy director for communications and water policy for the California Public Advocates Office, an independent agency within the state's Public Utilities Commission, told The New York Times. "It's not just a matter of inconvenience; it's a matter of public health and safety. It's a lifeline to many, many people."
Emergency calls to 911 are one indicator: The Governor's Office of Emergency Services said more than 80 percent of such calls in California last year were made by cellphone.

For years, state and federal regulators have pressed the cellular companies to better reinforce their networks for emergencies. The Federal Communications Commission said Monday that it was conducting "a comprehensive review of the wireless industry's voluntary commitment to promote resilient wireless communications during disasters."

The F.C.C. wrote to cellular carriers last month to express concern about service reliability as California's wildfire season neared, asking for an account of steps being taken "to promote the continuity of communications for public safety officials and residents." (source)
If you can't call 911, you won't be able to request help for medical emergencies.
And even if you ARE able to call 911, there is no guarantee medical facilities will be able to help you during a blackout.
Healthcare leaders told The Sacramento Bee that they are "confronting a level of disruption to delivering care and running their businesses that they have never seen in their careers" as a result of the California wildfires and PG&E's planned blackouts. Here are a few excerpts from The Sacramento Bee's report:
"I actually have never experienced a power outage where we were on emergency generator backup for 40 hours or more," said Dr. Brian Evans, the chief executive officer at Sierra Nevada Memorial Hospital in Grass Valley. "We've had short-term disruptions, but typically it wasn't one of these planned outages that lasted for quite some time. I would say, for me personally, it's been a career first."

Across California, wildfires and outages have forced healthcare providers to close hospitals and medical clinics, or greatly limit services. Both Kaiser Permanente and Sutter Health evacuated their hospitals in Santa Rosa last weekend, the second time in three years the medical centers had to be abandoned as flames and fumes approached.

Healthcare leaders said power outages create challenges for patients. They have to reschedule appointments, drive farther to get the service they need and, in the case of medically frail individuals, take extraordinary steps to ensure they have what they need to survive.

"It's really tough on patients, on the finances, on everything," Evans said. "You don't know all the various impacts. One thing that was interesting and very surprising was how it affected people in our community who are on oxygen. … We ended up admitting 11 people to the hospital during the first outage because they didn't have power to run equipment they needed."
This problem isn't going away anytime soon.
PG&E said its latest blackout would affect about 1.5 million people in 29 counties. At the same time, about 1 million people were still without power Tuesday after a shut-off over the weekend that affected nearly 2.7 million. Today, PG&E announced it would begin restoring power to certain areas – some today, some tomorrow – but many areas still have no estimated time of restoration listed.
The blackout Tuesday was PG&E's third in a week and the fourth in a month. It included the Sierra Nevada foothills and parts of Marin County, population 260,000, north of San Francisco. Many people in Marin have been without power since Saturday.
Meanwhile, more wildfires have erupted in Southern California, and about 26,000 people are being ordered to evacuate (most of which are mandatory), reports the Associated Press.
At an emergency meeting earlier this month, PG&E Chief Executive William D. Johnson said that California residents can expect to face widespread, precautionary blackouts for the next 10 years. He said the bankrupt utility giant will need that much time to be able to prevent its power transmission lines from sparking fires. While the need for widespread shutdowns should lessen every year, Johnson told commissioners, "I think this is probably a 10-year timeline to get to a point where it's really ratcheted down significantly," the Los Angeles Times reported.
What does this mean for you?
Even if you do not live in California or in a region that is prone to wildfires, let the dire situation there serve as a cautionary tale: Please be sure to have backup sources of communication and a medical kit ready just in case a natural disaster strikes your area and knocks out access to emergency services.
What do you think?
Are you prepared for emergencies like wildfires and the potential loss of cell phone usage.
About The Author
Dagny Taggart is the pseudonym of an experienced journalist who needs to maintain anonymity to keep her job in the public eye. Dagny is non-partisan and aims to expose the half-truths, misrepresentations, and blatant lies of the MSM.
Source:
https://www.activistpost.com/2019/10/communications-are-down-in-parts-of-california-radio-tv-internet-cell-towers-fall-victim-to-pge-blackouts-as-wildfires-rage.html
Polar vortex: "wild" winter is coming in the US, Northern Europe and East Asia after the 16th of January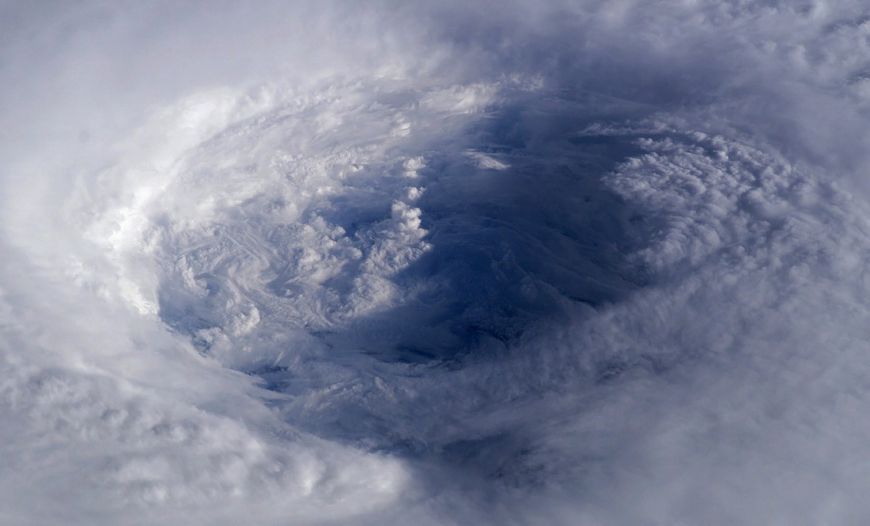 In the upper atmosphere above the North Pole, experts saw a rapidly swirling vortex of cold air that could bring severe frosts to the United States, Northern Europe and East Asia. Serious cold snap and snowy weather are expected after January the 16th.
Snowfalls and a cold snap hit South Korea since the start of 2021, hitting historic snow maximums and temperatures. In the country, for the first time since 1964, television and newer communications are sending people cold snap warnings:
The situation is similar in Japan, where a new snow storm hit historic highs:
On January 7, the thermometer In Beijing dropped to -20 degrees Celsius, breaking the 1966 record. In other regions of China, the temperature is also not sugar, and you can only move around in special uniforms:
The cold even reached Taiwan, where the temperature in some areas dropped below freezing point, snow poured down and people realized that rice terraces can be used as a ski jump:
Even more snow went to Spain, where on January 6, 2021, a temperature of -34.1 ° C was recorded – the lowest on record. After that, a snow storm hit the country, which has not been seen for 80 years:
The same thing happens in Canada and in the northern states of the United States:
It seems that after a stratospheric warming, the subpolar vortex began to split:
The vortex itself is a standard phenomenon. However, this time experts were surprised at his movement. It is possible that in the near future it will be divided into two parts. 
Scientists associate the strange behavior with the changed climate in the Arctic, which has become warmer. From September to December, the amount of ice cover decreased significantly.
The polar vortex is a low-pressure region located in the stratosphere and filled with cold air. When the jet stream of air that holds the vortex weakens, the low pressure area moves south. 
As the ice shrinks, more moisture will move inland. It will turn to snow, so snowfalls are expected. Snow, in turn, reflects heat, leading to a cold snap.
Hospital in Naples was evacuated after a new, huge sinkhole appeared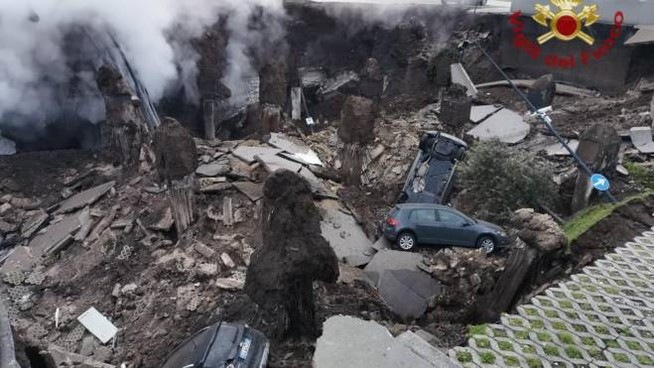 Eyewitnesses said they heard a loud crash at dawn when a huge hole in the ground formed outside the Ponticelli Ospedale del Mare hospital in eastern Naples.
Early in the morning of January 8, 2021, a sinkhole occurred in the parking lot of a clinic in Naples. The depth of the formed cavity is about 20 meters, the total area of ​​the hole is about 2,000 square meters.
No casualties were found at the scene; firefighters say the sinkhole "affected an area of ​​about 500 square meters" and engulfed several cars parked near the hospital.
As the press writes and as a little can be seen from the videos, rescuers and firefighters were running around the pit together with the governor of the area.  But who should be there in the forefront are Italian geologists, since Naples stands in the very center of the volcanic system known as the Phlegrean Fields.
If the surface collapsed, moreover – the surface reinforced with concrete and reinforced from below with some kind of communications, then we are talking about serious soil deformations caused by the activity of magma.
Italy has been in doubt since the summer of 2020, because swarms were observed there in very atypical places in May, and according to the forecasts of old Italian seismologists, who had witnessed many strong earthquakes, it should have boomed in the August region.
Fortunately, nothing bad happened to Italy and there was no big earthquake. But, since there are swarms, it means that something is being prepared, the magma is gathering strength. 
Following this particular sinkhole event – an obvious sign that a major earthquake in Italy is already very close.
A new great pandemic cycle has begun (again) in China
In the first months of 2020, the whole world with a certain fright followed the events unfolding in China, where people fell on the streets during the day and astronauts wandered, and in the evening crematoria began to smoke. And now, with the onset of December, the cycle seems to be repeating itself.
Shunyi area in Beijing, where the authorities announced "wartime status" the day before. As you can see in the videos, thousands of people are lined up in the queue for mandatory testing:
Dalian city, where "wartime" is also declared. Neighborhoods are blockaded, people are walled up in entrances, familiar characters of George Lucas roam the streets:
Chinese 'rescuers', before performing a combat mission:
Chengdu City:
Daluo Port, Yunnan – tourists came for adventure and they received the 'time of their life' after leaving the ramp:
If something happens in Beijing, it does not mean that tomorrow the same will happen everywhere. However, the trend towards such dynamics is observed and, as the practice of the first wave of the pandemic has shown, all countries and people, to one degree or another, have taken into account the 'Chinese experience'.
Therefore, one must think that everything will now be in peace, as in spring – a new global round of the fight against the Covid has begun in China, a new great pandemic cycle!