As reported long ago by the famous British tabloid METRO, UFO conspiracy theorists are on the alert after hearing the bizarre "alien" sounds emanating from the organic Comet 67P organic  – made famous by the Rosetta mission. Some UFO researchers are convinced that it is not the Comet that emits these unknown sounds, but it is an Extraterrestrial Transmission sent by an alien base that is clearly visible on the celestial body, and the images taken by the Rosetta Probe confirm it.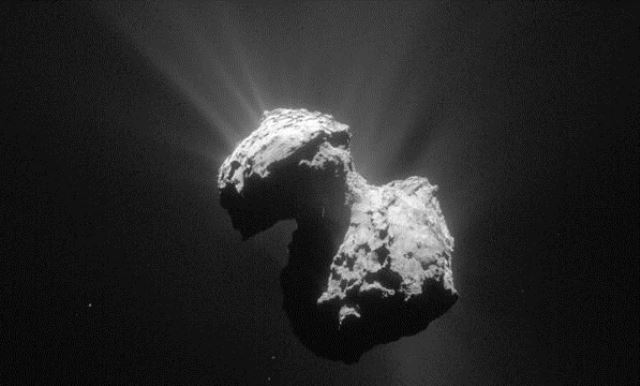 The 67P comet is one of the most famous and mysterious objects in the Kuiper belt, after the Rosetta mission collected samples from its icy surface in 2014. Rosetta's incredible discoveries showed that organic molecules and oxygen existed in the dust emitted by the Comet 67P. Now the comet is again at the center of the mystery, after an unknown audio source has been recorded by NASA thanks to Rosetta. For UFO researchers, this is proof that an unknown transmission was sent from an extraterrestrial structure visible in the images taken by the NASA space probe. This structure is quite large and has two antennas that are visible in the photographs below.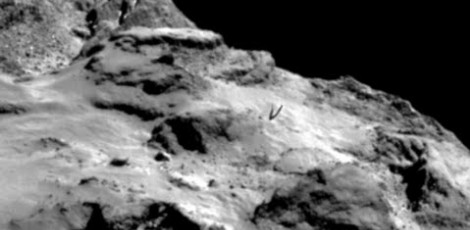 The otherworldly sound, composed of oscillating analogue noises, has been brought to light by UFO researcher Scott C Waring. "I listened to and recorded the sounds picked up by the 67P comet and slowed them down so I could listen to them better," Waring wrote. "I really feel it contains an alien message."
UFO hunters long ago identified a mysterious object on the surface of the comet 67P / Churyumov-Gerasimenko, which would be evidence of the existence of alien underground structures, or better, alien outposts. The UFO researchers are convinced that these structures or protuberances that protrude from the surface of the comet, could be similar to antennas that transmit on frequencies that are not perceived on Earth, that is, on frequency bands still not accessible to us. These sound frequencies are those recorded by the Rosetta probe, composed of oscillating analogue noises.
According to the Ufologists, this sound transmission recorded on the Comet 67P is the further proof (after the discovery of the alien base with three antennas) that the comet could have the function of an ALIEN RADIAL, which is used to define one or more routes of any spaceships coming from other star systems. Other ufologists speculate that this base could be an extraterrestrial mining structure.