Clearing of the Chimera group, primary anomaly and toplet bombs continues. Our Flower of Life meditations in last few weeks along with other factors were strong enough to eliminate most dangerous potential outcomes and the planetary liberation process can continue in a slightly more balanced way.
Still, the Light Forces are asking everybody to meditate as often as they can and as often as they feel guided, until the moment of the Compression Breakthrough, to assist in stabilizing the energy grid around the planet utilizing Flower of Life mediation:
https://www.welovemassmeditation.com/2019/08/flower-of-life-meditation-during-lions.html
There are big changes taking place in the universe. For the first time since the creation of this universe, areas completely free of quantum fluctuations primary anomaly have appeared inside the universe. They are not stable yet, but this is the first sign of the beginning of the new cosmic cycle and the coming cosmic vacuum metastability event:
https://cosmosmagazine.com/physics/vacuum-decay-ultimate-catastrophe
https://en.wikipedia.org/wiki/False_vacuum
This will not lead to the destruction of the universe as physicists falsely claim, but will simply push the universe into a more stable state in which primary anomaly and thus evil will not be possible.
Current increase of activity of the Galactic Center is only indirectly related to this, but it is still another indicator that we are getting closer to the Event:
https://www.sciencealert.com/our-galaxy-s-supermassive-black-hole-just-mysteriously-got-really-really-bright
https://arxiv.org/abs/1908.01777
While we are speaking about cosmic changes, we might note that NASA probe has detected a plasma anomaly shockwave that collapsed the Alpha timeline in January 2018:
https://www.space.com/nasa-detects-first-interplanetary-shock.html
Another sign that we are slowly approaching the Compression Breakthrough is China bracing for the impact:
https://www.zerohedge.com/news/2019-08-09/china-hoarding-food-gold-other-commodities-anticipation-global-collapse
The arrest of Epstein has brought the reality of child abuse into the mass consciousness of humanity:
https://www.zerohedge.com/news/2019-08-17/it-took-billionaire-pedophile-die-jail-media-finally-report-elite-child-sex
According to sources, the Cabal has considered Epstein to be a security threat and he was taken out of his cell by the Cabal agents on August 10th, a lookalike was put into the prison cell and murdered there, whereas Epstein was taken to a secret Cabal location in Manhattan, interrogated, and ritually sacrificed to Moloch the next day, August 11th.
Illuminati were doing many rituals on August 11th, 2019, to connect with the energy of the grand cross solar eclipse which occured exactly 20 years earlier, on August 11th, 1999:
http://www.greatdreams.com/eclipse.htm
The grand cross solar eclipse in August 1999 took place during the fixed grand cross astrological alignment which involved Sun, Moon, Mars, Uranus and Saturn: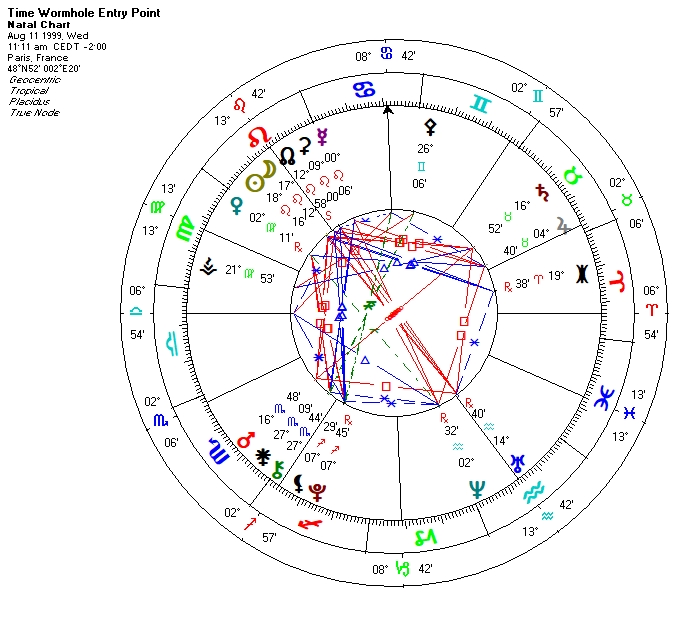 Alignment on August 11th, 2019 showed fixed grand cross astrological alignment which involved Mercury, Pallas, Pluto and Eris:
Both alignments were peak moments of purification of the primary anomaly which dark forces tried to misuse, but were also peak moments of great cosmic revelation, when the Source sent powerful signals into the universe, which now lead to creation of first areas without quantum fluctuations primary anomaly.
With Epstein gone, deeper investigation would find many ties to DynCorp:
https://forbiddenknowledgetv.net/jeffrey-epstein-deep-dive-the-mossad-fraud-and-his-creepy-temple/
Deeper investigation would also uncover the other big child abuser:
https://pedophilesdownunder.com/2018/09/04/michael-aquinos-last-desperate-attempt-to-silence-his-victims/
It would uncover the programming sites:
https://www.stopeg.com/tinet.nl/public/browse-online/raven1-eleanor-white/mcf/programmingsites.htm
And many layers of child abuse networks:
https://www.exopolitics.org/epstein-murdered-to-hide-satanic-pedophile-network-manipulating-global-elites/
To start clearing all this from a higher perspective, a meditation has been announced:
https://www.welovemassmeditation.com/2019/08/blessings-of-al-nilam.html?m=1
https://www.welovemassmeditation.com/p/blessings-of.html?m=1
Along with the clearing of child abuse networks, there is more awareness about distorted programs about sexuality that the Cabal has enforced upon humanity:
https://www.rt.com/news/451375-vatican-priests-gay-martel-book/
Meanwhile, the Cabal is leading a campaign against the healthy, assertive masculine principle through extremist feminism and tries to change men into docile sheep:
http://alt-market.com/articles/3639-feminism-is-a-disease-and-masculinty-is-the-cure
The Cabal has also hijacked the Me Too movement and changed it into an instrument of psychological manipulation which tries to portray all men as abusers in the eyes of women and sow distrust:
https://www.sott.net/article/366469-The-new-prudes-Viewing-all-men-as-predators-leads-to-new-sexual-reformation-even-as-libertinism-runs-rampant
https://thefederalist.com/2017/12/13/metoo-movement-destroying-trust-men-women/
https://globalnews.ca/news/4177138/metoo-men-angry/
Extremist feminism has nothing to do with the Goddess energy, on the contrary:
https://www.rt.com/op-ed/449688-us-toxic-femininity-hollywood/
And many women do not agree with it:
https://www.rt.com/uk/466045-sasha-rakoff-feminism-strip-clubs/
Unfortunately, the Cabal is very active, and they have attacked the Congo vortex with Ebola virus:
https://www.naturalnews.com/2019-07-28-bioweapons-experiments-unleashes-ebola-outbreak-in-africa.html
Perhaps it is now time to expose the creators of the big pharma and bioweapon experimentation, the Rockefellers:
https://politicalvelcraft.org/2019/07/20/how-rockefeller-founded-deep-state-pharma-and-waged-war-on-natural-cures/
The Light Forces have communicated that the Jesuits are trying to ignite civil war in the United States by polarizing the population into division and hatred between political right and political left. You need to understand that both sides of the political spectrum have been equally infiltrated by the Cabal, and both sides equally contain many good people.
And at last, little inspiration:
http://annavonreitz.com/allbuyart.pdf
Victory of the Light!
A yogi who has lived for more than 70 years without food and water has passed away in India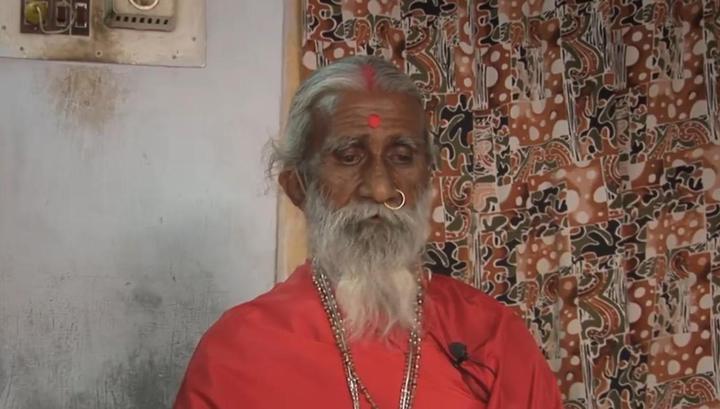 In the Indian state of Gujarat, the yogi Prahlad Jani died at the age of 90, claiming to have discovered the "elixir of life," which allows him not to eat food and water for at least 76 years, reports NDTV.
According to the assurances of the followers, and there was plenty of them at the holy hermit, Prahlad Jani died on May 26 in his native village of Charada, where he was brought at his personal request a few days ago. For two days, his body will be in the ashram so that followers can say goodbye to the mentor.
Prahlad Jani was known for statements that he has not eaten and has not drunk since childhood – according to some sources, from 8-9 years old, according to others, from 14. Doctors twice, in 2003 and 2010, conducted a comprehensive examination of Chunrival Mataji, as they called a yogi, and the second time he was two weeks under the supervision of employees of the Defense Institute of Physiology and Related Sciences of India. During this time, he did not eat a crumb, did not drink a drop, did not meet his natural needs, while his bladder was filled with a small amount of urine, but then it was absorbed into the walls.
"We still do not know how he survives," said neurologist Sudhir Shah from a recent examination.
Jani himself assured that in childhood he was blessed by a goddess, after which he left his native home and refused food and water.
A number of foreign researchers questioned the findings of Indian colleagues, pointing to the imperfection of control systems.
Cardinal sent Vatican money to help transgender prostitutes
Cardinal Conrad Krajewski, in charge of the Vatican's humanitarian programs, sent cash assistance to a group of transgender prostitutes in a city near Rome. This was reported by Reuters.
It is reported that prostitutes working on the streets of a coastal city near the Italian capital turned to a local priest to help them get food. The Catholic Church supported them. According to the 56-year-old Kraevsky, this is nothing more than following Christian principles.
"I do not understand why this attracts so much attention. This is the usual work of the church, this is normal, "the cardinal said in a conversation with reporters. He pointed out that people in this situation very often do not have documents – they were taken by pimps – and therefore they can not count on the help of the state.
Krajewski, one of the Vatican's youngest cardinals, is called the "Pope Robin Hood": he is known for dressing in ordinary clothes and delivering food for homeless people around Rome.
He also opposes the anti-immigrant position of Italian Prime Minister Matteo Salvini. Since 2013, he has been responsible for charity under the supervision of Pope Francis .
SARS-CoV-2 epidemic of coronavirus infection led to the crisis in Italy: more than 207 thousand cases of infection were confirmed in the country, more than 28 thousand patients died due to complications caused by the infection. Since late March, the number of new cases detected has been gradually decreasing.
The "Tree of Jesus" was discovered in Colombia. A Divine sign?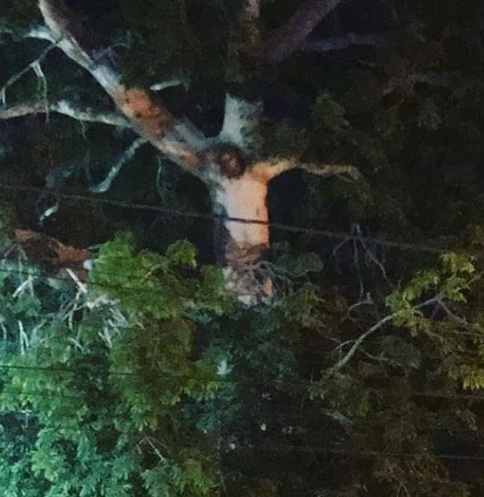 Residents of a village in Colombia gathered around a tree in amazement and awe when they noticed that it bears a supernatural resemblance to Jesus Christ on the cross.
An unusual tree was discovered by locals from the village of Magange, a few days after the country declared a national blockade to prevent the spread of coronavirus. Although people were ordered to stay in their homes, the discovery of an eerie-looking tree made many disregard the order so that they could see the strange tree.
"People came running with candles and turned this place into a place of pilgrimage," local journalist Rodolfo Zambrano said.
"They are here to see the figure of what they consider to be the figure of Christ," cameraman Rafael Rodriguez explained. – they forgot about the coronavirus and now they are all praying here and looking at this figure.
The incident caused concern among local authorities, as people crowding together violate quarantine. Police were promptly called to the district to disperse the crowd and send residents home.
The police drove people home, and a post was set up by a tree. The next day, when the sun rose, the figure of Jesus disappeared and no longer appeared even at night. What was it – a divine sign?
After all, the figure of Jesus Christ on the cross was seen by dozens of people including government officials and police officers. What did this sign mean from above?