CNN Says They Are Creating Chaos, But Are They?
IN BRIEF
The Facts:In a recent CNN article, they claim that the Yellow Vests are creating 'chaos in France.' But are they actually creating chaos? Or is there a bigger picture here?
Reflect On:Are we taking the time to look at multiple angles of coverage on this groundbreaking event to better determine truth? Is there a bigger play going on where the elite is scrambling to control this narrative?
France may never be the same. Protests, tear gas and more are filling the major cities in France as the "Yellow Vests" come together in the tens of thousands to raise awareness about a long list of demands they have for their government. Before we get into our most recent analysis, let's have a recap of what has happened as of yet.
The current protest is being called the biggest and one of the most violent in the past 50 years. One of the most significant aspects of this recent uprising is multiple occurrences of police officers removing their helmets in solidarity with protesters. It brought some to tears and inspired many others, as it illustrated a level of solidarity that isn't often seen in public protests. Everybody in France is being affected by the decisions being made by Macron and the governments of years prior, a story we covered in more detail here.
This is what we are seeing glimpses of when we watch police, firefighters, and protesters unify as people. Beyond their uniforms, they are all just people, living through an experience that affects them all. This is a terrifying reality for the Deep State as they and their system thrives off of humanity being divided, at war with one another and emotionally triggered and invested in the cabal's system.

This is probably one of the biggest reasons why mainstream media doesn't talk about this particular story, one where people are unifying. Instead, they want to focus on the crazy, wild protester vs the calm, needed police who protect the establishment.–Joe Martino, from his recent article explaining why the Deep State has a problem in France
Media Perception Control
This movement has seen no shortage of perception manipulation. This is why, as I've written about and documented many times before, intelligence/government agencies have a very close relationship with mainstream media. Mainstream media will always present events that show how much we are unifying and coming together, in a completely different manner. CE writer Richard Enos, who recently published an article with regards to what's going on in France, sums up the issue quite well here.
Of course, what do we hear about most in the Mainstream Media when it comes to legitimate protests? An initial strategy might be to disperse the focus of the message, portray it as if people have many different agendas, 'muddy the waters' if you will, and hope that quenches things a bit. If the movement does not die down by itself, then we inevitably hear about how violent it has become. This one is no exception.
But are they really violent? Or are they just presented that way? Are those who oppose these gatherings encouraged to start violence? Once a movement like this becomes so popular, are there hired 'groups' that come in an initiate violence? Provocateurs?
If there's one thing that's certain, it's that the establishment does not like peaceful demonstrations of unity and solidarity, and they will do anything to sway the perception of the masses who are watching at home.
Don't believe it? Look at all the mainstream headlines. As usual, they are all about violence and how order will be restored (order out of chaos, ordo ab chao, the timeless strategy of the elite). Meanwhile, the actual reason that so many ordinary citizens would go to the trouble of protesting is buried somewhere in the article and given little importance. The New York Times' 'Macron Inspects Damage After 'Yellow Vest' Protests as France Weighs State of Emergency' is a typical example.

We have to ask ourselves: would a grassroots movement of concerned law-abiding citizens (which most citizens are) motivate these ordinary citizens to set someone's car on fire? How could destroying another citizen's car actually help the movement? Looting and breaking store windows? Why would law-abiding citizens take their frustrations out on innocent retail vendors? Would ordinary citizens contrive to harm civilians with bombs and gas attacks? – Richard Enos
Recent Terror Attacks?
Then suddenly, in the midst of an epic event raising so much attention, we see an alleged terror attack in Strasbourg, the perfect time to not only change the news cycle but to divert attention away from the Yellow Vets and back to FEAR and the narrative of TERRORISM! These are the big and timeless tactics used to start wars and keep people divided.
Are they legitimate? False flags like so many times in the past? Or is it all a convenient coincidence for the deep state and media?
CNN & Mainstream Put Forth Narrative
Below is a video of Joe Martino, founder of CE, providing analysis on some of the latest updates regarding the Yellow Vests, including a recent CNN piece claiming the Yellow Vets are creating 'chaos in France.' Big things are happening in France and the way we're hearing about it has some very specific nuances that we will fail to recognize unless we step back and look at the bigger picture.
The Takeaway
When searching for information, it's important to seek out multiple sources other than mainstream media. This is exactly why alternative or independent media outlets become so popular, because more people are starting to see through the lies and manipulation from mainstream outlets. Alternative media has gained the attention of millions of people, as it often presents evidence that supports a more believable, common-sense narrative that is not in the Deep State's best interest.
The global elite lost their ability to keep all eyes on their platforms, and as a result many people have 'woken up.' This created a massive campaign to combat "fake news," a tag that the mainstream originally concocted for alternative views that they considered dangerous to the status quo. And so recently the government, along with organizations like Facebook, has decided to step in and act as the 'Ministry of Truth' (Orwell).
Fortunately, the 'war on fake news' only further exposed how the global elite are trying to silence ANYTHING that opposes their plans. We are truly living in some interesting times!
"The problem of fake news isn't solved by hoping for a referee, but rather because we as citizens, we as users of these services, help each other. We talk and we share and we point out what is fake. We point out what is true. The answer to bad speech is not censorship, the answer to bad speech is more speech. We have to exercise and spread the idea that critical thinking matters, now more than ever, given the fact that lies seem to be getting more popular." –Edward Snowden (source)
Secret US aircraft or UFO? San Antonio woman films mysterious 'craft' flying over neighborhood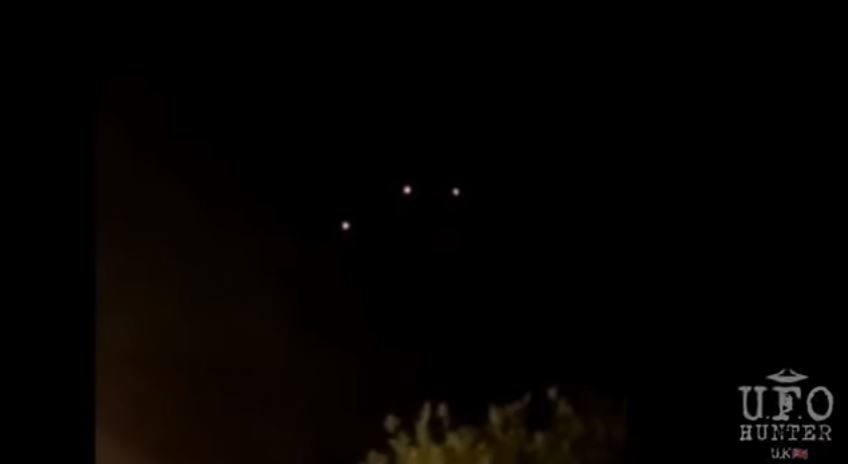 © YouTube/Red White And Disclosure
The reported UFO sighting took place over Texas, with a woman arguing with her fiancé about its nature and insisting that the craft was not of this world.
A San Antonio woman has shared footage of a mysterious object seemingly hovering in the distance in her suburban residential neighbourhood.
"Ok what is it? It's f***ing hovering," the woman can be heard saying to her partner. "It's helicopters," the man responds. "That's a UFO," she responds. "Ok what is it, it's hovering in the sky, and one of the lights disappeared," she adds.
Indeed, near the beginning of the video, the top light over the craft appears to separate from the main craft and zoom upward toward space.
Speaking about her (moderately) close encounter, the woman explained that the incident took place on April 11 at about 9:15 pm, and said that the craft "stayed stationary," with the lights seeming "to rotate slowly as it raised higher and higher and the lights went out one by one."
The frightened woman added that she heard "no sound at all" during the two minutes she and her future hubby stood in awe watching the craft.
The sighting left people excited or freaked out, with popular UFOlogist YouTuber Tyler Glockner saying the triangular-shaped formation of the lights in the craft was "very common, with many people believing they are craft from out of this world, or sightings of the infamous TR-3B, or Black Manta," an alleged surveillance aircraft being developed for the US Air Force so wrapped in secrecy that its existence has never been confirmed.
"The Black Manta is said to use anti-gravity technology that is, in turn, reverse-engineered from alien technology," Glockner added.
Sceptics were out in force too, accusing of people of "jump[ing] to UFO theories too fast," while others offering own theories about what the craft might be.
Believers stood their ground, insisting that this was indeed a UFO, or at least the secret US surveillance plane project mentioned above.
A mysterious "ice circle" appears on a lake in China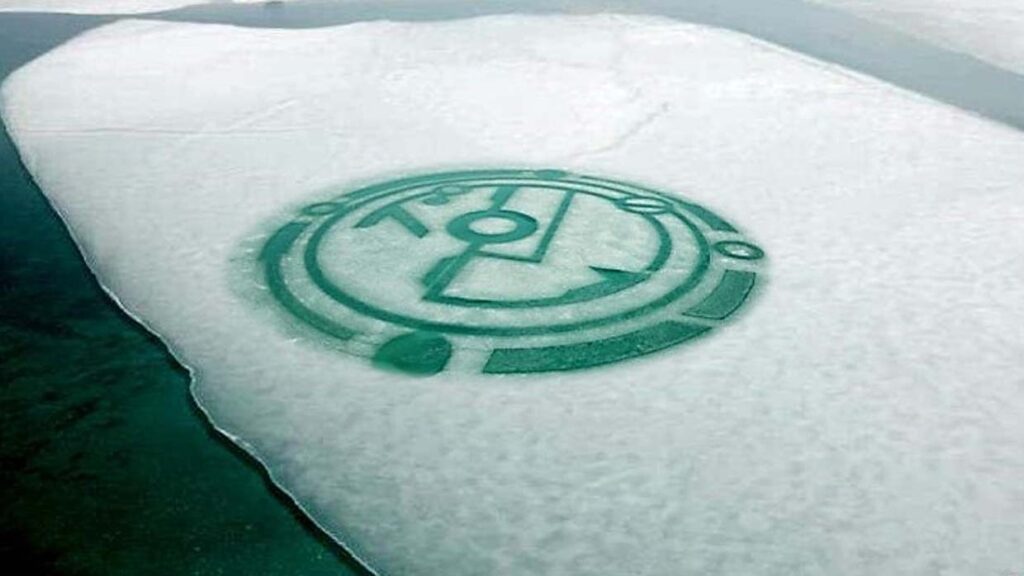 The crop circles (strange patterns that appear mysteriously from the overnight in agricultural fields) have been causing confusion and controversy since time immemorial. It is true that circles are better known in the United Kingdom, but they have spread throughout the world in recent decades. The mystery has inspired innumerable books, blogs, researchers (nicknamed "cereólogos") and even Hollywood movies. Despite having been studied for decades, the question remains: Who or what is doing them?
Many people believe that crop circles have been documented for centuries, even some scientists have their own opinion about it. In 2017, Dr. Horace Drew stated that the circles in the crops are real and contain hidden messages from aliens or time travelers. Dr. Drew, who has a Ph.D. in chemistry from the prestigious California Institute of Technology (Caltech), also suggested that circles are a method that extraterrestrial beings use to try to communicate with the human race. Whether they are well-crafted deception or extraterrestrial messages, they usually appear in agricultural fields and the last place where we would expect to see one of these circles is in a frozen lake. Well, this is what has happened in China.
Mysterious ice circle
On April 12, a gigantic and mysterious figure appeared on the ice of Qinghai Lake. According to the photographer Qing Xiu, of the tourist company Qinghai Lake Tourism Group, he took the photographs at 11 o'clock in the morning of the same day, and the circle seemed to have approximately more than 100 square meters. So far no one has been able to explain its origin and it is also unclear how it appeared in Qinghai Lake.
Due to the spectacular nature of the images, the mysterious circle has caused a stir in Chinese social networks, where thousands of users have tried to offer an explanation for the geometric figure. The most skeptical say that the "circle in the ice" has been created by pranksters to attract attention. According to some, the strange form could only have been made from the air, for example, using a helicopter, although the inhabitants near the lake did not see any aircraft for weeks.There are also those who believe that the symbol is a logo related to a Chinese automobile company called AION, so there is a possibility that the circle is a marketing strategy. But experts in the field say that in this particular case there does not seem to be any imperfection, a basic detail to detect false circles. The aliens are perfectionists due to their advanced technology. Then the explanation would be that it is a message coming from civilizations of other worlds.Whether real or fake, Qinghai Lake is the largest lake in China and receives the waters of 23 rivers and streams, located 3,205 meters above sea level, in a depression of the Tibetan plateau. In addition, it is considered the second largest lake in Central Asia after the Issyk-Kul. In the West, it is known by Kokonor, because the lake was traditionally a border area between the Mongolian and Tibetan peoples. And like other places in the world, Qinghai Lake is surrounded by legends and mysteries.
It is said that in its waters lives a beast that supposedly resembles a dragon, with a snake head and iridescent scales. But apart from this mysterious creature, many have seen numerous sightings of strange lights coming and going from Qinghai Lake, which has led some ufologists to believe that the place can house an extraterrestrial submarine base.
What is your opinion about the mysterious circle in the ice? Is it fake or an extraterrestrial message?
Halloween Which I Will Never Forget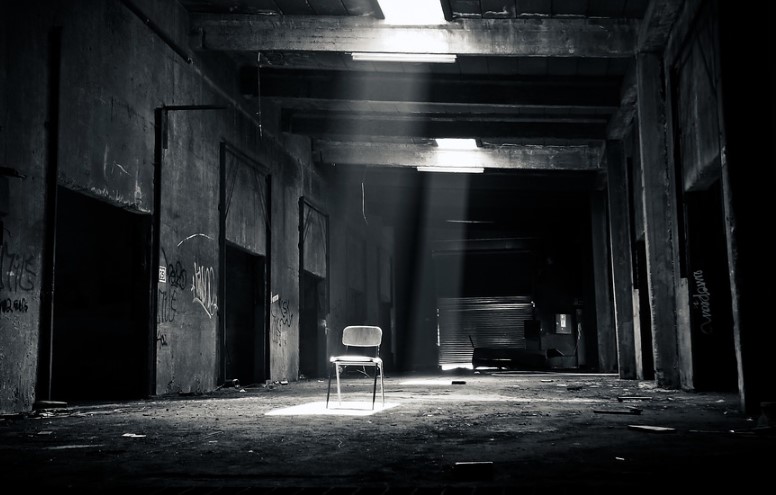 Anomalien.com reader story…
Now this story is true. I swear it on my mother's grave. I live in Montreal Quebec. Out here there are a lot of bizarre things but none so horrifying then what happened to me and my (ex-best friend). First of all, let me introduce myself. My name is Mike and my pal's name… Well, let's just call him Steve. Anyways here is our story.
It was around Halloween time last year when I and Steve got the idea to throw our party in the coolest spot we could find. So we started looking. Unfortunately, we did not have much money and all the nicest spots cost an arm and a leg to rent so we decided to start looking at other options.
We ended up finding an abandoned factory on the st-Patrick street and although it is against the law we figured what they don't find out we won't tell them. So anyways for the next couple of weeks, we went to the dollar store and we bought: candles, decorations, party favors, snacks and whatnot.
We figured we should decorate the place at the last Minute to lower the chances of getting caught. On October 30th we went down there me and Steve thinking of the coming bash and wondering where to get a good boom box in here that would work on batteries all night.
Steve was pretty nervous about the fact that a girl he liked a lot was going to be there. Anyways as we proceeded with the decorating I was hit by the most disgusting smell ever.
It reminded me of a plastic container filled with three weeks old leftover boild broccoli I once found in my refrigerator, then Steve started freaking out, telling me that he felt like there was something tightening around his throat making it hard for him to breath or swallow.
At first, I thought he was kidding me but then I started to think it was serious because his face was turning red and his eyes were bulging out and you could really see the panic in them.
Now at this point we were on the third floor of this building so I grabbed Steve and pulled him towards the stairs so we could get down and out of there.
Let me tell you that I wasn't feeling too good myself. I figured it was probably caused by the anxiety I felt for Steve, the stink in the air and the whole confusion of the moment but I felt like something was right in the back of us, when we reached the last flight of stairs only then, did I dare turn around and that's when I saw it.
It Was like a huge, thick, black shape. Very much like a shadow but much thicker and darker and I swear I could hear it laugh but the sound was very faint and distant, never the less. It chilled me to the bone and When I turned to Steve I could tell right away that he was seeing it too.
His face had turned white and he was staring at the thing with his mouth hanging open. We canceled the party and after that, I and Steve were never close the way we used to be.
Every time I tried to talk about What happened that day. He would get really mad at me and tell me to shut up about it until one day he just denied anything had happened at all and told me he did not want to see me anymore…
Mike