CNN Says They Are Creating Chaos, But Are They?
IN BRIEF
The Facts:In a recent CNN article, they claim that the Yellow Vests are creating 'chaos in France.' But are they actually creating chaos? Or is there a bigger picture here?
Reflect On:Are we taking the time to look at multiple angles of coverage on this groundbreaking event to better determine truth? Is there a bigger play going on where the elite is scrambling to control this narrative?
France may never be the same. Protests, tear gas and more are filling the major cities in France as the "Yellow Vests" come together in the tens of thousands to raise awareness about a long list of demands they have for their government. Before we get into our most recent analysis, let's have a recap of what has happened as of yet.
The current protest is being called the biggest and one of the most violent in the past 50 years. One of the most significant aspects of this recent uprising is multiple occurrences of police officers removing their helmets in solidarity with protesters. It brought some to tears and inspired many others, as it illustrated a level of solidarity that isn't often seen in public protests. Everybody in France is being affected by the decisions being made by Macron and the governments of years prior, a story we covered in more detail here.
This is what we are seeing glimpses of when we watch police, firefighters, and protesters unify as people. Beyond their uniforms, they are all just people, living through an experience that affects them all. This is a terrifying reality for the Deep State as they and their system thrives off of humanity being divided, at war with one another and emotionally triggered and invested in the cabal's system.

This is probably one of the biggest reasons why mainstream media doesn't talk about this particular story, one where people are unifying. Instead, they want to focus on the crazy, wild protester vs the calm, needed police who protect the establishment.–Joe Martino, from his recent article explaining why the Deep State has a problem in France
Media Perception Control
This movement has seen no shortage of perception manipulation. This is why, as I've written about and documented many times before, intelligence/government agencies have a very close relationship with mainstream media. Mainstream media will always present events that show how much we are unifying and coming together, in a completely different manner. CE writer Richard Enos, who recently published an article with regards to what's going on in France, sums up the issue quite well here.
Of course, what do we hear about most in the Mainstream Media when it comes to legitimate protests? An initial strategy might be to disperse the focus of the message, portray it as if people have many different agendas, 'muddy the waters' if you will, and hope that quenches things a bit. If the movement does not die down by itself, then we inevitably hear about how violent it has become. This one is no exception.
But are they really violent? Or are they just presented that way? Are those who oppose these gatherings encouraged to start violence? Once a movement like this becomes so popular, are there hired 'groups' that come in an initiate violence? Provocateurs?
If there's one thing that's certain, it's that the establishment does not like peaceful demonstrations of unity and solidarity, and they will do anything to sway the perception of the masses who are watching at home.
Don't believe it? Look at all the mainstream headlines. As usual, they are all about violence and how order will be restored (order out of chaos, ordo ab chao, the timeless strategy of the elite). Meanwhile, the actual reason that so many ordinary citizens would go to the trouble of protesting is buried somewhere in the article and given little importance. The New York Times' 'Macron Inspects Damage After 'Yellow Vest' Protests as France Weighs State of Emergency' is a typical example.

We have to ask ourselves: would a grassroots movement of concerned law-abiding citizens (which most citizens are) motivate these ordinary citizens to set someone's car on fire? How could destroying another citizen's car actually help the movement? Looting and breaking store windows? Why would law-abiding citizens take their frustrations out on innocent retail vendors? Would ordinary citizens contrive to harm civilians with bombs and gas attacks? – Richard Enos
Recent Terror Attacks?
Then suddenly, in the midst of an epic event raising so much attention, we see an alleged terror attack in Strasbourg, the perfect time to not only change the news cycle but to divert attention away from the Yellow Vets and back to FEAR and the narrative of TERRORISM! These are the big and timeless tactics used to start wars and keep people divided.
Are they legitimate? False flags like so many times in the past? Or is it all a convenient coincidence for the deep state and media?
CNN & Mainstream Put Forth Narrative
Below is a video of Joe Martino, founder of CE, providing analysis on some of the latest updates regarding the Yellow Vests, including a recent CNN piece claiming the Yellow Vets are creating 'chaos in France.' Big things are happening in France and the way we're hearing about it has some very specific nuances that we will fail to recognize unless we step back and look at the bigger picture.
The Takeaway
When searching for information, it's important to seek out multiple sources other than mainstream media. This is exactly why alternative or independent media outlets become so popular, because more people are starting to see through the lies and manipulation from mainstream outlets. Alternative media has gained the attention of millions of people, as it often presents evidence that supports a more believable, common-sense narrative that is not in the Deep State's best interest.
The global elite lost their ability to keep all eyes on their platforms, and as a result many people have 'woken up.' This created a massive campaign to combat "fake news," a tag that the mainstream originally concocted for alternative views that they considered dangerous to the status quo. And so recently the government, along with organizations like Facebook, has decided to step in and act as the 'Ministry of Truth' (Orwell).
Fortunately, the 'war on fake news' only further exposed how the global elite are trying to silence ANYTHING that opposes their plans. We are truly living in some interesting times!
"The problem of fake news isn't solved by hoping for a referee, but rather because we as citizens, we as users of these services, help each other. We talk and we share and we point out what is fake. We point out what is true. The answer to bad speech is not censorship, the answer to bad speech is more speech. We have to exercise and spread the idea that critical thinking matters, now more than ever, given the fact that lies seem to be getting more popular." –Edward Snowden (source)
Was an Angel filmed over a house extinguished by firefighters?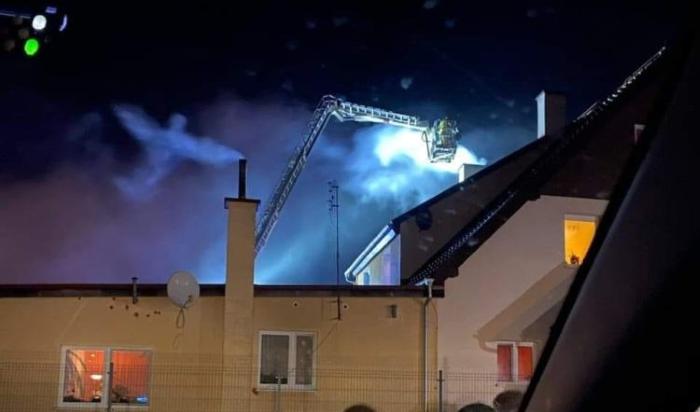 Having appeared on the network, this photo caused a lot of comments – from the fact that it really was a Guardian Angel who guarded the firefighters during work, to those who assured that all this was just an illusion, no more complicated than a cloud in the shape of a lamb.
At the end of December 2020, while extinguishing a fire in the Polish village of Maldyty, an Angel hovered over the firemen, or at least something like an Angel. This photo appeared on the Facebook page of the Maldyta fire station and generated many comments.
"This is something that was formed during the last extinguishing of the fire from the ignition of soot in the chimney in Maldyty. Write in the comments your thoughts about it," was written under the picture on their FB page.
Poles are known to be very religious and there are plenty of people willing to comment on the picture.
Many indeed believed that the Angel oversaw the work of the firemen and, perhaps, even helped them to extinguish the fire. But there were also enough of those who believed that it was all just a random silhouette between clouds in the sky and pareidolia (illusion). The photo was taken by an unspecified person sitting in the cab of a car parked next to the burning house.
"Christians have always believed in the existence of guardian spirits. Some call them Guardian Angels. The Bible confirms their existence," Pastor Leszek Kozheniecki told reporters, commenting on this photo.
By the way, Kozhenetskiy is a well-known Polish pastor who believes in the existence of supernatural beings.
Three years ago, he told the press that he had driven out the evil spirit that settled in his house in Turza Wielka. One of the firefighters who worked on the extinguishing of the house that night said:
"If we have this kind of protection watching over us, I am pretty calm about safety during work."
The skeleton of a mysterious "prehistoric beast" found in Antarctica?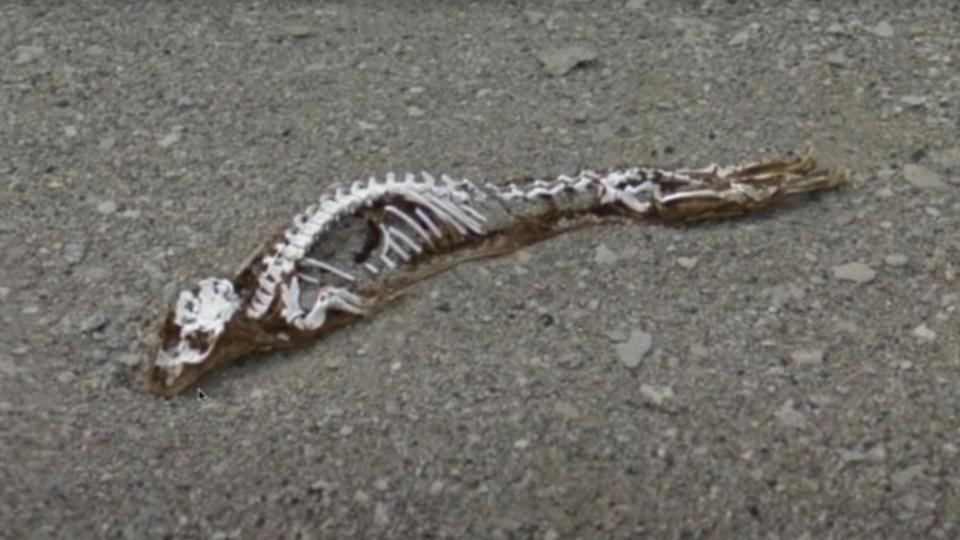 Blogger MrMBB333 shared an image of a "mysterious creature." It was discovered 80 kilometers off the coast of Antarctica in a remote region of Antarctica, according to the Sun.
According to the blogger, the pictures are screenshots from the Google Earth service, which were sent to him by his subscriber and conspiracy theorist under the nickname BONKERS.
They estimate the length of the remains at 3.6-6 meters.I don't know if it was frozen for thousands of years or appeared recently,- the blogger said.
MrMBB333 believes the skeleton belonged to a dinosaur. He came to this conclusion by examining the front and hind limbs of the creature. His subscribers are sure that these are the remains of a seal.
A google search for seal skeleton images shows a pretty good match,- one of them wrote.
Other subscribers call the skeleton "suspicious". They explain that "seals have no hind legs." Another wrote that the remains belonged to an alligator or some other reptile.
In the comments, conspiracy theorists also expressed their opinion that "Antarctica is full of unexplained phenomena that may be related to ancient aliens."
It is also believed that most of the "discoveries" made by users of Google Earth can be explained by the unusual shape of ice or other natural phenomena.
MrMBB333 uploaded his investigation video to YouTube on January 5. Since then, the video has been watched more than 200,000 times.
150 thousand years old Metal pipes in Tibet, contradict the official history
It is said that there is a mountain in Tibet that contains a network of special formations that extend to the nearest lake. Many researchers believe that this is an artificial pipeline system. But, strangely enough, its origin dates back to the era of the Neanderthals.
This mountain rises about 40 km from the city of Dalingha in the Tibetan Autonomous Region. It is called Baigongshan (White Mountain). In the world, it is better known for the wonderful formations that are in its heart and wide surroundings – they are called the Baigong pipes.
This miracle has been the subject of controversial discussions for many years. Some believe they are a natural formation, but there are many who are sure that someone built them in the distant past to drain the lake. They base their arguments on research results, but there is a catch; the mysterious aqueduct should have appeared 150 thousand years ago. Traces of settlements around the mountain are not even older than 30 thousand years. So who could build metal pipes inside an uninhabited mountain?
There are three caves at the foot of Mount Baigongshan, two of them have already collapsed and are inaccessible, but the largest of them has since been the target of many tourists who come to the area.
The cave looks like it was artificially created by someone. Visibility is enhanced by a massive pipe about forty centimeters in diameter that sticks out of the stone.
Another apparently hollow pipe of the same diameter ran into the cave from the top of the mountain. Another one came from the bottom of the cave somewhere below.
At the entrance to the cave, you can see several other pipes with a diameter of 10 to 40 cm. All this gives the impression of the remains of some ancient system or mechanism. About 80 meters from the cave, Lake Toson sparkles with a large number of scattered pipes on the beach.
They stretch from east to west and have a diameter of 2 to 4.5 cm, these archaeological finds are described by the Chinese scientist Liu-Shaolin:
The unmistakable rust color indicates that they are made of metal. And their craftsmanship showcases advanced attachment techniques. Who could have built such a complex pipe system? Only one who knew well what he was doing and why.
The version that such an engineering miracle was created by the Chinese disappears immediately. The inhabitants of the Middle Kingdom could not build something like that 150 thousand years ago. As the authors of many amazing inventions, bureaucracy became one of them. Therefore, it is simply impossible to imagine that such a large-scale and, without exaggeration, a great construction project was reflected in any ancient Chinese source. Any emperor, during whose reign this happened, would make sure that his great deed was not forgotten by descendants.
Baigong tubes are another unsolved mystery in human history. This find once again refutes the facts of the official history. Where is the true and where is the misconception? Maybe there will be people among the readers who will logically explain the origin of the ancient aqueduct.