Climate scientist who got it right predicts 20 more years of global cooling
Dr. Don Easterbrook – a climate scientist and glacier expert from Washington State who correctly predicted back in 2000 that the Earth was entering a cooling phase – says to expect colder temperatures for at least the next two decades.
Easterbrook's predictions were "right on the money" seven years before Al Gore and the United Nation's Intergovernmental Panel on Climate Change (IPCC) shared the 2007 Nobel Peace Prize for warning that the Earth was facing catastrophic warming caused by rising levels of carbon dioxide, which Gore called a "planetary emergency."
"When we check their projections against what actually happened in that time interval, they're not even close. They're off by a full degree in one decade, which is huge. That's more than the entire amount of warming we've had in the past century. So their models have failed just miserably, nowhere near close. And maybe it's luck, who knows, but mine have been right on the button," Easterbrook told CNSNews.com.
"For the next 20 years, I predict global cooling of about 3/10ths of a degree Fahrenheit, as opposed to the one-degree warming predicted by the IPCC," said Easterbrook, professor emeritus of geology at Western Washington University and author of 150 scientific journal articles and 10 books, including "Evidence Based Climate Science," which was published in 2011. (See EasterbrookL coming-century-predictions.pdf)
In contrast, Gore and the IPCC's computer models predicted "a big increase" in global warming by as much as one degree per decade. But the climate models used by the IPCC have proved to be wrong, with many places in Europe and North America now experiencing record-breaking cold.
Easterbrook noted that his 20-year prediction was the "mildest" one of four possible scenarios, all of which involve lower temperatures, and added that only time will tell whether the Earth continues to cool slightly or plunges into another Little Ice Age as it did between 1650 and 1790.
"There's no way to tell 'til you get there," he told CNSNews.com. But he lamented the fact that governments worldwide have already spent a trillion dollars fighting the wrong threat.
"How does it feel to have been right?" CNSNews.com asked Easterbrook.
"To be really truthful, it's wonderful. There's nothing that makes you feel better than to be right and be able to say, 'I told you so,'" replied Easterbrook, who was also an official reviewer of the IPCC reports. "But I'm not gloating about it because it's not good news. It's bad news.
"And in many respects, I hope that I'm wrong. And the reason I hope that I'm wrong is because it's going to cost several million people their lives if I'm right. In Third World countries where food and water are a problem right now, it's going to get worse. Cold is way worse for humanity than warm is."
Easterbrook said he made his earlier prediction by tracing back "a consistently recurring pattern" of alternating warm and cool ocean cycles called the Pacific Decadal Oscillation (PDO) that occurs naturally every 25 to 30 years. He discovered that the PDO corresponded with a similar temperature cycle demonstrated by isotope ratios found in Greenland ice cores going all the way back to 1480.
"We don't know what the driving mechanism is, but it's very consistent. It's happened five times a century and every time it's happened, there's been a corresponding change in global temperature, either warm or cool," Easterbrook told CNSNews.com.
"What I did was I projected this same pattern forward to see what it would look like. And so in 1999, which was the year after the second warmest year on record, the PDO said we're due for a climate change, and so I said okay. It looks as though we're going to be entering a period of about three decades or so of global cooling.
"And so in 2000, I published a paper with the Geological Society of America in which I predicted that we were going to stop warming and begin cooling for about 25 or 30 years, on the basis of taking the temperature records that go back a century or more and simply repeating the pattern of warming and cooling, warming and cooling, and so on.
"And that in fact has happened. We have now had 17 years with no global warming and my original prediction was right so far. But we have still probably another 20 years or so to see if the cooling trend continues, and if it does, then my prediction will be right and my methods will be right. And so what it boils down to is, so far so good."
Easterbrook added that his long-term prediction until the end of century is "a lot more nebulous" due to the still-unknown effect of the sun, which has entered a "grand solar minimum" occurring every 200 years. "Everything we think depends on what's going to happen with the sun."
But based on past climate data, he says the most likely scenarios are "either deep cooling, or a return to another 25-year cycle of light warming/cooling, but nothing even approaching the 10 degrees warming the IPCC folks are predicting."
When CNSNews.com asked Easterbrook if anybody from the IPCC, which "ignored all the data I gave them," ever admitted that he had been right, he laughed."No, every time I say something about the projection of climate into the future based on real data, they come out with some modeled data that says this is just a temporary pause, like a tiger waiting under the rug."
Easterbrook noted that 32,000 American scientists have signed a statement that there's no correlation between climate change and carbon dioxide levels. "I am absolutely dumbfounded by the totally absurd and stupid things said every day by people who are purportedly scientists that make absolutely no sense whatsoever…"
"These people are simply ignoring real-time data that has been substantiated and can be replicated and are simply making up stuff," he told CNSNews.com. Driven by a quest for money and power, he added, "what they're doing in the U.S. is using CO2 to impose all kinds of restrictions to push a socialist government."
"One thing many people don't realize is that CO2 by itself is incapable of causing significant climate change. Carbon dioxide in the atmosphere is 39/1,000ths of one percent. It's nothing. Ninety-five percent of the greenhouse effect is water vapor, and water vapor is not changing. …
"No doubt CO2 has been climbing, but the total change in atmospheric composition [since 1945, when CO2 levels began to increase] is one 9/1,000ths of one percent. So how are you going to have a 10 degree climate change by changing this tiny amount? You can't do it," he says, which is why the trillion dollars already spent worldwide on reducing carbon dioxide has had little effect.
"The people who are climate deniers are the people who are denying global cooling," Easterbrook told CNSNews.com. "We haven't had any global warming in 17 years, and they are denying that. And so we're not the deniers. They're the deniers."
Polar vortex: "wild" winter is coming in the US, Northern Europe and East Asia after the 16th of January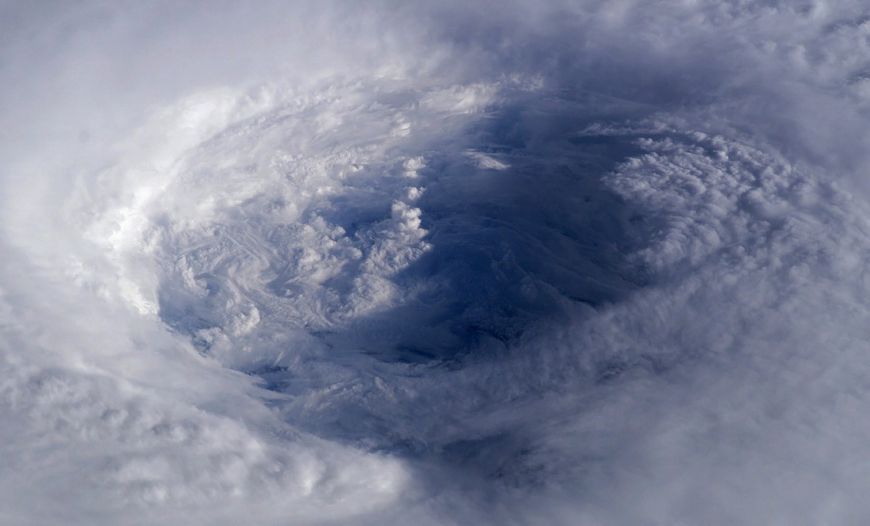 In the upper atmosphere above the North Pole, experts saw a rapidly swirling vortex of cold air that could bring severe frosts to the United States, Northern Europe and East Asia. Serious cold snap and snowy weather are expected after January the 16th.
Snowfalls and a cold snap hit South Korea since the start of 2021, hitting historic snow maximums and temperatures. In the country, for the first time since 1964, television and newer communications are sending people cold snap warnings:
The situation is similar in Japan, where a new snow storm hit historic highs:
On January 7, the thermometer In Beijing dropped to -20 degrees Celsius, breaking the 1966 record. In other regions of China, the temperature is also not sugar, and you can only move around in special uniforms:
The cold even reached Taiwan, where the temperature in some areas dropped below freezing point, snow poured down and people realized that rice terraces can be used as a ski jump:
Even more snow went to Spain, where on January 6, 2021, a temperature of -34.1 ° C was recorded – the lowest on record. After that, a snow storm hit the country, which has not been seen for 80 years:
The same thing happens in Canada and in the northern states of the United States:
It seems that after a stratospheric warming, the subpolar vortex began to split:
The vortex itself is a standard phenomenon. However, this time experts were surprised at his movement. It is possible that in the near future it will be divided into two parts. 
Scientists associate the strange behavior with the changed climate in the Arctic, which has become warmer. From September to December, the amount of ice cover decreased significantly.
The polar vortex is a low-pressure region located in the stratosphere and filled with cold air. When the jet stream of air that holds the vortex weakens, the low pressure area moves south. 
As the ice shrinks, more moisture will move inland. It will turn to snow, so snowfalls are expected. Snow, in turn, reflects heat, leading to a cold snap.
Hospital in Naples was evacuated after a new, huge sinkhole appeared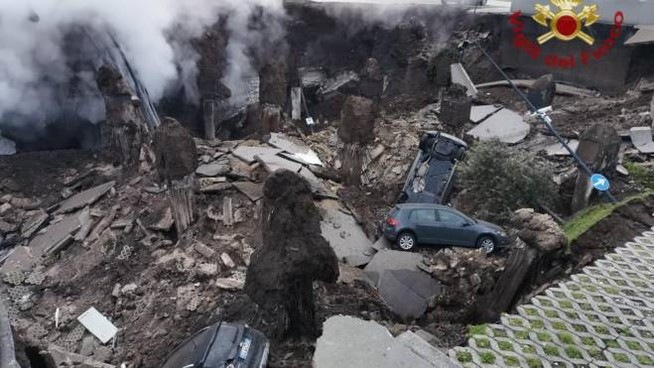 Eyewitnesses said they heard a loud crash at dawn when a huge hole in the ground formed outside the Ponticelli Ospedale del Mare hospital in eastern Naples.
Early in the morning of January 8, 2021, a sinkhole occurred in the parking lot of a clinic in Naples. The depth of the formed cavity is about 20 meters, the total area of ​​the hole is about 2,000 square meters.
No casualties were found at the scene; firefighters say the sinkhole "affected an area of ​​about 500 square meters" and engulfed several cars parked near the hospital.
As the press writes and as a little can be seen from the videos, rescuers and firefighters were running around the pit together with the governor of the area.  But who should be there in the forefront are Italian geologists, since Naples stands in the very center of the volcanic system known as the Phlegrean Fields.
If the surface collapsed, moreover – the surface reinforced with concrete and reinforced from below with some kind of communications, then we are talking about serious soil deformations caused by the activity of magma.
Italy has been in doubt since the summer of 2020, because swarms were observed there in very atypical places in May, and according to the forecasts of old Italian seismologists, who had witnessed many strong earthquakes, it should have boomed in the August region.
Fortunately, nothing bad happened to Italy and there was no big earthquake. But, since there are swarms, it means that something is being prepared, the magma is gathering strength. 
Following this particular sinkhole event – an obvious sign that a major earthquake in Italy is already very close.
A new great pandemic cycle has begun (again) in China
In the first months of 2020, the whole world with a certain fright followed the events unfolding in China, where people fell on the streets during the day and astronauts wandered, and in the evening crematoria began to smoke. And now, with the onset of December, the cycle seems to be repeating itself.
Shunyi area in Beijing, where the authorities announced "wartime status" the day before. As you can see in the videos, thousands of people are lined up in the queue for mandatory testing:
Dalian city, where "wartime" is also declared. Neighborhoods are blockaded, people are walled up in entrances, familiar characters of George Lucas roam the streets:
Chinese 'rescuers', before performing a combat mission:
Chengdu City:
Daluo Port, Yunnan – tourists came for adventure and they received the 'time of their life' after leaving the ramp:
If something happens in Beijing, it does not mean that tomorrow the same will happen everywhere. However, the trend towards such dynamics is observed and, as the practice of the first wave of the pandemic has shown, all countries and people, to one degree or another, have taken into account the 'Chinese experience'.
Therefore, one must think that everything will now be in peace, as in spring – a new global round of the fight against the Covid has begun in China, a new great pandemic cycle!