According to Houston city portals, on July 21, 2020, at approximately 8:00 pm local time, people living in the Montrose Boulevard area smelled a strong smell of burning paper – as if an entire paper mill was on fire. 
The firefighters and police who went to the scene quickly found the fire, located at Montrose 3417 – that is, a fire was burning in the building where the Chinese embassy is located: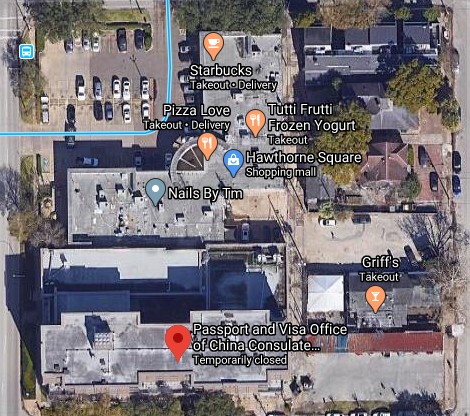 However, the Chinese who met the firefighters reassured the outfit, saying that everything was under control and the trash can simply caught fire. However, from the surrounding balconies, the burning urn looked like this:
Thus, throughout the night from 21st to 22nd of July, employees of the Chinese embassy urgently destroyed documents.
Since the embassy is Chinese and the documents there are Chinese, the employees of the diplomatic mission have every right to destroy their documents – which is done in all the embassies of the world from time to time. But in this case, the documents were burned in bundles, in huge quantities.
There is nothing new in such destruction of documents. In particular, on the eve of the attack on Pearl Harbor on December 7, 1941, the Japanese ambassadors also burned documents in centners.
This is also not surprising, since the burning of documents by embassies is a worldwide practice in the event of a war between states. Naturally, no one kills or arrests the ambassadors, but already in the first hours of hostilities they are offered to leave. Therefore, one half of the ambassadors after that packs their clothes, and the other half urgently burns secret documents – so as not to leave it to the enemy.
Sometimes, of course, there are overlays – as is the case, for example, with the Japanese who ran ahead of the locomotive. And this is a historical fact. They say that a similar story happened during the German attack on the USSR on June 22, 1941.
So, the Germans began to burn the documents on the 20th, and in the evening of June 21st, the German ambassador informed Joseph Stalin of their plan to bomb the next day.
And now, it seems, history is repeating itself, only this time the Chinese and, possibly, diplomats from the Russian Federation played the role of the Japanese, who, it seems, also have something burning somewhere:
We do not vouch for the accuracy of the information from Miami, since there is only one text tweet. However, the information from Houston is reliable and the actual DEFCON is now at level 2-3.
EAM will be decisive in the near future, that is, messages about actions in an emergency situation – if now telegrams longer than 100 characters are sent to the American Air Force and the nuclear submarine, then DEFCON will already be somewhere 1-2 – that is, time to crawl under the table and monitor the situation from there.