China has unveiled an unmanned fighter jet that could fly at supersonic speeds and prove a 'nightmare' for US defence systems.
The deadly aircraft, codenamed Dark Sword, has been rumoured for over a decade but a new photo appears to finally show a full-sized version of the military vehicle.
Much about Dark Sword remains a mystery, but experts believe it is an unmanned aerial vehicle (UAV) that is capable of flying like a fighter jet.
Dark Sword could give China a huge advantage if its military is able to mass-produce the aircraft, as it could rapidly expand its fighter fleet without training new pilots.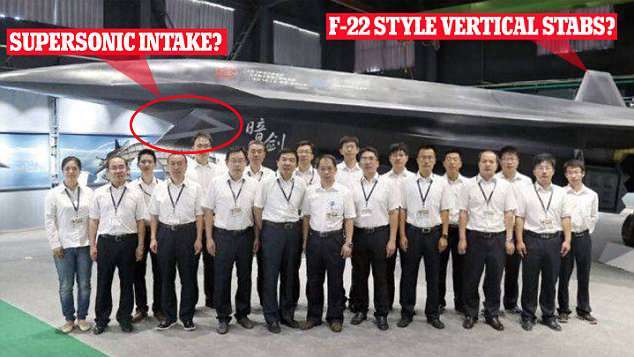 The new photo, leaked to Chinese media this week, shows a sleek black aircraft with a front-facing vent typical of supersonic jets.
This means Dark Sword could travel at speeds of up to 740 miles per hour (1,190kph), an unprecedented speed for unmanned military aircraft.
The current top speed for unmanned service aircraft is around 300 miles per hour (480kph), achieved by the US MQ-9 Reaper drone.
Justin Bronk, an expert at the London-based British defence think tank the Royal United Services Institute, analysed photos of the aircraft, concluding its design suggests it could 'transit to areas very fast'.
'If produced in large numbers without having to train pilots, [the aircraft] could at the very least soak up missiles from US fighters, and at the very best be an effective fighter by itself,' Bronk told Business Insider.
'If you can produce lots of them, quantity has a quality all its own.'
The vehicle appears to have vertical stabilisers at the rear like the US military's F22 fighter jet, suggesting it is geared toward speed and manoeuvrability over stealth.
This hints China is building the aircraft for use as a combat jet rather than a reconnaissance or precision missile strike vehicle, like the unmanned MQ-1 Predator drone used by US forces.
'The Chinese have gone with something that has a longer body, so it's stable in pitch. It's got these vertical, F-22 style vertical stabilizers,' Bronk said.
Continue Reading: http://www.dailymail.co.uk/