China Reaches The Moon Releasing Never-Before-Seen HD Photographs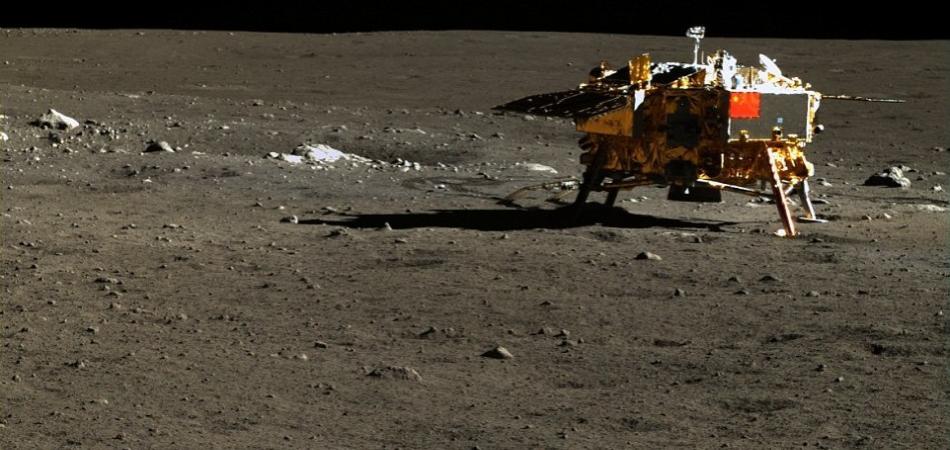 These HD images of the Moon's surface captured by China are incredible.
China has captured images of the Moon in HD that have never before been seen thanks to the Chang`e 3 lander.
China Has One of the Most Advanced Lunar Landers
The Chinese lander captured thousands of HD resolution images after finding a moon rock that has not been seen before. China developed one of the most advanced lunar landers to ever land on the surface of the Moon, giving Earth a look at the surface as never before.
In 2013, the Lunar Mission landed on a region of the Moon known as Mare Imbrium. This was a part of the Moon in which it was thought water might have existed. While this is a feat for China, they come in third in regards to making a soft landing on the Moon's surface, with the United States and the Soviet Union being ahead.
The images had been captured during 2013 but were not released by the National Space Administration in China until 2015. Western media did not get them, as China does not release them until around 18 months later.
Photos among 45 Gigabyte of Data
Emily Lakdawalla from the Planetary Society took many weeks looking through the 45 gigabytes of data, then going ahead and putting it all into a package that could easily be downloaded to ensure that everyone interested could see them. Lakdawalla said, "When it comes to data sharing from China, the situation is pretty good, " says Lakdawalla, who notes that the images' formats mirror those used by NASA and the European Space Agency. "It would probably be much easier if I could read the language."
There is no doubt the images have stunned everyone. Meanwhile, scientists have used them to gain a better understanding of the geology of the Moon's surface. China even revealed they discovered a moon rock that surprisingly neither the United States nor Soviet Union found during their previous missions to the Moon.
China Is a Major Player in Space Power Revealed Analyst
A Defense Group Inc. analyst from the University of California San Diego, Kevin Pollpeter, said, "China is trying to reach the top tier and show that they're a major space power." He went on to say, "They're also contributing real knowledge about the moon that we haven't been able to get before."
China is forging ahead with space exploration; they have revealed they are planning manned missions to the Moon at some point in the future. If so, they would expand lunar exploration like never before. The US Planetary Society reposted images due to the fact the CNSA website is very difficult to navigate around along with it being in Chinese. Posting the photos ensures people from around the world are able to access them and view them.
Source: Disclose.tv
Scientists Now Believe the Universe Itself May Be Conscious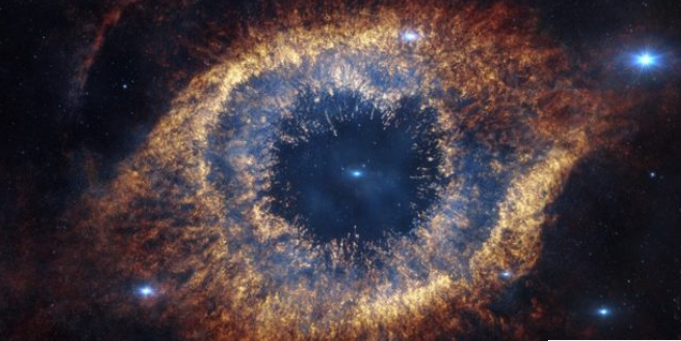 You don't have to look far to find outlandish theories on the nature of the cosmos and human consciousness. These days, notions once relegated to science fiction are finding their way into esoteric academic journals, and from there, into mainstream discourse. One example of this is the Simulation Argument, recently championed by Elon Musk; another is 'time crystals,' a tantalizing non-linear phase of matter. The newest symphony of mind jazz being broadcast across the Internet posits new ideas about the embattled theory of "panpsychism," or the belief that mind is a fundamental property of the physical universe and is imbued into all states of matter.
A new paper, published by physicist Gregory Matloff, has brought the idea back into scientific discussions, promising experimental tests that could "validate or falsify" the concept of a ubiquitous "proto-consciousness field." Matloff also pushes the controversial idea of volitional stars, suggesting there is actually evidence that stars control their own galactic paths.
As absurd as the theory sounds, it has several prominent adherents, including British theoretical physicist Sir Roger Penrose, who introduced panpsychism three decades ago. Penrose believed consciousness arises from the properties of quantum entanglement. He and anesthesiologist Stuart Hameroff authored the Orchestrated Objective Reduction (Orch-OR) hypothesis, which asserts, among other things, that consciousness results from quantum vibrations inside microtubules.
In 2006, German physicist Bernard Haisch took the idea further and proposed that consciousness arises within a "quantum vacuum" any time there is a significantly advanced system through which energy flows.
Neuroscientist Christof Koch, another proponent of panpsychism, approaches it from a different angle, using integrated information theory to argue that consciousness is not unique to biological organisms.
"The only dominant theory we have of consciousness says that it is associated with complexity — with a system's ability to act upon its own state and determine its own fate," Koch argues. "Theory states that it could go down to very simple systems. In principle, some purely physical systems that are not biological or organic may also be conscious."
Matloff and other scientists are moving the argument into a new phase: experimentation. Matloff intends to study the behavior of stars, specifically analyzing an anomaly in stellar motion known as Paranego's Discontinuity. Matloff wants to know why certain cooler stars appear to emit jets of energy pointed in one direction, a characteristic that seems oddly and inexplicably ubiquitous in the galaxy. In 2018, he plans to use results from the Gaia star-mapping space telescope to show that the anomaly may be a willful stellar action.
Meanwhile, as Matloff studies cosmic activity on the grandest scale, Koch approaches the experimental phase of the theory using brain-impaired patients. He wants to know if their information responses match underlying neurochemical foundations of consciousness. He plans to test this by wiring the brains of mice together to see if their minds merge into a larger information system.
Panpsychism certainly has critics, as well. In an article for The Atlantic entitled "Why Panpsychism Is Probably Wrong," Keith Frankish writes:
"Panpsychism gives consciousness a curious status. It places it at the very heart of every physical entity yet threatens to render it explanatorily idle. For the behavior of subatomic particles and the systems they constitute promises to be fully explained by physics and the other physical sciences. Panpsychism offers no distinctive predictions or explanations. It finds a place for consciousness in the physical world, but that place is a sort of limbo."
The quote expresses a general sense that panpsychism oversimplifies the hard problem of consciousness in the universe, an opinion many scientists share. However, Matloff, Penrose, and other proponents continue undertaking the job of venturing outside the margins of accepted science to try reconciling intractable contradictions and anomalies exposed by quantum theory.
Mysterious Object Is 570 Billion Times Brighter Than The Sun
So bright that it pushes the energy limit of physics.
Billions of light years away, there is a giant ball of hot gas that is brighter than hundreds of billions of suns.  It is hard to imagine something so bright.  So what is it?  Astronomers are not really sure, but they have a couple theories.
They think it may be a very rare type of supernova — called a magnetar — but one so powerful that it pushes the energy limits of physics, or in other words, the most powerful supernova ever seen as of today.
This object is so luminous that astronomers are having a really difficult time finding a way to describe it.  "If it really is a magnetar, it's as if nature took everything we know about magnetars and turned it up to 11," said Krzysztof Stanek, professor of astronomy at Ohio State University and the team's co-principal investigator, comedically implying it is off the charts on a scale of 1 to 10.
The object was first spotted by the All Sky Automated Survey of Supernovae (ASAS-SN or "assassin"), which is a small network of telescopes used to detect bright objects in the universe.  Although this object is ridiculously bright, it still can't be seen by the naked eye because it is 3.8 billion light years away.
ASAS-SN, since it began in 2014, has discovered nearly 250 supernovae, however this discovery, ASASSN-15lh, stands out because of its sheer magnitude.  It is 200 times more powerful than the average supernova, 570 billion times brighter than the sun, and 20 times brighter than all the stars in the Milky Way Galaxy combined.
"We have to ask, how is that even possible?" said Stanek.  "It takes a lot of energy to shine that bright, and that energy has to come from somewhere."
Todd Thompson, professor of astronomy at Ohio State, has one possible explanation.  The supernova could have generated an extremely rare type of star called a millisecond magnetar — a rapidly spinning and very dense star with a crazy strong magnetic field.
This is how crazy magnetars are: to shine as bright as it does, this magnetar would have to spin at least 1,000 times a second, and convert all of that rotational energy to light with pretty much 100 percent efficiency — making it the most extreme example of a magnetar that is physically possible.
"Given those constraints," Thompson said, "will we ever see anything more luminous than this? If it truly is a magnetar, then the answer is basically no."
Over the coming months, the Hubble Space Telescope will try to solve this mystery by giving astronomers time to see the host galaxy surrounding this object.  The team may find that this bright object lies in the very center of a large galaxy — meaning the object is not a magnetar at all — and the gas around it is actually evidence of a supermassive black hole.
If that is the case, then the bright light could be explained by a new kind of event, said study co-author Christopher Kochanek, professor of astronomy at Ohio State.  It would be something that has never, ever been seen before at the center of a galaxy.
Whether it is a magnetar, a supermassive black hole, or something else entirely, the results are probably going to lead to new thinking about how objects form in the universe.
SOURCE: alien-ufo-sightings.com
That Leak on The ISS Was Made by a Person. Here's What We Know So Far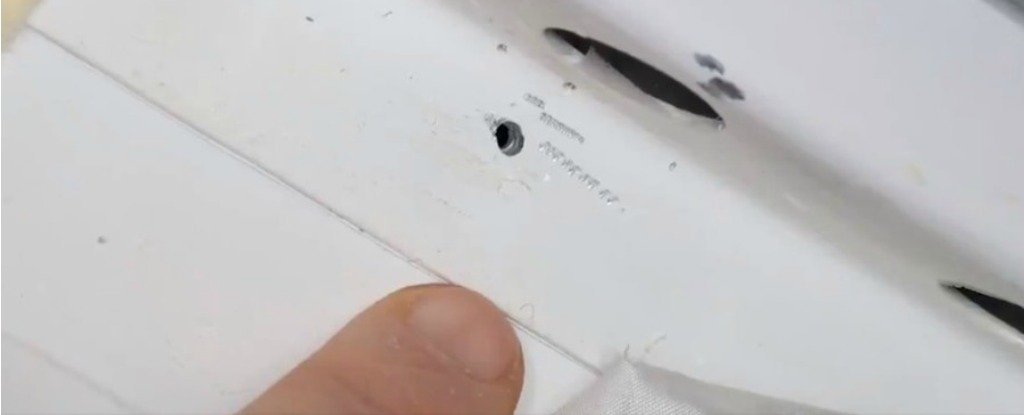 Last week astronauts on board the International Space Station (ISS) awoke to a worrying message from flight control.
Hidden somewhere on board the ISS was a tiny pressure leak that was slowly allowing air to seep out of the spacecraft and into the abyss.
The six astronauts on board were not in any imminent danger, although locating the leak was their top priority for the day. The US crew hunkered down in the Russian segment and sealed off all the compartments one by one.
A two millimetre hole was at last discovered in the Russian segment itself. And while that hole may not seem very big, if nothing had been done to fix it, it would have deprived the ISS of air in just 18 days.
The hole was immediately sealed over with a special type of tape to buy the astronauts some time for a permanent solution.
Meanwhile, a special commission was set up by the Russian State Space Corporation Roscosmos to investigate the cause of the rupture. What they found was unexpected.
At first it seemed likely that the tiny hole had come from a micrometeoroid impact – one of the many bullets of debris that whizz around in space.
The theory was even supported by former astronaut Scott Kelly, who explained that this sort of thing happens all the time.
"We've dodged a lot of bullets over the past 20 years," he tweeted.
This leak seems to have resulted from a micrometeoroid impact. We've dodged a lot of bullets over the past 20 years. There's a lot of space junk up there, a serious issue which needs to be addressed. Great job by the #ISS crew! https://t.co/5IfjnimyPz

— Scott Kelly (@StationCDRKelly) August 31, 2018
But as the inquiry progressed, the hole began to look more and more like it came not from the outside, but from the inside.
"We are considering all the theories," said Dmitry Rogozin, head of Roscosmos, according to the Russian news agency Tass.
"The one about a meteorite impact has been rejected because the spaceship's hull was evidently impacted from inside".
Then, things began to get shadier. A photo, released by NASA and then mysteriously deleted, reveals what looks strangely like a drill hole.
"It was done by a human hand – there are traces of a drill sliding along the surface," confirmed Rogozin.
ISS Leak summary:

First thought was MMOD strike.

Then NASA released pics. Lots of people: "Hmmm, doesn't look like MMOD". NASA deleted the photos.

Top Russian news site RIA NOVOSTI reported – via sources but apparently confirmed by Mr. Rogozin – it was a drill hole. pic.twitter.com/520kHK0TMc

— Chris B – NSF (@NASASpaceflight) September 3, 2018
Rogozin assured the media and the public that the Russian space agency was doing everything it could to find the culprit.
"It is a matter of honour for Energia Rocket and Space Corporation to find the one responsible for that, to find out whether it was an accidental defect or a deliberate spoilage and where it was done – either on Earth or in space," he said, referring to the Russian manufacturer of the space craft.
Right now, the leading theory comes from an unnamed source at Energia, which told the Russian news agency RIA Novosti that "[t]he hole was made on the ground" and that "[t]he person responsible for the act of negligence has been identified".
Another anonymous source confirmed that the hole was accidentally drilled by a worker at Energia, who decided to hide their mistake with a seal and decorative fabric instead of reporting it.
For two months, the gamble paid off. Their patchy solution even managed to pass the spacecraft's pressurisation tests before it was launched into space to meet up with the ISS. But then, the seal began to leak.
"[Once in orbit], the glue dried and was squeezed out, opening the hole," the second source told RIA Novosti.
Repairing the hole has been neither simple nor straightforward, and the problem may have even caused a few cracks between Moscow and Houston.
It appears that the Russian space agency wanted to immediately and permanently seal the breach with a special glue, adding insulation and medical gauze on top.
But NASA astronaut Andrew Feustel, who is currently in charge of the 56th ISS mission, was uncomfortable with the plan. In audio from the event, Feustel asks flight control in Houston if the proposed glue has any expanding properties to it.
"Andrew, right now, we are not completely sure all the properties that that sealant that Moscow is talking about. We're discussing with them right now," flight control replies.
Not satisfied with the answer, Feustel can be heard requesting 24 hours of extra time so that the procedure can be tested on Earth.
"I would really like to see a test of that, somehow, on the ground before we do a test up here and see if it's going to work," Feustel says.
"We sort of feel like we've got one shot at it and if we screw it up, then the implications are one of these vehicles is going home, or that vehicle is going home, sooner than later".
But without another option on the table, Moscow insisted on their plan. After just an hour or so, the decision was made to go ahead with their proposed solution. A second patch was added the next day, and pressure in the ISS now appears to be stable.
Rogozin told reporters that they were looking into whether the hole was made because of negligence, or if it was made deliberately.
"Now it is essential to see the reason, to learn the name of the one responsible for that," he said.
"And we will find out, without fail".
There has been no further statement from Roscocosmos about the latest allegations that a worker at Energia is responsible.