Chiang-shih – The undead Vampire creatures of Chinese mythology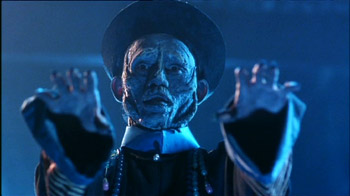 The Chiang-shih are undead creatures of Chinese mythology, with similarities to the European vampire. Instead of feeding on the blood of their victims, the risen Chiang-shih were said to suck the breath out of the living. Like many European vampires, they were said to have long hair, eyebrows, and fingernails, as well as the ability to fly.
A person was thought to have two different souls: a superior and an inferior. It was the inferior soul that remained in the body after death, and if it was strong enough it could reanimate the corpse. That soul was made strong when the person died with unfinished business, suffered a violent death, was given an improper burial, or because respects had not been paid to them.
Also, like the Western vampire, the Chiang-shih are said to be vulnerable to religious verses and images, as well as garlic. Throwing rice and peas at the Chiang-shih was also said to keep them at bay. A jiangshi (chiang-shih in Wade–Giles), also known as a Chinese "hopping" vampire or zombie, is a type of reanimated corpse in Chinese legends and folklore. "Jiangshi" is read goeng-si in Cantonese, gangshi in Korean . It is typically depicted as a stiff corpse dressed in official garments from the Qing Dynasty, and it moves around by hopping, with its arms outstretched. It kills living creatures to absorb their qi, or "life force", usually at night, while in the day, it rests in a coffin or hides in dark places such as caves. Jiangshi legends have inspired a genre of jiangshi films and literature in Hong Kong and East Asia.
The Chiang-Shih (or Kiang Shi, Kuang-shi, or Jiang Shi) is the Chinese vampire derived from the believe in two souls. Each person had a superior rational soul and an inferior irrational soul. The former had the form of the body and upon separation could appear as its exact double. The superior soul could leave the sleeping body and wander the countryside. For a short period, it could even possess the body of another person and speak through it. If accidents befell the wandering soul, it would have negative repercussions on the body.
The inferior soul (the p'ai or p'o), was the soul that inhabited the body of a fetus during pregnancy and often lingered in the body of a deceased person, leading to the unnatural preservation of the body. When the p'ai left the body, it disintegrated. The p'ai could inhabit the body for a long time and could use the body for its own gain, but only if the p'ai was strong.
The body when animated by a strong p'ai was considered the Chiang-Shih. It appeared normal and was not recognized as a vampire until some action gave it away. Sometimes, the body would have a hideous appearance and a green phosphorescent glow; when in this form, the Chiang-Shih would develop serrated teeth and long talons.
The Chiang-Shih lacked the powers of Slavic vampires. It could not rise from the grave. The transformation to vampire had to occur before burial. The Chinese vampire was nocturnal which limited their activity during the day. It, also, had trouble crossing running water, but the Chiang-Shih was very strong and vicious. There are detailed reports of attacks upon living people, where their heads and limbs were ripped off by the Chiang-Shih vampire.
The vampire often absorbed the qi (life's essence) of the living. It's not uncommon to hear the Chiang-Shih as the hopping vampire, as it commonly moved around by hopping with its arms outstretched. Overtime, the vampire may master the art of flying and gain the ability to change into a wolf.
In order to ward off the Chinese Chiang-Shih vampire, garlic kept them away and salt had a corrosive effect on the vampire's skin. Loud noises offended them, and thunder would occassional kill them. You could literally sweep a vampire into its resting spot with a broom. Iron filings, rice, and red peas could be used as barriers to the entry of the vampire and would often be used around a vacant coffin to keep a vampire from taking rest there.
If the vampire reached the age where it could transform and fly, only thunder or a bullet could bring it down. Cremation was the ultimate solution for getting rid of a Chiang-Shih.
Description
Some would appear to look as a normal human being while others had a hideous green phosphorescent glow with serrated teeth and long talons. These Vampires have difficulty walking because of the pain and stiffness of being dead so they hop instead. They are far more pale and have very dark circles under their eyes.
Generally in the movies the hopping corpses are dressed in imperial Qing Dynasty clothes, their arms permanently outstretched due to rigor mortis. Like those depicted in Western movies, they tend to appear with an outrageously long tongue and long fingernails. Their visual depiction as horrific Qing Dynasty officials reflects a common stereotype among the Han Chinese of the foreign Manchu people, who founded the much-despised dynasty, as bloodthirsty creatures with little regard for humanity.
Features
Chiang-shihs were nocturnal creatures and had difficulties crossing running water. It was said that they were particularly vicious and ripped the head or limbs off their victims. They were also said to have a strong sexual drive which led them to attack and rape women. After a period of growing stronger, chiang-shihs would gain the ability to fly, grow long white hair, and possibly change into wolves.
These Vampires can be evaded by holding one's breath, as they are blind and track living creatures by detecting their breathing. People also protected themselves from chiang-shih by using garlic or salt. They were driven away with loud noises, and it was thought that thunder could kill them. Brooms were used to sweep the creature back to its resting spot, while iron filings, rice, and red peas were used as barriers. If a chiang-shih reached its flying, white-haired stage, it could only be killed by a bullet or thunder. Its body must then be cremated.
Usually villages that are 'infested' with vampire occurances recruit a Taoist priest to perform a 'ceremony' to exorcise the negative energy. Taoist Priests traditionally rely on talismans-yellow paper strips with illegible characters written in red ink or blood. It is commonly believed that with incantations the priest can 'activate' the talisman, which can totally inhibit a vampire's actions when applied to it's forehead area, thus putting the vampire under a spell. The priest will then, after subduing the vampire(s), use a special bell, which with every ring, will command the vampires to take a single jump. Should the vampire be too strong to subdue, the priest usually draws upon a wooden sword, or a sword made entirely of copper coins linked by a red string as a weapon. Although Taoist priests nowadays do not go 'capturing' vampires, they still perform ceremonies of exorcism from "unclean spirits" and still commonly use talismans.
It is also conventional wisdom of feng shui in Chinese architecture that a threshold, a piece of wood approximately six inches high, be installed along the width of the door to prevent a hopping corpse from entering the household
Origin
They are said to be created when a person's soul fails to leave the deceased's body. Usually chiang-shih were created after a particularly violent death, such as a suicide, hanging, drowning, or smothering. It could also be a result of an improper burial, as it was thought that the dead would become restless if their burial was postponed after their death. The chiang-shih were not known to rise from the grave, so their transformation had to take place prior to burial.
Culture
The influence of Western vampire stories brought the blood-sucking aspect to the Chinese myth in modern times (the traditional Chiang-shih steal the breath of his victim). In fact, Dracula is translated to Chinese as "blood-sucking chiang-shih " where the thirst of blood is explicitly emphasized because it is not a traditional trait of a jiangshi.
Stories
The wife of teacher named Liu wakes in the morning and finds that her husband who had been sleeping next to her is dead – his head is missing and the bed is drenched in blood. She reports this to the local authorities who then accuse her of murder and put her in jail. She remained there for months. The mystery was finally solved as the result one of the villagers finding a neglected grave on a hillside. A coffin was laid bare next to it with the lid slightly raised. This villager summoned the rest of the community. When the coffin lid was raised, the corpse was found within resembling the dead person when he was still alive except that it was covered with white hair. Between its arms, it held the head of Liu. The head of Liu could not be pulled from the arms of the corpse. After they cut off the corpse's arms, fresh blood gushed from them and their stumps. But their was not a drop of blood to be found in Liu's head. It had been sucked dry by the vampire. This tale can be found in Supernatural Tales from Around the World edited by Terri Harden (Barnes and Noble, 1995) as an excerpt from Religious Systems of China, vol. 5, book 2, by Jan de Groot (E.J. Brill, 1907.). It also can be found in The Vampire: His Kith and Kim by Montague Summers.
In another tale, a man walking down a country road at night finds an open coffin in the middle of the road. He realized that it must be the coffin of a chiang-shih. He filled the coffin with rocks and broken pottery. Then he retreated to the loft of a nearby barn to observe the coffin and see what would happen there next. About an hour after midnight, the corpse tried to climb back into the coffin. Finding the coffin filled with rocks and debris, the corpse became angry and its eyes began to blaze. In the moonlight, this chiang-shih saw the traveler in the loft and went to the barn. The man feared that he was trapped in the loft and jumped out the window into a tree. But the chiang-shih could not climb the ladder to the loft and went outside where it spotted the man after he climbed down from the tree. The chiang-shih pursued the man. The man finally escaped by jumping into a stream and swimming to the other shore. The chiang-shih could not cross running water. The chiang-shih stood near the stream screaming and gesticulating in anger. Then it jumped into the air three times, turned into a wolf, and ran off. This tale is given in Lust for Blood by Olga Hoyt (Scarborough House, 1984).
According to one tale, in 1761 A.D., the twenty sixth year of the Kien-lung period, there was a time of drought in Peking and its vicinity. During this time, a courier was dispatched with an urgent message from one general to another in a different city. On the way, while he was in a lonely place, a storm suddenly brewed up and the rain poured heavily upon him. The courier took shelter in the pavilion of a post house. Here a lovely young woman joined him. She invited him to her house. The courier followed her, tied his horse to a post outside her house, and went inside. The woman treated him first with tea. They spent the night together enjoying each others embraces in bed. But when cock crowed the woman suddenly got out of bed , put on her clothes, and left. The exhausted courier fell asleep. When he awoke again, he found himself on a tomb stone in the open pain. There were no buildings nearby. He found his horse tied to a tree. Frightened, he quickly untied his horse, mounted it, and road off. When he reached his destination, he was many hours late. Under interrogation, he told what had happened to him on the way. The general had the tomb investigated. It turned out to that of a young unmarried woman who had hung herself out of shame after it was discovered that she was no longer a virgin. Her specter had enticed and seduced travelers coming through the vicinity of her tomb. And it was suspected that her specter was the cause of the drought. The general ordered the tomb opened. There, inside, rested the woman's corpse still undecayed, plump and rosy in complexion, but covered with white hair. This corpse was then cremated. The drought ended the next day and the tomb was no longer haunted. From Supernatural Tales from Around the World.
Theories and analysis
In Chinese belief, each person has two souls, a superior or rational soul and an inferior irrational soul. The superior soul could leave a sleeping body and appear as the body's double as it roamed about. It could also possess and speak through the body of another. However, if something would happen to the disembodied soul during its journey, its body would suffer.
The inferior soul, on the other hand, was called p'ai or p'o and was that which inhabited the body of a fetus during pregnancy and often lingered in the bodies of the dead. It was thought to preserve the corpse. If the p'ai was strong enough, it could preserve and inhabit a corpse for a length of time, using the body to serve its needs.
The chiang-shih would arise from people who died a violent death, including suicide. Improper burial procedures such as a long postponement of burial which angered the dead. Animals, particularly cats, were kept away from the unburied corpse for fear that the might jump over it and thus the deceased would come back as a chiang-shih. Because they had no powers to dematerialize, transformation had to occur before burial, an added incentive for prompt burial.
It came from the mythical folklore practice of "Traveling a Corpse over a Thousand Li", where traveling companion or family members who could not afford wagons or have very little money would hire Tao priests to transport corpses of their friends/family members who died far away from home over long distances by teaching them to hop on their own feet back to their hometown for proper burial. Some people speculate that hopping corpses were originally smugglers in disguise who wanted to scare off law enforcement officers.
Woman recalls meeting with Mothman at Point Pleasant
The strange events that took place in the area of ​​the American town of Point Pleasant in the state of West Virginia have not yet received an unambiguous assessment. It is very difficult to write off everything on inventions here, but it is also problematic to admit the existence of a monster.
Susan Sheppard of West Virginia is an honorary witch, anomalous researcher, and a broad-spectrum psychic. Behind all this unusual activity is her childhood, during which she found herself among many mysterious phenomena, including the appearance of the Moth Man in West Virginia in the 1966-1967s.
The majority of people remember these events as incidents in the town of Point Pleasant, when throughout the year the locals began to meet a strange winged creature with red eyes. The creature disappeared after the local Silver Bridge collapsed and dozens of people died.
Since then, Moth-Man has been associated with a harbinger of mass death, although it is still not clear what kind of creature it was, why it manifested itself in this way before the disaster and what he needed from people. Susan Sheppard remembers those days well. According to her, she is probably one of the few people in West Virginia who remembers how it all began and who has survived to this day.
"One cold November day in 1966, my sister came home from school and began to tell a strange story that happened the day before in the family of her classmate Partridge. At that time I was too young to go to school, I sat at the table and ate the leftover candy from my Halloween bag.
The kitchen was warm, outside there was a hill with yellowish grass. I always thought that there was something unusual in these forests. But back to my sister. She ran into the house and began to tell that Daddy Partridge last night I went to my barn and saw something with red eyes, and then their dog disappeared without a trace – a German shepherd named Bandit.
The strange red eyes gazing out of the doorway of the old barn are not what you might have heard about in local fairy tales and legends, so my childish mind was immediately alerted. Since then, I have noticed and remembered all these stories better than anyone else in my family. It must be said that the average West Virginian at first did not take all these stories seriously. Only later, when the legends about the Moth-Man began to diverge, when this strange alien-man Indrid Cold appeared and people began to see the Men in Black, they believed, since these stories affected their families.
My family lived in the small community of Shannon's Knob in rural West Union County. The Partridge family lived 8 miles from us in Center Point, which is 100 miles from Point Pleasant. It was from that night that observations of the Moth Man began in West Virginia.
That evening, Merle Partridge was watching TV with his son Roger, who was 11 years old. Suddenly, they heard their German Shepherd Dog Bandit barking loudly outside the house. It sounded strange and atypical, and the TV at that moment immediately began to blink, and then made a strange creaking sound.
Merle decided to go out and see what was out there on the street. The man took the flashlight and went out, and Roger ran after him. Near the barn, they saw a dog standing and barking, looking out the open door of the empty barn. Initially, Mr. Partridge did not see any red eyes in the doorway. It was only when he looked into the barn that he suddenly saw what he described as "An intense red light like electricity." And then he saw a big dark figure there. She moved abruptly, as if she had fallen off a shelf.
The fur on the back of the shepherd stood on end at that moment and she began to bark even louder and growl. The man fired a gun into the barn once, after which the dog ran into the barn and disappeared there. People did not follow her, but decided to return to the house. The television was on again, but Mr. Partridge kept his rifle by the bed that night.
The next morning it became clear that the dog was nowhere to be seen and they remembered that they had last seen the Bandit running into the barn. After that, Merle and his children Mary, Roger and Gary went to the ill-fated barn and found the Bandit's paw prints inside, which disappeared so suddenly, as if something had grabbed the dog and carried it through the air.
At the same time, Merle found some more traces on the dirty and dusty floor of the barn. They did not belong to a dog or a person and were so unusual that he could not understand what creature could leave them. In appearance, they most of all resembled the footprints of a bird, similar to a turkey, while being abnormally huge. At that moment, Merle Partridge did not yet know that yesterday that same evening, just an hour after he saw red eyes in his shed, a hundred miles from this place in the town of Point Pleasant, a couple of Roger and Linda met the same creature Scarberry.
They saw a strange large red-eyed creature on the outskirts of the city near a chemical plant. "From that evening, similar stories began to appear in the circle more and more often. The Moth-Man" settled down "in this place.
Later, when writer John Keel interviewed the residents of the area to collect material for his sensational book about The Mothman Prophecies, Merle Partridge in his notes somehow turned into Newell Partridge, and the date November 15, 1966, when he saw red-eyed creature in his barn, October 15, 1967.
Therefore, the story of Merle, although it was the very first meeting with the mysterious red-eyed creature, was not widely known. According to Susan Sheppard, she does not know why this happened, maybe Keel was not working carefully, or there was just confusion.
Osborne family reunites in a TV show about paranormal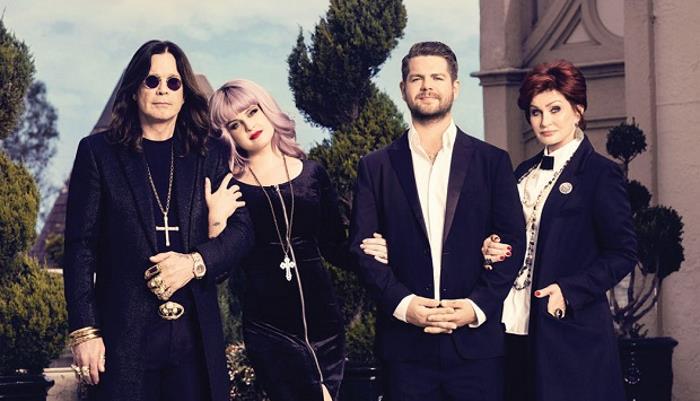 Ozzy and Sharon Osbourne will return to television in the new paranormal television show. According to NME magazine, celebrities will take part in their son Jack's Osbournes Want to Believe project, in which he will try to convince skeptical parents, showing them "undeniable" evidence that paranormal phenomena exist.
"Maybe they are known as the first "dark" family, but when it comes to paranormal events, the legendary rocker Ozzy Osbourne and his wife, the co-host of the show "Conversation" Sharon Osbourne, are extremely skeptical, "the description of the show says. "Having the firm intention of dragging them to the other side, Jack will reunite with Ozzy and Sharon and share with them the craziest and stunning videos of the paranormal that have ever been captured by cameras."
It is also reported that Osbourne will see videos with poltergeists, unidentified flying objects, yetis and many others. As for Jack, he is convinced that his parents do not believe in such things, since no one has yet provided them with enough convincing evidence – and he is going to do this by adding several of his personal videos to the show.
The most difficult task for me, probably, will be the need to keep them from commenting, not intended for children's ears. This will be the classic Osbourne "cabal"! – Jack said.
The show will premiere on Travel Channel on August 2, 2020.
Businessman bought a ghost town, believed in mysticism and decided to stay there forever
Two years ago, a young American businessman Brent Underwood bought a ghost town. Once there was a silver mine, shots rang out every day and famous gangsters from the Wild West met. And now – almost nobody, and a few hours' journey to the nearest store. Underwood arrived in his city in early March, and after two months in complete solitude decided to stay there for a long time.
In the summer of 2018, Brent Underwood received an offer that is difficult to refuse. "Want to buy a ghost town?" – asked a friend.
Prior to the purchase of Cerro-Gordo, Brent Underwood was engaged in marketing books and enjoyed some fame in this area. In 2016, he decided to demonstrate the simplicity with which crooks and crooks "wind up" the ratings of the largest online store Amazon, and in a matter of minutes brought a best-selling photograph of his own leg. When the media wrote about the trick, Amazon founder Jeff Bezos phoned Underwood.
The message was accompanied by a link to a note on the sale of Cerro Gordo – an abandoned town in the days of the Wild West. "At first I took it for a stupid joke, but still clicked on the link and began to read," says Underwood.
It turned out that Cerro Gordo is located in the mountains on the edge of the Death Valley. The city appeared in 1865, when silver was found in those places. Entrepreneurial people from all over California immediately rushed there.
Three years later, businessman Mortimer Belshaw settled in Cerro Gordo. He quickly put the mining of precious metal on a big foot and soon sent the first wagon loaded with silver bullion to Los Angeles. Each ingot was 45 centimeters long and weighed 36 kilograms.
The first approach was followed by others. A year later, more silver and lead was mined in the town than in other mines in California. In just a few years, the thousands of miners who gathered in Cerro Gordo dug underground tunnels with a length of almost 60 kilometers.
Near the mine appeared a church, five hotels, seven saloons and two brothels – one on each edge of the city. A fort was built nearby that protected the locals from the Indians.
There was little entertainment: the miners gambled, drank a lot and visited prostitutes. Any quarrel ended in a shootout. Every week someone was killed, and it was possible to die even by accident. In order not to fall under the stray bullet, the workers had to sleep behind sandbags.
It was a true Wild West from Westerns. It was rumored that Butch Cassidy, the famous robber of banks and trains, was hiding in Cerro Gordo. The walls of the Belshaw mansion, which still stands, still have 156 bullet holes, and a blood stain in the hotel's gaming room
Ten years later, the reserves of the precious metal were noticeably depleted, and the fall in silver prices that began at the end of the 19th century signed the city's death sentence. The miners went somewhere, and Cerro Gordo was empty. At the beginning of the 20th century, it experienced a revival when zinc was mined there, but this boom was short-lived. In the 1930s, the mine was finally closed, and only its owner lived in the city until 1957. After his death, no one was left in Cerro Gordo.
People returned to the city only in 1985. One of the surviving houses was occupied by a distant relative of the former owner of Cerro Gordo, Jody Patterson, along with her husband Mike. Jody from 1973 in parts bought the city from his uncle's wife, who inherited it, and by 1984 became his full owner. She lived there until her death and is buried in the cemetery of Cerro Gordo.
Mike Patterson did not leave Cerro Gordo when Jody died and turned it into a tourist attraction. Wild West lovers could rent a bedroom in Belshaw's house for $ 150 a day, or spend the night in a former workers' dormitory for $ 300. The toilet, as in the 19th century, was in the courtyard, but the guests did not complain.
One woman wrote a thank-you letter and praised me for having talcum powder in the street toilet. It didn't immediately reach me that she had in mind quicklime to be thrown into a cesspool

Mike Patterson, former owner of Cerro Gordo
Patterson's relatives put up for sale the city. By that time, the only inhabitant in Cerro Gordo was the voluntary caretaker Robert Demare. A former school teacher moved there in the late 1990s in the hope of finding silver. "For 22 years, I have found the equivalent of a full wheelbarrow of silver," he claimed in 2019.
22 buildings survived in Cerro Gordo: several houses where the miners lived, a working dormitory, a hotel, a church and a former store in which Mike Patterson set up something like a museum. The city had an electric generator and water supply (although only in three buildings), but to get to the nearest store, it was necessary to drive for more than 40 kilometers. 
But Demare got used to the life of a hermit. Year after year, he repaired broken windows, cleaned up the garbage that "bad people" throw, he said, once a month poured potholes on a country road and shot snakes and rats. Koyotov, the caretaker never touched them: he considered these animals "important and wonderful creatures."
Own city
Underwood got the idea to buy Cerro Gordo. He already had a small tourism business: a small hostel with five employees in Austin. But the real city of the times of the Wild West is a completely different matter. He believed that this was the ideal place for modern tourism, where a beautiful Instagram picture is more important than anything else. In addition, such a picturesque wilderness can attract creative people.
The sellers expected to receive 925 thousand dollars for Cerro Gordo. Underwood and his acquaintance were ready to give all the savings for him, but there was still not enough money. To collect the necessary amount, they had to look for investors. Somehow, Underwood managed to interest the former marketing director of American Apparel, one of the leaders of Hulu and several other large businessmen. This made it possible to scrape together 1.4 million dollars.
Several more buyers claimed Cerro Gordo, and some of them offered larger amounts for it, but the sellers liked Underwood's idea. So he and his friend became the owners of their own city.
At first, in Cerro Gordo, everything remained the same. Underwood paid the caretaker a salary and visited him once a month. He was planning to surf the Internet, build a viewing platform and equip a music studio in a former dormitory, but soon discovered that it was far from easy. "Things went very slowly over the next year or so," he recalls. "We were waiting for permissions and tried to start the reconstruction, but it took a lot of time to do everything, because it is very difficult to bring materials and people there."
The ghost town was an expensive pleasure. About 10 thousand dollars were spent on repaying loans, salaries, utilities and satellite Internet every month. And this is without repair: as it turned out, even replacing a broken pump for water supply costs hundreds of thousands of dollars.
When the epidemic started, the ranger called Underwood. "His wife lives in Arizona, and he wanted to return to her until they introduced quarantine measures," he says. "He asked me to keep an eye on the city so that it would not be looted." I thought that I'll take care of the repair and maybe I'll start renting out the houses for the guests. "
Snow Isolation
The businessman arrived in Cerro Gordo in the midst of heavy snowfall. The car got stuck in the snowdrifts, not reaching the city half a kilometer. "I threw it in the middle of a single-lane road and walked the rest of the way on foot," says Underwood. – It snowed almost daily for another ten days. It got to the point that I could barely open the front door. "
By March 19, when California introduced a regime of self-isolation, it was ideally isolated by nature itself. It was almost impossible to get out of Cerro Gordo before the snow melted. "For the most extreme case, there are snowshoes, but they will have to cover 11 kilometers along a steep slope," says Underwood. He tried them on and was out of breath just a few meters away.
The food they had taken with them quickly dried up, but the ranger left a large supply of rice and canned food. To get water, Underwood melted snow. You can't watch Netflix over the slow satellite internet , so he had to look for other entertainment.At dawn, he went for a walk, studied his possessions during the day, and photographed the starry sky at night.
Underwood walked around the mine and found graffiti made in 1938 on the mine wall. He had extra furniture, so he moved the sofa, carpet and floor lamp there, arranging something like an underground shelter. In the house where the former owner lived, a huge collection of old video cassettes was found, including a copy of Kubrick's The Shining. His characters were also stuck in a snowy mountain hotel, and it ended badly. Underwood decided not to watch it.
Locals believed that true ghosts inhabit Cerro Gordo. Several years ago, a documentary was shot in the city about the ghosts of dead children in one of the mansions, and the former owner of Cerro Gordo, Mike Patterson, kept a picture of a man's face appearing on a window net. He believed that it was the ghost of Alfonso Benoit, who was killed more than a century ago in a nearby lumberjack camp.
Underwood lived in the same room where they saw children's ghosts. He did not wait for their visit, but nevertheless noticed something strange. Most of all, he was embarrassed that in the working dormitory, curtains open from time to time and the light turns on. Just in case, he decided to bypass this place.
The longer I live here, the more I come across things that I can't explain. Until I bought the city, I completely did not believe in this

Brent Underwood
Underwood was occupied by ghosts of a different kind. In one of the houses he came across a suitcase with the belongings of a miner who worked in Cerro Gordo during the zinc boom. Inside was his whole life: bank statements, applications for withdrawal of plots, unpaid checks, lawsuits, love letters and divorce documents. "This man had hopes and dreams, ups and downs, and all that was left was a suitcase full of papers," says Underwood. 
With the help of experts from Reddit, the entrepreneur learned to understand the tracks of animals in the snow. It turned out that his porch regularly visits a lynx. Other footprints were left by coyotes and a bear, it seems. Underwood learned to cycle floors and was used to talking with a couple of local ravens, whose names were Hekil and Jekyll. He liked life in a ghost town more and more.
The problems started when the snow fell. First, Underwood was hospitalized with appendicitis. And in early June, a fire broke out in Cerro Gordo. At three o'clock in the morning an old hotel broke out, then the fire spread to the glacier cellar and the house, where in the days of the Wild West there lived a man named William Crapo, who once shot a postman. "All I could do was call 911," says Underwood. "And then, with the help of a caretaker, desperately pulling buckets of water from the tanks and trying to fill the flames."
Perhaps we will never know how the fire started. Firefighters told me that there are a thousand different reasons. Anything could happen in such old buildings

Brent Underwood
The fire destroyed three buildings, but Underwood still expects that the city can be restored. Even before the caretaker returned, he decided that he would stay in Cerro Gordo for a long time. "I already plan what I will do next winter," he admitted to a New York Times journalist who spoke with him before the fire. "Until then, I'm not going to go anywhere, so I need to prepare."