Cases of Interest: Shapeshifting UFOs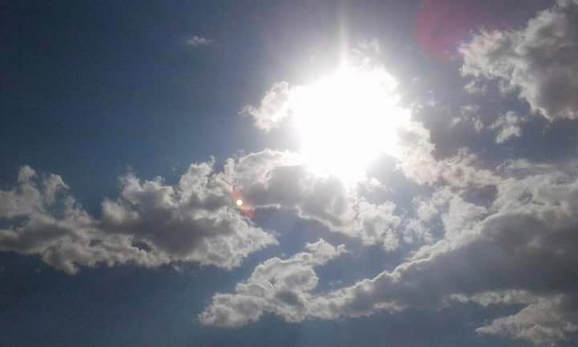 by Roger Marsh
​UFO encounters may be frightening as witnesses observe never-before-seen objects moving in incredible ways. But some sightings are further stressed when the object morphs into different shapes.
Four shape-shifting UFO sightings were listed in the recently-released book, UFO Cases of Interest: 2018 Edition, by the Mutual UFO Network (MUFON).
A New Mexico witness at Albuquerque reported watching a boomerang-shaped object just 500 feet away that hovered and seemed to change shape while moving, according to testimony in Case 82456.

The witness was outside walking north on a lunch break at 12:30 p.m. on March 2, 2017.
"A light gray shape caught my eye," the witness stated. "The object was approximately 500 feet away, and about 50 feet in the air over a building. At first, I thought it was a flock of birds, and I said, 'That's interesting. What kind of birds would those be?' It seemed to be moving east in a slow flutter. Then it disappeared, like it folded back into the sky."
The witness thought that was strange.
"It then reappeared in a fat boomerang shape. It seemed to be made up of multiple light gray, possibly reflective objects, but working together, like a school of fish, or sequins on a purse or dress. It did seem to have a common background that was dark gray or black. It was still fluttering, but it paused and hovered and moved backward, just slightly."
At this point, a bare tree blocked the view, but the witness kept walking to see the object again.
"When I saw the shape again, it had changed. And it seemed to be a soft, billowy, upside down parachute shape, or the bottom of a puffy cloud or a puff of factory smoke. I almost convinced myself it was a deflated weather balloon, but there was no top to the shape, only a distinct bottom. The color of this object seemed to blend with the sky. I could only decipher a dark gray sitting in the bottom of the cloud/parachute."
Then the object changed again.
"Now it became almost transparent, as if the sun were reflecting on an invisible craft. Now there really is no overall shape that I can make out. I saw a few smaller, very rigid shapes, like flat prisms or solar panels, and they seemed to fold backwards into the object and then the whole object faded away."
The witness said these events occurred in about 20 – 25 seconds.
An Idaho witness at Idaho Falls reported UFO sightings over a period of time, including a "huge, camouflaged triangle," according to testimony in Case 88223.

One of those sightings occurred on June 8, 2017.
"I've seen quite a few UFOs and think I've been possible visited," the witness stated. "A saucer, a huge, camouflaged triangle, a huge white orb covered the moon and moved across the sky, an orange orb in my backyard and more. All in Idaho Falls area. People just don't look up."
Idaho MUFON Field Investigator Scott Thunstrom closed this case as an Unknown Aerial Vehicle.
"Witness reports seeing a massive triangular craft while camping near a lake," Thunstrom wrote in his report. "Triangle shape, changed direction, changed shape, cast light, hovered, affected cell phone, appeared solid, glowed, reflective, glowing, mist/shroud, larger than aspirin in apparent size, white surface lights, pink/rose exterior lights, red-orange, yellow-orange, and blue surface lights, pulsating lights, no sound, 20 feet or less from witness, lowest altitude at over 500 feet, flight path stationary, unknown direction first and last observed."
A Fort Rucker pilot reported watching an "oddly-shaped, circular object" hovering over the Alabama army base, according to testimony from Case 84970.

The witness had just finished morning PT (Physical Training) and was standing around talking to two other friends before heading home at 6:45 a.m. on June 15, 2017.
"It was a warm morning with partly cloudy skies," the witness stated. "The sun was just starting to peak over the buildings around us and was quickly starting to warm the day. At approximately 6:45 am, I observed a UH-60 (Blackhawk) helicopter flying above the tree line approximately a mile from my current location. This is a pretty typical sight as Fort Rucker is home to initial Army flight training."
As the witness looked up to watch the Blackhawk helicopter, another object was noticed hovering approximately a thousand feet or so above the tree line.
"From my line of sight, the Blackhawk was passing under the object but was much closer to me then the object appeared to be. From where I was standing the object was rather small but taking into consideration the altitude and distance from my location, it had to have been no smaller than the size of an average car. The object omitted a light similar to a star but was not as bright. You could also tell that the object's color was most likely white or a dull-like color. We knew this was no star because it was below the clouds and appeared to be much closer. The longer we watched it, the less it seemed to have a definitive shape. It appeared to be shifting shapes kind of like a ball of liquid would behave. Almost like a pulsating type behavior."
None of the three observers could identify the object.
A Missouri witness at Gladstone reported watching a shapeshifting, black craft moving along at the three top level, according to testimony in Case 85100.

The witness and her son were driving southbound along the 6500 block of N. Flora at 9:02 p.m. on July 14, 2017.
"I saw bright lights just under the low-lying clouds as a storm was blowing in," the witness stated. "They caught my attention as they looked quite low to the ground. I observed two amber lights on each side with a brighter, larger white light in the middle. As we moved forward, my view was obstructed by trees, so I sped up slightly to better my view. The lights had disappeared, but as I scanned the sky looking for them, I noticed a large black object moving slowly directly in front and above my vehicle."
The witness shouted to her son and pointed in the direction of the object.
"We witnessed the object as it crossed above the road, heading northwest, at the closest point to us being about 20 feet above. We pulled into the parking lot of the elementary school and watched the craft fold in on itself, changing from a black, sphere-like object, to a squared shape, then into a large, disc-shaped craft. It ascended above the tree tops and took up into the clouds. We continued to watch as many as 20-plus sparkling, amber colored lights appear through the clouds exactly where the craft had disappeared. We watched in awe until all the smaller, twinkling lights disappeared."
​
Other featured news generated from UFO Cases of Interest include:
UFO Cases of Interest: 2018 Edition is available at Amazon.com.
NASA records again a large cube shaped UFO next to the Sun (Video)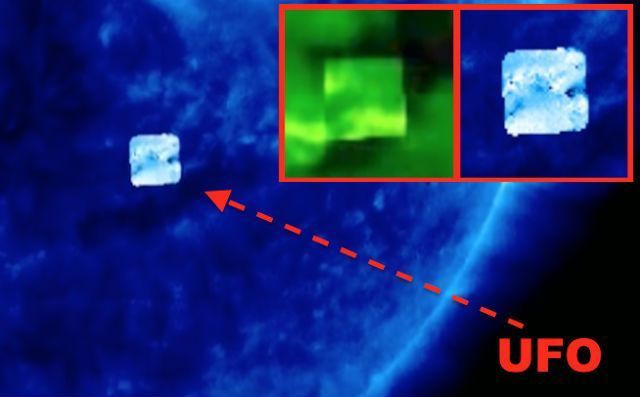 A new photograph taken by a NASA satellite is giving enough to talk about, because in it you can see, again, a strange cube shaped UFO near the Sun.
The alleged finding was made by researcher Scott Waring, editor of the popular UFO website "Ufo Sightings Daily". According to this ufologist, in the image taken last February by SOHO, belonging to NASA, we can see an enormous cube-shaped object that, according to him, would be an extraterrestrial spaceship.
NASA's SOHO Science Archive, where Waring found the alien cube, is a downloadable program that allows anyone to track the photo file of NASA's sun.(cube shaped UFO)
Waring believes that this anomaly in space is very similar to one already seen in October 2018, but this time appears with less brightness and with a presumed design of lines on its surface.
The files contain a combination of real-time data and solar telemetry with images and films from the Sun. However, NASA has mentioned that the alleged ship is not such, since it would only be an optical defect caused by cosmic rays that hit the lens of the SOHO.
What do you think about this UFO "cube" near the Sun? Watch the following video and leave us your comment below.
Mysterious huge white orb flew over Texas
The following video, published recently on YouTube by Mexican ufologist Pedro Ramirez, was received on April 8 of this year in the US city of Stephenville, Texas. It is reported that a group of local residents suddenly saw in the sky a strange anomaly and captured it on the camera of a smartphone.
Video shows a strange white object flying among rare clouds on daytime sky. UFO are suspiciously similar to some mysterious sphere that does not fit into the framework of ordinary celestial phenomena.
Some netizens stated that this is just a small cloud. However, such a theory does not hold water. Firstly, it is unlikely that nature has created a perfectly smooth spherical cloud. Secondly, the clouds are not so dense and do not have clear boundaries.
Pedro Ramirez and many of his colleagues expectedly concluded that this was an aircraft of representatives of an extraterrestrial civilization. According to ufologists, most of these "alien guests" are UAVs, controlled from distant space, and they can be the most bizarre forms and states, including disguised as clouds.
Such drones study our Earth, ufologist says. They collect various samples and data, but do not affect people's lives in any way. Why all this is necessary for aliens, remains a mystery to researchers.
Mysterious Art depicting Ancient Aliens and Intelligent Ancestors
We are immersed in the immense theme of UFOs on Earth, which, according to some, has begun since the beginning of the human race and, according to the same, some have since been proven to have seen UFOs . Whether it is so I think it is a matter of personal judgment.
While living in Ecuador, a father received a lot of gifts from the local, some of which were quite ancient and not so typical of ancient art. In this photo depicted deity seems doubtful to today's cosmonauts.
And of course, after all, we can not miss the very famous  crystal skull, which is said to be legally hand-drawn for hundreds of years and almost impossible. In fact, in one of his first studies a scientist looking at him under the microscope said that he really should not exist.
We continue the theme from the previous road that was for ancient mysterious sculptures, and today we will also be acquainted with the strange drawings of the past.
On the drawing below, the author drew something strange on November 4, 1697. in the German city of Hamburg.
The illustration below shows something drawn by Admiral Blyu in his book Theatrum Orbis Terrarum, published in 1660. Something strange is seen, which hovers over two Dutch ships.
Strange looking is the next illustration, which shows large black and white circles over Basel in Switzerland in 1566. Notice the reactions of people.
What exactly is shown in the following illustration I think everyone should decide for themselves, but it is certainly quite controversial.
Little by little, we reach our latitudes, where we see a strange image below in Vysoki Dechani Monastery in Kosovo.
We also reach the borders of our country, where there are also many similar images as perhaps the most famous in the church "Transfiguration of the Lord"
In the 15th Century in Ben, France, strange images could also be found, like the lower one depicting something that remarkably resembles our contemporary concept of a flying saucer.
Drawn in 1710. and today exposed at the Fujivian Museum in Cambridge , the picture "The Birth of Christ" shows something very strange.
After the first two articles related to strange engravings and sculptures and the strange drawings of the past today, we are focusing on the next quirks that this time relate to cave paintings in ancient times.
The picture below, painted in a cave in Tanzania, shows two figures strangely reminiscent of flying saucers . The painting of the cave wall dates back to about 29,000 years.
Found in a cave near Kimberley, Australia, the next two cave drawings show strange creatures drawn there more than 5,000 years ago by the Aborigines in these lands.
Found in a cave in the Sahara Desert and created around the 6th millennium before the harvest, the following drawings again puzzled more than anything else we are used to seeing.
The next cave paintings were discovered in a cave in France called "Pech Merle" and are believed to have been created 17-19 years ago by the ancient people inhabiting these places.
And the last one found today in Peru and created 14-16 thousand years ago by the Indians in the region. There is more perplexity than anything that remains.