Cases of Interest: Shapeshifting UFOs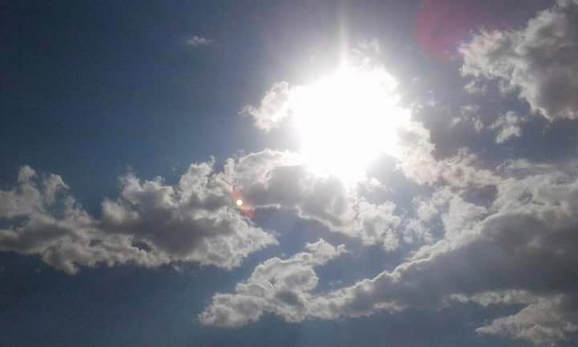 by Roger Marsh
​UFO encounters may be frightening as witnesses observe never-before-seen objects moving in incredible ways. But some sightings are further stressed when the object morphs into different shapes.
Four shape-shifting UFO sightings were listed in the recently-released book, UFO Cases of Interest: 2018 Edition, by the Mutual UFO Network (MUFON).
A New Mexico witness at Albuquerque reported watching a boomerang-shaped object just 500 feet away that hovered and seemed to change shape while moving, according to testimony in Case 82456.

The witness was outside walking north on a lunch break at 12:30 p.m. on March 2, 2017.
"A light gray shape caught my eye," the witness stated. "The object was approximately 500 feet away, and about 50 feet in the air over a building. At first, I thought it was a flock of birds, and I said, 'That's interesting. What kind of birds would those be?' It seemed to be moving east in a slow flutter. Then it disappeared, like it folded back into the sky."
The witness thought that was strange.
"It then reappeared in a fat boomerang shape. It seemed to be made up of multiple light gray, possibly reflective objects, but working together, like a school of fish, or sequins on a purse or dress. It did seem to have a common background that was dark gray or black. It was still fluttering, but it paused and hovered and moved backward, just slightly."
At this point, a bare tree blocked the view, but the witness kept walking to see the object again.
"When I saw the shape again, it had changed. And it seemed to be a soft, billowy, upside down parachute shape, or the bottom of a puffy cloud or a puff of factory smoke. I almost convinced myself it was a deflated weather balloon, but there was no top to the shape, only a distinct bottom. The color of this object seemed to blend with the sky. I could only decipher a dark gray sitting in the bottom of the cloud/parachute."
Then the object changed again.
"Now it became almost transparent, as if the sun were reflecting on an invisible craft. Now there really is no overall shape that I can make out. I saw a few smaller, very rigid shapes, like flat prisms or solar panels, and they seemed to fold backwards into the object and then the whole object faded away."
The witness said these events occurred in about 20 – 25 seconds.
An Idaho witness at Idaho Falls reported UFO sightings over a period of time, including a "huge, camouflaged triangle," according to testimony in Case 88223.

One of those sightings occurred on June 8, 2017.
"I've seen quite a few UFOs and think I've been possible visited," the witness stated. "A saucer, a huge, camouflaged triangle, a huge white orb covered the moon and moved across the sky, an orange orb in my backyard and more. All in Idaho Falls area. People just don't look up."
Idaho MUFON Field Investigator Scott Thunstrom closed this case as an Unknown Aerial Vehicle.
"Witness reports seeing a massive triangular craft while camping near a lake," Thunstrom wrote in his report. "Triangle shape, changed direction, changed shape, cast light, hovered, affected cell phone, appeared solid, glowed, reflective, glowing, mist/shroud, larger than aspirin in apparent size, white surface lights, pink/rose exterior lights, red-orange, yellow-orange, and blue surface lights, pulsating lights, no sound, 20 feet or less from witness, lowest altitude at over 500 feet, flight path stationary, unknown direction first and last observed."
A Fort Rucker pilot reported watching an "oddly-shaped, circular object" hovering over the Alabama army base, according to testimony from Case 84970.

The witness had just finished morning PT (Physical Training) and was standing around talking to two other friends before heading home at 6:45 a.m. on June 15, 2017.
"It was a warm morning with partly cloudy skies," the witness stated. "The sun was just starting to peak over the buildings around us and was quickly starting to warm the day. At approximately 6:45 am, I observed a UH-60 (Blackhawk) helicopter flying above the tree line approximately a mile from my current location. This is a pretty typical sight as Fort Rucker is home to initial Army flight training."
As the witness looked up to watch the Blackhawk helicopter, another object was noticed hovering approximately a thousand feet or so above the tree line.
"From my line of sight, the Blackhawk was passing under the object but was much closer to me then the object appeared to be. From where I was standing the object was rather small but taking into consideration the altitude and distance from my location, it had to have been no smaller than the size of an average car. The object omitted a light similar to a star but was not as bright. You could also tell that the object's color was most likely white or a dull-like color. We knew this was no star because it was below the clouds and appeared to be much closer. The longer we watched it, the less it seemed to have a definitive shape. It appeared to be shifting shapes kind of like a ball of liquid would behave. Almost like a pulsating type behavior."
None of the three observers could identify the object.
A Missouri witness at Gladstone reported watching a shapeshifting, black craft moving along at the three top level, according to testimony in Case 85100.

The witness and her son were driving southbound along the 6500 block of N. Flora at 9:02 p.m. on July 14, 2017.
"I saw bright lights just under the low-lying clouds as a storm was blowing in," the witness stated. "They caught my attention as they looked quite low to the ground. I observed two amber lights on each side with a brighter, larger white light in the middle. As we moved forward, my view was obstructed by trees, so I sped up slightly to better my view. The lights had disappeared, but as I scanned the sky looking for them, I noticed a large black object moving slowly directly in front and above my vehicle."
The witness shouted to her son and pointed in the direction of the object.
"We witnessed the object as it crossed above the road, heading northwest, at the closest point to us being about 20 feet above. We pulled into the parking lot of the elementary school and watched the craft fold in on itself, changing from a black, sphere-like object, to a squared shape, then into a large, disc-shaped craft. It ascended above the tree tops and took up into the clouds. We continued to watch as many as 20-plus sparkling, amber colored lights appear through the clouds exactly where the craft had disappeared. We watched in awe until all the smaller, twinkling lights disappeared."
​
Other featured news generated from UFO Cases of Interest include:
UFO Cases of Interest: 2018 Edition is available at Amazon.com.
Mysterious floating White Orbs spotted in Kansas City sky
Two mysterious white orbs were spotted in the Kansas City sky Thursday night, prompting widespread speculation on their nature. 
"We honestly have no explanation for the floating objects over Kansas City," The National Weather Service tweeted Thursday.
​
While some speculated that the balloon-like objects flying near Kansas City International Airport might have been launched by Google or the Defense Advanced Research Projects Agency (DARPA), others had a slightly more creative explanation: aliens.
​However, KMBC reporter William Joy put most of the extraterrestrial theories to bed, tweeting that a spokesperson from DARPA confirmed that "given the position, it is likely one of their balloons in test flight."
On June 17, DARPA launched three balloons from Cumberland, Maryland, as part of its flight tests for its Adaptable Lighter Than Air (ALTA) program.
​According to DARPA's website, the goal of the ALTA program is to "develop and demonstrate a high altitude lighter-than-air vehicle capable of wind-borne navigation over extended ranges."
​"The balloons can fly at altitudes of more than 75,000 feet. While they do not have independent propulsion, the ALTA vehicle is designed to navigate by changing altitude and thus taking advantage of different wind profiles aloft," DARPA adds.
DARPA is an agency of the US Department of Defense that develops new technologies for use by the military.
Video: The Most Significant Leak About Extraterrestrial Craft Just Went Public
A quote I love to use in many of my articles comes from Apollo 14 astronaut Dr. Edgar Mitchell. He said, "yes there have been crashed craft, and bodies recovered." (source)
The thought that governments and/or rogue agencies around the world have been involved in taking down and even possibly revere engineering possible extraterrestrial craft is nothing new. Available to the public are statements from the highest ranking positions within government and the military, and there are also declassified documents that hint toward the same idea.
For example, former Canadian Defence Minister Paul Hellyer once told the public that the protocol with regards to UFOs was to "shoot first and ask questions after." Dr. David Clarke, an investigative journalist, reader and lecturer at Sheffield Hallam University in England who was also the curator for The National Archives UFO project from 2008–13 uncovered documents showing that the Royal Air Force was desperate to capture one of these UFOs and reverse engineer it. You can see those and read more about it here.
Most Significant Leak?
Check out our video segment on this new leak, or read more below.

More recently, what some are calling the most significant leak in UFO history has been made public – and it may be one of the strongest documents linking UFOs to extraterrestrials.
The document goes into detail about a meeting that was had between Dr. Eric Davis, and Vice Admiral Thomas Ray Wilson. Who is Eric Davis? He is a very well known scientist, and quite the legend. For many years he was a member of the National Institute for Discovery Sciences (NIDS)(Owned by Robert Bigelow), the Chief Science Officer of EarthTech Int'l, Inc. and the Institute for Advanced Studies at Austin in Austin, Texas; and he is the Owner/Chief Executive/Chief Scientist of Warp Drive Metrics who consults and contracts for the Department of Defense. He is also an Adjunct Professor in the Early Universe, Cosmology and Strings Group at the Center for Astrophysics, Space Physics & Engineering Research at Baylor University in Waco, TX.
Admiral Thomas Ray Wilson was the Director of the Defense Intelligence Agency from July 1999 to July 2002, prior to that he was the Director of Intelligence for the Joint Chiefs of Staff.
The document is in the form of notes that were written by Davis after their meeting that took place in 2002, regarding a series of events that took place during the spring of 1997, when Wilson was Deputy Director of Intelligence for the Joint Chiefs of Staff.
Since the leak of this document, there has been no denial publicly by Davis regarding the authenticity of these documents, and the focal point of the document is about a meeting (and what happened after that meeting) that took place in 1997 between UFO researcher Dr. Steven Greer, Admiral Wilson, Dr. Edgar Mitchell (Apollo 14 astronaut) and other high ranking individuals within the military. This meeting was spoken about by Dr. Greer and Dr. Mitchell nearly four years prior to the leak of these documents, so it's all very interesting. In the episode, we actually play footage of Mitchell confirming and talking about this meeting as well as Greer.
The documents point towards a program that involves the crash retrieval of extraterrestrial craft, that are "not made of this earth, not made by man."
You can view the entire document here.
if you missed the video embed above of myself and Joe Martino having a discussion about these documents in detail, you can watch it here.
The Takeaway
"There is a serious possibility that we are being visited and have been visited for many years by people from outer space, from other civilizations." – Lord Admiral Hill-Norton, Former Chief of Defence Staff, 5 Star Admiral of the Royal Navy, Chairman of the NATO Military Committee
The fact that we are not alone has huge implications from science to technology, to history and possible metaphysical/spiritual implications as well. It really opens up Pandora's Box, and it is one out of many examples that are allowing us to see how humanity has been conditioned to think a certain way, limit our reality, despite all of the evidence, that conflicts with long held belief systems.
At the end of the day, the idea that there are other highly advanced, intelligent lifeforms in the universe, or multiverse, and possibly other dimensions that are and have been visiting our planet, and others, for a very long time is most likely just the very tip of the ice-berg.
This is not a new discovery. We have had this type of knowledge of UFOs and ETs for a very long time, culture and elites have simply suppressed this knowing.
Source www.collective-evolution.com
More US Senators Receive Classified Briefing on UFO Sightings
Three more U.S. senators received a classified Pentagon briefing on Wednesday about a series of reported encounters by the Navy with unidentified aircraft, according to congressional and government officials – part of a growing number of requests from members of key oversight committees.
One of them was Sen. Mark Warner (D-Va.), the vice chairman of the Senate Intelligence Committee, whose office confirmed the briefing to POLITICO.
"If naval pilots are running into unexplained interference in the air, that's a safety concern Senator Warner believes we need to get to the bottom of," his spokesperson, Rachel Cohen, said in a statement.
The interest in "unidentified aerial phenomenon" has grown since revelations in late 2017 that the Pentagon had set up a program to study the issue at the request of then-Sen. Harry Reid (D-Nev.). Officials interviewed multiple current and former sailors and aviators who claim to have encountered highly advanced aircraft that appeared to defy the laws of aerodynamics when they intruded on protected military airspace – some of which were captured on video and made public.
The Navy has played a prominent role in light of the testimony of F/A-18 pilots and other personnel operating with the USS Nimitz aircraft carrier battle group off California in 2004 and the USS Theodore Roosevelt in the Atlantic in 2015 and 2016.
The growing congressional interest is credited for playing a major role in the service's recent decision to update the procedures for pilots and other personnel to report such unexplained sightings, which POLITICO first reported in April.
"In response to requests for information from Congressional members and staff, Navy officials have provided a series of briefings by senior Naval Intelligence officials as well as aviators who reported hazards to aviation safety," the service said in a statement to POLITICO at the time.
The Navy had no immediate comment on Wednesday, and few details of the latest secret sessions were available.
They come several days after President Donald Trump told ABC News that he, too, had been briefed on the reports. "I did have one very brief meeting on it," he said. "But people are saying they're seeing UFOs. Do I believe it? Not particularly."
But several current and former officials with direct knowledge describe the Capitol Hill briefing as the latest for members of Congress and their staff representing the Intelligence, Armed Services and Defense Appropriations panels.
"There are people coming out of the woodwork," said one former government official who has participated in some of the meetings.
A current intelligence official added: "More requests for briefings are coming in."
The sessions have been organized by the Navy but have also included staff from the under secretary of Defense for Intelligence, the sources said. Both were not authorized to talk publicly about the briefings.
Advocates for giving the mystery greater attention say they hope Congress will take more formal steps, such as requiring the Department of Defense to collect and complete a detailed analysis of data collected by satellites and other means of unidentified craft intruding into military airspace or operating under the sea.
Bryan Bender
Politico