The Case Against Microwaves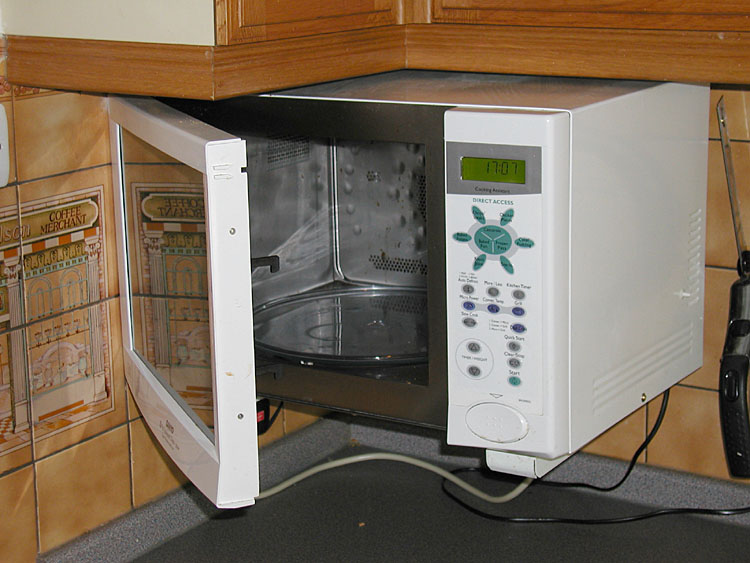 Did the Russians ban microwave ovens following extensive research into their health hazards? Read about that and a host of other reasons why you might want to stop nuking your food at Live Free Live Natural (challenge to disinfonauts: can you find corroborative sources? According to The International Microwave Power Institute it ain't so.):
The Nazis are credited with inventing the first microwave-cooking device to provide mobile food support to their troops during their invasion of the Soviet Union in World War II. These first microwave ovens were experimental. After the war, the US War Department was assigned the task of researching the safety of microwave ovens.

But it was the Russians who really took the bull by the horns.

After the war, the Russians had retrieved some of these microwave ovens and conducted thorough research on their biological effects. Alarmed by what they learned, the Russians banned microwave ovens in 1976, later lifting the ban during Perestroika.

Twenty years of Russian research (and German studies as far back as 1942 in Berlin) make a strong argument against the safety of microwave cooking.

Their findings led the Russian government to issue an international warning about possible biological and environmental damage associated with the use of microwave ovens and other similar frequency electronic devices (e.g. mobile phones).

I was not able to personally evaluate any of these older bodies of research, since those documents are now difficult to track down, so I can't attest to their methodology or conclusions. All you can do is weigh their findings appropriately, as best you can.

The Powerwatch article cited above summarizes the Russian research quite well, which I will duplicate below.

Russian investigators found that carcinogens were formed from the microwaving of nearly all foods tested.
The microwaving of milk and grains converted some of the amino acids into carcinogenic substances.
Microwaving prepared meats caused the formation of the cancer-causing agents d-Nitrosodienthanolamines.
Thawing frozen fruits by microwave converted their glucoside and galactoside fractions into carcinogenic substances.
Extremely short exposure of raw, cooked or frozen vegetables converted their plant alkaloids into carcinogens.
Carcinogenic free radicals were formed in microwaved plants – especially root vegetables.
Structural degradation leading to decreased food value was found to be 60 to 90 percent overall for all foods tested, with significant decreases in bioavailability of B complex vitamins, vitamins C and E, essential minerals, and lipotropics (substances that prevent abnormal accumulation of fat).

I might add that this finding is supported by the 1998 Japanese study by Watanabe about vitamin B12 in milk, cited above…
[continues at at Live Free Live Natural]
Fusion could power spacecraft within 10 years

Image Credit: CC BY-SA 4.0 Cswancmu
The drive is being developed by scientists at Princeton.
A new type of nuclear fusion propulsion system could see spacecraft make it to Saturn in a matter of months.
Often seen as the Holy Grail of power generation, nuclear fusion is the same process that produces energy in the Sun and works by fusing hydrogen nuclei together to create helium.
Harnessing this as a method of power generation however has long proven a challenge.
More recently though, scientists at Princeton have been developing a new type of spacecraft propulsion system that takes advantage of the benefits offered by nuclear fusion energy.
Known as the Direct Fusion Drive (DFD), the ambitious engine fuses helium-3 and deuterium to produce large amounts of energy but with next to no dangerous radioactive waste.
While the new drive is still a work-in-progress, its creators believe that it could fly for the first time by 2028 and that it will be capable of significantly reducing the time it takes to reach distant worlds.
Source: Space.com
Suspected Brain Tumor Turns Out to be a Pork Tapeworm Living in Woman's Head
A woman who thought she had a brain tumor was "relieved" to discover the lump was in fact a parasitic worm.
Rachel Palma knew something was up when she started acting out of character. She would forgot words, and tried to call her dead relatives, ABC 7 reported. The 42-year-old from Middletown, New York, also suffered "horrific nightmares," hallucinations and couldn't sleep, she told Today. When she tried to use her right hand, she would suddenly drop things.
"My episodes were getting more and more bizarre," Palma told Today of her symptoms which emerged in early 2018. "There were days that I didn't know where I was."
After a few trips to the emergency room, doctors performed an MRI scan on Palma which showed there was a marble-sized lesion on the left hemisphere of her brain, which is the dominant side in most right-handed people and controls language and speech.
Palma told Today she and her husband were "both in shock" by the diagnosis.
"I never really allowed myself to think that it was cancer," she said.
In the fall of 2018, surgeons operated on Palma, but were surprised to find what they thought would be a soft tumor was in fact a firm ball. It resembled a quail egg, Mount Sinai Hospital neurosurgeon Dr. Raj Shrivastava told Today.
When they cut it open, they found a baby tapeworm inside.
Dr. Jonathan Rasouli, chief neurosurgery resident at the Icahn School of Medicine at Mount Sinai, New York City, told ABC 7: "We were, like, overjoyed. We were, like, cheering and clapping. We were so happy…When we got in there and saw that it was a tapeworm, we were like, 'YES!' We were so happy!"
Rasouli told Today: "It was one of those rare situations where you see a parasite and you're like, wow this is great!"
Palma's diagnosis changed from a malignant brain tumor to neurocysticercosis: which occurs when the pork tapeworm infects the central nervous system. According to the World Health Organization, the condition is spread when an individual eats under-cooked pork, or other infected foods; drink water containing tapeworm eggs; or because of poor hygiene. Neurocysticercosis is the most common cause of epilepsy in the developing world.
Some people might not need treatment, while others can take medication, or will require surgery to remove the worm.
KASHMIRA GANDER
Newsweek
Studies Show We Can Heal With Sound, Frequency & Vibration
IN BRIEF
The Facts:Multiple studies and examples have shown how sound, frequency and vibration can literally alter physical material matter. Research has also shown that sound, frequencies and vibration can be used as a significant healing method for various ailments.
Reflect On:How plausible would it be for these interventions to become a regular part of therapy, just as much as pharmaceutical drugs are now?
Cymatics is a very interesting topic. It illustrates how sound frequencies move through a particular medium such as water, air, or sand and as a result directly alter physical matter. There are a number of pictures all over the internet as well as youtube videos that demonstrate how matter (particles) adjust to different sounds and different frequencies of sound.
When it comes to ancient knowledge, sound, frequency and vibration have always been perceived as powerful forces that can influence and alter life all the way down to the cellular level. Sound healing methods are often used by Shamans, who employ drums and singing to access trance states. Research has even demonstrated that drumming and singing can can be used to slow fatal brain disease, and it can generate a sense of oneness with the universe . Sound therapy is getting more popular, and it can have many medical applications, especially within the psychological and mental health realms.
Sound, frequency and vibration are used all throughout the animal kingdom, and there are many examples. If we look at the wasp, they use antennal drumming to alter the caste development or phenotype of their larvae. Conventional thinking has held for quite some time that differential nutrition alone can explain why one larvae develops into a non-reproductive worker and one into a reproductive female (gyne).  However, this is not the case, according to a 2011 study:
"But nutrition level alone cannot explain how the first few females to be produced in a colony develop rapidly yet have small body sizes and worker phenotypes. Here, we provide evidence that a mechanical signal biases caste toward a worker phenotype. In Polistes fuscatus, the signal takes the form of antennal drumming (AD), wherein a female trills her antennae synchronously on the rims of nest cells while feeding prey-liquid to larvae. The frequency of AD occurrence is high early in the colony cycle, when larvae destined to become workers are being reared, and low late in the cycle, when gynes are being reared. Subjecting gyne-destined brood to simulated AD-frequency vibrations caused them to emerge as adults with reduced fat stores, a worker trait. This suggests that AD influences the larval developmental trajectory by inhibiting a physiological element that is necessary to trigger diapause, a gyne trait."
This finding indicates that the acoustic signals produced through drumming within certain species carry biologically meaningful information (literally: 'to put form into') that operate epigenetically (i.e. working outside or above the genome to affect gene expression).
Pretty fascinating, isn't it? Like many other ancient lines of thought, this has been backed by modern day scientific research.
Cancer
Another example comes from cancer research. In his Tedx talk, "Shattering Cancer with Resonant Frequencies," Associate Professor and Director of Music at Skidmore College, Anthony Holland, tells the audience that he has a dream. That dream is to see a future where children no longer have to suffer from the effects of toxic cancer drugs or radiation treatment, and today he and his team believe they have found the answer, and that answer is sound. Holland and his team wondered if they could affect a cell by sending a specific electric signal, much like we do with LCD technology. After searching the patent database for a device that could accomplish this, they came across a therapeutic device invented by New Mexico physician Dr. James Bare. The device uses a plasma antenna that pulses on and off, which, as Holland explains, is important because a constant pulse of electricity would produce too much heat and therefore destroy the cell. For the next 15 months, Holland and his team searched for the exact frequency that would directly shatter a living microorganism. The magic number finally came in the form of two inputs, one high frequency and one low. The high frequency had to be exactly eleven times higher than the low, which in music is known as the 11th harmonic. At the 11th harmonic, micro organisms begin to shatter like crystal glass.
After consistently practicing until they became efficient at the procedure, Holland began working with a team of cancer researchers in an attempt to destroy targeted cancer cells. First they looked at pancreatic cancer cells, eventually discovering these cells were specifically vulnerable between 100,000 – 300,000 Hz.
Next they moved onto leukemia cells, and they were able to shatter the leukemia cells before they could divide. But, as Holland explains in his talk, he needed bigger stats in order to make the treatment a viable option for cancer patients.
In repeated and controlled experiments, the frequencies, known as oscillating pulsed electric field (OPEF) technology, killed an average of 25% to 40% of leukemia cells, going as high as 60% in some cases. Furthermore, the intervention even slowed cancer cell growth rates up to 65%.
You can read more about the story, find sources, and watch that TEDx talk here.
Another example occurred in  1981, when biologist Helene Grimal partnered with composer Fabien Maman to study the relationship of sound waves to living cells. For 18 months, the pair worked with the effects of 30-40 decibel sounds on human cells. With a camera mounted on a microscope, the researchers observed uterine cancer cells exposed to different acoustic instruments (guitar, gong, xylophone) as well as the human voice for 20-minute sessions.
They discovered that, when exposed to sound, cancer cells lost structural integrity until they exploded at the 14-minute mark. Far more dramatic was the sound of a human voice — the cells were destroyed at the nine-minute mark.
After this, they decided to work with two women with breast cancer. For one month, both of the women gave three-and-a-half-hours a day to "toning" or singing the scale. Apparently, the woman's tumor became undetectable, and the other woman underwent surgery. Her surgeon reported that her tumor had shrunk dramatically and "dried up." It was removed and the woman had a complete recovery and remission.
These are only a few out of multiple examples that are floating around out there.
Let's not forget about when Royal Rife first identified the human cancer virus using the world's most powerful microscope. After identifying and isolating the virus, he decided to culture it on salted pork. At the time this was a very good method for culturing a virus. He then took the culture and injected it into 400 rats, which, as you might expect, created cancer in all 400 rats very quickly. The next step for Rife was where things took an interesting turn. He later found a frequency of electromagnetic energy that would cause the cancer virus to diminish completely when entered into the energy field.  You can read more about that story here.
More Research
A 2014 study published in the Journal of Huntington's Disease found that two months of drumming intervention in Huntington's patients (considered an irreversible, lethal neurodegenerative disease) resulted in "improvements in executive function and changes in white matter microstructure, notably in the genu of the corpus callosum that connects prefrontal cortices of both hemispheres." The study authors concluded that the pilot study provided novel preliminary evidence that drumming (or related targeted behavioral stimulation) may result in "cognitive enhancement and improvements in callosal white matter microstructure."
A 2011 Finnish study observed that stroke patients who were given access to music as cognitive therapy had improved recovery. Other research has shown that patients suffering from loss of speech due to brain injury or stroke regain it more quickly by learning to sing before trying to speak. The phenomenon of music facilitating healing in the brain after a stroke is called the "Kenny Rogers Effect."
A 2012 study published in Evolutionary Psychology found that active performance of music (singing, dancing and drumming) triggered endorphin release (measured by post-activity increases in pain tolerance), whereas merely listening to music did not. The researchers hypothesized that this may contribute to community bonding in activities involving dance and music-making.
According to a study published by the National Institute of Health, "Music effectively reduces anxiety for medical and surgical patients and often reduces surgical and chronic pain. [Also,] Providing music to caregivers may be a strategy to improve empathy, compassion, and care." In other words, music is not only good for patients, it's good for those who care for them as well.
Below is an interesting interview with Dr. Bruce Lipton. You can view his curriculum vitae here.
The Takeaway
The information presented in this article isn't even the tip of the iceberg when it comes the the medical applications of sound, frequency and vibration, which are all obviously correlated. One thing is clear, however, which is that there are many more methods out there, like the ones discussed in this article, that should be taken more seriously and given more attention from the medical establishment. It seems all mainstream medicine is concerned about is making money and developing medications that don't seem to be representative of our fullest potential to heal. "Alternative" therapies shouldn't be labelled as alternative, they should be incorporated into the norm.