Cars in Space, Cursed Mummy Juice, Ghost Pirate Marriage, and More
Elon Musk launched his Tesla Roadster into space, humanity demanded to drink the mummy juice, Bigfoot's erotic exploits became political, and other 2018 oddities.
If you're reading this, you and I have both somehow managed to survive another difficult year fraught with danger. Kids were eating tide pods. Lettuce tried to wipe out humanity. Cursed mummy juice was unearthed in Egypt, followed by the world's oldest cheese – complete with life-threatening disease.
But it was also a magnificent year for human achievement as we landed InSight on Mars to probe the red planet's core, set out in search of Loch Ness Monster DNA, blessed assault rifles for Jesus, elected a Bigfoot erotica enthusiast – as well as a dead brothel owner – in the midterm elections, and discovered why trying to bring the word of God to uncontacted tribes on forbidden islands is probably a bad idea.
In 2018 we laughed, we cried, we launched a $200,000 car into space just to prove we could.
Here are some of the strangest news stories of the year:
Tesla in Space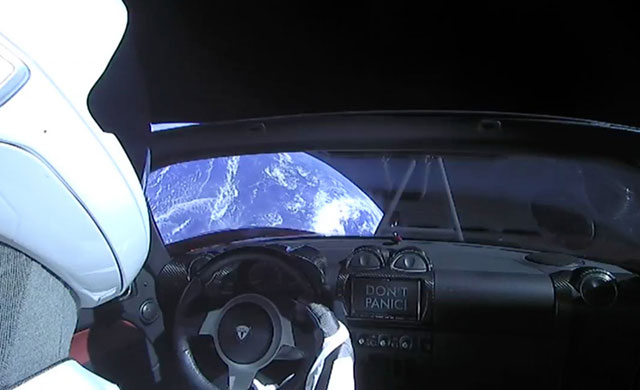 Starman and Elon Musk's Tesla Roadster over Earth
In a stunt to prove SpaceX could deliver large payloads to space, Elon Musk launched his own personal Tesla Roadster aboard the maiden flight of the Falcon Heavy rocket on Feb. 6, 2018. At the wheel was a mannequin in a spacesuit named Starman.
Starman is currently blasting David Bowie's song "Life on Mars?" on loop as he careens through deep space, though as Space.com notes, "Starman cannot hear the famous tune in the airless void."
As a nod to The Hitchhiker's Guide to the Galaxy by Douglas Adams, the Roadster's entertainment display reads, "Don't Panic!" A copy of the book is in the glove compartment. A Hot Wheels Roadster with a miniature Starman is mounted on the dashboard. A message on the car's circuit board reads "Made on Earth by Humans." The car also carries a plaque with the names of everyone who worked on the project, and a copy of Isaac Asimov's Foundation trilogy on a 5D optical disc donated by the Arch Mission Foundation as a proof of concept for high-density long-lasting data storage.

The location of Starman and Elon Musk's Tesla Roadster in Mars' orbit on November 2, 2018
The Roadster reached the orbit of Mars on November 2nd. "Next stop, the restaurant at the end of the universe," SpaceX tweeted.
Starman will eventually loop back around toward Earth on it's heliocentric orbit. According to an orbit-modelling study, he will be within a few hundred thousand kilometers of Earth again in 2091. Within the next few tens of millions of years the car will likely slam into either Venus or Earth, with a 6 percent chance of hitting Earth in the next 1 million years. If it lasts that long.
You can track Starman's location at whereisroadster.com
Months later, however, we learned that while Musk can put a car in space, it seems he couldn't build a useful solution to rescue the soccer team that became trapped in Thailand's Tham Luang cave in July.
More science oddities from 2018:
Jeremy Bentham, who died in 1832, finally came to America.
Bigfoot Erotica Gets Political
Members of the Cult of Weird community are no strangers to the genre of erotic fiction that involves humans copulating with monsters, cryptids, and other mythological creatures. The rest of the world, however, was enlightened earlier this year when Virginia congressional candidate Denver Riggleman released the cover art for his upcoming book The Mating Habits of Bigfoot and Why Women Want Him.
Riggleman proudly shared the cover on his Instagram page, which featured a sketch of a sasquatch with a long black censor bar over his genitalia.
Riggleman's opponent Leslie Cockburn quickly took to Twitter, calling Riggleman a "devotee of Bigfoot erotica" and the headlines gloriously spread like wildfire.
Sadly, it seemed the excitement quickly faded, and was all but forgotten by election day in November.
Until Denver Riggleman won.
That's right, Virginia elected a "devotee of Bigfoot erotica" to congress.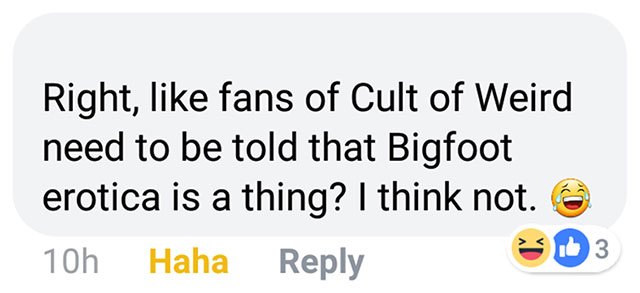 Another hilarious anomaly of the election was the revelation that Dennis Hof, recently deceased owner of the Moonlight Bunny Ranch brothel, was elected in Nevada.
More cryptozoological oddities:
Suspicions that Mark Zuckerberg may be a robot or lizard person were confirmed in 2018 during congressional hearings about Facebook's breach of privacy through third party apps.

Fellow humans, you will now excuse me as I lubricate my organs.
Alien Encounters in Wisconsin
I attended the 30th anniversary gathering of UFO researchers, contactees, and tinfoil hat enthusiasts at a local hotspot residents claim to be the "UFO capital of the world." Here, in the weird backwoods of Wisconsin, strange activity has been recorded for decades around Long Lake and a nearby glacial formation called Dundee Mountain, where some believe a UFO base is housed.
I wrote about that experience right here.
Also, Mark Borchardt (of American Movie fame) made a documentary about it.
Tide Pods and Other Stupid Human Tricks

This is probably my favorite meme of all time. Flat Earth cats is a close second.
Yes, we rang in 2018 with the startling revelation that kids were eating laundry detergent in a viral stunt known as the Tide Pod Challenge. This landed many in the hospital, and there were over apparently 100 calls to Poison Control about it in January 2018 alone.
Thanks to the miracle of the internet, we can sit back and watch natural selection in action.
More stupid human tricks:

Catch all the saints in Follow JC Go
Follow JC Go, A Pope-approved mobile game inspired by Pokemon Go has players searching for Catholic saints.
Killing for Slenderman
Morgan Geyser, one of two Wisconsin girls who attempted to murder their friend for Slenderman during a birthday sleepover party when they were 12 years old, was sentenced to 40 years in a state mental hospital.
More crimes headlines:
Polish funeral parlour Lindner came under fire when they revealed the 2019 editions of their annual calendar of nude women with coffins would also include a male model.
Rare Look Inside Haunted House

Investigators inside the Tallmann house, 1988
In 1988 a local haunted house in Horicon, Wisconsin made international headlines when the Tallmann family fled their home in the middle of the night. The bizarre case of the haunted bunk bed aired that October in a chilling episode of Unsolved Mysteries. The episode was filmed inside the home with permission by the new owners, but the actual bunk bed blamed for the horrific things the family endured had never been seen.
I marked the 30th anniversary of the haunting by sharing recently discovered photos of the bunk bed and other locations where things happened that were taken during a paranormal investigation of the Tallmann house in the weeks after the family abandoned it.
More paranormal news:
I tracked down the grave of John "Babbacombe" Lee, England's notorious "Man They Could Not Hang" who escaped a death sentence for murder and died anonymously in Milwaukee, Wisconsin.
Curse of the Red Mummy Juice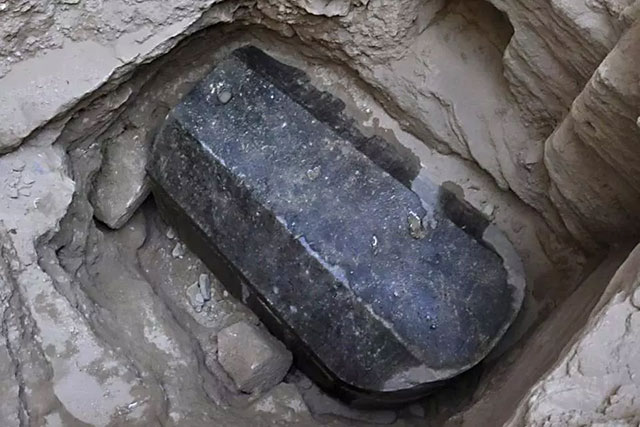 In July a black granite sarcophagus and massive alabaster head were discovered by a construction crew in Alexandria, Egypt. Measuring two meters by three meters and weighing over 30 tons, the sarcophagus is the largest ever discovered in Alexandria. It dates to the early Ptolemaic period – about 323 BCE, leading some to believe it could contain the remains of Alexander the Great. And, of course, it was probably cursed.
Archaeologists opened it anyway.
"The sarcophagus has been opened, but we have not been hit by a curse," Mostafa Waziri, the secretary-general of Egypt's antiquities ministry, told the media.
While there may have been no immediate curse, an foul stench filled the hole when the lid was lifted, causing the the crew to flee while it aired out. Sewer water had been leaking into the sarcophagus, making a rancid red stew of human remains.
When the liquid was drained, the skeletal remains of three individuals were found inside. One of the skulls was found to have fractures caused by a sharp object, indicating they had possibly been soldiers.
Almost immediately after the announcement, someone launched a change.org petition to "let people drink the red liquid from the dark sarcophagus" so they could assume its power. To date it has been signed by almost 35,000 people.
Soon after, the world's oldest cheese was discovered in a 3,200-year-old tomb. It was contaminated with Brucella melitensis, which can cause a nearly fatal disease called brucellosis.
And of course people wanted to eat it.
More archaeological oddities:
Vienna Cemetery Introduces Funeral LEGO Sets
Kids will have a blast assembling a LEGO crematorium, hearse, grave and more now available from the Vienna Funeral Museum.
Lego crematorium oven set available from the Vienna Funeral Museum
Build your own funeral piece by piece with these LEGO kits from Bestattungsmuseum, the Vienna Funeral Museum in Vienna's Central Cemetery. The museum's gift shop and online store recently unveiled custom Lego sets designed to help kids answer the big questions like "What happens to grandpa in a crematorium?"
"Taboos create fears and uncertainties," the Vienna Psychotherapy Association said. "The child feels that something is wrong, and then he is left alone with that."
So to teach kids about death, the museum partnered with a company to produce some gloriously morbid Legos.
"For the small and large undertaker of tomorrow," the description from the Historical Hearse set reads.
Other sets currently available include a WWI-era funeral tram, Lego graveyard with tombstone and excavator, a fourgon used to transport the deceased, a crematorium oven with a casket and urn, a horse-drawn "corpse carriage," a bereaved family with the skeleton of the deceased, and minifigures in mourning.
Lego bereaved family minifigures with the deceased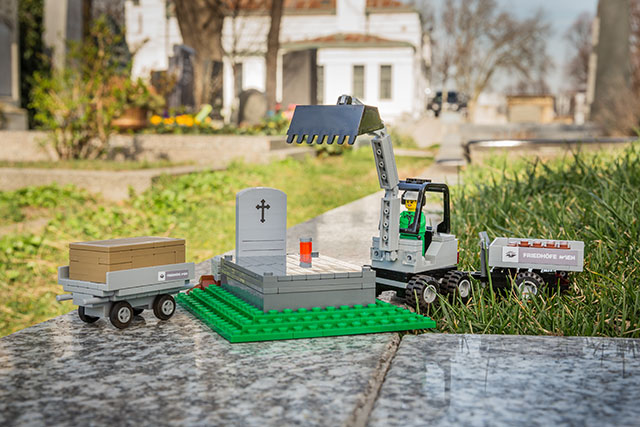 Lego cemetery with casket, gravestone, and excavator for digging your own graves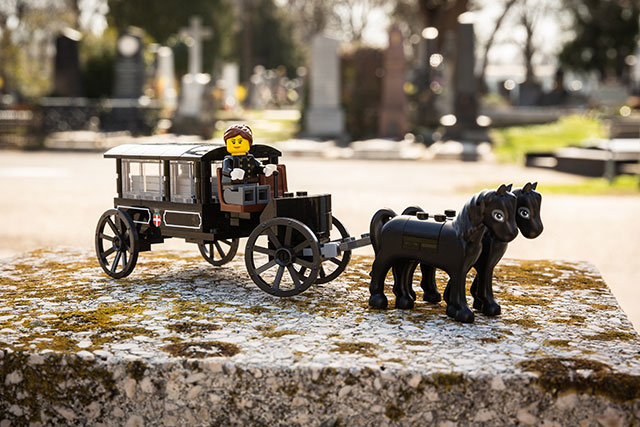 Lego horse-drawn corpse carriage with coffin
WWI-era Vienna funeral tram with 2 coffins and Lego undertaker
Lego hearse
These morbid LEGO sets are available now right here.
Thanks to Dead Sled Brand for putting this on my radar.
THE ROCKWOOD FILES: Read all about a world of weird news
It's not easy to closely follow the national news these days. It can be frustrating and depressing at times. But recently I've found a refreshing option that gives news junkies like me a good dose of information, minus the political circus. It's called strange news.
If you do an Internet search for weird or strange news, you'll find a few different sources. NBC has a collection of it, as does the Huffington Post. But my favorite stash of strange news is compiled by the National Public Radio's website. It's the kind of place where you can read about a rare sighting of the world's largest bee — an insect described as a "flying bulldog" with a tongue that measures more than an inch long. Or you can read about how a group of nearly 3,000 people dressed up like Smurfs and gathered in a town in Germany. They came in hopes of setting a record of the largest gathering of Smurfs. In order to be counted, participants could not show even a sliver of "non-blue skin."
But my favorite strange news topic is about animals because they never fail to entertain. For example, a story about a pigeon named Olive made me realize that all types of parenting — even pigeon parenting — comes with its share of challenges.
According to the story by reporter Vanessa Romo, Olive the pet pigeon went on an outing with her human mother, Marlette, in Phoenix, Arizona. Although she had never done it before, Olive suddenly flew away from home upon returning from the outing. The family was devastated.
But four days later, in a town 10 miles away, a ruffled, hungry Olive was found by a woman who must have known instantly that she was not a run-of-the-mill pigeon. Why? Because Olive was wearing a rhinestone-studded flight suit. (No, really. She was.)
The kind stranger took the bedazzled bird to a nearby bird rescue shelter. The shelter's owner, Jody, said she'd never seen a bird wearing bling before and knew she must be a pampered pet who didn't know how to be a bird in the wild. She also assumed that Olive was most likely a teenage bird. "They kind of rebel at that age," Jody said, "and that's probably why she decided to go off on her big adventure." (Apparently teenage pigeons are just as cocky as their human counterparts.)
With the help of a viral Facebook post, the shelter was able to locate Olive's human family, and mother and pigeon were joyfully reunited. Hopefully, they both learned a valuable lesson. The human learned never to trust a teenage pigeon who thinks she knows it all. And perhaps Olive the rhinestone-studded pigeon learned that the only people putting out a food bowl for her live at home.
Olive's mother replaced the missing rhinestones in Olive's vest with new, even shinier crystals, and she and Olive have done a few television appearances since the bird's homecoming.
Can you see the appeal now of strange news? No horrific natural disasters. No violent shootings. No poisonous politics. Just blingy birds, crazy-big bees and blue people trying to set records. It's Smurf-tastic!
And if Olive the rhinestone-studded rebellious bird isn't strange enough for you, this last one weighs in even weirder. According to a report by Sam Hoisington, a man in India flew to New York last year to have the fingernails on his left-hand cut. He started letting those fingernails grow when he was 14, and he didn't cut them until he was 82.
It took a small circular saw to cut through the nails. The 82-year-old now holds the record for the longest nails on one hand, with a thumbnail that measured 6 ½ feet. The combined length of his nails measured nearly 30 feet (or roughly the length of a London bus, according to Guinness.)
Those fingernails, which are as gnarly and gross as you might imagine, are now on display at a Ripley's Believe It or Not museum in New York City's Times Square. Welcome to the bizarre (but oddly refreshing) world of strange news. Read all about it.
Gwen Rockwood is a syndicated freelance columnist. Her book is available on Amazon.
Mashed potato mystery endures in Mississippi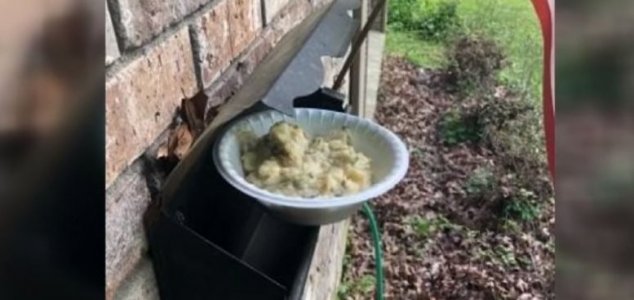 Image Credit: Michaela Lin / WJTV 12 News
Who is responsible for leaving this here ?
An unknown individual has taken to leaving bowls of mashed potatoes around a Jackson neighborhood.
The peculiar enigma has been reported by numerous residents of the city's Belhaven district where Styrofoam bowls of the mashed up tubers have been found on top of mailboxes, on garden walls, balancing on top of cars and in other strange places outside of people's homes.
"I walked outside yesterday morning at 7 a.m. and I got in my car and that's when I noticed a white bowl on my windshield," local resident Jordan Lewis told WLBT-TV.
"It was full of rainwater. I threw it away and I was grossed out by it."
Some residents believe that the stunt may have some connection to Belhaven University.
"So far I have realized some of the 'victims' of the mashed potatoes are actually staff or Belhaven students or alumni," said Michaela Lin. "I feel like there has to be a connection there!"
While the act of leaving mashed potatoes around the neighborhood may seem harmless enough, some locals have raised concerns over the potential for more sinister motives.
"Some people were thinking maybe the mashed potatoes were poisoned to kill animals," local resident Sebastian Bjernegard told WJTV. "I didn't taste it… but some people were worried."
A local news report covering the phenomenon can be viewed below.
Source: Fox News