Cars in Space, Cursed Mummy Juice, Ghost Pirate Marriage, and More
Elon Musk launched his Tesla Roadster into space, humanity demanded to drink the mummy juice, Bigfoot's erotic exploits became political, and other 2018 oddities.
If you're reading this, you and I have both somehow managed to survive another difficult year fraught with danger. Kids were eating tide pods. Lettuce tried to wipe out humanity. Cursed mummy juice was unearthed in Egypt, followed by the world's oldest cheese – complete with life-threatening disease.
But it was also a magnificent year for human achievement as we landed InSight on Mars to probe the red planet's core, set out in search of Loch Ness Monster DNA, blessed assault rifles for Jesus, elected a Bigfoot erotica enthusiast – as well as a dead brothel owner – in the midterm elections, and discovered why trying to bring the word of God to uncontacted tribes on forbidden islands is probably a bad idea.
In 2018 we laughed, we cried, we launched a $200,000 car into space just to prove we could.
Here are some of the strangest news stories of the year:
Tesla in Space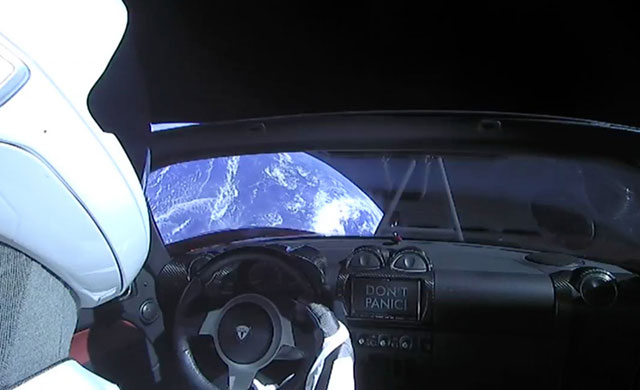 Starman and Elon Musk's Tesla Roadster over Earth
In a stunt to prove SpaceX could deliver large payloads to space, Elon Musk launched his own personal Tesla Roadster aboard the maiden flight of the Falcon Heavy rocket on Feb. 6, 2018. At the wheel was a mannequin in a spacesuit named Starman.
Starman is currently blasting David Bowie's song "Life on Mars?" on loop as he careens through deep space, though as Space.com notes, "Starman cannot hear the famous tune in the airless void."
As a nod to The Hitchhiker's Guide to the Galaxy by Douglas Adams, the Roadster's entertainment display reads, "Don't Panic!" A copy of the book is in the glove compartment. A Hot Wheels Roadster with a miniature Starman is mounted on the dashboard. A message on the car's circuit board reads "Made on Earth by Humans." The car also carries a plaque with the names of everyone who worked on the project, and a copy of Isaac Asimov's Foundation trilogy on a 5D optical disc donated by the Arch Mission Foundation as a proof of concept for high-density long-lasting data storage.

The location of Starman and Elon Musk's Tesla Roadster in Mars' orbit on November 2, 2018
The Roadster reached the orbit of Mars on November 2nd. "Next stop, the restaurant at the end of the universe," SpaceX tweeted.
Starman will eventually loop back around toward Earth on it's heliocentric orbit. According to an orbit-modelling study, he will be within a few hundred thousand kilometers of Earth again in 2091. Within the next few tens of millions of years the car will likely slam into either Venus or Earth, with a 6 percent chance of hitting Earth in the next 1 million years. If it lasts that long.
You can track Starman's location at whereisroadster.com
Months later, however, we learned that while Musk can put a car in space, it seems he couldn't build a useful solution to rescue the soccer team that became trapped in Thailand's Tham Luang cave in July.
More science oddities from 2018:
Jeremy Bentham, who died in 1832, finally came to America.
Bigfoot Erotica Gets Political
Members of the Cult of Weird community are no strangers to the genre of erotic fiction that involves humans copulating with monsters, cryptids, and other mythological creatures. The rest of the world, however, was enlightened earlier this year when Virginia congressional candidate Denver Riggleman released the cover art for his upcoming book The Mating Habits of Bigfoot and Why Women Want Him.
Riggleman proudly shared the cover on his Instagram page, which featured a sketch of a sasquatch with a long black censor bar over his genitalia.
Riggleman's opponent Leslie Cockburn quickly took to Twitter, calling Riggleman a "devotee of Bigfoot erotica" and the headlines gloriously spread like wildfire.
Sadly, it seemed the excitement quickly faded, and was all but forgotten by election day in November.
Until Denver Riggleman won.
That's right, Virginia elected a "devotee of Bigfoot erotica" to congress.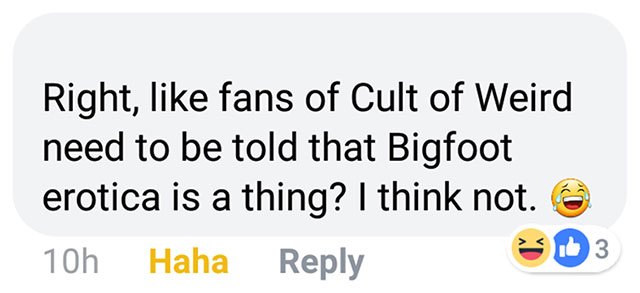 Another hilarious anomaly of the election was the revelation that Dennis Hof, recently deceased owner of the Moonlight Bunny Ranch brothel, was elected in Nevada.
More cryptozoological oddities:
Suspicions that Mark Zuckerberg may be a robot or lizard person were confirmed in 2018 during congressional hearings about Facebook's breach of privacy through third party apps.

Fellow humans, you will now excuse me as I lubricate my organs.
Alien Encounters in Wisconsin
I attended the 30th anniversary gathering of UFO researchers, contactees, and tinfoil hat enthusiasts at a local hotspot residents claim to be the "UFO capital of the world." Here, in the weird backwoods of Wisconsin, strange activity has been recorded for decades around Long Lake and a nearby glacial formation called Dundee Mountain, where some believe a UFO base is housed.
I wrote about that experience right here.
Also, Mark Borchardt (of American Movie fame) made a documentary about it.
Tide Pods and Other Stupid Human Tricks

This is probably my favorite meme of all time. Flat Earth cats is a close second.
Yes, we rang in 2018 with the startling revelation that kids were eating laundry detergent in a viral stunt known as the Tide Pod Challenge. This landed many in the hospital, and there were over apparently 100 calls to Poison Control about it in January 2018 alone.
Thanks to the miracle of the internet, we can sit back and watch natural selection in action.
More stupid human tricks:

Catch all the saints in Follow JC Go
Follow JC Go, A Pope-approved mobile game inspired by Pokemon Go has players searching for Catholic saints.
Killing for Slenderman
Morgan Geyser, one of two Wisconsin girls who attempted to murder their friend for Slenderman during a birthday sleepover party when they were 12 years old, was sentenced to 40 years in a state mental hospital.
More crimes headlines:
Polish funeral parlour Lindner came under fire when they revealed the 2019 editions of their annual calendar of nude women with coffins would also include a male model.
Rare Look Inside Haunted House

Investigators inside the Tallmann house, 1988
In 1988 a local haunted house in Horicon, Wisconsin made international headlines when the Tallmann family fled their home in the middle of the night. The bizarre case of the haunted bunk bed aired that October in a chilling episode of Unsolved Mysteries. The episode was filmed inside the home with permission by the new owners, but the actual bunk bed blamed for the horrific things the family endured had never been seen.
I marked the 30th anniversary of the haunting by sharing recently discovered photos of the bunk bed and other locations where things happened that were taken during a paranormal investigation of the Tallmann house in the weeks after the family abandoned it.
More paranormal news:
I tracked down the grave of John "Babbacombe" Lee, England's notorious "Man They Could Not Hang" who escaped a death sentence for murder and died anonymously in Milwaukee, Wisconsin.
Curse of the Red Mummy Juice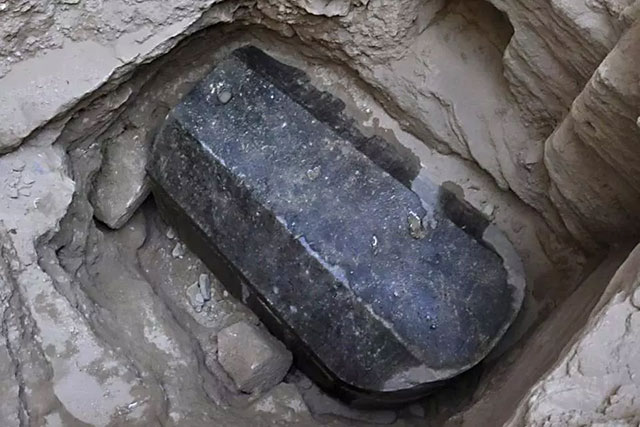 In July a black granite sarcophagus and massive alabaster head were discovered by a construction crew in Alexandria, Egypt. Measuring two meters by three meters and weighing over 30 tons, the sarcophagus is the largest ever discovered in Alexandria. It dates to the early Ptolemaic period – about 323 BCE, leading some to believe it could contain the remains of Alexander the Great. And, of course, it was probably cursed.
Archaeologists opened it anyway.
"The sarcophagus has been opened, but we have not been hit by a curse," Mostafa Waziri, the secretary-general of Egypt's antiquities ministry, told the media.
While there may have been no immediate curse, an foul stench filled the hole when the lid was lifted, causing the the crew to flee while it aired out. Sewer water had been leaking into the sarcophagus, making a rancid red stew of human remains.
When the liquid was drained, the skeletal remains of three individuals were found inside. One of the skulls was found to have fractures caused by a sharp object, indicating they had possibly been soldiers.
Almost immediately after the announcement, someone launched a change.org petition to "let people drink the red liquid from the dark sarcophagus" so they could assume its power. To date it has been signed by almost 35,000 people.
Soon after, the world's oldest cheese was discovered in a 3,200-year-old tomb. It was contaminated with Brucella melitensis, which can cause a nearly fatal disease called brucellosis.
And of course people wanted to eat it.
More archaeological oddities:
The strange story of Jodie Lynn Myers: The Corpse Bride
Forrest Fuller nicknamed the "Groom of Doom" named for the grim plan he set in motion after jealously stabbing Jodie LynnMyers to death in 1994.
He Killed His Girlfriend … And Planned to Make Her His Corpse Bride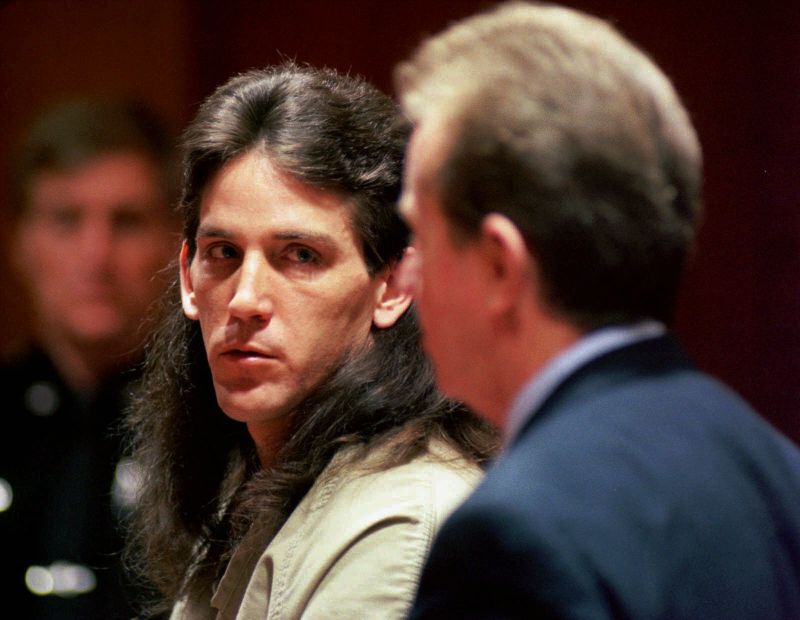 Being a bartender, you get used to hearing strange things. But when the bartender at The Last Stop in Fairmont, West Virginia had a customer tell her that his dead fiancée was in the backseat of his car, she had a feeling she'd probably heard the weirdest thing she ever would. It was Thanksgiving weekend, 1994, and 28-year-old Forrest Fuller had stopped in for a drink.
As word spread through the bar, police were already on their way. They'd been searching the highways ever since a woman named Lilanes Guant, had called local police with her suspicions that her friend, Jodie Lynn Myers, had been killed. The bartender slipped away to call the police to The Last Stop–and so it became Fuller's true last stop.
Police found Myers's body in the backseat of Fuller's 1994 Camaro, and her wedding dress in the trunk. Already disturbed, the police's concern only grew as they questioned Fuller about the death of his fiancée.
Forrest Fuller and Jodie Lynn Myers had had a tumultuous, on-again/off-again relationship. On the night of November 23, 1994, Myers tried to break it off for good. Their relationship had gone on for years with constant up-and-downs, and it was time to leave–she wanted a chance to find love somewhere else. This revelation was too much for Fuller to take. Flying into a jealous rage, he beat Myers. He then attempted to choke her both with his hands and his tie. After that failed, he got a kitchen knife and stabbed the woman to death.
Despite her wish to be free of him, Fuller still wanted Myers to be his wife–dead or alive. He put her body in his car, drove to the convenience store where he worked, and stole nearly $700, Myers's corpse in tow.
On Thanksgiving Day, Fuller secured his dead fiancée in his '94 Chevy Camaro and stuffed her wedding dress into the trunk. He then took off from his Pemberton Township, New Jersey home on a road trip to California where he intended to marry his corpse bride. Fuller only made it as far as West Virginia, where the police stopped his westward journey.
During his macabre wedding adventure, Fuller managed to find a moment to call Jodie Lynn's mother and update her on his plans. He told the woman that he had murdered her daughter and that he still planned to wed the now-deceased Jodie Lynn. Before hanging up, Fuller promised to send Jodie Lynn's mother her own daughter's ring finger, adorned with the wedding ring Fuller would affix before saying "I do."
Word of the murder and Fuller's gruesome plan quickly spread. The tabloids labelled Fuller 'The Groom of Doom', and Jodie Lynn 'The Corpse Bride'. Adding to the shock value of the case, it was revealed after Fuller's arrest that he was already married with a young son. Apparently, his estranged wife had placed a restraining order against him–for reasons that Jodie Lynn didn't find out until it was too late. Fuller's wife attended his trial, along with their 10-year old son.
The sensational case drew headlines in tabloids and major newspapers alike, including The New York Times. In 2016, a Lifetime movie, Nightmare Wedding, sprang up, however the actual storyline appears to be only loosely based on the corpse bride.
Fuller is currently serving a 30-year sentence with no possibility of parole, the result of a 1995 guilty plea. In 2001, he requested a new trial, though that request was later denied.
Featured photo: rawpixel / Unsplash
Read more :The line up
Strange Sounds Recorded Coming from Greenland's Skies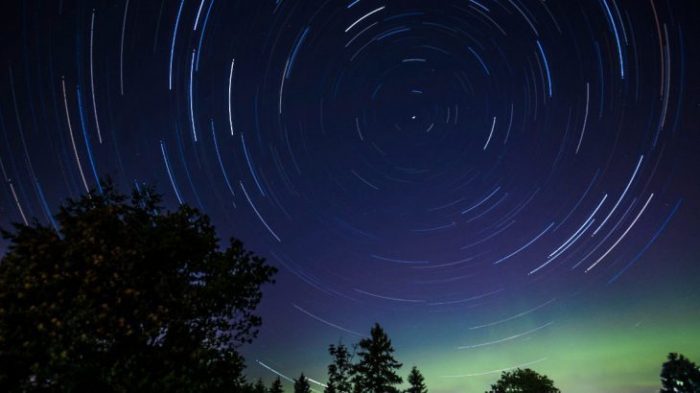 A YouTube user ('Finn Enoksen') shared video clip of strange sounds he recorded that seemed to come from the skies over Greenland on January 4th:
"I hear that strange sound like for 1hour but sometimes it silence for 5 or 10 minute, it little bit hard to heard because that strange sound is not loud."
Creepy Unsolved Murder Mysteries
The boy in the chimney
In 2008, teenager Josh Maddux left the house where he lived with his dad to run an errand. He disappeared, and seven years later, his remains were found in the fetal position, stuffed into the chimney of a nearby historic cabin. His body, devoid of wounds, showed no signs of a struggle. As The Huffington Post reported, "When the teen's skeleton was found, his knees reportedly were above his head and a hand was covering his face."
The strangest details were slowly released to the public in the following weeks. Maddux's had been clothed only in a thermal undershirt, and the rest of his clothes were lying on the floor inside the cabin. Construction workers confirmed that rebar on the chimney's opening meant he would not have been able to climb down, so he must have been trying to climb up.
To make matters worse, an anonymous Reddit post later detailed a rumor that Maddux had been coerced by a friend who went on to become a serial killer.
Hannah Upp's Disappearances
As chronicled in a New Yorker exposé, 23-year-old Pennsylvania resident Hannah Upp has led a life peppered with disappearances. Seemingly without a direct cause, Upp enters a fugue state and disappears off the grid, cutting off communication with her friends and family, and after a while, she's often found near water.
Doctors diagnosed Upp with "a diagnosis of dissociative fugue, a rare condition in which people lose access to their autobiographical memory and personal identity, occasionally adopting a new one, and may abruptly embark on a long journey." She disappeared again last year and her belongings were found near the ocean on St. Thomas — the strangest thing about her case is the fact that her parents seem apathetic, or mystical, even, when asked about their missing daughter by the press.
Kathy Hobbs Predicts Her Own Death
The kidnapping and murder of 16-year-old Kathy Hobbs is so odd that it was featured on an episode of the cult classic series Unsolved Mysteries.
After her death in 1987, Hobbs' parents and friends disclosed that all her life, Hobbs had suffered from "premonitions" that foreshadowed her death at 16. In her teen years, she developed agoraphobia and refused to leave the house, but on her sixteenth birthday she believed the curse had been broken — or, so say her family and friends. Just three months later, she was attacked coming home from buying a paperback novel and murdered with blunt force trauma to the head.
In 1989, a Toledo man named Michael Lee Lockhart was charged and convicted with Hobbs' murder, though Lockhart never confessed. The internet is divided on whether Lockhart actually shot Hobbs, but the real point of contention is the young woman's premonitions. Why was she able to predict a seemingly random act of violence?