Carole Compton Poltergeist:The Nanny They Called A Witch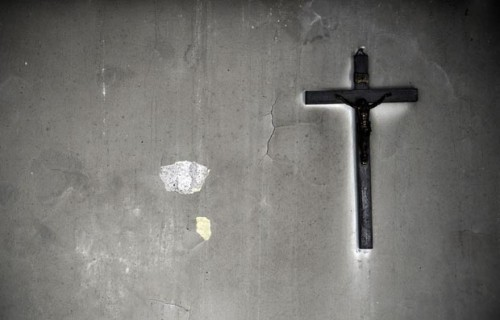 In May of 1982 a series of strange events transpired in three different homes across the city of Rome, Italy. Religious paintings would fall off the walls, objects were being hurled across rooms, and fires would spontaneously ignite whenever the twenty-year-old Carole Compton was near. It wasn't until a small fire consumed three-year-old Agnese's cot that the police were called in to investigate. In what was dubbed the "Nanny they called Witch" trial, Carole Compton would be accused of arson and attempted murder. However, the twenty-year-old nanny insisted that she was a victim of the strange phenomena just as much as they were.
Ricci Family
Rome 1982. Carole Compton went to work for the Ricci family as a live-in nanny. Carole had recently moved to Rome with her boyfriend who was in the military service. She had only been staying in their home for a few days when strange things began happening around Carole. It started when a religious painting fell from the wall when Carole walked past. Soon after this incident, Carole accompanied the Ricci family to their vacation home in the Italian Alps. While there, a mysterious fire broke out on the second floor of the vacation home, spreading quickly and consuming the entire house.
When the Ricci family returned home, unexplained fires began occurring inside their house. When a fire broke out inside their two-year-old's bedroom, they became suspicious of Carole and decided to let her go in fear for their safety.
Tonti Family
By the summer of 1982, Carole was hired by the Tonti family to help with their small children. The family lived in their grandparent's house in the small island of Elba. Once Carole had moved in strange things began occurring in the Tonti's residence. A small fire burned through a mattress and small religious statues were found broken on the floor. Soon after small objects began to break or be hurled around the house, prompting the grandmother to accuse Carole of being a witch.
The tension in the house began to rise as the phenomena increased. When a fire suddenly consumed three-year-old's Agnese's cot, the family quickly called the police and accused Carole of arson and attempted murder. The young Scottish nanny had no idea what was happening around her and claimed her innocence.
Trial
Carole Compton was incarcerated in a prison at Livorno. The Italian justice system allows the accused to be detained even without charge. So when the news began to spread out about the strange fires, so did the rumors of paranormal activity and witchcraft began.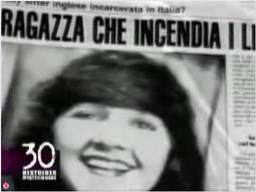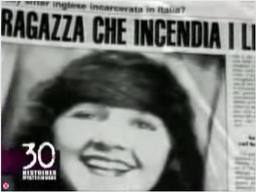 British newspapers ran the headline "The girl they call a witch" and reported on the strange case of Carole Compton, the British nanny who had been detained in Italy and accused of witchcraft. The controversy helped raise some money for Carole's defense as well as bring international attention to Italy's justice system and the obvious 'witch trial' they had on their hands. By this time, Carole's case had garnered so much attention that famous parapsychologists Guy Lyon Playfair (The Enfield Poltergeist) offered to fly to Rome and help Carole fight the charges against her. However Carole wanted to avoid bringing any paranormal explanations to her case. Fearing it would only fuel the rumors of her involvement in the occult. Carole believed that she did not posses any kind of psychic or supernatural powers and that there had to be some rational explanations for the fires.
For Italian police however, the story of Carole Compton was anything but obvious. Throughout interrogations Carole insisted that she had nothing to do with the fires and strange events that seemed to follow her wherever she went. Further complicating things was the fact that no one ever saw Carole break or hurl and object or start a single fire she had been accused of. Several forensic experts testified in front of others about the abnormal nature of the fires but in the end it seemed like the international pressure this brought onto the Italian justice system was enough to get a trial going. On December of 1983, Carole was brought to trial after being detained for sixteen months in prison. The court system and those involved were so afraid of her supernatural claims that they order her to be put inside a steel cage during the hearing of the trial.
Carole Compton was found innocent of attempted murder but guilty of two counts of arson. Carole received a sentence of two and a half years imprisonment, of which was suspended immediately on account of her sixteen months already served.
Aftermath
Soon after being released from prison Carole Compton left Italy and avoided any kind of media attention until 1990 when she published a book regarding her ordeal. Superstition: The True Story of The Nanny They Called A Witch was published and garnered very little interest from the public. In it, Carole makes the case that she might have been a victim of a poltergeist attack.
Carole is now married and resides in West Yorkshire, England.
What really happened to Carole?
Carole Compton's case is riddled with rumors, mass hysteria, and claims of paranormal activity. For many, this was a clear case of a young woman suffering from Münchausen syndrome by proxy.
In Münchausen syndrome by proxy, an adult caregiver either makes a child appear sick by fabricating symptoms, or actually causes harm to the child, in order to gain the attention of medical providers and others. In order to perpetuate the medical relationship, the caregiver systematically misrepresents symptoms, fabricates signs, manipulates laboratory tests, or even purposely harms the child (e.g. by poisoning, suffocation, infection, physical injury). Studies have shown a mortality rate of between 6% and 10% of MSbP victims, making it perhaps the most lethal form of child abuse. –Wikipedia
But what about the witnesses? Those who accused her of witchcraft and starting the fires deliberately also confessed not seeing Carole near the fires when they started. The same went for the unexplained objects breaking or being tossed about. So then, was Compton's case a case of an attention-seeking nanny? Or a bonafide poltergeist?
At the start of the strange incidents, Carole had been separated from her lover on account that he had gone off for Military service. Hence the reason why she moved into the homes of the families she babysat for. In addition to being separated from her Italian boyfriend, Carole was a stranger in a new land. Could the stress of living alone in a different country and away from her lover be enough to induce a psychotic break in Carole's life?
Parapsychologists believe in the human brain's ability to influence the physical world around it. This is known as Psychokinesis.
Parapsychologists Guy Lyon Playfair, made famous by his research into the Enfield Poltergeist case was genuinely interested in the Compton case. However she did not want to attract anymore unwanted attention to the supernatural aspect of her case, and chose to ignore Playfair's offer of legal help. We're left to wonder what really happened to Carole Compton in Rome during that year in 1982.
As was the case with many other famous poltergeist cases (Tina Resch, Doris Bither, Jackie Hernandez, and Esther Cox amongst many) the accused has at one point suffered from extreme psychological trauma. In this case, we don't know enough about Carole Compton to say with certainty that she suffered from a severe case of Post Traumatic Stress Disorder (PTSD) in her earlier life, but her time in Rome did prove to be anything but a walk in a park.
Ghostbusters Star Dan Aykroyd's Roots in Real Life Ghost Hunting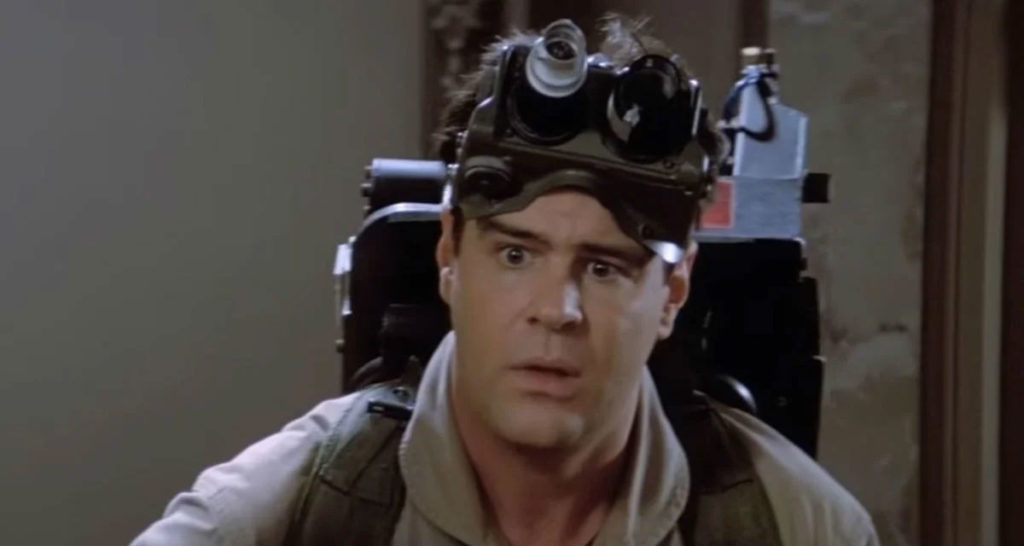 When Dan Aykroyd wrote the original Ghostbusters film, he was drawing from a rich family history of spiritualism and the paranormal.

Dan Akyroyd in Ghostbusters (1984)
For those of us who grew up in the 80s, the 1984 Ghostbusters film was probably one of our earliest introductions to the occult, inspiring a lifetime of obsession with all things paranormal. Sure, I was disappointed when I learned Tobin's Spirit Guide wasn't real, but my hope was renewed when I discovered real occult texts.
And of course Ecto-1, a 1959 Cadillac combination car built by the Miller-Meteor company, kick-started a love for creepy cars and all things hearse-shaped.

Ecto-1 goes for a spin in the trailer for Ghostbusters: Afterlife
Do you believe in UFOs, astral projections, mental telepathy, ESP, clairvoyance, spirit photography, telekinetic movement, full trance mediums, the Loch Ness monster and the theory of Atlantis?
I grew up reading about these topics. My mother passed down to me a rabid interest in the unexplained. But since I was 3 when Ghostbusters hit theaters, it was surely my earliest introduction to fortean subject matter.
Dan Aykroyd, who portrayed Ray Stantz and co-wrote the original Ghostbusters film, is a 4th-generation ghost hunter with a lifelong interest in the paranormal. He still lives on the family farm in Ontario where his great-grandfather Samuel Augustus Aykroyd used to conduct seances.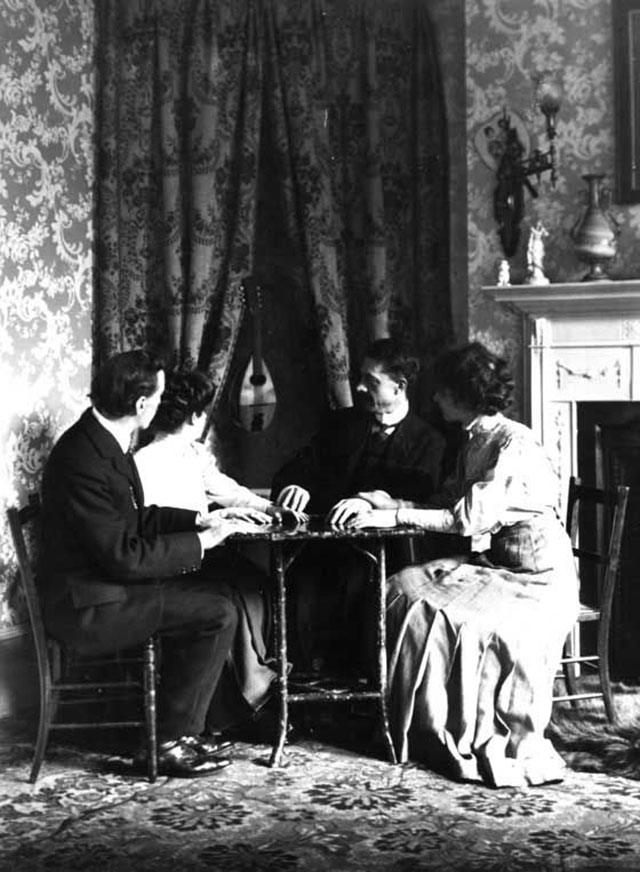 "My mother speaks about a time when she was nursing me and an old couple came to the end of the bed," Aykroyd told The Telegraph in 2012. "The image faded away. She pulled out an album and saw that it was my great grandfather Sam and Jenny, his wife, coming to approve the new child."
In an interview with the late John Belushi, Belushi said he and Aykroyd would visit the farmhouse, turn off the lights, and wait for the spirit of Aykroyd's grandfather to appear.
"I am a Spiritualist, a proud wearer of the Spiritualist badge," Aykroyd said in a 2009 issue of Psychic News. "Mediums and psychic research have gone on for many, many years. Loads of people have seen spirits, heard a voice or felt the cold temperature. I believe that they are between here and there, that they exist between the fourth and fifth dimension, and that they visit us frequently."
Watch the first trailer for Ghostbusters: Afterlife, the upcoming sequel to the original Ghostbusters films:
Paranormal Experience: Cradle of Evil
Anomalien.com reader S. (wanted to stay anonymous) shares her story about an encounter with the unexplainable.
The town where I was born is a cradle of evil. I'm sure of it. I've felt it, I've seen things there that just don't happen in real life, only in the movies.
I don't live there now, I got out as soon as I could, but I feel it's pull, I feel it when I go to visit my mom, that angry heavy feeling in the air. It's the only town in the world that gives me goosebumps as soon as I hit the city limits, and I've even been to San Fransisco.
The stories I could tell would fill up this website for years, but for now I'll begin with eight words that start out every ghost story in my hometown.
One night, out at Fort Phantom Hill Lake…
My brother and I were sitting in the cab of my girlfriend's truck. I remember it like I was there just last night. I was wedged between another girl and Cody, smoking a cigarette. My girlfriend and two other girls were in the bed, covered by a blanket to battle the lake-chilled night air.
The girls were laughing and whispering, my brother and I had the back window open so we could still chat with them. The girls didn't seem to want to talk too loud, almost like laughing out into the dark would wake something up. I turned. "What are you girls talking about back there?"
"There's a guy sitting on the back of his car by the water," Rachel answered with a puff of menthol cigarette smoke. "He's been there since we pulled up."
The back of the truck was facing the water. My brother hated watching Lake. Ever since he saw the Lady of the Lake (our own weeping woman, though that's a story for later) Cody hasn't been too fond of Fort Phantom.
He still drove out there whenever we wanted to go, but he was always uncomfortable. That night though he seemed to be in good spirits. So was I. I climbed into the back of the truck, using the window so I wouldn't have to crawl over anyone, and snuggled beside my girl to look down at the other lake-watcher. "What's he doing down there?" I wondered, and Rachel shrugged.
Cody chuckled, glancing back at us over his shoulder. "Maybe he's lonely. How about we offer to let him join the party back at the house?" He said, tapping the brakes to flash our brake-lights in the universal 'follow us' signal.
I laughed. "No way, dude, that's crazy." I said and Cody grinned.
"Oh, come on, where's your sense of adventure?" He dared, tapping the brakes again and making the brake-lights flare a couple more times. My girlfriend nudged me, hard.
"Look!" She whispered fiercely, staring down at the shoreline with wide eyes. I looked. The guy below had opened his trunk and pulled something long out of the open hatch.
-This is Texas.- I thought. -That could be a baseball bat, a shotgun, or a machete.-
"Dude, chill out Bro, I think he just pulled something out of his trunk." I whispered loudly to Cody without turning my head. I couldn't take my eyes off of the guy below, who was currently shutting the trunk of his smaller car. Looked like a volvo or a Nova, something sporty.
I watched him walk around towards the front of the car, slowly, then suddenly the brake-lights of the truck flashed again. "Dammit, Cody, I told you to chill out!" I growled, my head whipping around. Cody was flustered.
"I know, it was an accident!" He yipped, and I knew he was afraid. I was getting scared too. I was still looking back at him when I heard the car door below slam. Rachel held her breath. I just slowly turned to look down at the shore. The guy was just sitting in the car, like he was daring us to flash the lights again.
"Cody," I began quietly, as steady as I could. I moved towards the tailgate a bit so that Rachel and the two girls could hold on a bit better. "Get us the hell out of here." I finally said, a bit too loud maybe. Cody started the truck with no trouble.
The car below and its driver didn't move. I let out my breath, thinking it was just some jerk trying to scare us and that he wasn't going to do anything after all. Then Cody hit the brakes to shift from 'park' into 'drive.'
I wasn't looking at the car below, I was too concentrated on sitting with my back against the tailgate, holding the side in the common 'texas back-end seatbelt' position. Seconds after our brakes flashed, there was a roar.
It sounded like machine and beast made one, like something was howling at us. Cody's head snapped around to look behind him, his eyes wide and I got chills. "GO!" I yelled, just as the car came roaring up the side of the shoreline. It was steep there, no sporty little thing should have been able to do that in mere seconds, but it did.
The car was on us quicker than it should have been, and I felt my teeth rattle as the truck lurched forward, spewing gravel and dust. I held on for dear life as we cleared Johnson Park, swerving wildly onto the side road, over the dam, and deep into the dark belly of Fort Phantom Hill.
The back roads there are pitch black at midnight, and the dark seems to swallow you whole, no matter how bright your headlights are. We pitched onto the dirt roads, speeding down them without really knowing where we were going.
I was blinded by the headlights of the car behind us, deaf from the sound of the beast-engine and the rattle of gravel on the undercarriage of the truck. Cody yelled, and only as he took a sharp left turn did I realize what he'd yelled. "Hang on!" My hand clamped down just in time to keep me from pitching over the side of the truck-bed, and I had to yank to keep steady.
When I looked up I saw the driver of the other car, just for an instant. His eyes were dark and sunken in, his skin looked gray in the light, and his lips were stretched in this ugly grin. Next thing I knew the truck tipped again and I lurched to the other side of the truckbed, my chest banging against the opposite side.
Rachel yelled, sobbing but when I looked up there was no car anymore. Just a trail of dust. I let out my breath, rubbing my chest. "Damn! Good job, bro!" I had to yell, but, man I felt good. My head wasn't splattered across that guy's Nova, so my night was going peachy keen so far.
As we made our way back to the main road, which only took about 5 minutes, we all laughed and talked about how we'd "smoked that guy" and what a great driver Cody was to get that truck to move like that. 5 minutes to find the main road seemed to make us cocky enough to think we could go back to lake-watching.
"Let's go back!" Rachel laughed. "There's no way he's back by now and I came out here to have a good time dammit!" She giggled and I laughed too. Mind you, Rachel is not my girlfriend anymore.
So we went back. Talk about the stupidest thing we could have possibly done.
We cruised up to the park and pulled in, looking around to make sure that we were alone. We pulled up to the shoreline, looked around and I laughed. "Yep, looks like we lost him." I said, then just after I said it I heard the engine. Cody cussed and I looked around wildly, feeling sweat slide between my shoulders. "Where the hell is it?!" I yelled.
I heard Cody cuss again as he put the truck in drive. "Screw this! We're going!" He hit the gas and we sped towards the exit. We were halfway there when headlights hit us, and I saw the car come from out of the trees and brush of one of the lake's trail paths. It roared after us, right on our tail, and out onto the main road. We didn't stand a chance.
It only seemed like we'd pissed him off. I looked back and all I could see through the window of the sports car was two gray hands clutching the steering wheel so hard the knuckles were white, and the cuffs of a high school letter jacket. Everyone was screaming, even me.
I could hear the bumpers scraping, and it made my teeth shiver. I remember yelling stop, then there was a flash of red, a hard bump that threw me forward onto Carol and Rachel, then screeching tires.
We were still moving when I looked back and saw the car do a U-turn and peel out back towards the lake. On the back window I saw numbers separated by a dash. 37-1. What the hell? I still don't know for sure what it means.
I scrabbled to the window and put my head through it to look at my brother who was white like ashes, with both hands clutching the wheel. "What the hell did you do to make him stop!?" I yelled, still half-panicked.
He barely looked at me, his eyes were wide with terror. "I tapped the brakes." He replied in a trembling voice and I sat back, staring at him for a minute.
When we got back to town the panic had worn off, and we skidded to a halt outside of the Denny's. That Denny's is the last bit of civilization you see on the way to Fort Phantom Hill, and it's also the first haven you have upon leaving it. "What the hell did you mean 'I tapped the brakes'?" I asked Cody, who was shaking as he lit a cigarette.
"I remembered that if you're playing chicken with someone then someone has to back off and give over the road before the other stops. I don't know why but I just felt like he was playing chicken with us." He replied and I shook my head, not buying it. Then I thought about it. Why not? This was Texas after all, crazy stuff happened.
Then Rachel got mad. "That's not funny! He scared the crap out of us and Sam almost got killed! We should go back and beat his ass!"
I shook my head some more, stealing a drag from my bro. "No, let's just leave it alone. Frankly, I don't want to mess with someone who was grinning like that when I almost plastered my face onto his hood."
We argued about it for an hour. In the end I lost, and we went back…again. -Stupid, stupid, stupid.- I kept thinking. I was shaking and scared that we'd have to play chicken all over again.
I was wrong.
When we got there, we didn't have to look long to find the sporty little Nova that nearly creamed me. It was parked on the same path it had roared out of before, only this time, there was grass in the tires, one of the tires was flat, the windshield was cracked and there was long soft grass that stood not only around the tires, but nearly up to the grill.
The thing was coated in dirt, when just a little while ago it looked shiny and new, and even creepier, there wasn't anyone in the car or the park. In fact, just us idiots were out at Fort Phantom Hill that night, and that car didn't look like it had moved for years. So the question is:
Phantom Car, or crazy chicken game? You know what I think.
Cradle of evil strikes again.
S.
'Paranormal Activity' Filmed by Beauty Vlogger
YouTuber Daisy Marquez had been filming a promotional piece when something unexpected happened.
The 22-year-old self-taught makeup artist, who is no stranger to paranormal experiences, had been filming a sponsorship video for an e.l.f skincare set when the door behind her mysteriously creaked open on its own, hitting her on the back of the head and leaving her visibly unnerved.
In the footage, which has so far been viewed over 2.8 million times on Twitter, Marquez can be seen staring wide-eyed upon the realization that the door had opened by itself.
Speechless, she spends the next minute contemplating what just happened.
While a door opening isn't the most convincing evidence of the paranormal on its own, Marquez also reported that earlier that day she had been 'pushed' down the stairs by an unseen force.
"I'm trying to put two and two together and I find it so weird that I fell down the stairs earlier today," she wrote. "I didn't trip, I wasn't on my phone I legit just fell down the stairs as if something pushed me."

"I find it so bizarre and scary now that this just happened."
She had also previously moved house following strange activity at her former residence.
You can check out the video for yourself below.
I was in the middle of filming a sponsorship and this just happened… pic.twitter.com/EPZ9Xpkaao

— Daisy Marquez (@daisymarquez_) 26 November 2019