Captain Dick Stevenson, Inventor of the Yukon's Legendary Sourtoe Cocktail, Has Died
The inventor of the Sourtoe Cocktail willed his own toes to the Downtown Hotel for use in future drinks, and instructed his daughter how to remove and preserve them.

Captain Dick Stevenson, inventor of the Sourtoe Cocktail
According to Dick Stevenson, he found the first toe in a cabin he bought in Dawson City in the early 1970s. It turned up in a pickle jar while Stevenson was cleaning out the cabin. A dried up human toe in a jar, frostbitten, supposedly cut off a prospector decades earlier.
Naturally, Stevenson thought it should go in a drink, and that's how the Sourtoe Cocktail was born.
The mummified toe was placed in a beer glass full of champagne for those brave enough to accept the challenge. But to join the exclusive Sourtoe Cocktail Club at the Downtown Hotel, there is one rule: "You can drink it fast, you can drink it slow, but your lips must touch the toe."
"I thought maybe only 10 or 12 people would ever do it," Stevenson said in a 2017 interview.
But now, 50 years later, the club is 90,000 members strong and growing.

The Sourtoe Cocktail
"As a young man, he hitchhiked his way across Canada, working on cattle ranches and in logging and mining camps," Canada's CBC writes. "In 1956, he thumbed his way to Yukon and found a home in the Klondike. He worked as a fish warden in Dawson City for a while, but then became Captain Dick when he bought a boat and began offering tours on the Yukon River. He did that until his retirement."
"Captain Dick was a true colorful five-percenter who changed Dawson's brand," Visit Dawson City tweeted. "His legacy is cemented with the Sourtoe Cocktail, but we'll always remember him for his undying love of Dawson City. Thanks for everything Dick, we'll toest one for you tonight."
Captain Dick was a true colorful five-percenter who changed Dawson's brand. His legacy is cemented with the Sourtoe Cocktail, but we'll always remember him for his undying love of Dawson City. Thanks for everything Dick, we'll toest one for you tonight.
Photo: Stories North https://t.co/xKM61MJeMi pic.twitter.com/wzq6LKraqh

— Visit Dawson City (@DawsonCityYukon) November 15, 2019
Over the years, the Downtown Hotel has accepted more than 10 amputated toe donations to help replace those that have been swallowed or stolen. And now, Stevenson's own big toes will join the collection.
"I'm pretty sure I'm the only daughter in history that has to, following my dad's will, make sure that his toes are removed and dried and make it up to Dawson City," Stevenson's daughter Dixie said. "He kept telling me how I'm supposed to dry his toes. So one day I said, 'Dad, you have to come so I can type this out, because I'm not going to remember it."
On her way to pick up containers and pickling salt for her father's toes, Dixie added, "So as morbid as that sounds, this is what I'll be doing for the next few weeks."

One of the preserved human toes used in the Sourtoe Cocktail
Stevenson, surely an honorary member of the Cult of Weird, spent his final years in the Macauley Lodge Retirement Home with a briefcase. Inside, he kept a leather-bound registry of Sourtoe club members and a small collection of dried human toes.
Mysterious lights in the sky scared the people of China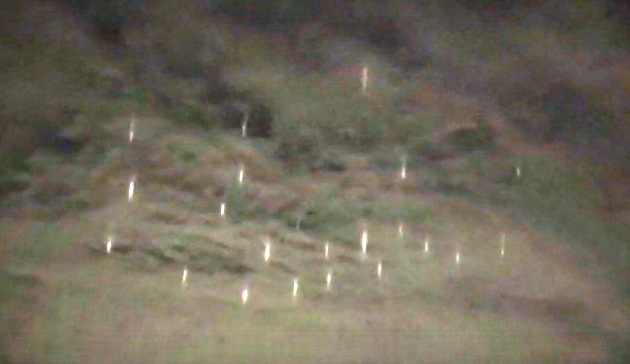 The night sky over Matsu and Jinmen surprised the locals, many people photographed the sky and clouds, where unusual light spots shone brightly.
In Chinese and Taiwanese social networks, this event became so "viral" that the authorities even had to broadcast a story in which, with reference to meteorologists, this phenomenon was explained by the effect of "light pillars".
True, meteorologists did not bother to clarify how this phenomenon appeared in the subtropics. Indeed, there is such a phenomenon, but these "pillars" look like a vertical luminous strip and, most importantly, this optical effect occurs at sub-zero temperatures.
Jinmenquandao are islands in the western part of the Taiwan Strait, ruled by the Republic of China. Geographically located close to the coast of Fujian province of the People's Republic of China, east of Xiamen city and south of Quanzhou city of Fujian province of China.
The Matsu Islands is an archipelago in the northern part of the Taiwan Strait, ruled by the Republic of China, near the coast of Fujian province.
This phenomenon was observed at 1:15 am on August 9, 2020. In the night sky of Dongju, Lianjiang County, a thin cloud floated, and at least 12 to 21 luminous points appeared in it.
Noah's Ark or Nazi ship: a mysterious "ship" discovered off the coast of Antarctica
One of the users of Google Earth examined in the images a huge "ice ship", which lies not far from the coast of Antarctica. The huge ice structure south of New Zealand strikingly resembles a cruise ship with a row of windows and many chimneys.
The "ice ship" was noticed by a video blogger registered on YouTube under the nickname MrMBB333, who describes himself as the guardian of the Earth.
"I follow [on Google Earth] everything from the seabed to space and everything in between," MrMBB333 says about himself.
In one of his latest videos, the author highlighted the part of the snow-covered Antarctica, in which, in his opinion, he found the ship. According to him, the vessel is about 130 meters long.
If you do not look closely, then we can assume that this is a huge iceberg, but if you examine the find in more detail, then there is absolutely no doubt that this is a real ship that was built on purpose.
Users in the comments under the video, which MrMBB333 posted on his channel on August 7, continue to argue where such a large ship could have come from in Antarctica. One user suggested that the ship was built a few years ago to save rich people in the event of the end of the world. Others leaned towards the shipwreck version. Another part believed that the YouTuber managed to find the mysterious Noah's Ark. Also, the widespread version was that the ship had some direct relation to a secret Nazi military base.
At the moment there is no information about what kind of ship it actually is. In order to lift it off the ice and transport it for further study, it will take a lot of resources, and it is not possible to do this now.
Earlier in the same video, MrMBB333 shows another piece of ice in Antarctica, which he claims has wall marks and parking spaces. In the comments to the video, users either jokingly or seriously build conspiracy theories about the origin of the ship.
Various versions are being put forward: from a secret Nazi base to traces of an ancient civilization.
53-year-old looking 25 reveals the secret of "eternal youth"
Edson Brandao from the Netherlands told Unilad how at 53 he manages to look several decades younger."People are always shocked when they find out that I'm 53 years old. They all think I'm 25," he admits.
Brandao claims that he never resorted to the help of plastic surgeons, and his appearance is the result of a healthy lifestyle.
He adheres to a special diet: he does not eat fried and canned food, and also avoids sugar.
The man combines all this with strength training. He prefers mineral water from drinks, drinking about two liters daily.
Brandao also stresses that he has never smoked or used drugs in his life.
"Now I feel no worse than when I was not even 30," he says. – I feel the same energy as before. To be honest, I've never felt so good." he says.