This Is How Cannabis Affects Your Body – Depending On How It's Ingested [Infographic]
By Amanda Froelich | True Activist
Have you heard? The U.S. Cancer Institute now lists cannabidiol (CBD) oil as a potential cure for cancer. Additionally, it is well validated that the oil – comprised of compounds found in the cannabis plant – can help alleviate seizures in kids in adults.
However, one won't experience these benefits when they smoke cannabis. As Collective Evolution points out, smoking alters the plant molecules. When cannabis is heated and burns, its chemical structure and the acidity of the THC both change. In result, the plant's therapeutic value decreases.
Similar to smoking cigarettes, inhaling smoke from marijuana can be toxic to the body. It's worth pointing out, however, that marijuana does help decrease levels of anxiety, depression, and stress. In fact, marijuana has proven to be a beneficial aid for veterans (as well as individuals who have suffered trauma) to combat PTSD.
There's a lot to learn about cannabis and how one's body is affected when it is consumed in various ways. The following Infographic offers clarity on this topic and more:
Tesla Long-Lost Drawings Reveal Genius Map For Multiplication
Some important documents have been uncovered by Abe Zucca, an artist from Arizona. The documents uncovered include an original Nikola Tesla map to multiplication which is said to contain answers to questions mathematicians have been trying to solve for years. Among the documents, there are also drawings of handheld technological devices and manuscripts detailing free-energy systems.
Map To Multiplication Discovered
Joey Grether, a high school teacher, examined the documents and said of the Map of Multiplication, that it, "offers a comprehensive visual understanding of how all numbers are self-organized into 12 positions of compostability." He continued to say, "This breakthrough is phenomenal. If we could get students all over the globe to use this technique, to play with it, and help figure out how to use it, we could overcome our cultural aversion to Mathematics. Instead of memorizing the multiplication table, we could learn the positions of numbers and have a better understanding of how they work."
All numbers work together based on a pattern of twelve numbers also known as 12x or multiples of twelve. There are twelve months in the year, twelve hours on the clock (and twenty-four in a day) and twelve inches in a foot. Twelve is thought to be the most highly recognised composite system with all it's multiples being divisible by 2, 3, 4 and 6. With a chance of four in twelve numbers being prime, this is another key reason for twelve being an important number.
Numbers, according to this diagram, organise themselves into the pattern of 3, 6, 9 and 12 repeating the sequence, and a quote by Tesla which said, "If you only knew the magnificence of the 3, 6 and 9, then you would have the key to the universe, "suggests that this is vital to solving many of the problems mathematicians have long been trying to uncover.
Musk Admits Automation At Tesla Factory Was a Bad Idea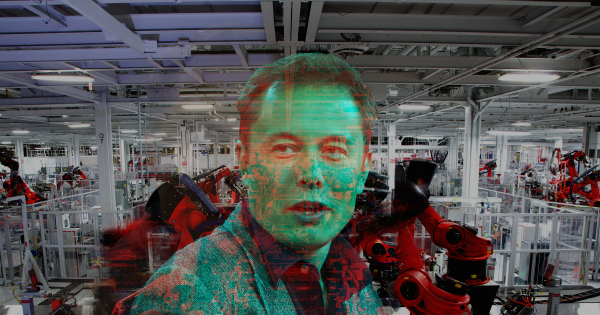 Elon Musk is under a lot of pressure right now – Model 3 production over at the Tesla factory isn't exactly going according to plan. First, Q1 numbers looked grim: less than 10,000 Model 3s rolled off the assembly line — a far shot from his promise of producing 5,000 Model 3s a week. And then there's the other distraction: Tesla's big fight with the feds over releasing data it has on a fatal Model X crash back in March.
Elon has a lot of damage control ahead of him, and of course, a growing number of impatient customers and investors.
So where's the fire, Elon? Is Tesla's Gigafactory not up to the task? In a head-turning interview with CBS Good Morning, he claimed: it's the dang robots.
Yes, excessive automation at Tesla was a mistake. To be precise, my mistake. Humans are underrated.

— Elon Musk (@elonmusk) April 13, 2018
Tesla has increasingly relied on streamlining its assembly process, and has ended up with one of the most robotics-reliant car production lines in the world. As more robots rolled out on to the factory floor, fewer humans were involved — and they're hurting, spurned on by Musk's ambitious goals.
The plan: a robotic car-building factory operating at superhuman speeds. But the numbers seem to suggest that Tesla isn't even close. Who knew that building a $35,000 EV was complicated?
Tesla's growing pains are more apparent than ever. Musk admits he even sleeps inside a conference room, wearing his little Tesla-logo-adorned baseball cap, at the company's Fremont factory. "It's terrible, it's not even a comfortable couch," he admits to the CBS reporter. It's an odd attempt to send a message to the world (and shareholders): See, he cares after all! He's just like us!
Humans are truly underrated, Elon. But they have their limits, too.
Uber's CEO Knows We Need Equality To Move The World Forward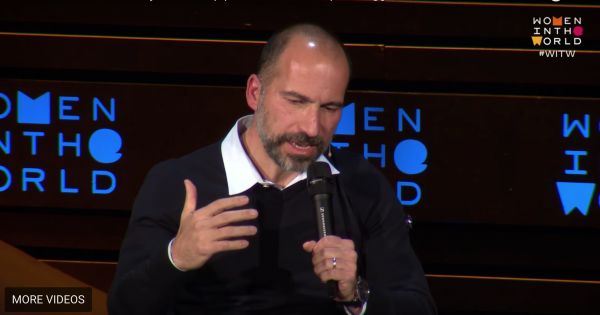 Shortly after taking the helm as CEO of Uber, Dara Khosrowshahi read the now-infamous report on the beleaguered company's culture, it was bad. Real bad. He had to take breaks, he admitted in an on-stage interview with legendary journalist Tina Brown yesterday at the Women in the World conference in New York City.
Uber has had to do a bit of soul-searching in the past year or so. There was the viral blog post from female engineer Susan Fowler that revealed the company's toxic culture of serial harassment, eventually leading to the ousting Khosrowshahi's predecessor Travis Kalanick. There was a massive data breach that came to light more than a year after it happened, and the lawsuit against self-driving car company Waymo. And most recently, an autonomous vehicle killed a pedestrian in Arizona. All this has been, understandably, bad for business — users have been deleting the app in droves, and the company's stock tanked.
Khosrowshahi knew the company was in crisis, of course (though some of the above happened after he became CEO). But in some ways, that makes things easier to shake up. "The crisis was so big that I didn't have to convince anyone to change things," he said. He was drawn to the company because it presented a unique opportunity to make a difference in the world; if Uber was going to do that, Khosrowshahi knew the company's values had to shift.
Late last year, after extensive crowdsourcing, voting, and focus group testing, Khosrowshahi released the company's new norms, such as "We celebrate differences" and "We do the right thing." Yes, these new values sound cheesy, but it's a dramatic shift from the "hustlin'" and "toe-stepping" of the past that allowed such rampant and destructive behavior at the company.
"It's clear that the culture and approach that got Uber where it is today is not what will get us to the next level," Khosrowshahi wrote in a post about the new norms on LinkedIn.
At the Women in the World event, Khosrowshahi elaborated a bit on what exactly that means. "There are so many women who are COOs of these companies, but they never get to be CEO," Brown said, pointing out that male CEOs always talk about their "great pipeline of women." "But that pipeline seems pretty congested. My question is: How is your pipeline, Dara?"
Khosrowshahi noted that this takes time and investment. Too many companies focus on recruitment when they talk about women in leadership. Uber has done that, he said, but he's really most interested in development "Recruitment is like a sugar high," he said — if you really want women to be in charge, it takes years. He points to his time at Expedia, in which he put forth a conscious effort to raise the number of women in charge from about 15 percent to 25 percent. "It took years to do so because it took developing women, shaping them, working with our culture, making sure you move them to the right places in the company," Khosrowshahi said. He seems to imply that they could do the same at Uber.
But true equality goes beyond gender — it means making a more equal society for everyone. And that fits into Uber's larger vision of taking you wherever you need to go, no matter how you do it, even if it's not in a car. Cars sit idle 95 percent of the time, Khosrowshahi said, and parking takes up 25 to 30 percent of space in cities. He envisions a future without car ownership. "If mobility and movement is available to everybody, the delta between the value of real estate in Manhattan vs Queens starts diminishing," Khosrowshahi said. "Bringing the cost of movement down creates a society that is more equal, and creates opportunity for more people on broader basis."
And why should you trust Uber to get us to that future? Khosrowshahi's ready. "Because I'm in charge."