Candace Owens Responds To Black Students Who Feel They're Oppressed
The Facts:Candace Owens, a political activist, explains how some movements, like Black Lives Matter, are being used by the elite for a means to a political end. She explains important nuances about victim mentality that we all can truly consider.
Reflect On:Can we see how the current climate regarding racism, sexism, and other matters of contention are predominantly falsified narratives that are actually preventing us from coming together and growing?
Candace Owens is known as an American commentator and political activist. She is well known for her criticism of Black Lives Matter as well as the Democratic party. She is the Director of Communications at the conservative advocacy group Turning Point USA. In a recent talk she was giving to black youth (see video below), she responded this way to a disruptive group of audience members that represented Black Lives Matter:
I have yet to meet an Asian-American that walks around talking about the internment camps, and yet you will always find a black person talking about slavery…What is happening in the black community right now is, there is an ideological civil war happening. Black people that are focused on their past shouting about slavery and black people that are focused on their futures, ok? That's really what it comes down to.

I can guarantee you what you're seeing happening is victim mentality vs victor mentality…Victim mentality is not cool, I don't know why people like being oppressed…, "we're oppressed…four hundred years of slavery, Jim Crow…" which, by the way, none of you guys lived through, your grandparents did, and it's embarrassing that you utilize their history and you come in here with more emotion than they ever had when they were living through it. It's embarrassing, you're not living through anything right now, you're overly privileged Americans…I'm so ashamed at the way you guys are acting and the fact that you love being oppressed, I don't get it…You're not going to ever make me think that oppression is cool.
Trying To Help People Break The Illusion
She is trying to help the black community, and references the Black Lives Matter movement as an example of promoting a victim mentality. She states that these members are pawns for the Democratic Party and that they don't even realize it, while in the process they are ruining their lives for something they don't understand and which is "fundamentally false."
It's not hard to see how these movements have been used as a political ploy, in the same sense Russia has been used with regards to hacking the election, ultimately to slander and discredit Donald Trump. It's a false accusation many have bought into it.
I'm not even going to go into the Democratic Party at this time, more specifically the DNC which has participated in unfathomable corruption to the point where they should not be associated with Democrats or Republicans at all.
Candace is truly a breath of fresh air, and her message is something Collective Evolution has been writing about for a long time. A victimhood complex does absolutely nothing positive, and benefits nobody unless the victims are trying to use that complex as some sort of means to an end. That's why we see this so much in our politics, which is infused with fraud and corruption and operates mainly in self-interest rather than for the benefit of all.
Others just seem to love taking on that role and jumping on the bandwagon, without even thinking about it. What's worse is that these groups have tremendous support from mainstream media, which means the populace and the masses will follow with that perception.
Is this our domain of change? If so, if we keep participating in it every single year it doesn't seem that it's going to benefit anybody.
Movements Co-Opted By The Establishment
I believe movements like Black Lives Matter, as well as others like the Me Too movement, may have started out for noble reasons, but were easily co-opted to be used by the establishment in ways that divide people.
The War On Terror, for example, is a war that's been exposed as being based on false premises. While terrorism to some extent exists, the connection between these 'terrorist' groups and rogue parts of our government and intelligence agencies, as well as the whole entire western military industrial complex, is strong. The war on terror is used politically to impose our will on others. 9/11 is a perfect example, and so is what's transpired in Syria.
Our hearts are used and sparked to support movements like this, but if you really look at the outcomes, they ultimately do nothing but create more chaos and division. The polarities in these movements are not what they are presented to be, but created by those who cause chaos in order to propose their brand of solution. Without these problems existing, the United States would not be able to set up hundreds of military bases around the world and impose their political will on other governments.
Another example is the Black Panthers Movement, which has a long history of infiltration by intelligence agencies, in order to further spread more hate, separation and chaos. Any of these things create conflict, and justify a heightened national security state, among other things. It's well known that the American government actually hired black people to infiltrate these movements, not only to find out more and shut it down, but to stir up conflict as well and create issues within it as well, not to mention using racism like they've used religion.
The Black Lives matter is no different in this sense: it's not about equality and fairness, it's something that's beamed out and supported by the mainstream media in order to fulfill a political agenda, and also to create further divide amongst people. Such movements eventually are driven by the same hate, anger and attitudes as that which they claim they are fighting against.
The Rise Of Identity Politics
One profound strategy on the part of the establishment was to learn about and promote identity politics, which has served and continues to serve many useful purposes for them. Here is a quote from Mark Crispin, a professor of media studies from New York University:
It's interesting to note that Ford and Rockefeller and the other foundations with strong CIA connections started giving grants in the early 70s to study race and gender. It was a sudden move towards identity politics by these organisations and the theory is that the reason they did this was to balkanize the left and to prevent it from pursuing any kind of a class or economic analysis. (source)
Another important point made by Crispin is that rather than empowering a 'class' identity which supports unity, major academic institutions are instructed to promote the primacy of race and gender, to ensure that the establishment's agenda of 'polarization' is always fuelled.
New York University (NYU), one of the most prestigious and expensive institutions in the United States, likes to present itself as liberal and "diverse," and as an "institution without walls." Many of the school's departments, including history, sociology or anthropology, count leading representatives of postmodernism and identity politics among their faculty, and the promotion of race and gender as having primacy over class is, in many ways, the official school ideology.

However, behind this surface of "diversity" lie extensive ties to big business, the Democratic Party and the military. As this series will demonstrate, NYU is now closely integrated into the preparations for war against both Russia and China, and, along with that, in the efforts of both the state and the major corporations to conduct mass surveillance and censor free speech on the Internet.

It's a common tactic the global elite use, they take our good hearts and our desire for a better world, and use us as pawns to further prevent us from getting there. (source)
So you can see, there is a big issue to be discussed here that's hardly ever talked about, yet alone known, by those who support these movements, many of whom may be operating from a good place within. Jordan Peterson from the University of Toronto takes the side of Candace Owens for bringing attention to this mindset which he feels the universities should take much of the blame for:
Candace is commenting about the danger of adopting a victimization oppressor narrative, and it's a narrative that the hard left has really been pushing, everyone successful is an oppressor, and everyone else is a moral victim. To look at the world through a group identity lens, puts us back in a tribal situation and will produce conflicts…Candace is objecting to that, and rightly so, it's an unbelievably pernicious ideology, and the universities are to blame for distributing it in large part. (source)
Does Racism Even Exist?
Does racism exist today? Sure it does, but it's not nearly as bad as it's made out to be by mainstream media. People are not becoming enraged due to their own experience, but rather in-raged from what they are constantly viewing on television. Racism in our world is not at all comparable to what it once was. Being a minority myself, I have never experienced racism and I urge all those who question me to think about how many times in their own lives they've experienced oppression. Legit oppression, not something that's speculative.
Racism is also a learned behaviour, the only reason why some people are racist towards Muslims, for example, is because they think some are terrorists. Again, we all know where that narrative comes from.
Here's a great quote from Richard Enos, a colleague here at CE. I retrieved it from an article he published regarding the Antifa topic.
I personally don't know of anyone who supports White Nationalists, White Supremacists, the Ku Klux Klan, neo-Nazis, or other hate groups. Ideally, we should be completely ignoring any violent groups with such extremist ideologies. But there is a reason we have a hard time doing so. It is because it is these groups that get to star in the mainstream media circus and in the political discourse, at the exclusion of the vast majority of citizens who are moderate, reasonable, and have legitimate grievances. Isn't it farcical that we are still talking about the Ku Klux Klan? That they still supposedly 'exist' on their archaic agenda?
To be perfectly honest, I'm not even sure if many of the people that go out to protest and counter-protest in public are necessarily ardent supporters of their respective group's fundamental ideologies. I believe many are paid mercenaries. Others may be looking for an opportunity to vent their own suppressed anger.
We live in a world full of opportunity, and to assume everybody who is not part of your 'race' in a higher position is constantly scheming against you and not providing you with opportunity is ridiculous. Again, this does not mean racism does not exist in our world, but the extent it's been taken too is completely false and ridiculous.
The prison system, for example, might be a great way to create awareness about "racism and slavery," not pointing fingers at someone like Donald Trump who is clearly not racist.
We must start seeing how much of what the government (or in this case the deep state) is doing with regards to violent protests, and counter-protests is complicit with the way these protests are being used to prevent us from actually dealing effectively with real issues. The way black oppression is presented by the mainstream media is not a real issue, and seems to be a complete distraction. Protesters in this case might be creating problems, instead of combating them.
Programmed To Be Offended
You cannot even have a conversation with most members of these groups about it, because if you bring up this narrative, they instantaneously become offended, and are not willing to listen to nor think about what you have to say. Founder of Collective Evolution Joe Martino wrote an article about how we're systematically being trained to be offended by everything we see:
There is also a role being played by the Deep State and the media, who want to maintain control over the population as we become more self aware. To prevent us from raising these deeper internal questions, the focus is being brought back to the external. It's being brought to things like race, gender, our appearance, the words we use, who's right, who's wrong, and who we can judge and for what reason. We're being systematically taught how NOT to change. And it's being done through innocent memes, articles, videos, and even loving intention at times, all lacking deeper thought.
Can we see how much of what the government is doing with regards to violent protests and counter-protests is complicit with the way these protests are being used to prevent us from dealing effectively with the real issues?
Perpetuated By Media
The only reason so many people are talking about problems of racism is because most of mainstream media has perpetuated it. A statement from Morgan Freeman comes to mind here, one of the best ways to combat racism is to stop talking about it. We need to stop referring to people as black, white, Jewish, etc, and simply refer to them as human beings.
Making gender, race, and other factors like these highly significant is a tool for the global elite to continue to their campaign of massive perception manipulation. They've even used religion as an excuse to prolong war, maintaining control while putting money and in their own pockets. This is evident by the ongoing promotion through mainstream media of the supposedly organic, self-created 'Islamic State,' which in fact is a pure creation of investment dollars, equipment, and training by the CIA and the western military alliance. Have we finally figured out that these rich, well-funded groups are not grassroots organizations that represent some kind of domestic agenda?
Time To Drop The Polarities
The truth is, with regards to any issue in your life, if you have an "us and them" mentality you will not progress, but instead will only create more hardships in your own life, and a response from an opposing side, thus creating more opposing views. Life begins when we start looking at our hardships as opportunities for growth and development. What's worse is that a lot of these hardships that many are apparently facing in America, don't even exist as we are made to believe they do.
The world is full of wonderful people, and today, most of these people are not racist, and are very accepting. Ask yourself, how many racist people have you met in your own life, and how often have you experienced racism? We must be careful in our advocacy for quality among different races/genders, as our minds are constantly manipulated about the issue. In fact, we must be suspicious of ALL attempts to make us 'choose sides,' to engage in the fight, to identify with a certain polarity. Below is video of Joe going into some important points a little deeply with regards to political labels and race issues.
The Takeaway
The takeaway here is to recognize how media is trying to manipulate us and use race and gender issues to simply further their agenda. What's worse is that our own hearts and our own perception is constantly manipulated, and people are somewhat brainwashed while at the same time being inspired to get involved in something they believe is a just cause.
How much of what we do is dictated by the media? How many of our beliefs are generated by mainstream media when it comes to certain issues and events? How much do the global elite actually care about these issues, when they seem to only be using them for political gain and reputation-bashing?
While racism and sexism are not to be condoned, our world is not as violent, racist, and sexist as it's made out to be in 2019. This is a perception fostered by mainstream media for a certain agenda, and the more widely we realize this, the less power the establishment will have over our perception.
Elva Thompson, Contributor
Waking Times
One of the most valuable understandings I have been taught in this life… is that nothing is constant. Everything is in motion from the tiniest atom to the tallest mountain top – all physical matter vibrates with the on-off switch of creation and destruction – the in and out called life.
Just imagine what it would be like if we could view the planet from an energetic perspective, and see the trillions of pulsing pixilations – the vibrational throbbing energy of all living things in the dance of life and death – and the flashes of human thoughts as they to and fro…. in the unseen world that creates our physical reality.
Tick-Tock Goes the Life and Death Clock
The tick-tock of life and death is a fundamental on every level of life in this dimension… nothing physical lives for ever…. only the primal force that holds everything together is infinite, eternal and cannot be destroyed. The Cosmic on and off switch of Duality is in constant swing between the polarities of happy and sad. Everything can be good in our lives and then suddenly, we are unexpectedly confronted with tragedy and loss. In an instant everything changes…there is no going back. Our lives are turned upside down on every level, and we are faced with emotional trauma: denial, shock, disbelief, rage, loneliness and sorrow.
Many people don't recover from life's blows and get stuck in the pit of depression and despair. The why's – the questions are forever with us. And, what do we have for solace at such times ? – that the god of whatever knows what is best for us – only the good are called – and god has his reasons…. Is this the best human beings can do in the face of disaster? What if tragedy has nothing to do with a fantasy figure called god… and god's judgement is total crap? A narrative made up to control us and keep us in the shadow haunted world of ignorance and brutality.
What If?
What if… what happens to us in life is the result of our own thinking? What if, unwittingly we resonate our faulty programming, inherited prejudice and hate into the cosmic looking-glass along with resentment, envy, jealousy and just downright no-goodness… all electro-magnetic time bombs that come back to haunt us in this life and maybe also in the next – the matrix isn't in a hurry.
Maybe it's time to monitor our own thinking…..and ask the question – who is talking?
Thoughts are Seeds and Your Mind is the Garden
Our thoughts are alive – they are energetic charges – nurturing or poisonous it doesn't matter to the matrix. The seeds of whatever intent get planted in our electro-magnetic mind garden – the unseen part of our reality… and they bear fruit according to their resonance. Many wise people have stated through the ages that what you sow – you reap. This is the Cosmic Law of Return – of Causation and Effect… what you put out physically, mentally and spiritually comes right back through the mirror. Bad luck is a thought-form of our own creation – there is no such thing as chance – and lady luck favours anyone with a strong focus and intent.
'Chance is but a name for Law not recognised'
Most of us are so heavily conditioned that we don't realise that our thoughts create our reality, so we just carry on with the same behaviour – with the same thought patterns that brought failure, loss, drama and conflict into our lives. And when life hits us in the face again and again, we blame circumstance or other people for our misfortunes but we never look at self… do we?
Instead we pile up energetic debt.
Electro-Magnetic Debt
Energetic debt is just as real as physical debt, and with the engineered divisions in society almost everyone on the planet will die with a negative balance sheet – the pangs of unresolved guilt and conscience that have not been put to rest.  The electro-magnetic "unfinished business bureau" follows us in death… and the debt becomes due in our next incarnation.
The electronic debt system between souls keeps repeating until we stop creating a negative charge on the balance sheet… forgive and turn the other cheek… which in this sacrificial dimension is almost impossible. This is the meaning of the phrase: chained to the wheel of rebirth – round and round goes the human merry go round – and in every round we are manipulated – coerced into breaking the Laws of Life and we pay for it with misery… and the chaining of our souls to the next round….
The concept of the Law of Return or Karma is beautifully summed up in the poem called 'The Cup' by Swami Vivekanander:
"This is the cup, the cup assigned to you from the beginning. I know my child, how much of this dark drink is your own brew – Of fault and passion ages long ago – In the deep years of yesterday, I know.

This is your road, a painful road and drear. I made the stones that never give you rest; I set your friend in pleasant ways and clear And he, like you, shall come unto my breast, But you my child, must travel here.

This is your task, it has no joy or grace, But it cannot be wrought by any other hand. I bid you close your eyes and see My face." ~Swami Vivekanander, The Cup
"Every Cause has its effect; every Effect has its Causes; everything happens according to Law; Chance is but a name for Law not recognised; there are many planes of causation, but nothing escapes the Law." ~The Kybalion
The Lost Science of Metaphysics
At one time the Seven Spiritual Laws that govern this third dimensional construct were common knowledge – but with the destruction of our tribal oral history and sonic language – the banning of our language and ceremonial way of life – we lost the sacred information of the Ages – lost the original instructions given to us by Source Creator. Sadly, in this fast age of everything there are few shamans left to teach us about elemental realities, other states of being… and the ability to see future and past events.
The knowledge of the hidden worlds has been stolen from us – hoarded in mystery schools and the covens of the elite. Carefully crafted Religions have usurped our spiritual reality…. and replaced it with a lie that men will surely die for. But, Metaphysics – the first Science of Causation and Effect is nowhere to be found in the status quo curriculum and, as a result we have been blindsided to our spiritual connection with the All.
Tesla said that if we want to discover the secrets of life we have to think in terms of energy, frequency and vibration.
To see ourselves as wave forms vibrating in a sea of electro-magnetic energy and connected to the wave forms of the One Life is very hard for most of us to do…. because in our 'civilised' state, the energetic side of our nature is alien to us…we know very little about it….and we fear it because it is unknown.
But the shaman knew that all life was connected in the five moving powers. He knew the directions, geometrics, sounds, colours and perfumes of the spiritual worlds of earth, water, fire and air. He was free to travel beyond this world of limitation… and because he was part of the All could shape shift into any form he/she desired… but the disconnected consciousness of the hive mind make fun of things they cannot understand and call it fakery and superstition.
Unplugged
We are as a species unplugged from our Source Field – our pineal gland and crown chakras are de-activated – out atlas bone C1 is subluxated. Slowly but surely we are being genetically modified through nano particulates, gmo's and god knows what else into a spiritually dead borg… a mechanised brute.
Whatever is in charge of this plane is trying to take us somewhere… and I don't want to go… so… it's time to become the viewer instead of the viewed… and happen to things instead of things happening to us.
It's time to confront the shadow side of our lives… dust away outworn thought forms of the past – try to put right wrongs and mend bridges while in life… for no one can promise tomorrow.
"Man can only read the future through the causes that bring the effects.
Seek ye within the causation and surely ye shall find the effects." ~ Thoth the Atlantean
About the Author
Elva Thompson was born in England in 1947 and moved to Rosebud Lakota reservation in 1987. She is the author of the Heartstar Series; Book One: The Key made of Air, and Book Two: The Gates to Pandemonia. Her other interests include organic gardening, ancient phonetic languages, sonic sound and their application in the healing arts. She is also a medical intuitive and teaches sonic re-patterning using sound, colour, and essential oils. Elva Thompson is on Amazon Author Central @ amazon.com/author/heartstar
WARNING! Five Traits That Could Get You Abducted By Aliens!
Are you worried about being abducted by aliens? I suspect it will cross the mind of some of you reading this post that alien abduction is a possibility.
After all, many people worldwide have claimed to have been abducted by aliens, been taken against their will to an alien spacecraft or enclosed place, questioned or physically examined, and they remember these experiences either consciously or through methods such as hypnosis.
Indeed, many of those people who claim to be alien abductees are seemingly sincere, psychologically healthy, nonpsychotic people—so are their experiences real and their claims to have been abducted true?
Professor Rich McNally and his colleagues at Harvard University have spent over 10 years researching the psychology of alien abductees, and in particular why it is that some people embrace the identity of "alien abductee."
His research has isolated a number of traits possessed by 'alien abductees' each of which he argues contributes to the experiences they recall when 'being abducted' and to the desire to cling on to their belief that aliens were responsible for their abduction experiences. Let's look at each of these five traits in turn.
1. Regularly experiencing sleep paralysis and hallucinations when awakening: Many people who have reported alien abduction suffer episodes of early morning sleep paralysis. On awakening from this paralysis, their terror gives rise to hallucinations of flashing lights and buzzing sounds. Some experience feelings of 'floating' around the room or seeing figures in the room. While many people interpret these post-sleep paralysis experiences as dreaming, some people interpret these experiences as seeing figures, ghosts, or aliens.
2. Tendency to Recall False Memories: In an elegant set of experimental studies, McNally and colleagues found that individuals who claimed to have been abducted by aliens were prone to what is known as "false memory syndrome." That is, alien abductees regularly claimed to recall words, items, sentences, etc. in memory tests that they had never actually seen before. If this "false memory" effect can be generalized to autobiographical memories, then individuals who claim to have been abducted by aliens would be twice as likely to "falsely remember" things that had never happened to them than would non-abductees.
3. High levels of "Absorption": Alien abductees also score significantly higher than most people on the mental characteristic known as 'absorption.' This is a trait related to fantasy proneness, vivid imagery, and susceptibility to hypnosis and suggestion. Because of this it is probably not surprising that many alien abductees recall their experiences under hypnosis, where memories of abduction can be induced through suggestibility—especially if the person leading the hypnosis session asks particularly leading questions about abduction.
4. New Age beliefs: Being whisked up into space ships by tractor beams or light sources is not something that happens every day—nor is it something that is easily explainable within our existing knowledge of physics. Similarly, being subjected to imaginative medical procedures requires a tendency to accept unusual and non-mainstream ideas. This is also a trait possessed by 'alien abductees.' They score highly on measures of magical ideation and endorse New Age ideas that encompass beliefs about alternative medicines and healing, astrology, and fortune telling. Such beliefs would certainly allow the individual to accept things happening to them that would be dismissed by existing scientific knowledge.article continues after advertisement
5. A familiarity with the cultural narrative of alien abduction: As a cultural phenomenon, alien abduction has entered folklore and the images and descriptions of aliens and their spacecraft have become familiar to many people. Alien abductees tend to be very familiar with this cultural narrative which is one possible reason why their descriptions of aliens and their spaceships are so similar—being fuelled as they are by sci-fi films and numerous books about aliens and alien abduction.
As Professor McNally points out in a very readable review of his studies on alien abduction, it is still unclear whether all these characteristics are necessary ingredients in the recipe for 'alien abduction' or whether some are more necessary than others.
Other researchers have also identified further traits that appear to be characteristic of 'alien abductees', such as paranoid thinking and weak sexual identity.
There is still much more research to do to fully understand the motivations and thinking patterns of individuals who claim to have been abducted by aliens, but as McNally shrewdly points out, these people are not anxious nor depressed, they are not psychotic and do not appear to have any obvious mental health problems. 'Alien abduction' experiences often deepen spiritual awareness and give shape to the identities of abductees and provide a basis for their beliefs about the world and the universe.
Whether the experiences of abduction were real or not, the experiences and interpretations adopted by 'alien abductees' are often psychologically helpful and can be spiritually comforting.
Finally, a note of caution. All of these studies of 'alien abductees' were carried out after they had their abduction 'experiences', so it's difficult to know whether these five traits are consequences of the experience or were—as McNally suggests—factors that led individuals to interpret rather earthly experiences (such as sleep paralysis and hallucinations) as evidence of abduction.
And then— perhaps fantastically—can we genuinely rule out the possibility that such traits are implanted in their victims by aliens in invasive medical procedures carried out on alien spaceships!
My skeptical, scientific mind says probably not—but who knows?!
Source www.psychologytoday.com
11 Signs Your Personality Is So Intense That It's Intimidating To Others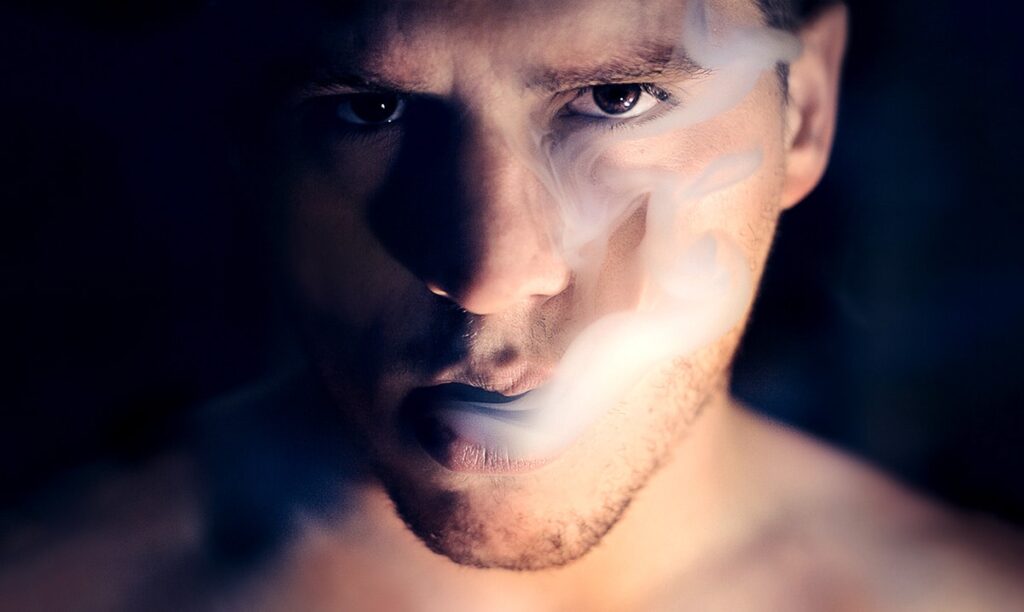 There are many different situations we may find ourselves alone in life ranging from the energy we carry, the personality traits we possess and the atmosphere that we create in life. For those who possess a deeper personality, you may actually be scaring people off just by being yourself!
This isn't designed to tell you to change or alter yourself in some way. If you possess a deep personality, know that you are a diamond in the rough – the honest, reliable, forward-thinking type of person that makes this world a better place. However, not everyone is going to understand how your mind works. There are many people out there who are willing to settle for far less, and your intensity threatens the simplicity of the world that they have created.
If you feel as though you are struggling to connect with others, this could be a sign that your personality is so intense that others simply don't know how to approach you. This is a reflection on them, not a reflection on you. Keep doing your thing!
Here Are 11 Signs That Your Deep Personality Is So Intense That It's Intimidating Others:
#1 – You are honest to a fault.
When it comes down to it, you value honesty above all else. In fact, you will have an uncomfortable conversation, if necessary, to ensure that you can get straight to the point and put the truth out there. After all, if you don't have the truth, what do you have? Just remember that not everyone is prepared to hear the truth.
#2 – You are a problem solver, not one to wallow.
If you're in a difficult situation, you're not the kind of person who is going to sit around wallowing in the struggle you've been handed. Instead, you will instantly get to work trying to find a solution to the problem, working on getting yourself out of there and on to better things.
#3 – You aren't afraid of intimacy.
It's surprising how many people in today's society claim to understand the importance of intimacy and then shy away from it completely when the opportunity presents itself. You, however, understand that intimacy comes on many levels, and each is necessary in its own way in your relationships including not only romantic relationships but also friendships and family connections. This includes actions as simple as a hug or a pat on the back.
#4 – You are incredibly intense in all that you do.
You intend on living life to the fullest, experiencing everything available. This causes you to lead your life with a level of intensity that most will fail to understand. The few who understand you will share your passion for finding enjoyment in every moment, those are the people you need to surround yourself with.
#5 – You ask A LOT of questions.
While this may come across to others like you are interrogating them, the truth is that you want to get to know them on a deeper and more meaningful level. You aren't asking for manipulative reasons or to find out information you can use to your benefit later, you genuinely want to understand others better and asking questions is the best way to learn more.
#6 – You refuse to waste your time waiting around for others.
Sure, you understand the importance of friendship and companionship but when it comes down to it, you have places to go and things to accomplish. If someone is going to waste your time or leave you waiting around waiting for them to recognize what you have to offer, you have better things to do. You'll simply walk away and devote that time and energy into those who are ready.
#7 – You are like a human lie detector, able to see through the BS.
When someone is being insincere or dishonest, it's like a red light goes off in your mind warning you that they are screwing around. As someone who values honest, as we previously discussed, there's nothing you see as a bigger deal breaker than someone who tells lies. You have no interest in sticking around for those that don't respect you enough to be transparent with you.
#8 – You are incredibly open-minded.
Too many people have masked closed-mindedness today with the illusion that they are merely staying true to their morals and beliefs rather than admitting they simply haven't tried to understand. Instead, you are open to trying to understand new ideas, concepts and ways of living. You may not agree, but you're always willing to learn more.
#9 – You always have a clear picture of what you want.
Every situation you enter into, you do so with the end already in mind and you refuse to settle for anything less. Your goals are always a top priority which can lead you to say or do things in your quest to achieve success that will make others feel uncomfortable. Just be careful not to be too goal focused or you can lose sight of the beauty in the little moments in between.
#10 – You are a creature of habit.
Schedules and consistency are your friends, creating a solid and predictable foundation upon which you can build your life. You like to know what to expect and how you should prepare for it, and you have no interest in surprises.
#11 – You have no interest in shallow relationships.
You're not the kind of person who is going to enjoy a one-night stand or a casual fling. If you get into a relationship, you're all in. You want to connect with someone on a deep level, establishing a meaningful relationship, and anything less is a waste of time in your opinion.