Canadian tourist spots Nessie hours before schoolgirl takes 'best Loch Ness Monster picture for years'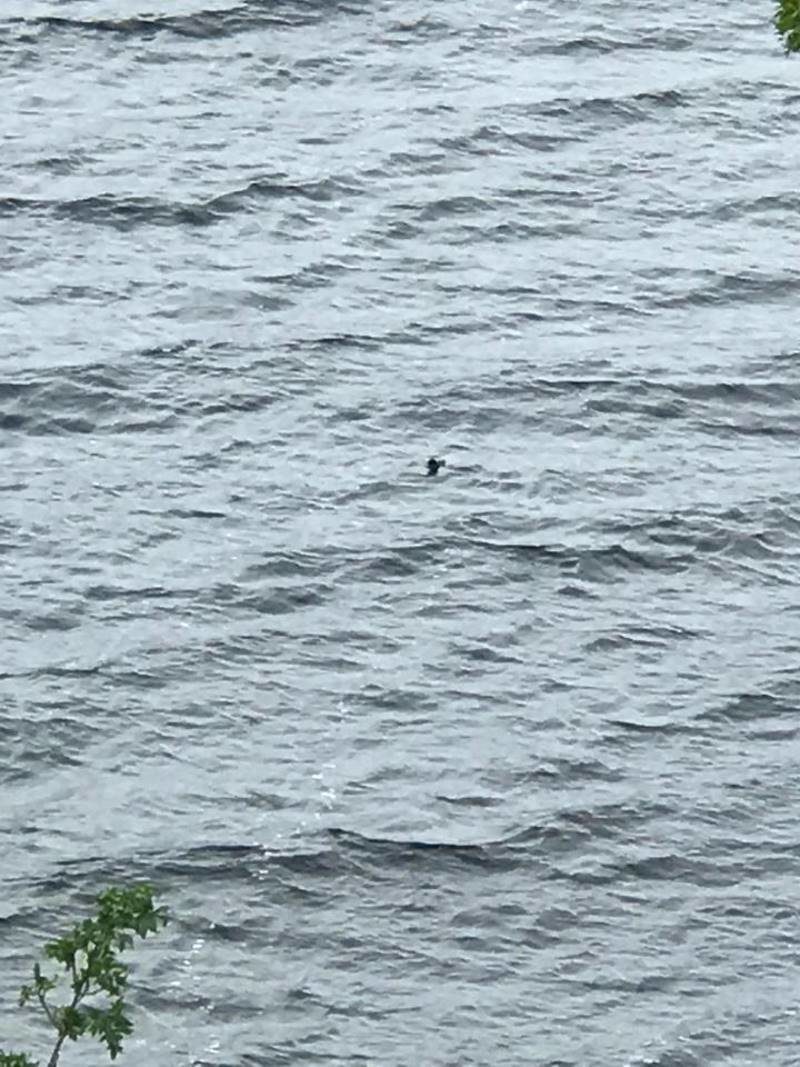 Mike Merritt
The Sun
Lynn Locke's report has now been accepted by the Official Loch Ness Monster Sightings Register – the seventh of the monster this year, which is heading for a record
A school secretary has captured Nessie on her mobile phone – just hours before a schoolgirl photographed a similar image 12 miles away.
Lynn Locke's report has now been accepted by the Official Loch Ness Monster Sightings Register – the seventh of the monster this year, which is heading for a record.
The 54-year-old elementary school secretary from Ontario in Canada was on holiday with her husband and daughter – visiting family in Glasgow – when they took a trip to the Highlands for a few days.
While at Loch Ness, Mrs Locke saw Nessie for about a minute about 50 yards offshore near Urquhart Castle, said to be a favourite haunt of the monster.
Mrs Locke captured the dark object on her iPhone.
She said: "On our last day we visited Urquhart Castle and went on a cruise on Loch Ness. While we were visiting the castle I noticed something moving in the water, with trails of bubbles leading up to it. It went under the water a couple of times and reappeared.
"It seemed strange, and of course I've heard of the story of Nessie, so I took a few pictures.
© Lynn Locke
"This was the first time we all had been to the area around Loch Ness.
"I believed in Nessie before this so I was excited when I saw something strange in the water. My family is a bit sceptical about Nessie but I think this sighting – as well as the other one the same day further south – has made them change their minds a little bit.
"I do think I saw Nessie – maybe the tail. I've seen a stick floating in the water before and that didn't look like one to me. Of course I didn't think I would see anything going to Loch Ness that day, so it was a surprise!"
Her sighting came at 9.40am last Friday week and at around 7pm a similar object was seen 12 miles away by Charlotte Robinson who took with her iPhone what experts say was the "best picture" of the Loch Ness Monster "for years."
© Charlotte Robinson
Charlotte Robinson 12, snapped this picture on her iPhone
Charlotte, 12, from Leeds in Yorkshire was staying at Loch Ness Highland Lodges at Invermoriston when Nessie popped up about 50 feet away – and on the first day of her vacation!
The creature surfaced for about a minute before re-surfacing about ten feet further away some seven minutes later – but for less than 60 seconds.
Charlotte was on holiday with parents Kat, 41, a business intelligence data analyst, and father Dave, 52, a factory worker.
Gary Campbell, keeper of the official Nessie sightings register, said: "I think it is more than a coincidence that the same unexplained but moving object has appeared near the same shore but 12 miles apart on the same day. The pictures were taken some time apart which would allow it to swim that distance.
"Interestingly, a similar sighting was reported the day before. We're waiting for verification but again, it appears that it might be the same thing. It too was at a different location so it looks like Nessie's on the move.
"We're up to a likely total of seven sightings for this year which is fantastic – it could be another record year as we're not even at the end of August yet."
Footprints of a Sweets-Loving Bigfoot Found in North Carolina
"Mostly like candy, cookies, they love peanut brittle, chocolate, peanut butter sandwiches. They don't like apples and bananas."
If you're one of those Bigfoot experts who's been telling Bigfoot expert wannabes and wannasees to hang bags of apples from trees to attract them, meet Vicky Cook – the North Carolina woman who has not only seen Bigfoot, she has the grainy video and plaster footprint casts to prove it … and she says her Tar Heel Bigfoot neighbors prefer sweets to healthy snacks. Or is that just what she stocks in her cupboards?
"I think I've counted about eight different sized prints. This is a juvenile, but look at how long it is. That's a big … big print."
In her interview with Charlotte's WCNC, Vicky Cook showed she's more than just your average Bigfoot spotter by holding up plaster casts of the footprints she says she's found in her Shelby yard since March. Shelby is a western suburb of Charlotte near the southern border with South Carolina. She also showed the reporter her dark and grainy video (watch it here) of what she claimed is at least one of the creatures that may have made one or more of the footprints.
"It went in front of my camera. we screamed we didn't know what it was, though that thing was tall!"
That "we" indicates there's at least one other witness (unless she's implying that the Bigfoot screamed when it saw her scream – a great movie scene but probably not what she meant) but no one else appeared in the interview. Vicky also swears it's not a bear she's dealing with. Well, then … what is it?
"Sometimes I think this can't be real."
We know the feeling, Vicky, especially if you live in North or South Carolina. Neither one of those states made the recent Top 8 States to See Bigfoot list, despite the fact that both have many sightings. The Bigfoot 911 investigation group is in Marion, about 45 minutes north of Shelby, which also hosts the annual WNC Bigfoot Festival – the "the biggest Bigfoot Festival in eastern USA." John Bruner is involved in both and has himself reported seeing a "large bipedal animal covered in hair" in the area in 2017. While those plus the 90+ other Bigfoot sightings in North Carolina (mostly in the Uwharrie National Forest to the east) warrants a festival and a big-city reporter visiting Shelby, does it prove Vicky has a family of Bigfoot eating her candy and cookies?
"Any scientific expert will tell you me and the 'Squatch like the same things."
James 'Bobo' Fay – Bigfoot caller and cast member of "Finding Bigfoot" – said in an interview that they eat what humans eat, including cooked foods and especially bacon. While they're eat apples and berries, he says he puts leftover donuts out for them too.
Maybe Vicky should work out a deal with Dunkin'. Then again, maybe Bigfoot should cut out the middleperson and make its own deal.
Source: Mysterious Universe
Loch Ness monster study results 'surprising'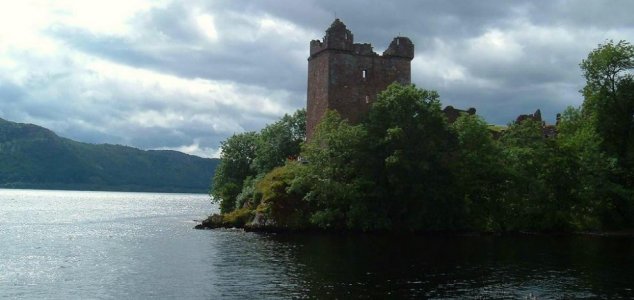 Image Credit: CC 2.0 Dave Conner
Is there a monster lurking in the depths of Loch Ness ? 
A recent effort to trawl Loch Ness for potential 'monster' DNA has reportedly yielded some interesting results.
The study, which was led by New Zealand scientist Professor Neil Gemmell, aimed to use DNA sampling techniques to find out whether there was any scientific basis for the monster legend.
Now at last, almost a year after the DNA samples were collected, Prof Gemmell and his team have almost finished the analysis and will be announcing the full results at a conference next month.
From the findings released so far, the team has managed to identify the DNA of 15 different species of fish and a whopping 3,000 species of bacteria, among other things.
Part of the study also involved investigating the validity of various monster hypotheses such as whether or not the creature could be a prehistoric reptile, a sturgeon or a giant catfish.
"Is there anything deeply mysterious ?" said Gemmell. "Hmm. It depends what you believe. Is there anything startling? There are a few things that are a bit surprising."
"We've tested each one of the main monster hypotheses and three of them we can probably say aren't right and one of them might be."
Source: Scotsman
Only You, Smokey and Bigfoot Can Prevent Forest Fires
There was a time not many years ago when Smokey Bear was on television more often that Yogi Bear, or even Yogi Berra. Smokey Bear (no 'the' – that was added for a song) first appeared in 1944 as part of a public service adverting campaign for the U.S. Forest Service to call attention to the danger of forest fires. Smokey's finger-pointing "Remember… Only YOU Can Prevent Forest Fires" image was an immediate hit. Seventy-five years later, we still have Smokey and unfortunately, still have forest fires and wildfires. That's why the Oregon Office of State Fire Marshal (OSFM) announced this week that Smokey is getting some help from another furry fire fearer – Bigfoot.
"We are introducing a well-known Pacific Northwest mystery into our wildfire prevention marketing, known as Bigfoot or Sasquatch. Bigfoot is a protector of the wilderness and his "home", and we are encouraging residents to take action to prevent wildfires."
Starting in June, OSFM will use images of Bigfoot participating in outdoor activities on social media platforms to help raise the alert levels of Oregon residents and tourists, especially those living in or visiting Wildland–Urban Interface (WUI) areas – zones of transition between wildland (unoccupied land) and human development.
"We hope our Bigfoot campaign will draw attention and create a bigger 'footprint' of wildfire prevention efforts around the state. We want people to believe in fire safety, whether you are camping, visiting Oregon or recreating."
While State Fire Marshal Jim Walker had a little Bigfoot pun fun in an interview with KTVZ, the fire prevention campaign is serious business in a state with so much forest land, so many homes very close to woodlands and an ever-increasing risk of fires due to drought, water shortages and carelessness.
"We've created images and education materials showing Bigfoot outdoors, protecting his wilderness 'home.' By preventing wildfires in Bigfoot's home, we can help residents protect their homes and our communities."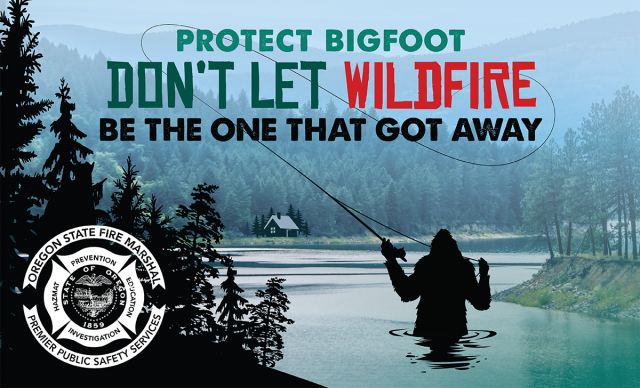 You may have noticed that 'Bigfoot's home' was not in quotes. A recent survey of the top states in the U.S. for spotting Bigfoot listed Oregon at #7, close behind its Pacific Northwest neighbors – Washington and California. Do residents believe in Bigfoot? Being associated with Smokey may help. Many people believed Smokey was real long before 1950 when the U.S. Forest Service found a five-pound, three month old American black bear cub that survived a wildfire in the Capitan Mountains of New Mexico and named it Smokey. Smokey was eventually taken to the National Zoo in Washington DC where he received millions of visitors and 13,000 letters a week until he died in 1976. The plaque at his grave reads, "This is the resting place of the first living Smokey Bear … the living symbol of wildfire prevention and wildlife conservation."
Can Smokey help Bigfoot's popularity? Let's hope it doesn't take putting a baby Sasquatch in harm's way to do it. In the meantime, watch for fire-fighting Bigfoot on social media (#BelieveInFireSafety), on T-shirts and on Oregon billboards.
And remember … only you, Smokey and Bigfoot can prevent forest fires.
Source: Mysterious Universe