Canadian Researchers Demolish The Myth Of Mother Teresa's Goodness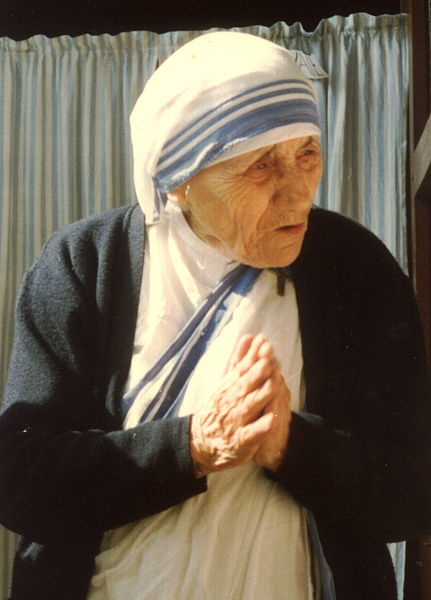 First exposed as a fraud by Christopher Hitchens, renowned twentieth-century saint Mother Teresa now appears to have been more of a monster. Via EurekAlert!:
The myth of altruism and generosity surrounding Mother Teresa is dispelled in a paper by Serge Larivée and Genevieve Chenard of University of Montreal's Department of Psychoeducation and Carole Sénéchal of the University of Ottawa. The three researchers collected and analyzed 502 documents on the life and work of Mother Teresa.

At the time of her death, Mother Teresa had opened 517 missions welcoming the poor and sick in more than 100 countries. Two-thirds of the people coming to these missions hoped to a find a doctor to treat them, while the other third lay dying without receiving appropriate care.  [There was] a significant lack of hygiene, even unfit conditions, as well as a shortage of actual care, inadequate food, and no painkillers. The problem is not a lack of money—the Foundation created by Mother Teresa has raised hundreds of millions of dollars—but rather a particular conception of suffering and death: "There is something beautiful in seeing the poor accept their lot, to suffer it like Christ's Passion. The world gains much from their suffering," was her reply to criticism.

Mother Teresa was generous with her prayers but rather miserly with her foundation's millions when it came to humanity's suffering. During numerous floods in India or following the explosion of a pesticide plant in Bhopal, she offered numerous prayers and medallions of the Virgin Mary but no direct or monetary aid. On the other hand, she had no qualms about accepting the Legion of Honour and a grant from the Duvalier dictatorship in Haiti. Millions of dollars were transferred to the MCO's various bank accounts, but most of the accounts were kept secret, Larivée says.

Despite these disturbing facts, how did Mother Teresa succeed in building an image of holiness and infinite goodness? According to the three researchers, her meeting in London in 1968 with the BBC's Malcom Muggeridge, an anti-abortion journalist who shared her right-wing Catholic values, was crucial. Muggeridge decided to promote Teresa, who consequently discovered the power of mass media. In 1969, he made a eulogistic film of the missionary, promoting her by attributing to her the "first photographic miracle," when it should have been attributed to the new film stock being marketed by Kodak. Afterwards, Mother Teresa travelled throughout the world and received numerous awards, including the Nobel Peace Prize
Unknown Sky Phenomenon Witnessed AGAIN!
MrMBB333 shared another strange unexplained sky phenomenon that is similar to the one we shared a few days ago called 'Strange Large Orange Object Ascending Up from the Horizon Near Ecuador'. This one was spotted in Thailand.
MrMBB333 gives all the details in his video and also shows a comparison of the two events, take a look at the video below.
Amazing sky phenomenon spotted again..

MrMBB333
YouTube
Flying Saucer German Technology From Before WW2
A German newspaper recently published an interview with George Klein, famous German engineer and aircraft expert, describing the experimental construction of 'flying saucers' carried out by him from 1941 to 1945."
Exotic technology has been around for a long time, and so have the agencies within the Department of Defense that use it. Just imagine what type of technology the NSA — an intelligence agency whose existence was denied until the mid-1960s — was using in the 1950s. Then there's the National Reconnaissance Office, which was founded in 1960 but remained completely secret for 30 years. Secret technologies have been wrapped up in the Black Budget and Special Access Programs (SAPs) for years, and many of these SAPS remain unacknowledged by anybody within the government. They're exempt from standard reporting requirements to Congress.

"It is ironic that the U.S. would begin a devastating war, allegedly in search of weapons of mass destruction, when the most worrisome developments in this field are occurring in your own backyard. It is ironic that the U.S. should be fighting monstrously expensive wars in Iraq and Afghanistan, allegedly to bring democracy to those countries, when it itself can no longer claim to be called a democracy, when trillions, and I mean thousands of billions of dollars have been spent on projects about which both the Congress and the Commander in Chief have been kept deliberately in the dark."
– Former Canadian Defense Minister Paul Hellyer

During World War Two, multiple strange sightings occurred, of disc-shaped objects travelling at incomprehensible speeds. When the Associated Press and New York Times covered the topic in 1945, they speculated the objects might be a new form of German weaponry.
There is no shortage of strange documents in the CIA's Freedom of Information Act (FOIA) electronic reading room. Many reveal the agency's efforts to keep tabs on the technological developments of other countries, especially during and after World War II.
One document brings up a famous German engineer named Georg Klein, who, as the document states, expressed that "though many people believe the 'flying saucers' to be a postwar development, they were actually in the planning stage in German aircraft factories as early as 1941."
The document then goes on to mention an experiment described by Klein:
"The "flying saucer" reached an altitude of 12,400 meters within 3 minutes and a speed of 2,200 kilometers per hour. Klein emphasized that in accordance with German plans, the speed of these "saucers" would reach 4,000 kilometers per hour. One difficulty, according to Klein, was the problem of obtaining the materials to be used for the construction of the "saucers," but even this had been solved by German engineers toward the end of 1945, and construction on the objects was scheduled to begin, Klein added.
There's a Strange Reason Why Clocks Across Europe Are Running 6 Minutes Slow
Time is a strange thing. As Einstein said, it is a relative concept. He wasn't predicting a bizarre paradox to beset Future Europe in the year 2018, but he may as well have been.
For months, people in several European countries have encountered a strange wrinkle in time: clocks are telling them different things. While many timepieces are as infallible as ever, other clocks have been falling behind, second by second, ever since mid-January.
As of last week, this weird phenomenon accounted for a delay of close to 6 minutes. Not exactly a postponement to threaten the very fabric of the Universe… but a heck of a way to miss your morning bus.
As strange as this timely dilemma is, it's not a distortion of the space-time continuum that's to blame. It's us – or more specifically, it's politics. In this case, European politics.
But before we get into that, it's important to understand there are a number of ways clock keep time. In the olden days – and not-so-olden days – it was mechanical.
Digital clocks are different, and keep time in a few different ways.
Modern internet-connected devices like your smartphone or computer sync up with other clocks over the web, whereas standalone devices like digital watches or many battery-powered alarm clocks use a crystal oscillator.
But there's a whole range of other devices that get their sense of time from mains power, including ovens, alarms, heaters, and microwaves.
These sorts of clocks keep time by counting the number of oscillations in the alternating current they receive, which also powers them; in other words, the number of times the flow of electricity changes directions every second.
In the US, this is 60 times, or 60 Hz. In Europe, it's 50 Hz – or at least, it's supposed to be. And this is where politics comes into it.
The European Network of Transmission System Operators for Electricity (ENTSO-E), which runs the grid powering 25 separate European countries, disclosed recently that "frequency deviations" in power supply have been experienced across the network since mid-January.
This deviation isn't much, but it is noticeable (clearly).
Instead of delivering 50 Hz – which is what mains-powered European clocks expect to get if they're to keep accurate time – the European grid has averaged 49.996 Hz, which is enough of a disruption, over a couple of months, to make all these clocks lose almost 6 minutes.
Have you noticed your clock running late? ! The Continental European Power System is experiencing a continuous system #frequency deviation from the mean value of 50 Hz since mid-January 2018. Why is this happening? Read ENTSO-E press release: https://t.co/6oroH2haNW pic.twitter.com/LnQygS6kvg

— ENTSO-E (@ENTSO_E) March 7, 2018
In this case, the shortfall was due to a disagreement between Serbia and Kosovo, over who was ultimately responsible for the upkeep of a Kosovan power plant (on paper, it appears to have been Serbia, but it's a complicated situation).
The good news is, according to ENTSO-E, the deviations affecting the average frequency in the synchronous area of Continental Europe have now ceased, although the network is still figuring out how to restore the missing energy (some 113 GWh in total) lost since January.
It's not clear how that will be done exactly, but the long and short of it is, as soon as Europeans reset their affected clocks, the oscillations should be purring along nice and regular now.