Several years ago, the entire world Internet with interest discussed the topic of plastic coffins, which FEMA has accumulated in huge quantities and distributed throughout the United States.
Conspiracy theorists, looking at these boxes, said "something is coming", the optimistic plankton answered "wear foil hats", however, the topic of COVID-19 put everything in its place and made it clear that things would soon get out of the ordinary order!
Meanwhile, the following video comes from California:
https://www.youtube.com/watch?v=z57ezcMgzWM
The video was filmed on some site where cages for animals are taken, then they are distributed to zoos and veterinary clinics, so there is nothing unusual in the cages themselves, even the large ones. The author of the video strained the presence of toilets in large cages:
Thus, these cages, apart from trained rabbits, are definitely designed for the maintenance of individuals of the bipedal species. Therefore, it's highly probable that the second wave of the pandemic began and the cells were brought into the state – the author of the video was horrified: everything indicates that the cells are intended to isolate persons in quarantine.
With the joint efforts of the global conspiracy community, it was quickly possible to find out that the cells are the so-called SHU (Segregated Housing Unit) – personal cameras used when there is a sharp increase in the number of prisoners in the penitentiary. The cells are placed in a row in some hangar or supermarket, after which it turns into a prison: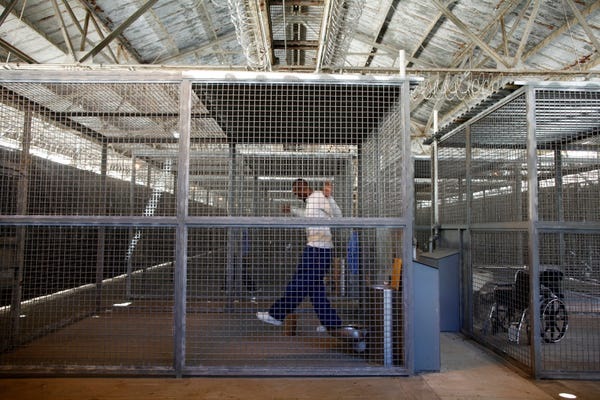 Thus, everything seems to be in order and everything is within the normal range: additional SHUs are simply brought into the state prisons due to the influx of prisoners. However, the problem is that in order to slow down the spread of the COVID-19 pandemic over the summer of 2020, California early-released 18,000 out of 115,000 prisoners. Many of them are believed to have joined the ranks of the "protesters" and are now robbing shops. That is, there is clearly no need for new premises.
Now let's see how in the summer of 2020, concerts were held in the old lady of England: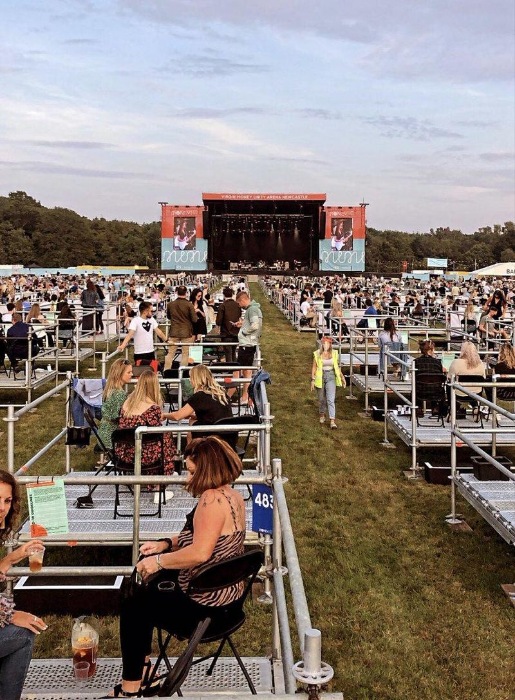 If such cages for "social distance" are put one on top of the other, equipped with a toilet, then you will get SHU in its pure form. People are sitting in them simply because they came to listen to the concert. It is just ordinary law-abiding citizens who are sitting in cages.
Therefore, in light of the most advanced trends in the fight against the pandemic, there is every reason to believe that the cells were brought to California to isolate citizens in quarantine. Most likely, the same cells went to other states and to other countries?