Businessman bought a ghost town, believed in mysticism and decided to stay there forever
Two years ago, a young American businessman Brent Underwood bought a ghost town. Once there was a silver mine, shots rang out every day and famous gangsters from the Wild West met. And now – almost nobody, and a few hours' journey to the nearest store. Underwood arrived in his city in early March, and after two months in complete solitude decided to stay there for a long time.
In the summer of 2018, Brent Underwood received an offer that is difficult to refuse. "Want to buy a ghost town?" – asked a friend.
Prior to the purchase of Cerro-Gordo, Brent Underwood was engaged in marketing books and enjoyed some fame in this area. In 2016, he decided to demonstrate the simplicity with which crooks and crooks "wind up" the ratings of the largest online store Amazon, and in a matter of minutes brought a best-selling photograph of his own leg. When the media wrote about the trick, Amazon founder Jeff Bezos phoned Underwood.
The message was accompanied by a link to a note on the sale of Cerro Gordo – an abandoned town in the days of the Wild West. "At first I took it for a stupid joke, but still clicked on the link and began to read," says Underwood.
It turned out that Cerro Gordo is located in the mountains on the edge of the Death Valley. The city appeared in 1865, when silver was found in those places. Entrepreneurial people from all over California immediately rushed there.
Three years later, businessman Mortimer Belshaw settled in Cerro Gordo. He quickly put the mining of precious metal on a big foot and soon sent the first wagon loaded with silver bullion to Los Angeles. Each ingot was 45 centimeters long and weighed 36 kilograms.
The first approach was followed by others. A year later, more silver and lead was mined in the town than in other mines in California. In just a few years, the thousands of miners who gathered in Cerro Gordo dug underground tunnels with a length of almost 60 kilometers.
Near the mine appeared a church, five hotels, seven saloons and two brothels – one on each edge of the city. A fort was built nearby that protected the locals from the Indians.
There was little entertainment: the miners gambled, drank a lot and visited prostitutes. Any quarrel ended in a shootout. Every week someone was killed, and it was possible to die even by accident. In order not to fall under the stray bullet, the workers had to sleep behind sandbags.
It was a true Wild West from Westerns. It was rumored that Butch Cassidy, the famous robber of banks and trains, was hiding in Cerro Gordo. The walls of the Belshaw mansion, which still stands, still have 156 bullet holes, and a blood stain in the hotel's gaming room
Ten years later, the reserves of the precious metal were noticeably depleted, and the fall in silver prices that began at the end of the 19th century signed the city's death sentence. The miners went somewhere, and Cerro Gordo was empty. At the beginning of the 20th century, it experienced a revival when zinc was mined there, but this boom was short-lived. In the 1930s, the mine was finally closed, and only its owner lived in the city until 1957. After his death, no one was left in Cerro Gordo.
People returned to the city only in 1985. One of the surviving houses was occupied by a distant relative of the former owner of Cerro Gordo, Jody Patterson, along with her husband Mike. Jody from 1973 in parts bought the city from his uncle's wife, who inherited it, and by 1984 became his full owner. She lived there until her death and is buried in the cemetery of Cerro Gordo.
Mike Patterson did not leave Cerro Gordo when Jody died and turned it into a tourist attraction. Wild West lovers could rent a bedroom in Belshaw's house for $ 150 a day, or spend the night in a former workers' dormitory for $ 300. The toilet, as in the 19th century, was in the courtyard, but the guests did not complain.
One woman wrote a thank-you letter and praised me for having talcum powder in the street toilet. It didn't immediately reach me that she had in mind quicklime to be thrown into a cesspool

Mike Patterson, former owner of Cerro Gordo
Patterson's relatives put up for sale the city. By that time, the only inhabitant in Cerro Gordo was the voluntary caretaker Robert Demare. A former school teacher moved there in the late 1990s in the hope of finding silver. "For 22 years, I have found the equivalent of a full wheelbarrow of silver," he claimed in 2019.
22 buildings survived in Cerro Gordo: several houses where the miners lived, a working dormitory, a hotel, a church and a former store in which Mike Patterson set up something like a museum. The city had an electric generator and water supply (although only in three buildings), but to get to the nearest store, it was necessary to drive for more than 40 kilometers. 
But Demare got used to the life of a hermit. Year after year, he repaired broken windows, cleaned up the garbage that "bad people" throw, he said, once a month poured potholes on a country road and shot snakes and rats. Koyotov, the caretaker never touched them: he considered these animals "important and wonderful creatures."
Own city
Underwood got the idea to buy Cerro Gordo. He already had a small tourism business: a small hostel with five employees in Austin. But the real city of the times of the Wild West is a completely different matter. He believed that this was the ideal place for modern tourism, where a beautiful Instagram picture is more important than anything else. In addition, such a picturesque wilderness can attract creative people.
The sellers expected to receive 925 thousand dollars for Cerro Gordo. Underwood and his acquaintance were ready to give all the savings for him, but there was still not enough money. To collect the necessary amount, they had to look for investors. Somehow, Underwood managed to interest the former marketing director of American Apparel, one of the leaders of Hulu and several other large businessmen. This made it possible to scrape together 1.4 million dollars.
Several more buyers claimed Cerro Gordo, and some of them offered larger amounts for it, but the sellers liked Underwood's idea. So he and his friend became the owners of their own city.
At first, in Cerro Gordo, everything remained the same. Underwood paid the caretaker a salary and visited him once a month. He was planning to surf the Internet, build a viewing platform and equip a music studio in a former dormitory, but soon discovered that it was far from easy. "Things went very slowly over the next year or so," he recalls. "We were waiting for permissions and tried to start the reconstruction, but it took a lot of time to do everything, because it is very difficult to bring materials and people there."
The ghost town was an expensive pleasure. About 10 thousand dollars were spent on repaying loans, salaries, utilities and satellite Internet every month. And this is without repair: as it turned out, even replacing a broken pump for water supply costs hundreds of thousands of dollars.
When the epidemic started, the ranger called Underwood. "His wife lives in Arizona, and he wanted to return to her until they introduced quarantine measures," he says. "He asked me to keep an eye on the city so that it would not be looted." I thought that I'll take care of the repair and maybe I'll start renting out the houses for the guests. "
Snow Isolation
The businessman arrived in Cerro Gordo in the midst of heavy snowfall. The car got stuck in the snowdrifts, not reaching the city half a kilometer. "I threw it in the middle of a single-lane road and walked the rest of the way on foot," says Underwood. – It snowed almost daily for another ten days. It got to the point that I could barely open the front door. "
By March 19, when California introduced a regime of self-isolation, it was ideally isolated by nature itself. It was almost impossible to get out of Cerro Gordo before the snow melted. "For the most extreme case, there are snowshoes, but they will have to cover 11 kilometers along a steep slope," says Underwood. He tried them on and was out of breath just a few meters away.
The food they had taken with them quickly dried up, but the ranger left a large supply of rice and canned food. To get water, Underwood melted snow. You can't watch Netflix over the slow satellite internet , so he had to look for other entertainment.At dawn, he went for a walk, studied his possessions during the day, and photographed the starry sky at night.
Underwood walked around the mine and found graffiti made in 1938 on the mine wall. He had extra furniture, so he moved the sofa, carpet and floor lamp there, arranging something like an underground shelter. In the house where the former owner lived, a huge collection of old video cassettes was found, including a copy of Kubrick's The Shining. His characters were also stuck in a snowy mountain hotel, and it ended badly. Underwood decided not to watch it.
Locals believed that true ghosts inhabit Cerro Gordo. Several years ago, a documentary was shot in the city about the ghosts of dead children in one of the mansions, and the former owner of Cerro Gordo, Mike Patterson, kept a picture of a man's face appearing on a window net. He believed that it was the ghost of Alfonso Benoit, who was killed more than a century ago in a nearby lumberjack camp.
Underwood lived in the same room where they saw children's ghosts. He did not wait for their visit, but nevertheless noticed something strange. Most of all, he was embarrassed that in the working dormitory, curtains open from time to time and the light turns on. Just in case, he decided to bypass this place.
The longer I live here, the more I come across things that I can't explain. Until I bought the city, I completely did not believe in this

Brent Underwood
Underwood was occupied by ghosts of a different kind. In one of the houses he came across a suitcase with the belongings of a miner who worked in Cerro Gordo during the zinc boom. Inside was his whole life: bank statements, applications for withdrawal of plots, unpaid checks, lawsuits, love letters and divorce documents. "This man had hopes and dreams, ups and downs, and all that was left was a suitcase full of papers," says Underwood. 
With the help of experts from Reddit, the entrepreneur learned to understand the tracks of animals in the snow. It turned out that his porch regularly visits a lynx. Other footprints were left by coyotes and a bear, it seems. Underwood learned to cycle floors and was used to talking with a couple of local ravens, whose names were Hekil and Jekyll. He liked life in a ghost town more and more.
The problems started when the snow fell. First, Underwood was hospitalized with appendicitis. And in early June, a fire broke out in Cerro Gordo. At three o'clock in the morning an old hotel broke out, then the fire spread to the glacier cellar and the house, where in the days of the Wild West there lived a man named William Crapo, who once shot a postman. "All I could do was call 911," says Underwood. "And then, with the help of a caretaker, desperately pulling buckets of water from the tanks and trying to fill the flames."
Perhaps we will never know how the fire started. Firefighters told me that there are a thousand different reasons. Anything could happen in such old buildings

Brent Underwood
The fire destroyed three buildings, but Underwood still expects that the city can be restored. Even before the caretaker returned, he decided that he would stay in Cerro Gordo for a long time. "I already plan what I will do next winter," he admitted to a New York Times journalist who spoke with him before the fire. "Until then, I'm not going to go anywhere, so I need to prepare."
People of the shadow: what do the mysterious shadow creatures want from us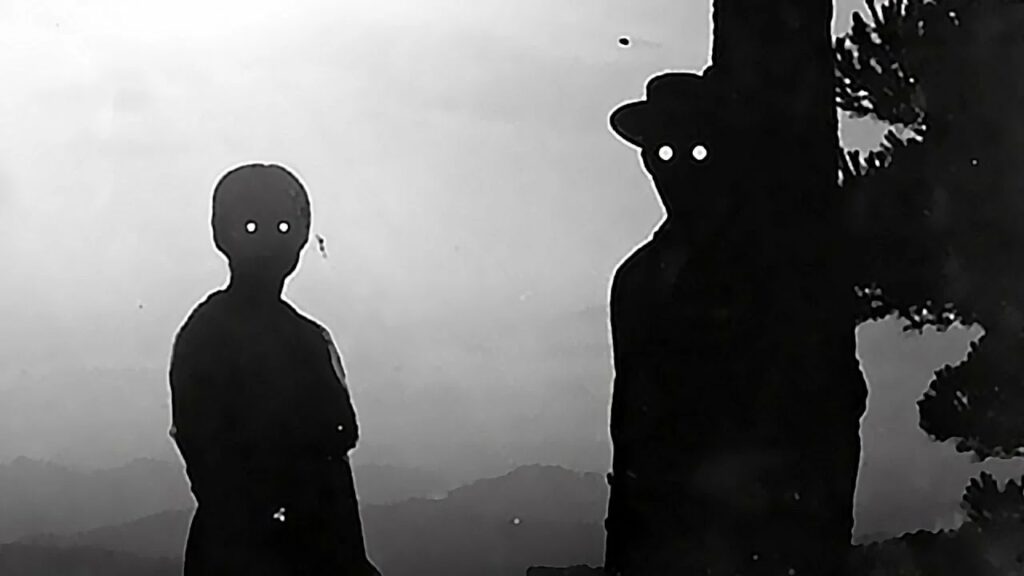 Shadow creatures are neither ghosts nor people, and we know these creatures as shadow people. It seems that the "shadow" know about our location and want us to feel fear or even panic in their presence.
People-shadows or shadow people are paranormal dark barely visible silhouettes known to mystics for a long time. They look like dark humanoid creatures or barely noticeable ghosts, often seen only with peripheral vision. Witnesses claim that shadow people only catch a few seconds, eyewitnesses also say that they looked into the eyes of shadow people and their eyes shone with a red light, like demons.
Shadow people can take different shapes and sizes: look like full-fledged people or even like animals. But most often these are thin tall strange figures. Be that as it may, they appear only for a moment, quickly evaporating into the air. Unfortunately, they can harm humans, which was proven in 2013.
The video posted on the web had confirmation of the existence of a shadow man who was visible for over a minute! An unknown silhouette knocks down a man walking down the corridor and drags him across the floor for several seconds. After some time, it also suddenly disappears, releasing the person. As it became known, the building where the striking phenomenon was filmed has complaints from tenants who more than once meet paranormal events in their home.
There are very few known cases though of adverse events caused by shadow people. In most cases, they appear or disappear as soon as they are found.
Shadow creatures can be spotted out of the corner of your eye. Some people who saw them or knew about their presence say that they are alien creatures, slipping in and out of our field of vision. In the eyewitness accounts, the observation of the recurrence of shadow manifestations is especially often mentioned.
Whether they are an elusive race that has always coexisted with us is an interesting theory suggesting that these creatures are frequent guests in our lives.
Paranormal researchers consider shadow people to be malevolent supernatural entities. Perhaps shadow people will not cause physical pain, but they can affect you emotionally, for example, cause fear – this gives them energy.
Skeptics and scientists believe that shadow people are optical illusions or hallucinations that appear under the influence of drugs or physiological changes in the body. When the left temporo-parietal brain is stimulated, these strange images are created.
Often the appearance of these shadows is inextricably linked with sleep paralysis, when a person is, as it were, between sleep and reality. Scientifically, this is called hypnogogy. Hypnogogia is called "the phenomenon of the face in the dark" for such hallucinations.
All eyewitnesses, regardless of where they live, talk about the same sensations in the presence of shadow creatures. Fear is a cold feeling that overcomes a person at this moment.
Some people say they even saw the eerie red eyes of these dark personalities that momentarily appear anywhere and demonstrate the ability to walk on the walls of enclosed spaces, which defies the general laws of physics.
Whoever they are, they feed on human energy, emit bad vibrations and give negative emotions. We do not know how they got into our dimension, about the purpose of their mission and how they affect the human essence. The main thing is to stop feeling fear in their presence and not to "feed" anyone with your precious energy.
Ghost hunter told how to summon spirits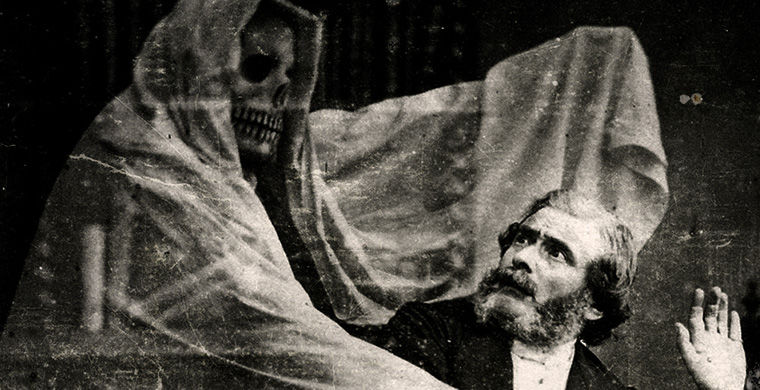 A ghost hunter explained how to summon ghosts and when is the best time to do it according to The Daily Star.
Jade Capasso explores hotels, inns, historical places to allegedly reveal the spirits and ghosts that are present in them. She shares her discoveries on the YouTube channel Ghost Club Paranormal. The girl is sure that you can also talk with spirits.
The 28-year-old ghost hunter is confident that you can talk to ghosts and spirits using a voice recorder. A particularly good time for this, according to her, is the eve of All Saints' Day – Halloween.
"I think there is more activity during Halloween. More people believe in the other world, "she said.
She recalled that Halloween pumpkin is an invariable attribute and symbol of the holiday. People decorate their home with funny, scary, and sometimes even terrifying faces.
"I'm sure there will be more sessions and many will use Ouija boards," she says.
To connect with the "other world", you can go to a famous haunted place, says Kapassa. She also recommends checking your home for ghosts.
To hear a ghost, the girl recommends using special equipment. 
After all, ghosts, she said, emit sounds at ultra-low frequencies that are not perceived by the human ear. You can hear them, as she notes, only on audio recordings.
The girl says that you need to leave the digital voice recorder in a room where paranormal activity is observed all night, or ask questions and wait for an answer.
"Ask questions, and who knows, you might hear a disembodied voice answering you," says Jade.
According to her, there is no need to rush, because the spirits must be given enough time to respond.
"You probably won't hear them in real time. But if you listen to the recording, you might hear someone from the underworld, "she said.
A photographer took a picture of an old house, but did not know that a woman lived there. No wonder – you can only see it in the photo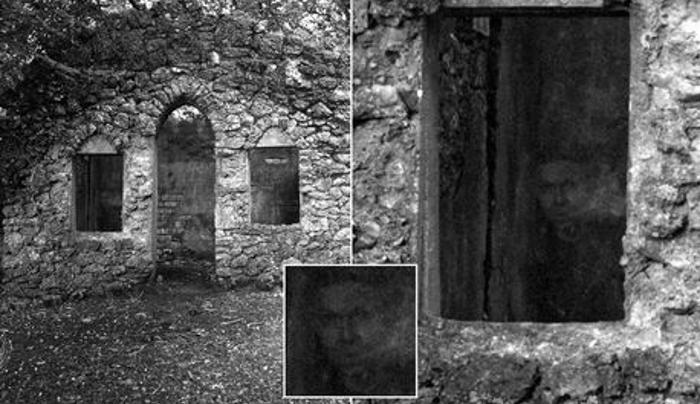 A Scottish resident took a photo of an abandoned building, and then could not believe his eyes when he looked at the finished photograph. From there the woman's face was looking at him, but the man is sure: there was no one in the ruins of the house. Finding an explanation for what he saw was not easy.
A photographer from Scotland, who wished to remain anonymous, decided to arrange an unusual photo session, Unilad writes.
His choice fell on several abandoned buildings that are located in one of the parks in the North Ayrshire region. After taking a couple of pictures, he went to the studio to print them, and then looked at the finished result.
Mysticism often happens in abandoned buildings , and the case with a man was no exception. In one photo, the Scotsman saw the ghostly silhouette of a woman looking at him from a window. However, the man assures that there was no one in the building, and he was alone in the ruins.
During the shooting, I did not feel anything unusual or anything otherworldly.
Despite the fact that the woman's face looks intimidating, he is glad that he managed to capture it. Moreover, the hero of the story shared the frame with all friends who adore mysticism and riddles.
I'm happy that I was able to capture something that looks like a ghost. I am even proud to be able to show photos to people who love riddles.
Many people, according to the photographer, are inclined to believe that this is a ghost, who love to talk to children so much, although the author of the picture himself is in no hurry to draw conclusions. He even looked at the frame under a microscope, but never came to the truth.
You can, of course, speculate, but the human brain makes us see familiar traits everywhere, especially if we look at them long enough.
Moreover, the photographer, according to him, does not really believe in ghosts and other mystical phenomena.
I don't like the term paranormal. As for ghosts, I don't know if they exist. I don't even know how to define them. What is it? Energy?