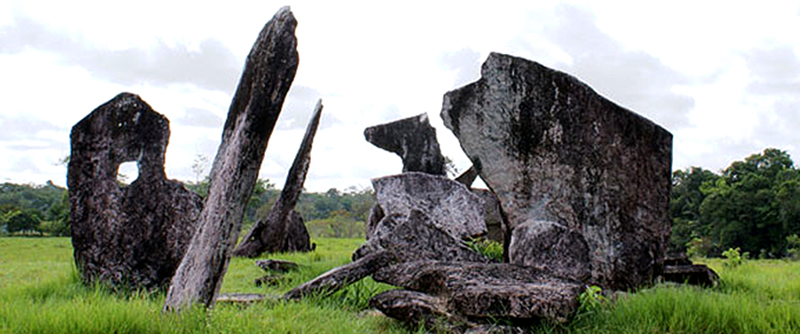 By Leonard Farra
Brazil, the largest country in South America, borders all South American countries, other than Chile and Ecuador, and it's the largest Portuguese speaking country in the world.
It has a huge tropical forest in its Amazon Basin which is home to a diverse wildlife population. When the Europeans arrived in Central America, and Peru, they encountered advanced civilisations but in Brazil they only saw native people living close to nature. Over recent years, however, researchers have found that this huge country had a fascinating past.
The Amazon jungle is very dense but, in cleared areas, on the border with northern Bolivia, there are traces of a lost civilisation. Only part of it has so far been uncovered but its population has been estimated at 60,000. In this region there were structures formed by a network of trenches, about 36ft wide and several feet deep, lined by low banks. Some were surrounded by low mounds that contained ceramics and stone tools. More than two hundred geometric structures have so far been discovered and some date back 1700 years. The geometric shapes are in the form of huge circles and squares. In the upper Xingu region of southern Brazil, a community, of thousands of people, previously lived in large villages, in an organised grid-like pattern, linked by a network of roads. The villages were enclosed within huge ditches and there were bridges and moats in wetland areas.
According to Professor Homet :
' there is a whole chain of burial urns which reaches from the Mediterranean via Brazil and Argentina, these ceramic coffins are often decorated with human faces and are therefore called portrait burial urns'.
Homet concludes that:
'When one considers the chain of places where they are found and which connects the continents we are obliged to that this custom could only have been spread by a single civilisation'. (1)
On the coastal island of Santa Caterina, in the Brazilian province of the same name, there are rock drawings consisting of double ring concentric circles, wavy lines, and diamond shapes all of which appeared in Stone Age art on the other side of the Atlantic.
There were stone circles in many parts of the world with the highest concentration in the British Isles. Some have been found in North America, Peru, and on Easter Island. Many early sites were aligned to the solstices when religious rituals appear to have been enacted. Stonehenge, England's 5,000 year old famous circle, for example is aligned to the summer and winter solstices. On a hilltop, in the Brazilian state of Amapa, there's a stone circle, made up of 127 rough stones, which is aligned to the winter solstice. It's believed to be at least 2,000 years old.
Brazilian archaeologists have found a well-defined ancient stone structure on a hill top in the Amazon. Specifically, this amazing discovery is located in the state of Amapá in the northern reaches of the Brazilian Amazon. Could primitive Indians living in the jungles of the Amazon have constructed this site?   Source >>
Dolmens, huge blocks of rock, usually supported by three or more upright stones, have also been found in many parts of the world including in New England in North America.
In the Brazilian state of Rio Grande de Sul, there are dolmens which are similar to those of early Europe.
Dolmens near Rio Grande de Sul, Brazil
Trilith of Río Grande do Sul of Southern Brazil.
Homet, says that the ones that he saw in Brazil are comparable to the thousands in Algeria. (2)
Various travellers, in Brazil's jungle area, have reported sightings of red-haired white Indians. Harold T. Wilkins , renowned for his research on South America, reported that in 1929, the American traveller Lawrence Griswold was captured by Shuara Indians who took him up the Rio Juara, When the hunting party arrived at the ruins of an ancient city, where  built by tall, 'red-haired', people who were changed into his tribe 'because of their wicked behaviour before the Flood'. (3) There are also traces of red-haired, white, people in Peru and of others of this description were also living in other parts of the world. Tall, white, red-heads formed part of the pre-Spanish Guanche population in the Canary Islands who claimed to be survivors of the Flood. Various early legends say that people of this description were involved in a violent conflict in the pre-deluge era. This is also suggested in a famous, misinterpreted, allegorical, Ancient Egyptian legend. (4)
The Guarani Indians, in Brazil, Uruguay, and Paraguay, claim that their ancestors came from a distant country and that they crossed an ocean before they arrived in their present lands. There were hundreds of allegorical flood legends around the world, including among Native Americans, and a typical one, which is popular among the native Brazilians, tells of a great flood in which only two brothers and their wives survived. There is evidence to suggest that the Great Flood happened 5,000 years ago when there was climate change, and substantial flooding, in different parts of the world. In that era, several civilisations arose 'fully developed' and the indications are that this was the rebirth of civilisation after the destruction of the previous age. Along Brazil's southern coast, mainly in the state of Catarina, archaeologists have discovered as many as 1,000 square pyramids, built from sea shells, and the earliest ones date back to the critical era around 5,000 years ago. In some of these pyramid mounds there were human burials and amazing grave goods including shell breast plates depicting various animals and birds. Nobody knows who these people were or where they came from.
The Sumerian scribes said that the Annunaki caused the Flood because of the evil behaviour of man. Many Early World legends were based on the story of the Annunaki leaders. Adapted to local culture, this trend has continued in many parts of the world right through to present times (5) including among the Guarani in Brazil. Did the Guarani adopt it from an earlier people and could it be that this widespread legend, stone circles, dolmens, and the red-haired white race on both sides of the Atlantic, are evidence of early contact between the Old and New Worlds as many alternative scholars believe?
2015 by Leonard Farra
References:
Marcel.F. Homet : 'Sons of the Sun. (p162)
Do (p12 )
Harold.T.Wilkins,

Mysteries

of South America.(p44)
Leonard Farra, The Pleiades Legacy (The Old World) (p92)
Leonard Farra, The Pleiades Legacy (The Old World) and The Pleiades legacy (The New World)
About the author
Leonard Farra – is the author of the books The Pleiades Legacy and The Pleiades Legacy (The Stone Age) – The Return of the Gods and The Pleiades Legacy ( The New World). All his books can be purchased Online from Blurb.Com. His E-books can be viewed on Apple Ipad, Iphone and Ipad touch.
Leonard Farra has researched the Ancient Astronaut theory for 35 years and written four books on the subject.
A Mysterious Force is Keeping Distant Galaxies in Sync
If you're someone who believes in synchronicity, then this research is for you. In a big way. Make that a BIG way. To illustrate what a big deal this is in the scientific community, the researchers take the rarely-seen stance of using the word "mysterious" in the title of their paper. Hey, that's OUR word!
"For this mysterious coherence in large scales, we cautiously suggest a scenario in which it results from a possible relationship between the long-term motion of a large-scale structure and the rotations of galaxies in it."
There's that word again, this time in the abstract of "Mysterious Coherence in Several-megaparsec Scales between Galaxy Rotation and Neighbor Motion," published recently in the Astrophysical Journal. The research was led by astronomer Hyeop Lee at the Korea Astronomy and Space Science Institute, South Korea's national research institute in astronomy and space science. However, the key phrase in the abstract is "large-scale structure."
"The observed coherence must have some relationship with large-scale structures, because it is impossible that the galaxies separated by six megaparsecs [roughly 20 million light years] directly interact with each other."
In an interview with Vice.com, Lee explains the team's research – a study of 445 galaxies within 400 million light years of Earth – and their "mysterious" observed synchronicity where many of the ones rotating in a direction toward Earth had neighbors that were moving toward Earth, and vice-versa. There's no known way galaxies 20 million light years apart can exert that kind of gravitational force upon each other, so the team attempted to model a dark energy or dark matter force that could link them. The answer? Large-scale structures. Here's a definition from the Harvard and Smithsonian Center for Astrophysics:
"Up until the latter part of the 20th Century astronomers thought, in the words of the eminent astronomer Edwin Hubble, that the universe was "sensibly uniform." As a result of redshift surveys of large samples of galaxies we now know that the galaxies around us are distributed in an incredible tapestry of filamentary and sheet-like structures called the cosmic web. Massive clusters of galaxies lie at major "intersections" in this web. Galaxies like our own Milky Way are usually found in groups which often lie on the outskirts of clusters or superclusters. The first really large structure, the Great Wall, was discovered by CfA astronomers in the late 1980's and is approximately 300 million light-years across."
A cosmic web of galaxies connected by "an incredible tapestry of filamentary and sheet-like structures." (Let's pause here for a moment to ponder: Which came first: the planetarium or psychedelics? Asking for a friend.) Lee told Vice.com that the "mysterious coherence" the team observed was very slowly rotating in a counter-clockwise direction. Vice.com points out that this is the latest of similar studies reaching similar conclusions about large-scale structures. In a 2014 study led by Damien Hutsemékers, an astronomer at the University of Liège in Belgium, and published in the journal Astronomy & Astrophysics, the Very Large Telescope (VLT) in Chile was used to study nearly 100 quasars and the results revealed that the rotation axes of 19 quasars in this group were parallel, despite being several billion (that's billion with a B) light years apart.
"Galaxy spin axes are known to align with large-scale structures such as cosmic filaments but this occurs on smaller scales. However, there is currently no explanation why the axes of quasars are aligned with the axis of the large group in which they are embedded."
The evidence points to the existence of large-scale structures keeping the galaxies of the universe connected and spinning in synchronicity. The explanation obviously needs more study before it's accepted, but it's worth pondering – with or without the aid of psychedelics.
One more thing to ponder … Axes of Quasars would make a great name for a Pink Floyd tribute band.
Source: Mysterious Universe
Internet puzzled by mysterious howls coming from the woods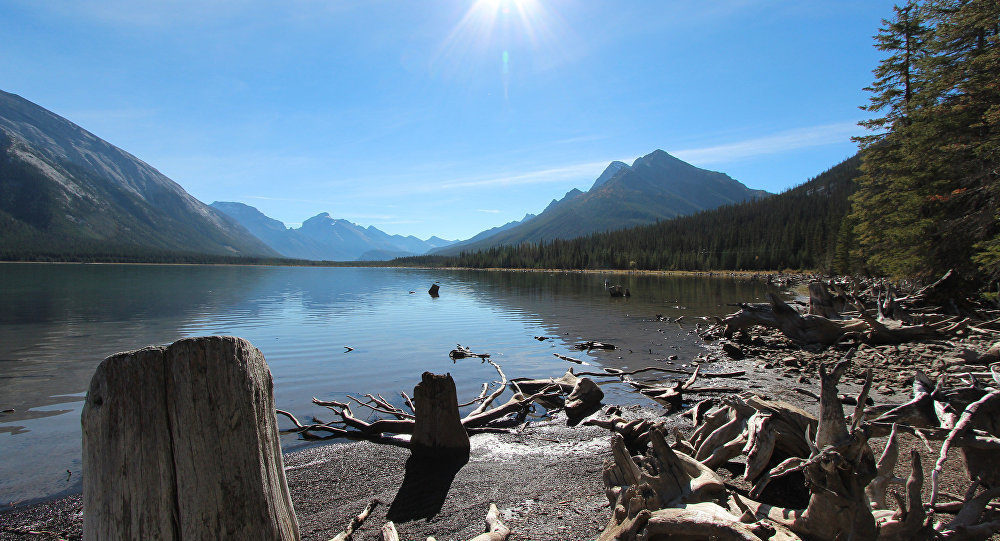 A series of strange and mysterious howls were recently caught on tape by a Canadian hunter, and netizens could not help but speculate about the nature of the sounds – with the craziest theories coming up, including those pointing to such legendary creatures as Sasquatch or Wendigo.
Gino Meekis was hunting grouse several kilometres from Sioux Lookout, Ontario on 3 October alongside his wife and grandson when the family heard the strangest and eeriest sounds, faintly resembling screams. The video, later posted on YouTube, has collected almost a million views, with people left guessing about who or what could have made these sounds.
Meekis, who was later approached for comment by Vice, is an experienced hunter accustomed to different sounds in the Canadian wilderness but even he was confused by the howls.
"When it let out the first scream, I thought it was a moose, but my mind changed when it screamed again and again", the hunter said. He began recording the shrieks almost straight away, as well as his grandson trying to mimic them. The family retreated to their vehicle shortly after the sounds appeared to move closer, as Meekis's wife became particularly scared of the noise.
"I've heard many different animals in the wild but nothing like this. I grew up hunting with my grandfather for the first 12 years of my life", Meekis said.
Although many YouTube users have suggested the sounds could be attributed to a wolf or an injured animal in distress, others alluded to the existence of otherworldly creatures, such as Sasquatch, a werewolf, or even to a malevolent folklore spirit called Wendigo.
"This is what I imagined a werewolf would sound like…" one user wrote on YouTube.
"It's sounds like a grieving Sasquatch", another suggested.
Some netizens, however, were not frightened by the howls captured in the video, joking that it had simply recorded the collective cry of Canadian hockey fans watching their team lose or someone stepping on a lego.
While Canadian biologists from Ontario's Ministry of Resources and Forestry were skeptical about the otherworldly nature of the sounds, suggesting that it could be attributed to a large mammal instead, they remained uncertain of the source, with the video still posing more questions than answers.
Dozens of strange lights in the sky above Honolulu
The moon was big and bright Tuesday night as many across the islands looked up to enjoy the night sky.
While doing so, some people saw strange lights.
Viewers started contacting Hawaii News Now asking about what they'd seen.
Residents statewide saw strange lights in the night sky. (Source: Clau Laz)
Jon Savage, who sent us a photo of the near-perfectly aligned lights, said he saw them around 7:05 p.m. from his Oahu home.
"My wife and I were sitting in our yard stargazing when a line of bright lights came streaming across the night sky over Diamond Head in the direction of Molokai," he wrote in an email.
He noted about 20 to 25 lights, "that resembled a Roman candle shot across the sky," he said.
At least one viewer on Maui also reported seeing them.
Right now, we don't know exactly what they are. The National Weather Service said nothing out of the ordinary appeared on their radar.
We've also contacted the Federal Aviation Administration and are awaiting a response.
Others have speculated the lights were 5G drones, or satellites similar to SpaceX's Starlink Satellites.
Whatever the speculation may be, so far, there's been no official confirmation.
Source: Hawaii News Now