Black Seed – 'The Remedy For Everything But Death'
This humble, but immensely powerful seed, kills MRSA, heals the chemical weapon poisoned body, stimulates regeneration of the dying beta cells with the diabetic's pancreas, and yet too few even know it exists.
The seeds of the annual flowering plant, Nigella Sativa, have been prized for their healing properties since time immemorial.  While frequently referred to among English-speaking cultures as Roman coriander, black sesame, black cumin, black caraway and onion seed, it is known today primarily as black seed, which is at the very least an accurate description of its physical appearance.
The earliest record of its cultivation and use come from ancient Egypt. Black seed oil, in fact, was found in Egyptian pharoah Tutankhamun's tomb, dating back to approximately 3,300 years ago.[i]  In Arabic cultures, black cumin is so known as Habbatul barakah, meaning the "seed of blessing." It is also believed that the Islamic prophet Mohammed said of it that it is "a remedy for all diseases except death."
Many of black cumin's traditionally ascribed health benefits have been thoroughly confirmed in the biomedical literature. In fact, since 1964, there have been 458 published, peer-reviewed studies referencing it.
We have indexed salient research, available to view on GreenMedInfo.com on our Black Seed (Nigella Sativa) page, on well over 40 health conditions that may be benefited from the use of the herb, including over 20 distinct pharmacological actions it expresses, such as:
Analgesic (Pain-Killing)
Anti-Bacterial
Anti-Inflammatory
Anti-Ulcer
Anti-Cholinergic
Anti-Fungal
Ant-Hypertensive
Antioxidant
Antispasmodic
Antiviral
Bronchodilator
Gluconeogenesis Inhibitor (Anti-Diabetic)
Hepatoprotective (Liver Protecting)
Hypotensive
Insulin Sensitizing
Interferon Inducer
Leukotriene Antagonist
Renoprotective (Kidney Protecting)
Tumor Necrosis Factor Alpha Inhibitor
These 22 pharmacological actions are only a subset of a far wider number of beneficial properties intrinsic to the black seed. While it is remarkable that this seed has the ability to positively modulate so many different biological pathways, this is actually a rather common occurrence among traditional plant medicines.
Our project has identified over 1600 natural compounds with a wide range of health benefits, and we are only in our first 5 years of casual indexing. There are tens of thousands of other substances that have already been researched, with hundreds of thousands of studies supporting their medicinal value (MEDLINE, whence our study abstracts come, has over 600,000 studies classified as related to Complementary and Alternative Medicine).
Take turmeric, for example. We have identified research indicating its value in over 600 health conditions, while also expressing over 160 different potentially beneficial pharmacological actions. You can view the quick summary of over 1500 studies we have summarized on our Turmeric Research page, which includes an explorative video on turmeric. Professional database members are further empowered to manipulate the results according to their search criteria, i.e. pull up and print to PDF the 61 studies on turmeric and breast cancer.  This, of course, should help folks realize how voluminous the supportive literature indicating the medicinal value of natural substances, such as turmeric and black seed, really is.
Black seed has been researched for very specific health conditions. Some of the most compelling applications include:
Sometimes the biblical reference to 'faith the size of a mustard seed moving mountains' comes to mind in connection with natural substances like black seeds. After all, do seeds not contain within them the very hope for continuance of the entire species that bore it?  This super-saturated state of the seed, where life condenses itself down into an intensely miniaturized holographic fragment of itself, promising the formation of future worlds within itself, is the very emblem of life's immense and immortal power.
If we understand the true nature of the seed, how much life (past, present and future) is contained within it, it will not seem so far-fetched that it is capable of conquering antibiotic resistant bacteria, healing the body from chemical weapons poisoning, or stimulate the regeneration of dying insulin-producing beta cells in the diabetic, to name but only a fraction of black seed's experimentally-confirmed powers.
Moving the mountain of inertia and falsity associated with the conventional concept of disease, is a task well-suited for seeds and not chemicals. The greatest difference, of course, between a seed and a patented synthetic chemical (i.e. pharmaceutical drug), is that Nature (God) made the former, and men with profit-motives and a deranged understanding of the nature of the body made the latter.
The time, no doubt, has come for food, seeds, herbs, plants, sunlight, air, clean water, and yes, love, to assume once again their central place in medicine, which is to say, the art and science of facilitating self-healing within the human body. Failing this, the conventional medical system will crumble under the growing weight of its own corruption, ineptitude, and iatrogenic suffering (and subsequent financial liability) it causes. To the degree that it reforms itself, utilizing non-patented and non-patentable natural compounds with actual healing properties, a brighter future awaits on the horizon. To the degree that it fails, folks will learn to take back control over their health themselves, which is why black seed, and other food-medicines, hold the key to self-empowerment.
---
Latimeria found, lived on our planet long before the dinosaurs
The unique fish Latimeria chalumnae, also called "Coelacanth", lived on our planet long before the dinosaurs. They were long thought to have disappeared around the same time, about 65 million years ago.
However, after 1938, when the first Latimeria was officially discovered by chance, it turns out that the Latimerians did not die, but live in the deep waters off the east and south coasts of Africa.
Later, a second type of Latimeria was discovered in Indonesia.
The oldest fossils of Latimeria are 360 ​​million years old, and the "freshest" are 80 million years old. At the same time, it should be known that there were a huge number of Latimerians, at least 90 different species. They have been distributed worldwide, in sea and fresh waters.
Latimeria stand out against the modern fishes with their unusual fins, more like limbs, and a wedge-shaped tail. Their bodies are covered with solid scales, similar to armor.
Latimeria are pretty big fish. They can reach up to 2 meters in length and weigh up to 90 kg. At the same time, the fact that no one has found them for so long is amazing.
Even after this species has been officially recognized as being extant, the Latimeria is still rare and can only be found through specific monitoring in the waters where it has been observed.
Latimeria swim slowly and feed on cephalopods and deep-sea fishes. Often, they were discovered in groups in underwater caves. They live to about 48 years. Females give birth to live individuals after a long pregnancy of 13 months.
The history of the Coelacanth is the cornerstone that supports the belief of many cryptozoologists that the mysterious Yeti, sea monsters, Chupacabra and other cryptids, actually exist, but simply have not yet been found.
At least two species of Latimeria, and perhaps more, have survived to this day without hiding at all. In addition, as mentioned above, Latimeria's "freshest" fossils date back to 80 million years.
Just imagine this huge period of time during which archeologists have not found a single skeleton of Latimeria, even though they existed all this time.
According to some reports, there are populations of 300-400 individuals near the coasts of Africa and Indonesia. This comes after several years of increased illegal fishing. In the 1980s, the Latimerians were hunted (supposedly) because of the healing properties of their meat, and before that there were probably several thousand of them.
But if they were initially much smaller, they would probably never have been discovered at all, still considered extinct.
And the rare stories of local fishermen about "fish with a foot and a shell " would be considered the same fiction as the stories of Africans about living dinosaurs.
Humpback Whales Have Made a Stunning Recovery After Coming Close to Extinction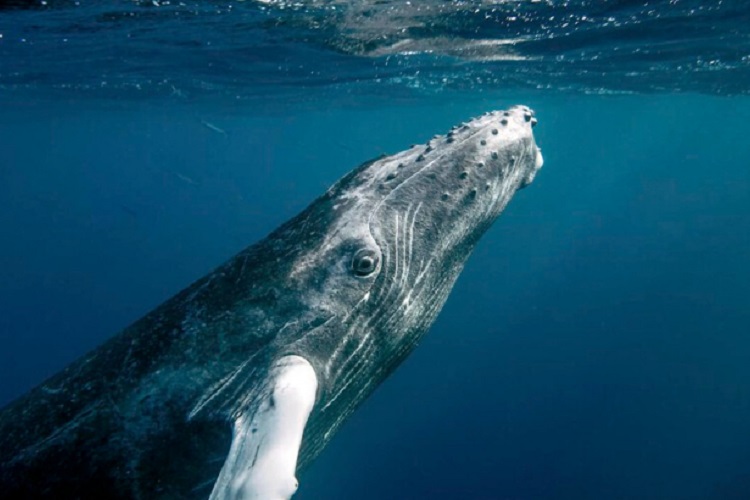 Elias Marat, The Mind Unleashed
After coming dangerously close to the brink of extinction, the humpback whale population in the South Atlantic Ocean has made a stunning rebound, according to scientists.
Around 60 years ago, it was estimated that the western South Atlantic (WSA) humpback whale population had been thinned out to less than 500.
The heartbeat of a blue whale is recorded for the first time
Blue Whales can survive with two beats per minute in the ocean depths and now for the first time heartbeat of a blue whale is recorded.
When a blue whale feeds, it skips several heartbeats, sometimes up to 30. this is what a team of marine biologists has discovered after being able to record the heartbeat of a blue whale, on the coast near California. To do this, a suction pulse monitor was placed on his back.
The researchers watched as the marine giant emerged and submerged again for a period of almost 9 hours, alternately filling its lungs with air and its stomach with appetizing schools of fish hundreds of meters below the surface.
During the dives, the whale's heart has brutal ups and downs, pumping from 34 times per minute on the sea surface to only 2 per minute at the deepest depths – between 30 and 50% slower than expected to be recorded.
According to the new study published in PNAS, the simple act of opening the mouth to eat takes the heart of the cetacean to its physical limits, something that could explain why there are no creatures larger than the blue whale on the planet.
"Animals that function at physiological extremes can help us understand the biological limits of size," said lead author Jeremy Goldbogen, an assistant professor at Stanford University in California. "In other words: if the heart of a whale is not able to pump faster during the effort required in the search for food, how could it support the heart of an older animal and provide the required energy?"
The largest animal in the world Blue Whale
Blue whales are the largest creatures that have ever inhabited the oceans (the Patagotitan mayorum dinosaur was consecrated as the largest terrestrial creature that has stepped on the planet, after its study and classification in 2014 ).
Upon reaching adulthood, the blue whale can be more than 30 meters long, more or less the length of two school buses parked one after the other. It takes a big heart to drive a beast of such size; and while this organ is not so large that a human can swim inside one of its arteries, as an urban myth says, the truth is that stranded whales have allowed hearts to recover up to 200 kilograms and the size of a golf cart .
Scientists already knew that the pulse of these cetaceans decreased in the aquatic environment. When mammals submerge, their bodies automatically begin to redistribute oxygen; The heart and brain are the ones that most demand oxygen, while your muscles, skin and other organs receive less. This allows animals to stay underwater for longer with a single inhalation, resulting in a lower than normal heart rate. This is so true for humans who like diving as for blue whales, however, given the enormous size of the whale and its ability to reach 300 meters below the surface, their hearts are pushed to limits beyond our own. .
Change in the heartbeat of a blue whale with change in depth
In the creature studied, its maximum immersion lasted 16.5 minutes, reaching a depth of 184 meters. On the other hand, he never spent more than 4 minutes on the surface to fill his lungs with air.
The sensor set by the scientists showed that in the deepest dives, the heart of the whale beat at an average rate of 4 to 8 times per minute, with a minimum of only 2 beats per minute. "During these beats that were so temporarily separated, the flexible aortic artery of the animal contracted to maintain a slowed movement of the oxygenated blood through the body," the researchers write.
Back on the surface, the heart rate accelerated rapidly to 25 to 37 beats per minute, charging the bloodstream with enough oxygen to support the next dive. "At that time the heart of the whale was working near its physical limit," the authors add. "It is unlikely that your heart can beat faster than that."
Source: Live Science