Black and red UFO is spotted and terrifies driver in Nashville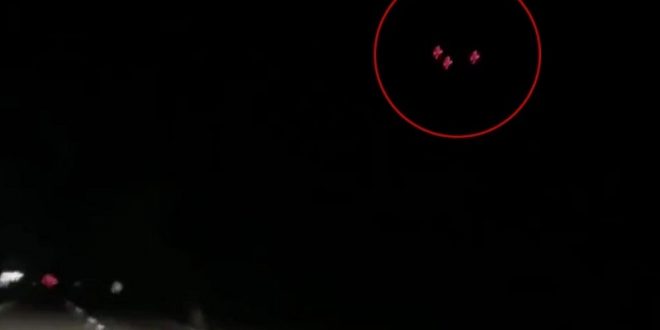 SPOOKY footage shows a blank triangular UFO with red flashing lights hovering over a car as the terrified driver can be heard bursting into tears and saying"f**k, f**k".
The driver then leaves her husband a series of panic-stricken voice messages, shared with Sun Online, in which she tells him "Baby I've just seen a spaceship."
The motorist spotted the strange black triangle with red lights underneath it while driving home from a dance class in Nashville, Tennessee, in the USA.
She was recording herself singing on her phone when she decided to point the camera towards the road ahead.
Suddenly three red lights appeared in the distance and started moving slowly towards her car.
As they got closer, the woman sees them and she can be heard whispering "f**k, f**k" before she bursts into tears in sheer panic – and tried to call her husband.
The driver told Sun Online: "I kept looking in my back seat just to make sure I was still alone in my car. I was terrified but my husband wouldn't answer his phone."
She described the craft as a large black triangle covered in red lights, which was "shiny and had a very sleek design".
She explained: "I was driving home from Nashville, I was alone and I was singing. All of a sudden it just seems to appear out of nowhere and it was hovering over my car.
"It was probably the size of three cars but it was a triangle. There was no sound.

"It was black and had a very nice sleek design.
"The red lights where all nicely placed in rows, but there were some line shape lights. The material was shiny.
"The brightness of the lights weren't extremely bright because I don't remember the red being reflected anywhere or like inside my car. Unless it was too far away for it to make my car reflect red light.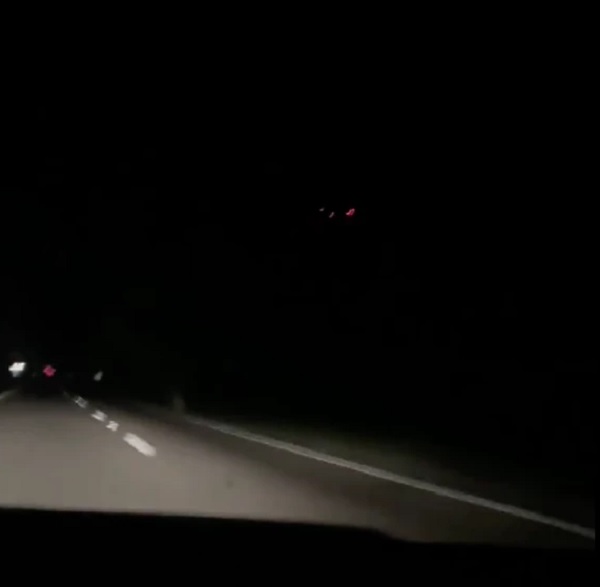 "I started to cry and my initial thought was confusion because I was wondering what a device like that is doing out here and so low to the ground and because I didn't know what I was looking it.
"It was completely foreign until I had the realisation that it was absolutely a UFO."
After the disturbing incident, she frantically tried calling her husband but she couldn't get through to him.
In a series of panic-stricken voicemails, she pleads: "Baby please answer me, I just saw a spaceship. I'm scared, I just saw a spaceship. I saw it clearly, please answer me.
"It had three points, it was a triangle and it was in the sky."
In another voice message, realising she had inadvertently filmed the UFO, she says: "I have a video of it, I was recording as I was singing and I got it, I got it. I'm going to send it to you ok."
Clearly frustrated by not being able to get through, she adds: "Why don't you ever answer when I need you the most? What the f**k dude?"
The witness said: "I stopped recording so I could call my husband and get help or let him know what was happening because it felt like I was going to be taken. I sped up and all I could focus on was getting away from it.
"When I looked back the first time it was there then I looked again and it was gone, maybe it disappeared.
"I kept imagining that an actual alien would just appear on my back seat so I kept looking in my back seat just to make sure I was still alone in my car. I was terrified and my husband wouldn't answer his phone. Until I sent him some voice notes."
Eventually her husband texted her back: "Holy sh*t dude."
Source: The Sun
UFO photo taken by a pilot using a mobile phone released from classified US military report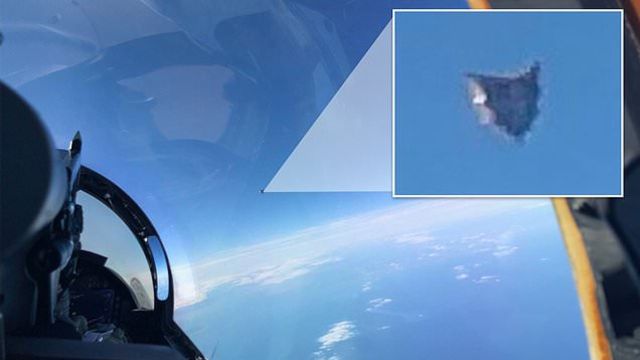 A leaked photograph from the Pentagon's UFO task force shows a mysterious object hovering over the Atlantic at an altitude of 11 km.
Enthusiasts have discovered the existence of two classified Pentagon UFO reports, which include this photograph of a mysterious object hovering over the Atlantic at an altitude of 11 kilometers.
According to anonymous sources from the US Department of Defense and Military Intelligence, this photo was attached to a secret report on the observation of extraterrestrial objects in 2018.
The Department of Defense's Task Force on Unidentified Aerial Events released two classified "contact reports" in 2018 and this summer, and they are widely circulated in the US intelligence community, anonymous intelligence sources said.
According to the information provided in these reports, this object, which was recorded by US Air Force combat aircraft in the sky over the east coast of the United States, may have an extraterrestrial origin.
The photo was taken by a pilot using a personal mobile phone in 2018 off the east coast of the United States.
Ufologists accuse NASA of hiding materials with evidence of the existence of aliens
The question of whether we are alone in the universe remains open. Recently, ufologists are more and more inclined towards a positive answer. In 2020, several UFO reports came from the International Space Station. The "attack" of one such spacecraft was captured by NASA cameras. Experts are confident that the agency is hiding more information proving the existence of aliens.
Although modern equipment has made it possible to detect many planets resembling Earth, scientists have no reliable evidence of the habitability of even one of them. But ufologists are sure that humanity is not alone in the universe. Space agencies and the government have repeatedly accused such specialists of hiding information.
UFO materials from NASA
The American Space Agency has been asked several times about the encounters of astronauts with unidentified objects and the reason for the rejection of lunar expeditions. In 2007, the answer was published on the official NASA website.
"As far as we know, no astronaut has seen a UFO in space. Not all observed objects could be identified immediately. But on the other hand, there is no evidence that any of them was an alien craft. Flights to the moon were terminated by politicians. They are now considering resuming the program again, "wrote David Morrison, NLSI's interim director.
Over the past 13 years, the databases of ufologists have been replenished with new records. In 2017, WikiLeaks hackers reported gaining access to secret archives. They, in particular, contained information about the attempts of astronaut Edgar Mitchell to talk with Hillary Clinton and Barack Obama about the alien issue.
He claimed that the American authorities were cooperating with the aliens. Another astronaut, Gordon Cooper, had earlier reached similar conclusions.
NASA doesn't seem to give up on the idea of ​​extraterrestrial life. In 2020, the agency announced its readiness to finance a project to search for alien intelligence. Its signs could be unusual gases in the composition of extraterrestrial atmospheres.
The agency's still unexplained material supporting the existence of aliens also includes a recent video from the ISS. NASA cameras recorded a diamond-shaped object flying near the station at a speed of 78 km / s.
Moon City and other possible signs of aliens
Scott Waring, an alien hunter, is confident in the existence of life on a natural satellite of the Earth. The truth about the city was accidentally revealed by NASA employees themselves, having published a book with photographs of the moon. They tried to edit the pictures, but failed.
"This white, ceramic-like structure with crisp contours is highly visible," wrote the expert on his blog.
Analyzing images of NASA's Solar and Heliospheric Observatory (SOHO), ufologists suggested that it recorded a UFO 25 times larger than Earth. 
The radius of the UFO is approximately 159 thousand kilometers, while the radius of the Earth is only 6 371 kilometers. 
Waring believes that the object flew out of the core of the star, where it was fueled by energy. This could support the theory that there is empty space inside the sun. 
Scientists working with NASA attribute the appearance of the object to the presence of "space dandruff" – as the researchers call the debris that appears in front of the lenses of telescopes. According to scientists, the object can be anything – from pieces of ice to the wreckage of spaceships.
Previously, the press published a video from the ISS showing a flotilla of unknown objects flying from Earth. According to one version, these were satellites. Skeptics explain "man-made" structures on the Moon and other planets by pareidolia.
The unusual hobby of the husband of Elizabeth II is unveiled. The uncle of Prince Philip had a UFO encounter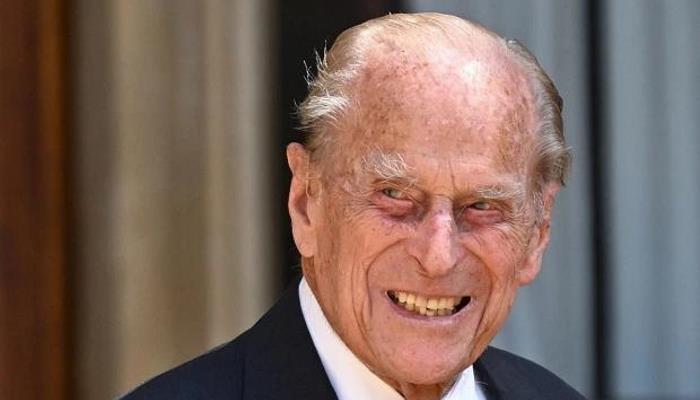 The unusual hobby of the 99-year-old Prince Philip has been unveiled. According to the newspaper The Sun, the husband of the British Queen Elizabeth II, for many decades collected an assortment of books about UFOs and space aliens.
Philip became interested in this topic after his uncle Lord Mounbatten in 1955 wrote an official report on an alien encounter. The admiral and last Viceroy of India (who was killed by Irish terrorists in 1979) reported that a silver spaceship had landed on his estate in Hampshire. 
According to Mountbatten's report, the "flying saucer" hovered above the ground before someone wearing overalls and a helmet descended from the ship. Then, Mountbatten's bricklayer Fred Briggs, who witnessed the event, was reportedly knocked off his bicycle and pinned to the ground by an "invisible force." Lord Mountbatten kept this a secret from the general public.
The Duke of Edinburgh Prince Philip is still adding to his collection. So, he made his last purchase last year. And last summer, he read The Halt Perspective, by retired US Air Force Colonel Charles Holt and Police Detective John Hanson, about the Randlesham incident. In late December 1980, a series of alleged UFO landings, accompanied by unexplained fires, took place in Randlesham Forest, British County Suffolk. 
It was not far from an American Air Force base. Dozens of base personnel witnessed these events for several days, observing unidentified triangular-shaped objects, and then strange tracks were allegedly found in the forest. One of the witnesses claimed that he even allegedly touched the triangular UFO. Charles Holt was deputy base commander at the time.
The personal secretary of the Duke of Edinburgh wrote to John Hanson that the prince would read this book with interest, as well as another work by Hanson – "Haunted Heaven: An Encyclopedia of British UFOs."
"His Royal Highness will add this piece to his collection … This will be the most anticipated addition to his library," Secretary Archie Miller Bakewell wrote.