Bizarre & Rare Medical Conditions
32 year old Huang Chuncai from China's southern Hunan province is preparing for a third operation to remove the enormous tumor growing on the left side of his face.
Huang gained the nickname Elephant Man when the neurofibromatosis he suffers from caused huge tumors to grow on his face, severely disfiguring him. Not only are the tumors unsightly they also cause real medical problems, such as stunted growth, curvature of the spine and restricted breathing.
In July 2007 Huang had his first operation at the Fuda Cancer Hospital-Guangzhou which removed a massive 33lbs of tumor from the right side of his face. The following January Huang underwent a second operation to remove a further 10lbs of tumor, and his story was documented on the Channel 4 show Body-shock.
Now Professor Xu who is treating Huang says that he has been healing well and plans are to carry out the third operation within the next six months, hopefully in time for Huang to attend his sisters wedding early next year.
The operation is very tricky, the tumors are pressing against Huang's brain and there is also a considerable risk of excessive blood loss. The veins which supply blood to the tumors have become increasingly enlarged as the tumors grow, accidentally severing one could prove disastrous.
[youtube https://www.youtube.com/watch?v=pwfdTndbNfA]
An Indonesian man who suffers from a rare disease which causes tree-like growths all over his body is seeking help from American medics.
[youtube https://www.youtube.com/watch?v=DStwXsmZ3OE]
His name is Paul Karason, and he's blue. It's not makeup or paint.
[youtube https://www.youtube.com/watch?v=YIf-QLUbaAU]
Fifty-five-year-old Filipino Rudy Santos is a medical phenomenon – he carries a parasitic twin – one of the rarest conditions known to man.
[youtube https://www.youtube.com/watch?v=r_mqpWozClE]
Meet the members of the Sadaluk Clan, who until recently performed in a unique Indonesian freak show.
[youtube https://www.youtube.com/watch?v=aHNugKPwsOc]
Victoria Wright talks about her life with Cherubism, a facial disfigurement, and how she handles people's reactions.
[youtube https://www.youtube.com/watch?v=e-MkIKe9Mgw]
As his head grows out of control and threatens to snap his neck, Sain receives medical assessments to try and identify the condition that is threatening his life.
[youtube https://www.youtube.com/watch?v=8VINYHlG2H4]
The incredible stories of children born with congenital hypertrichosis, otherwise known as 'werewolf syndrome'
[youtube https://www.youtube.com/watch?v=JojLZ-OQJOs]
Why These Animals Were Accused of Being International Spies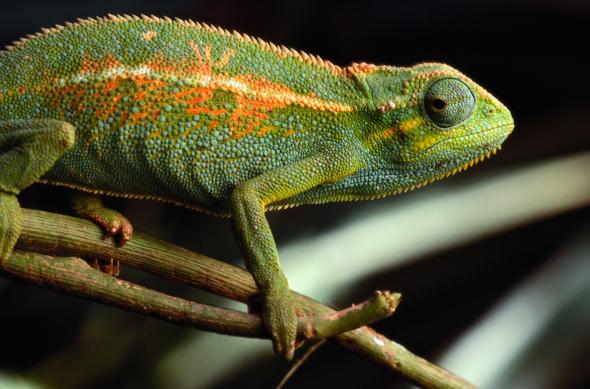 Deep within uranium mines, lizards were lurking around, attracting atomic waves and delivering intel on the Iranian government.
Or at least that's the narrative Iranian military advisor Hassan Firuzabadi told media outlets earlier this week.
Firuzabadi's comments came after being asked about a group of environmentalists under arrest since late January. According to the Times of Israel, a local Iranian news agency quoted Firuzabadi as saying that, in the environmentalists' possession, they found lizards and chameleons. Allegedly these were deployed to find where Iran was mining and developing uranium.
The lizards' skin, Firuzabadi said, was capable of attracting atomic waves. The espionage effort, he added, had failed.
It's unclear how or why Firuzabadi reached this conclusion, but this alleged attempt would have failed regardless because lizard skin isn't capable of absorbing measurable atomic waves, say scientists. Further, as cold-blooded animals, the lizards likely would not have sought out cool, dark caves. (Although these cave-dwelling crocs may be becoming a new species.)
It's not the first time animals have been accused of spying—not by a longshot. Read on for more surprising examples.
In 2016, a large griffin vulture with a six-foot wingspan crossed the Israeli border into Lebanon. When the bird was caught by local villagers, it was found to be wearing a small tracking device on its foot. The locals suspected the animal was being used to spy on them.
The real reason the vulture was wearing a tracker? It was part of a program to repopulate raptors in the Middle East and had been living at the Israeli Gamla Nature Reserve. According to the BBC, it was eventually returned to its home after UN peacekeepers intervened.
An Israeli vulture was also detained in 2011 by the Saudi Arabian government. That griffin vulture was wearing a GPS tag owned by the University of Tel Aviv, which was studying the endangered bird's movement patterns.
Squirrely Behavior
Iran isn't a stranger to alleging animal espionage. In 2007, they detained 14 squirrels that local news agencies said were equipped with spying equipment. Allegedly, the squirrels had some sort of small recording or radio device that was used for eavesdropping.
At the time, national police confirmed they were aware of the story, but did not divulge more information about where they thought the squirrels came from or what happened to them.
NPR interviewed a former CIA agent, and wildlife professor John Koprowski, who were both extremely skeptical that squirrels could be trained for such a purpose.
A Few Good Dolphins
While lizards, vultures, and squirrels are more outlandish accusations of animal spies, some may not be as far-fetched.
In 2015, Hamas—a Palestinian political organization that the U.S. State Department has accused of terrorism—claimed they apprehended a dolphin that was spying for Israeli forces.
The Times of Israel reported allegations that the dolphin was outfitted with spying equipment, including but not limited to cameras.
The details of that story remain murky, but it's indisputable that dolphins have been used in military tactics a number of times over the years.
In 2014, when Russia took over Crimea and infiltrated a Ukrainian military unit, they found several "combat dolphins." The marine mammals were believed to be used to find underwater targets like mines or to block intruders from entering restricted areas.
In the 1960s, the U.S. Navy ran a similar program. Speaking with National Geographic in 2014, a representative from the marine mammal research program at the University of Hawaii said that the U.S. has not only used dolphins as guards, but the animals are also highly skilled at detecting underwater mines.
Dolphins' echolocation is so precise, they've even been used in lieu of machines.
Read More On This At National Geographic News
Missing New York skier found 2,900 miles away in California
© WNYT
Constantinos "Danny" Filippidis
Brad Evans
NBC5
A skier missing from Whiteface Mountain has been found in California.
New York State Police said Constantinos "Danny" Filippidis, 49, of Toronto, was found 2,900 miles away Tuesday in Sacramento.
Filippidis was reported missing last Wednesday by friends who said he could not be found as the resort was closing.
His belongings were found at the lodge and his car was still in the parking lot.
Since then, hundreds of volunteers have spent about 7,000 hours combing the mountain.
Crews used K-9s and helicopters as part of the search.
The steep and icy terrain make the search even more challenging.
Filippidis made contact with law enforcement officers in Sacramento.
He was reported to be in good health.
The circumstances of Filippidis' disappearance remain under investigation.
Officials have not said why he went missing.
Before Tuesday, police said they had no reason to believe Filippidis was not on the mountain.
The Department of Homeland Security, New York State Police, New York Department of Conservation, United States Customs and Border Protection and officials in Toronto assisted with the search.
Filippidis is a married father of two and a 28-year veteran Toronto firefighter.
He had been skiing with a group of firefighters and retired firefighters.
Toronto Professional Firefighters Local 3888 President Frank Ramagano answered reporters' questions Tuesday evening.
He said Filippidis was found confused and unable to answer questions as to how he got to California.
Ramagano said Filippidis was receiving medical care after calling his wife and then 911.
Filippidis was found alone.
Ramagano said Filippidis did not have a history of mental illness or substance abuse.
He said Filippidis was found wearing the same ski gear, including the helmet and goggles, he was last seen in when he was reported missing.
State police did not say if Filippidis would face criminal charges.
Officials have not said how he traveled to Sacramento.
Ramagano said he did not believe Filippidis flew because he left his identification at Whiteface.
The state has not said how much the search for Filippidis cost.
A press conference was scheduled for Wednesday. More information about the case was expected to be released then.
England's Wild Hunt of 1127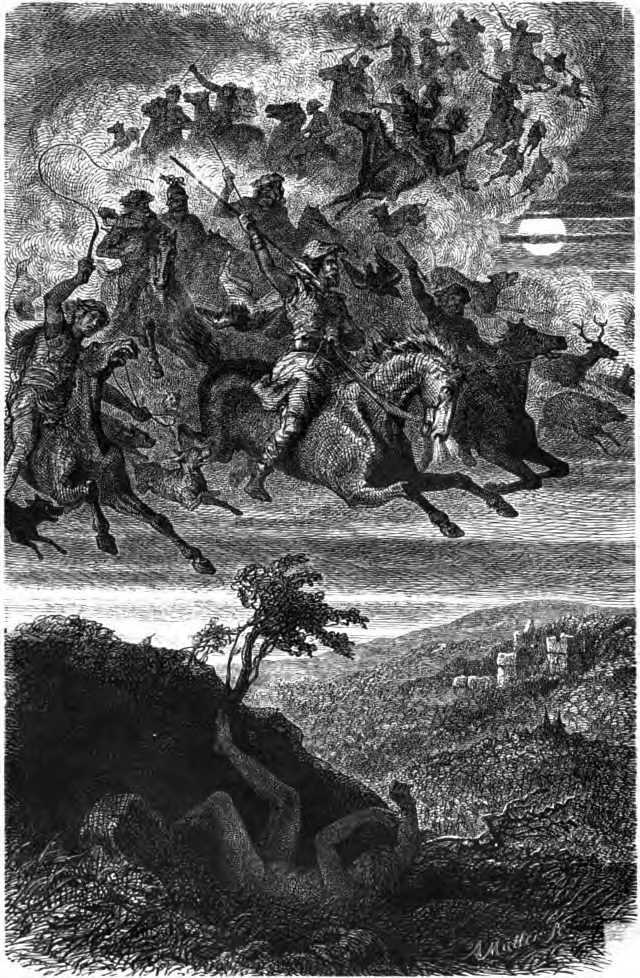 Dr. Beachcombing
Beachcombing's Bizarre History Blog
In spring 1127, in Peterborough, Cambridgeshire strange things happened. At night locals heard repeated horn blasts and some, who were foolish enough to be out in the dark, saw ghastly sights: men appeared on black horses and on black goats riding through the woods following black hounds. It goes without saying that this was not some local form of carnival: the locals repeatedly came into contact with what folklorists call the 'Wild Hunt'.
What is the Wild Hunt? Essentially a charismatic and awfully powerful spirit, usually with unpleasant leanings, takes evil followers on a hunt through the dark, continually blasting his horn. Hunt leaders have included the Devil, Odin, local bogeymen and notorious spirits of the dead. What does the hunt do? Well, that is trickier to answer. In some stories they chase down evil men; in others they just keep everyone indoors, hiding under their beds.
There are literally scores of medieval and early modern references to the wild hunt from western Europe. What makes the events of 1127 unusual is the quality of the evidence and its early date. We have two separate sources recording the extraordinary events of that spring: one contemporary and one written by an author who, though writing as much as a generation later, had lived through the terror.
The two sources were both written at the Monastery of Peterborough, a Benedictine house and one of England's most important medieval foundations. Both are included below in translation and with the original languages, a very late Old English and a very medieval Latin. The first was a chronicle of the year events and was clearly based on interviews (too portentous a word?) with those who had seen or heard the hunt. The hunt had passed through the monastery's deer park and had arrived as far as fifteen miles away in the woods near Stamford.
The second was a history of the monastery written by Hugh Candidus as much as a generation after the events described there. But Hugh, who had been born in the very late eleventh century and who spent all his life in the monastery, had certainly lived through the events of 1127. Hugh's account does not have any new information about the hunt. But the very fact that Hugh included it, shows that, as he was polishing his history, perhaps in the 1150s, it was still a newsworthy event.
However, here we must add another important consideration. The Chroniclers and later Hugh included the information, not for its Fortean value, but because of an important event in the history of the Monastery. In 1127 a new abbot arrived, a grasping s-o-b called Henry de Angeli. Henry had bought the monastery and was not greatly loved by the monks. The Wild Hunt began immediately after Henry arrived and was, therefore a sign of divine disapproval for this Simoniac.
All this suggests that the Wild Hunt might not have been that remarkable at all. It is all too possible that the good folk of Peterborough and Stamford were forever hearing horns at night and seeing bogeys out in the wood. As always with supernatural events, these would have come and gone in cycles. It was just that this cycle suited the narrative that the monks in the monastery were creating and so was jumped upon.
In other words we don't have here a truly exceptional event, what is exceptional is that the monks pull back the curtains and give us a glimpse of twelfth-century English woods and English folk beliefs. The image below is a 19C map of the haunted area. The closest we will ever come to running from the wild hunt in 1127. Note Grimeshaw Wood – the Goblin's Wood?
Ne þince man na seillice þ we soð seggen for hit wæs ful cuð ofer eall land þ swa radlice swa he þær com þ wæs þes Sunendæies þ man singað EXURGE QUARE O. D. þa son þær æfter þa sægon & herdon fela men feole huntes hunten. Ða huntes wæron swarte & micele & ladlice. & here hundes ealle swarte & bradegede & ladlice. & hi ridone on swarte hors & on swarte bucces. Wis wæs segon on þe selue derfald in þa tune on Burch & on ealle þa wudes ða wæron fram þa selua tune to Stanforde. & þa muneces herdon ða horn blawen þ hi blewen on nihtes. Soðfestemen heom kepten on nihtes. sæidon þes þe heom þuhte þ þær mihte wel ben abuton twenti oðer þritti horn blaweres. Wis wæs sægon & herd fram þ he þider com eall þ lented tid on an to Eastren. Wis was his ingang. of his utgang ne cunne we iett noht seggon. God scawe fore
"Let it not be thought remarkable, the truth of what we say, because it was fully known over all the land, that immediately after [Henry] came there (that was the Sunday when they sing 'Awake, why sleepest though, O Lord?') then soon afterwards many men saw and heard many huntsmen hunting. The huntsmen were black and huge and loathsome, and their hounds all black and wide-eyed and loathsome, and they rode on black horses and on black billy-goats. This was seen in the very deer-park of the town of Peterborough, and in all the woods there were from that same town to Stamford; and the monks heard the horns blow that they blew in the night. Honest men who kept watch in the night said that it seemed to them there might well have been about twenty or thirty horn-blowers. This was seen and heard from when he came there, all that Lenten-tide right up to Easter. This was his entrance: of his exit we cannot yet say. May God provide!"
Hugh Candidus
Eodem anno cum uenisset ad abbaciam, uisa sunt et audita monstra per totam quadragesimam, et in noctibus, et per siluas et per plana a monasteriousque ad stanford. nam uisi sunt quasi uenatores cum cornibus et canubis, set omnes nigerimi errant et equi eorum et canes, et aliqui quasi edos equitabant, et oculos grandes habebant, et erant quasi uiginti aut triginta simul. Hoc non est falsum, quia plurimi ueracissimi homines uiderunt et audierunt cornua.
"In the very year in which [Henry] came to the abbey, wonderful portents were seen and heard at night during the whole of Lent, throughout the woodland and plains, from the monastery as far as Stamford; for their appeared, as it were, hunters with horns and hounds, all being jet black, their horses and their hounds as well, and some rode, as it were, on goats and had great eyes and there were twenty or thirty together. And this is no false tale, for many men of faithful report both saw them and heard the horns."
Update: Bruce T with an enjoyable conspiracy theory 'Do you think it was hoax got up to by a few monks and unhappy tenants to discredit and get rid of a hated Abbot? It would be dead easy to do in a countryside before electricity and other decent illumination on dark nights. The tenant confederates could be eyewitnesses to the demonic hunt , if not active participants in it running around the countryside raising Hell and blowing horns in the middle of the night. If they're spotted they've got the monks on the spot to vouch for them with the easy excuse that they were out to track down the demon horde down.'