Bizarre case of Angelique, the electric poltergeist girl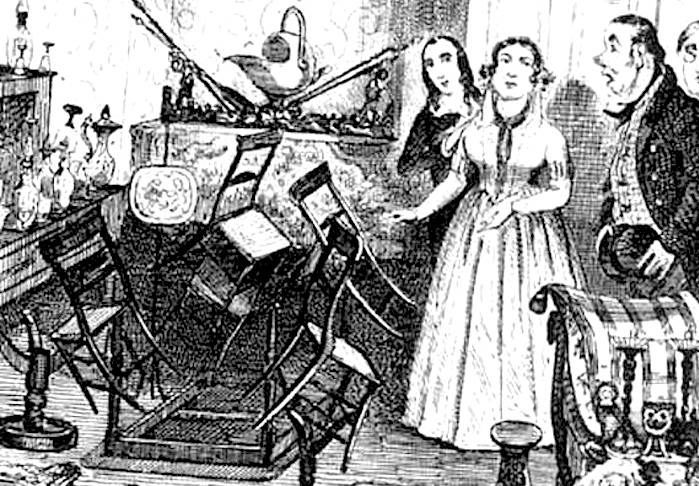 The history of the paranormal is littered with mysterious individuals who at times seemingly came out of nowhere to baffle and beguile, before fading off into the mists of time. These people step out from beyond the fringes of what we know to demonstrate abilities or phenomena beyond our comprehension, tease us with answers to the unknown realms that lurk on the periphery, and then are forgotten to leave their mysteries swirling in the wake of their departures. Such cases are often murky, sometimes frustratingly lost to time, and always baffling. One such case of a particularly mysterious historical case of such a puzzling person is that of a poor peasant girl in France, surrounded by strange, ghostly phenomena, who would go on from her humble life to become a great unsolved mystery.
The tale revolves around an Angelique Cottin, who in 1846 was a young, 14-year-old peasant girl living in the village of Bouvigny, near La Perrière, France, when her life and that of those around her would be forever changed as she launched herself into the realm of legendary unexplained mysteries. In January of that year, Angelique was at work weaving silk into gloves on a large wooden weaving frame when the whole thing began to shiver and shake with increasing intensity, before actually sliding across the floor, despite is heavy weight and the fact that that no one was touching it except Angelique just moments before. It was noticed that when Angelique approached the frame it would seem to actually retreat from her, almost as if it were a living thing recoiling from her presence, which was all enough to unsettle the others who were with her at the time. The frightened witnesses to the inexplicable event told adults, but at the time no one believed them.
In the coming days more similar phenomena began to follow Angelique around, such as chairs moving out of her way and even at one point a table that seemed to levitate in the air in her presence. There were also papers that would flutter and blow away near her, as if by a gust of wind, and pens or other small objects would also dance about or retreat from her touch. Angelique's parents, as well as local residents, witnessed these incidents and rumors began to swirl that the girl was possessed by the Devil. Her parent's would subsequently bring her to a local priest for an exorcism, but her problem was deemed to be more of a physical phenomenon rather than the work of the Devil for reasons that are unclear, and she was sent home in a doctor's care.
The doctor in question went in rather skeptical of the outlandish stories he had heard, but he would soon witness these odd phenomena for himself, and they would indeed steadily grow in intensity. Objects would be flung from her lightest touch with great force, when she sat in a chair it would rattle and buck to the point that even a grown man couldn't hold it down, a heavy table was seen to lift and hover in the air in front of startled witnesses, and other furniture would also shake, quake, and move about when the girl was near it. On one occasion a heavy container flew through the air with a man sitting upon it. Angelique's bed would also often levitate, shake, or move about while she was in it, and the activity in general was noticed to be more pronounced and stronger at night.
For the rest of this tale, go here.
About the Author:

Brent Swancer is an author and crypto expert living in Japan. Biology, nature, and cryptozoology still remain Brent Swancer's first intellectual loves. He's written articles for MU and Daily Grail and has been a guest on Coast to Coast AM and Binnal of America.
My Family Ghost Stories And Thoughts On The Afterlife
I do believe that there is life after death, because the body is one big battery that carries energy. This energy is made up of our own life force, our thoughts, what we see, smell, think, speak and touch. This energy is referred to as our soul, or as our aura.
When we die, this energy leaves our dead carcass and continues on. Where? I'm not sure. Energy cannot be destroyed and where it goes, is anyone's guess. Could heaven and hell be worlds of pure energy? Is this where our departed energy goes after death?
If matter can have intelligence, why can't energy? If there is a matter world, why can't there be a world of pure energy? There are so many questions and very few answers. Perhaps one day, living human beings will know the full truth about the afterlife.
For right now, I will share some of my family member's experiences with the paranormal that might be considered afterlife events: I will start off with myself first. When I was a small boy I lived in an old house on Effy Street in Fresno.
One night I heard a sound come down the sidewalk towards our house, which sounded like a rolling noise. As I looked at the window next to my bed, I noticed that on its own, it opened. A black tea kettle looking object floated to the halfway opened window.
This black object had a snout and the snout pointed at me. From the snout a mist came out and at this time I was screaming at the top of my lungs. My father came into the room to see what was wrong, the black object left and I could hear the rolling noise fade out into the distance. At this time my head was throbbing and I could see skulls flying about my room with wings. Even my own father's face was a skull. The next morning I woke up and I was sick with the flu. From my open window I heard a serene woman's voice call me by my middle
Interesting? Share with your friends and continue reading.
name….."Dale, Dale, come here". As I looked out the window into the orange grove, I saw no one. I ran from the window and fell into the heater burning my leg. As it turned night, my flu got worse and my mother half asleep came into the room and gave me a teaspoon of what she thought was cough syrup, it turned out to be poison and I vomited the poison out of my system. Shortly after this horrifying incident we moved from the house and never had these problems again.
The only other ghost I saw in my lifetime was a ghost of a small white rabbit. This rabbit was a family pet named "Bugs". One day, I left Bugs tied up in the backyard, hooked on a large rope, in that way he could romp around the backyard. I discovered to my dismay, that Bugs had broken his neck from the rope, which got entangled with the bushes. The next night, I saw a ghostly Bugs dart through the garage.
After the one sighting, I never saw Bugs again and I gave Bugs a proper burial. My mother Rosemarie Roberts, related this true ghost story to me. When she was a little girl, she went with her brother and father to Mexico. They stayed at a friend's home. On one night, my mother and brother had switched beds in the middle of the night, but didn't know how this occurred. Both of them were dumbfounded on how they switched beds.
The following night, my mother stayed up and watched a small light in the room. The small light became bigger and started to form shape. It became a small boy holding a basket of roses. The small boy went towards my mother slowly, dropping rose pedals along the way. My mother noticed that the rose pedals would dissolve when hitting the floor. My mother screamed and the apparition disappeared. My mother was shown a child saint when she was a teenager by a nun and she thinks that the apparition she saw was the saint.
My father Paul Marceau Roberts once was illuminated by having a vision in his sleep of sitting by a rock and the clouds opened up and he heard a voice in a strange language. He was able to understand the voice and was shown the end of the world (there was fire everywhere) and World War III. He woke up and my mother said his face was glowing. Those are our family ghost stories. I have 2 brothers and 1 sister and they never encountered anything of the paranormal.
The paranormal encounters were only experienced by myself, my father and mother. My wife Patricia Roberts, had a ghostly encounter with her departed father, this is her story: "I spoke to my dad the night before he passed away. It was frightening in a strange way, because he told me to be good and he hoped I would have everything in life that I need. I wondered did he know ahead of time that he was going to have a heart attack in the park the next day? I really don't know.
After receiving the disturbing news, my dad passed away. I stayed in my bedroom all night crying. The next night I had my dad's shirt and a few other items that he died in. I sat there reminiscing the thoughts of good times with my father. It was a very windy night and not once had I ever left the garage door open. The garage door leads to the kitchen. I heard a click and my Springer Spaniel jumped up on all fours looking out the door. I didn't think anything about it.
About 3 minutes later, I heard the door open and a loud slam of the door. I promptly lifted myself out of bed and felt a very strong presence down the hallway. My dog after 10 seconds at the door, started to bark and growl. I knew it was my dad, I felt him near me. All of a sudden he was at the door, I didn't actually see him in form, but more like an outline of him.
My dog was still growling at the door and I yelled out: 'You're scaring me, please dad go away!' After saying that I felt him walking away and the closing of the door. My dog stopped barking. It has been 15 years and he has never come back again. At times, I do feel his presence in my dreams and he forewarns me of dire situations that may come about."
Why certain people have paranormal events happen to them and others don't, is probably that certain individuals are more acceptable to ghostly encounters. It's as if they were in tune, like a radio to a certain station. It comes back to the energy that our body has surrounding it.
Some peoples' energy is in tune for paranormal events, others are not.
Paul Roberts
Paranormal Activity Terrifies Lehigh Acres Family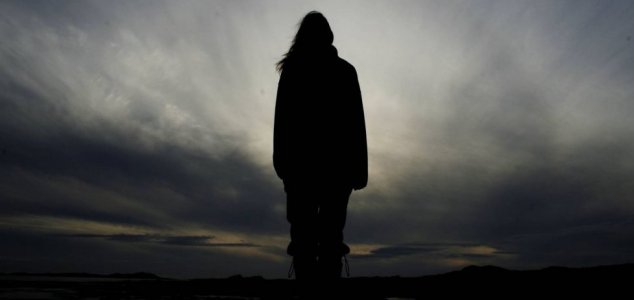 Upon moving into their new home, Elizabeth Lightfoot and her family started to experience unusual occurrences.
via unexplained-mysteries:
The house, which is situated on 7th Street West in Lehigh Acres, Florida, had seemed like the ideal family home until it became apparant that there may already be something else living there.
"I don't want to talk to it," said Elizabeth. "I don't want to communicate with it. I just want it to get out, but it doesn't want to get out so we have to move."
The phenomena started out relatively innocuously with the family hearing sudden loud noises or finding that objects had inexplicably moved from one part of the house to the other.
Soon, however, things started to take a rather sinister turn.
"It broke our TV and our blender," said Elizabeth. "I had to tie my cabinet shut. It even threw a knife at me. I don't even want to go anywhere by myself in the house."
Desperate for answers, the family called in paranormal investigator Lee Ehrlich.
"I would say that there's something in the home that people may refer to as supernatural," he said. "There's definitely something odd going on here that warrants further study."
Exactly who or what is responsible for the phenomena however continues to remain a mystery.
Unexplained-Mysteries
"A Murky Path Down Archer Avenue" short documentary
When I'm not out filming projects in locations that I probably shouldn't be at, I'm most likely reading books, online articles, magazines, you name it. I've been a big geek for history and mythology for as long as I can remember so very few narrative types hit the sweet spot for me as ghost stories do. Creepy tales–are they real or not? did they happen or are they completely bogus?–tend to be a nice collision of rumors, darkly wishful collective thinking, and factual history. That's the type of cocktail that filmmakers seem to enjoy and I'm no different. Big-time, international legends (Robin Hood, Mulan, Pecos Bill, etc.) are widely celebrated, as they should be, but I've always felt that lesser-known, community-based stories are often underrated and underexamined.
There can be an inclination to throw away local legends (the kind all of us here on earth are bombarded with from time to time) when they don't hold up to scrutiny. Fact-checking is best served in courts of law, not necessarily when it comes to telling fright stories. Ancient paper files disintegrate, get lost, catch fire, and are intentionally discarded. People lie and others make mistakes. It happens all the time. History–the concise, crunchy kind that we cling to nowadays–can be more delicate and elusive than we're comfortable admitting. One flawed or misread vintage article can easily send a researcher down the wrong street. We must give space and respect for legends and how they function in fleshing out the bigger pictures of sociocultural values. If you squint and turn your head a certain way, there's more truth being revealed than you may realize.
Chicago, Illinois is similar to many other big cities in the sense that it has a messy history. Lots of people came crashing towards a chosen area during a time when institutionalized documentation wasn't quite on the same level that we have today (to put it mildly). Sometimes rumors and legends are all that we have left. They fill in the gaps where files fall short. Folks in the earliest decades of the 20th century, and beforehand, had a difficult enough time keeping track of the living so when it came to the dead….the details can get easily muddled.
A lengthy, old travel route coursing through Chicago and certain suburbs, Archer Avenue is heavy in history and graveyards which means that ghastly stories are inevitable. The value of these tales–and the value of neighborhood legends in general–is that they're reflective of the histories of their respective locations. Religious obsession? Covered. Guilt, fear, and fascination regarding displaced peoples? Absolutely. Industrial Age tech shock: scary innovative equipment and automobiles turning machines into new monsters to watch out for? Very much there. The ever-present threat of poverty? Constantly highlighted in bright, blazing lights.
What were the past preoccupations of the people in your area? Dig into whatever the rumors are and you'll gain plenty of insight.
The Archer Avenue stories presented in this short documentary are captured in their quickest essences. This is only a brief, 13-minute adventure–history, and twists on history, as a kind of carnival ride–not a day trip. It's designed to spark your curiosity. The beautiful, awful, silly, unnerving folktales included here call for further investigation and in-depth reading. It may seem like there are too many creeps crammed into a singular line of land to be believed–do they ever bump into each other and, if so, what happens then?–but remember that these are tales circulating around just one street in Chicago so you can imagine what the rest of the city is like…..
*This is a guest post written by Derek Quint, Director of Addovolt Productions
*Derek Quint is an independent filmmaker based out of Chicago and the director of the short documentary, "A Murky Path Down Archer Avenue". "A Murky Path Down Archer Avenue" is an entertaining and fast-paced ride through the folklore of Chicago's spookiest street. This project is narrated by Michael Marius Massett and features music compositions by Andre Miguel Almaraz and Michael Marius Massett