Billy Meier: The extraterrestrials have warned of the possible impact of an Asteroid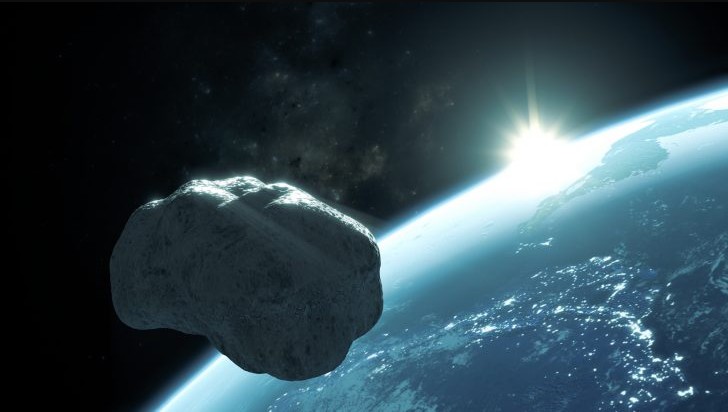 Michael Horn, a researcher and representative of the ufologist Billy Meier, who died in 2008, said that Meier was contacted by aliens to warn of the dangers of asteroid Apophis, "God of Chaos".
During an interview with Express.co.uk, Michael Horn revealed the claims of alien life wanted the world to unite to divert the asteroid. NASA has insisted that the space rock is unlikely to hit the planet in the next approach.
Although NASA is confident that the asteroid will not hit the planet in 10 years, they considered it a potentially dangerous asteroid (PHA). Horn said: "Fortunately, as early as 1981, when Meier received this information, he himself documented it.
"The most recommended means is to detonate a nuclear charge in the immediate vicinity to deflect and push the asteroid" God of Chaos "Apophis out of his way to Earth." When asked why Horn's team and Billy Meier's conclusions differ from those of NASA, he said: "Space traveler technologies far outstrip those of NASA.
"The Pleiadian extraterrestrials, to prove it, gave Meier more than 250 specific examples of prophetically accurate scientific information decades before our own scientists found out." The aliens provided Mr. Meier with specific information on the devastating impacts of asteroid Apophis and explained the numerous subsequent effects.
Horn said: "They provided information on climate and tectonic changes and even further changes that threaten to divide the earth's crust from the current North Sea to the Black Sea." "If Apophis is not diverted he will create a new continent, due to a huge crack on planet Earth, a vast crack that goes from the North Sea to the Black Sea, from where hot lava will erupt. "Furthermore, the masses of hot lava and the gas of the Earth, etc., will create a deadly sulphurous wall that, moving towards the west, will cover the earth and thus create an additional area of ​​death. To avoid this, governments need to cooperate with aliens, but for now we do not know if this has happened.
Red mushroom cloud over Portugal and Bats falling dead in Israel
Bizarre footage, the appearance of an orange mushroom-like cloud over Portugal, was compared to the scene directly from the apocalyptic blockbuster Independence Day.
In incredible frames you can see how the cloud extends over a huge distance. The video was shot on March 20 and became viral on YouTube after it was shared by a conspirator Discovery Screen.
The conspirator said the video first appeared on Facebook with the caption: "Does anyone know what's going on?" The author of the video is Acacio Fernandes Bjj.
Bats Fulfil Bible Prophecy?

Dozens of dead bats fell from the sky in one of the regions of Israel, some began to claim that the biblical prophecy is coming true. Adi Moskowits spotted lifeless creatures while walking through Gan Leumi Park in Ramat Gan on Saturday (March 21, 2020). He shared four photos of the dead bats before another resident posted a video of the same kind, a few kilometers away in the Pardes Katz neighborhood. Many bats are apparently healthy and young.
Another Facebook user said he saw dead bats in the city of Hadera, about 50 km from Gan Leumi Park. Nora Lifshitz, founder of the Israeli Bat Society, said in an interview with Breaking Israel News:
"The phenomenon is extremely rare. She suggested that an unusual incident could have occurred as a result of cold weather last weekend. But Nora admitted that it's just a theory and she's never heard of this phenomenon before."
Post apocalypse. The best vehicles for self-isolation
Shopping centers do not work, public places are closed, metro and other public transport parked … A new pathogen SARS-CoV-2 roams around the capital. These are not credits for apocalyptic cinema, but a very real quarantine scenario in some cities and countries due to the COVID-19 pandemic.
What to do in such a situation? Leave the city, and the sooner the better. We selected the best vehicles, ideal not only for moving in a pandemic, but suitable for long-term living.
DESERT CHALLENGER 8×8
Perhaps the best multifunctional and fully autonomous motorhome for the apocalypse you will find. The Austrians from Action Mobil already ate the dog on top-level land liners, but in the case of the DESERT CHALLENGER they surpassed themselves and built the largest four-wheel drive in the world. A hefty autovilla almost three meters wide (the pneumatic drives of the living room on both sides increase the width to five meters), four meters high and twelve meters long are installed on the MAN KAT 1 A / 1 chassis with a 600 "power" turbodiesel and an 8×8 wheel arrangement. It can comfortably accommodate up to 5 adults, which include a galley with professional kitchen appliances, two separate rooms with double beds, a full bathroom with a shower and a faience toilet, and a living room.
On board the caravan, are two and a half tons of fuel, and the same amount of drinking water, 70 kg of gas and batteries with a total capacity of 1000 Ah. Of the main equipment, an air-conditioning system with filtration from microbes, a huge gas freezer in the hold for storage of supplies, a full-fledged laundry installation, and even a garage with a lifting ramp for the machine are already full, four-wheeled, like Smart Fortwo or even Suzuki Jimny. The total weight of all-wheel drive chorus under 30 tons, the price – from $ 1 million and can easily be tripled depending on the needs of the customer.
UNICAT TC59-family
We agree, the previous version is extreme and too expensive. The Germans from UNICAT developed an easier vehicle, more compact and cheaper. Meet the TC59-family family camper to comfortably accommodate two adults and two children. You can choose one of five chassis as the basis: from the shortest MAN TGM 18. xxx 4×4 (3900 cm) with a three-seater cab to Mercedes Benz Zetros 2733 A 6×6 (6000 cm) with a four-seater cab. Three turbodiesels to choose from. For MAN, these are units with a return of 250 hp. or 340 hp, and under the hood of Mercedes Benz, a 326-strong BlueTec. The box in all variants is a 9-speed manual with a demultiplier and all differential locks.
The living compartment is offered in only one size and consists of self-supporting fiberglass sandwich panels of their own design with a sealed connection. The main double bed, size 1500×2000 cm, is in a separate room; for children, bunk beds are 750×1900 cm. On board there is an isolated toilet with shower, a small kitchenette with everything you need (stove, oven, microwave and refrigerator), numerous storage systems. The capacity of the main battery is 420 Ah, there is an inverter for 230 V. The supply of drinking water is in a 600-liter frost-resistant tank, smaller tanks for wastewater – 150 liters, and for a toilet 120 liters. The volume of onboard liquefied gas is 22 kg. Of course, this is not a chic DESERT CHALLENGER, but the TC59-family costs significantly less – from 600 thousand dollars.
EarthRoamer LTS
The third option is the simplest and cheapest, but no less cool and technologically advanced. The guys from the American EarthRoamer have been producing cool campers since 2002 and have already sold more than two hundred unique expeditioners. The most important advantage of their equipment is that in fact it is an ordinary pickup truck, which means category B rights will fit and no red tape with licensing the truck. At the heart of the LTS model is an all-wheel drive old Ford F-550 Super Duty with a 6.7-liter turbodiesel-quiet Power Stroke V8, which they say that even after 1000 miles of mileage, its exhaust pipe from the inside is like new. The gearbox is a six-speed automatic SelectShift. The regular narrow chassis tires in EarthRoamer are replaced with 41-inch "toothy" military tires with an auto-charging system.
The residential module is built according to a special seamless technology using fiberglass sandwich structures, which are used in the construction of aircraft and yachts. According to EarthRoamer, they were the first to adapt this technology for the construction of motorhomes. There are five layouts to choose from, which differ in the number of seats and beds. Minimum LTS can accommodate from three people, a maximum of six. In the front part there is a double alcove, in the central part there is a galley with a public area, which is transformed into two separate beds. The stern is equipped with storage systems, a toilet with shower and tanks for drinking and industrial water (400 and 120 liters, respectively). The living compartment is connected to the cabin and has a common air conditioning system with the function of air purification, which is important in a pandemic. LTS has a set of solar panels that generate 1300 watts of energy, a satellite communications system and a full-fledged Hi-Fi audio system in the cabin. The price for the basic version starts at 490 thousand dollars.
Americans began to massively to build bunkers because of the coronavirus
Americans massively began to build bunkers against the backdrop of the spread of coronavirus. This was reported by representatives of the market for survival and self-defense products.
Rising S Company founder Clyde Scott said that with the worsening situation with the coronavirus, people began to think more and more about building shelters. He called the current surge in bunker interest unprecedented.
 "Never before have we seen growth in shelter sales due to medical reasons. Usually, our sales depend on political actions that can lead to infringement of freedoms or civil and social unrest, "Scott added.
The most inexpensive one-room bunker, which the Rising S Company produces, costs 39.5 thousand dollars. The largest option with a sauna, a room for plants, a pool, a billiard room and a garage for several cars will cost the buyer $ 8 million.
Increased demand for shelters was also noted by David Davis, representative of US Safe Room . 
"A guarantee of safety, readiness is more reliable than" insurance ", which is help only after you have already suffered losses. Our decision is, first of all, to prevent this loss, "he said.
Davis noted that building a bunker is a necessary precaution to ensure family safety, and more and more Americans realize this.
Earlier in March, an unprecedented demand for luxury real estate was reported amid a coronavirus pandemic. Experts claimed that the rich are willing to spend big money, just to be away from the epicenters of the spread of the virus. As a refuge they most often choose Scottish castles, mansions with bunkers or the uninhabited islands of the Caribbean archipelago. To get to places of isolation, wealthy people rent private planes and yachts, which is noticeable in the increased number of deals.
According to a project by Johns Hopkins University, the number of cases of coronavirus infection exceeded 468 thousand, killing more than 800 people.