Billionaire Intends to Buy 15% of the Planet to Protect It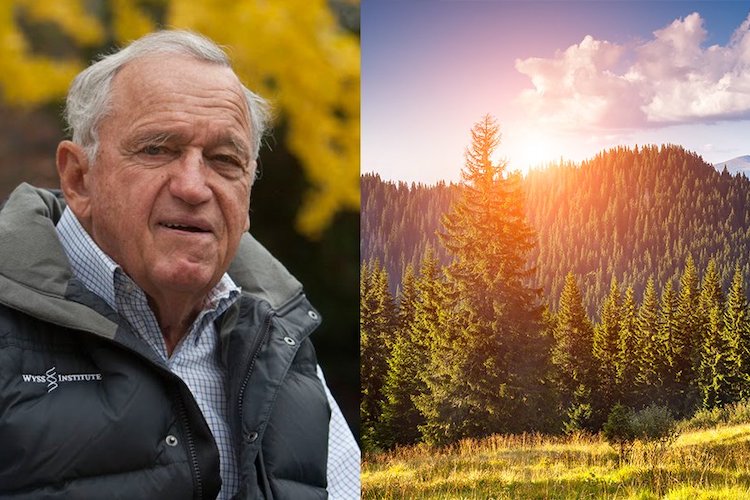 John Vibes, Truth Theory
Waking Times
Last month, when over a billion dollars was donated for the restoration of the Notre Dame Cathedral, many people were asking why such large sums of money aren't available for more pressing issues like homelessness or the environment. It is certainly rare for such a large contribution to go towards something that actually helps the planet, but it does happen every now and then.
Back in October, Billionaire philanthropist Hansjörg Wyss, CEO of the Wyss Foundation, pledged to donate a billion dollars towards environmental conservation efforts over the next ten years.
In an article for the New York Times, Wyss announced an incredible plan to buy large plots of land all over the world and turn them into parks that will be open to the public.
"It is the idea that wild lands and waters are best conserved not in private hands, locked behind gates, but as public national parks, wildlife refuges and marine reserves, forever open for everyone to experience and explore. The notion of holding these places in public trust was one I became deeply influenced by as a young man, when I first climbed and hiked on public lands in Colorado's Rocky Mountains," Wyss said.
"Every one of us – citizens, philanthropists, business and government leaders – should be troubled by the enormous gap between how little of our natural world is currently protected and how much should be protected. It is a gap that we must urgently narrow, before our human footprint consumes the earth's remaining wild places," he added.
Wyss hopes that his contribution will be able to protect 30% of the planet by the year 2030.
Today, we're excited to announce the launch a $1 billion campaign to help protect 30% of the planet by 2030. Learn more at https://t.co/XK6iRrXOX1 pic.twitter.com/9wBvXVzCy7

— Wyss Campaign for Nature (@WyssCampaign) October 31, 2018
According to Business Insider Wyss has already donated more than $66 million to at least nine different organizations in the two months after making his pledge.
Some of those donations included $750,000 to help the Dehcho First Nations in Canada create a management program for the Edéhzhíe National Wildlife Area in the Northwest Territories, which is part of a 3.5 million acre wetlands ecosystem and home to many animals. The foundation is also making a $5.8 million donation to Aves Argentinas, the oldest conservation group in Argentina. This donation will help create a 1.5 million acre national park. Wyss is also donating $22 million to Fundación Flora y Fauna, to establish a 178,000 acre national park in Argentina's Tucumán Province.
Hansjörg Wyss may not be a household name, even for conservationists, but he has been silently donating his millions to the environment for the past twenty years. In fact, Wyss has given over $450 million to similar efforts prior to his recent pledge.
In his Op-Ed for the Times, Wyss said shared his optimism for the future.
"This money will support locally led conservation efforts around the world, push for increased global targets for land and ocean protection, seek to raise public awareness about the importance of this effort, and fund scientific studies to identify the best strategies to reach our target. I believe this ambitious goal is achievable because I've seen what can be accomplished. Indigenous peoples, local leaders and conservation groups around the world are already busy setting aside protected areas that reflect the conservation, economic and cultural values of nearby communities," Wyss said.
"I've seen this unfold firsthand. Over the past two decades, my foundation has supported local efforts to protect wild places in Africa, South America, Europe, Canada, Mexico, and the United States, donating more than $450 million to help our partners conserve nearly 40 million acres of land and water," he added.
33ft 'frozen dragon' pterosaur found in Canada
Image Credit: CC BY-SA 4.0 PaleoEquii
Cryodrakon was absolutely enormous. 
Palaeontologists have identified one of the largest flying creatures ever to live on planet Earth.
This gargantuan creature, which soared through the Cretaceous skies over 76 million years ago, has been named Cryodrakon boreas, which means 'frozen dragon of the north.'
Originally discovered in Dinosaur Provincial Park in southern Alberta 30 years ago, the partial skeleton had been mistaken for another genus of pterosaur until very recently when a new analysis enabled experts to finally recognize it as a new species.
Thought to stand 9ft tall and with a weight of 250kg, this enormous flying reptile would have likely feasted on just about anything, including small dinosaurs.
Its 33ft wingspan – which would have made it similar in size to a small plane – is almost three times that of the wandering albatross which has the largest known wingspan of any living bird.
"These are among the most popular and charismatic of all fossil animals," said Michael Habib from the Natural History Museum of Los Angeles. "They have been inspiration for countless movie monsters, they were critical parts of global ecosystems worldwide during the age of dinosaurs, so they are key to understanding the ecology and extinctions of that time."
"Just like flying animals today, [they] could carry important clues about how animals at the time responded to major changes in climate."
Source: Independent
Meteor Fireball Streaking Across the North Carolina Sky Captured by Dashcam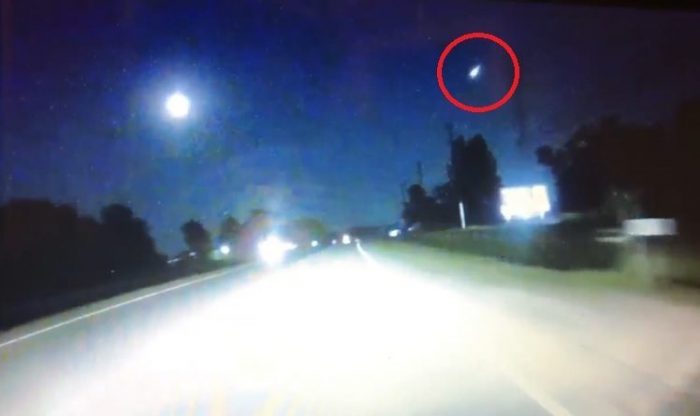 A car dashcam recorded a fireball streaking across the night sky in North Carolina.
An ABC11 viewer recorded the video Thursday night while driving on Raleigh Road in Wilson toward Airport Boulevard.
In the top right of the screen, a bright light can be seen entering the frame and streaking toward the horizon for about three seconds.
According to the American Meteor Society, as many as 20 witnesses from South Carolina to Virginia reported seeing something similar around 8:07 p.m.
With all of the reports are taken into consideration, AMS projects the fireball's trajectory happened off the coast of Morehead City.
Defending the Amazon, Indigenous Rights & Planetary Integrity
As the Amazon Rainforest crisis persists, our inability to protect our planet poses an existential threat to all of Earth's inhabitants. As the sky recently turned black over Sao Paulo, Brazil because of smoke (thousands of kilometers away) from the fires that is so thick it can be viewed by NASA space satellites, the world's leaders were assembled at the G-7 summit in Europe, seemingly more interested in exchanging sophomoric insults than solving the world's most pressing and urgent problems. According to Brazil's National Institute for Space Research, almost 73,000 forest fires have been documented this year alone. That's an alarming 84% increase from what was observed in 2018.
As Indigenous groups and conservationists scramble to defend the lungs of our planet, Brazil' President Jair Bolsonaro audaciously shrugged off the news and blamed NGO's and Indigenous groups for the glaring uptick in fires in the Amazon. Since taking office in January, Bolsonaro has promised to roll back environmental protections and indigenous rights in order to exploit the Amazon for increased farming and mining, and he has made good on that promise.
Invasion of indigenous territories are on the rise in Brazil, and indigenous groups are increasingly under threat as titans of industry within mining, logging, and animal farming continue to encroach upon indigenous land and destroy precious parcels of the Amazon for commercial exploitation. Bolsonaro has emboldened these invasions. Recently, a group of heavily armed miners invaded indigenous land in Northern Brazil and assassinated one of the community's indigenous leaders.
Indigenous peoples in Brazil are once again on the front lines today of one of the most brutal attacks on their rights and on the forest in recent history. We're now seeing the drastic rollback of 30 years of progress on human rights and environmental protection in Brazil under Bolsonaro's regime, which romanticizes Brazil's past when military dictatorship took helm and presided over wanton destruction of the forest. The Munduruku people have been resisting encroachment and destruction of their land for centuries, and their fight (along with other indigenous groups and the very spirit of the Amazon jungle itself) is more urgent than ever as Brazil's government and commercial industries continue to violate with impunity.
The tragedy currently taking place in the Amazon is indicative of a broader cultural problem in regards to our relationship with our planet. 1/5th of all the world's plants and birds and about 1/10th of all mammal species are found in the Amazon. Earth has lost half its wildlife in the past four decades. Based on an analysis of thousands of vertebrate species by the wildlife group WWF and the Zoological Society of London, our way of life has presided over the destruction of 60% of our animal populations since 1970. The report calculates a global "ecological footprint," which measures the area required to supply the ecological goods and services humans use. It concludes that humanity currently needs the regenerative capacity of 1.5 Earths to supply these goods and services each year.
With the planet's population expected to grow by 2.4 billion people by 2050, the challenge of providing enough food, water and energy (while sustaining planetary health) will be difficult. This should be the real "RED ALERT" placated all over the media, as the shocking and rapid decline of planetary biodiversity poses an imminent catastrophe that plagues all of us, requiring urgent and bold alterations to our way of life.
That being said, we have more than enough resources to profit food and shelter to billions of people. Solutions done seem to be the problem, it's human consciousness, greed and ego.
Outrage is an understandable response to the Amazon crisis, but not sufficient to redress the problem. We need to take individual action in our daily lives by altering our lifestyles. One of the most under-reported aspects of Amazonian deforestation is our addiction to consuming meat. Beef, soy, palm oil and wood drive the majority of tropical deforestation.
Animal agriculture is devastating for the Earth. Raising livestock for meat, eggs and milk uses about 70% of agricultural land, and is a primary factor in the proliferation of deforestation, biodiversity loss, and water pollution.
"1.2 billion farmed animals are slaughtered globally every week for human consumption. In one week, more farmed animals are killed than the total number of people killed in all wars throughout history. Although these animals are treated as commodity, they are — in fact — sentient beings — like your pet cat or dog. We tend to assume that only vegans and vegetarians follow a belief system — but when eating animals is not a necessity (which is the case in much of the world today) — then it is a choice, and choices stem from beliefs. "Carnism" is a dominant philosophy — as eating animals is just the way things are — yet it runs contrary to core human values such as compassion, justice, and authenticity. And so — they need to use defense mechanisms that distort our thoughts and numb our feelings so that we act against our core values without fully realizing what we are even doing." ~Dr. Melanie Joy
The challenges that face our planet, our indigenous family, and our own imminent future are immense. It is easy to feel discouraged, angry, and hopeless about the state of the world, but the ability to harness humanity's intelligence, creativity and compassion to steer the planet in a new direction is with us right now. We can take individual responsibility today, which can resonate immediately and create waves of influence that can lead to a collective change in behavior and attitudinal shift towards our relationship with nature and with ourselves. This change starts from within, and this work begins with each of us making the choice to defend and protect this wondrous planet which has so graciously hosted our livelihood.