Bigfoot caught on camera trap in northwestern Pennsylvania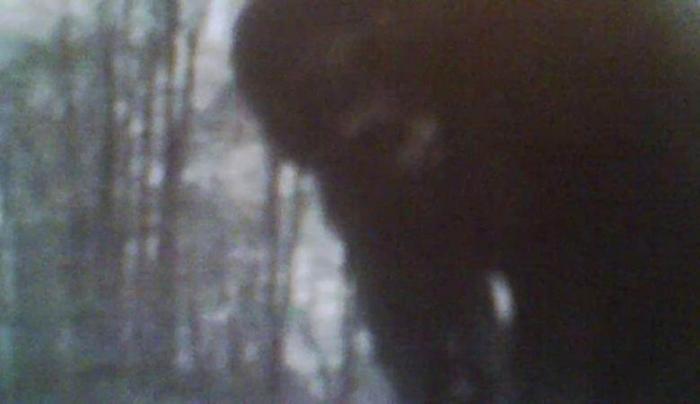 An American hunter living in northwestern Pennsylvania shared a very unusual snapshot. According to the man, in recent weeks he began to notice that someone was chasing him in the forest.
A tall dark silhouette appeared on the hills, hiding behind trees and rocks. The man, surprised and even somewhat frightened by this, decided to find out whose attention he drew to himself, what animal was following him, and so he set up several trap cameras in the forest.
Cameras that react to movement take pictures when something flashes in front of them: an animal running past, a bird flying next to it, or even a leaf falling from a tree. The American received several dozen of such pictures. But then camera caught a mysterious stranger for whom it was actually placed.
The most amazing thing is that he clearly approached the camera and looked directly into its lens, apparently because of curiosity. A shaggy massive figure, similar to a monkey, was imprinted well enough on the photo so that it could not be confused, for example, with a falling leaf.
Of course, many, including the hunter himself, felt that the device had "caught" the legendary Bigfoot. Perhaps the alleged relic hominid noticed that the camera strikingly stands out against the background of everything around and began to look at the strange object with surprise.
The picture interested many cryptozoologists and researchers of the Yeti. Most of the experts who studied the photo concluded that it is genuine and shows bigfoot. Unfortunately, even in this case, the quality of the photo is not so good, but, apparently, it's such a yeti creature: clever and elusive, but… certainly curious.
Should Bigfoot Be Killed?
Once Bigfoot is proven to definitely exist, many changes are in store for the Bigfoot/human relationship. Some may not be positive!
Bigfoot, also known as Sasquatch, is purportedly an ape-like creature that inhabits forests in every state of the union, except Hawaii and Delaware. It is usually described as 8- 10 feet in height and completely covered in hair. Many Cryptozoologist (scientists who study hidden animals) have sought to discover the true identity of this beast, so far all have been unsuccessful.
Bigfoot investigators understand that they will never know the true identity of these cryptids, until they have a body – living or dead. That said, many of those in the field have taken a no – kill stand on the subject of havesting a Bigfoot. Many investigators have decided that they will not be the one to supply a body, unless one is found dead from natural causes.
Many Cryptozoologist fear that if one is killed, we will still not find as many answers as we seek due to the change in the Bigfoot/human relationship that is sure to follow.
Bigfoot may become a target for poachers
The number one concern is that once a previously unverified creature is proven to be flesh and blood, it will unleash a large number of a certain breed of mankind into their habitat, whose only desire is to randomly kill these splendid creatures.
Lawmakers will have to immediately enact very strict laws to protect these species. It is true that these life forms have done a great job protecting itself, without human help, for untold centuries, but they have never faced this kind of situation before. This will by far be the greatest threat to its continued existence.
Bigfoot may become hostile to humans
It appears, at this time, that Bigfoot considers mankind as a mere curiosity. They do not want to buddy up with humans, but they do not consider them a threat to their existence. Cryptozoologist fear that this may all change.
It is a given fact that these creatures are physically superior to humans; they also possess a high level of intelligence and may be capable of very human-like reasoning. These cryptids may one day decide that their best chances of survival will involve becoming physically aggressive to all humans who venture into their territory.
This will require a complete rethinking of many outdoor activities that we now take for granted. As a result, many activates such as camping, hiking, fishing etc will be greatly curtailed.
Bigfoot may become even more elusive
Possessing a Bigfoot body will only be the "tip of the iceberg" when it comes to a real understanding of these creatures. For the most part, Bigfoot avoids human contact, but there have been instances where Bigfoot has allowed humans to observe them for an extended period of time.
These rare opportunities will vanish if Bigfoot decides that humans are a real threat to their existence. Bigfoot will most likely retreat deeper into the forests and the chance of an encounter will be very rare, if not impossible.
By Ron Coffey
More Alleged Water Monsters Spotted in Canadian Lakes and Rivers
There are over 30,000 lakes and countless rivers in Canada, so the odds are in favor of there being a few unexplained water monsters swimming in bodies of water other than Okanagan Lake and its Ogopogo. In fact, just this week a parks and recreation director spotted some as-yet-unidentified thing making a large wake in Kamloops Lake. Now comes word of multiple recent sightings with videos and pictures in Shuswap Lake in British Columbia and one in the Bow River of Alberta's Banff National Park. Is something waking the monsters of Canada?
"I was kind of hoping to see it again and to my surprise I think that I did. Whatever it was, it was big. It looked like there were some kind of black humps. I had seen it twirling around a bit and then it went under."
On May 14, Dawn Dumont saw something with "black humps" twice in Shuswap Lake – once in the coastal town of Scotch Creek and again in Salmon Arm. She was quick enough to capture the second encounter on her cell phone and posted int on Facebook, where many people called it the Shuswaggi lake monster. Shuswap Lake measures 55 miles (89 km) long, 3 miles (5 km) wide and up to 528 ft (161 m) deep – plenty big enough for a lake monster. (See the video here.)
Native legends about such a creature go back centuries, but the first modern alleged encounter was reported in 1904 by a Shuswap First Nations tribe member who claimed he killed and skinned a water creature the size of a bear, but with 12-inch-long flat feet like a mole. Other sightings have been reported, including one in 1984 of an alleged 25-foot sea serpent with 7 humps. However, 2019 may be the year of the Shuswaggi. In April, two Shuswap fishermen recorded something with black humps swimming around their boat. (See the video here.) They have no idea what it might have been, but they plan to go back and fish for it. (To paraphrase a famous line from "Jaws" – they're gonna need a bigger boat.)
"After an hour hiking, we took a break on a hill with a great view of Bow River where my sister and I saw what appeared to be a prehistoric animal swimming. I pointed my sister to what I was seeing, and she too stood shocked. I immediately took photos, and after evaluating them, my sister and I responded with the same conclusion – the Loch Ness Monster."
Sigh. It can't be the Loch Ness monster because the Bow River isn't the Loch Ness, but that's what Matthew D'Amico reported seeing last week in Banff National Park – a creature with a "long neck protruding out of the water." That "neck" makes the thing look like the alleged monster in the infamous 1933 Surgeon's photo of the Loch Ness Monster which turned out to be a hoax sighting. This one has more the makings of a log, especially without a video, a wake, any landmarks or objects to help size it, etc. (See the picture here.)
As far as the Shuswap Lake sightings are concerned, wanna-believers are hoping it's an unknown creature or a 34-million-year-old Basilosaurus or some other extinct marine mammal or giant lizard or serpent. Skeptics, as they do with Ogopogo and other lake monsters, think it's a lake sturgeon, although even the largest measure well under 25 feet.
Is this the Year of the Shuswaggi? It's only May and Ogopogo still has the lead in name recognition. If you see something strange in any lake in Canada, just remember to lean against a wall to steady yourself, zoom in, get other witnesses … and PLEASE don't call it the Loch Ness monster.
Source: Mysterious Universe
Man set to solve Iliamna Lake Monster mystery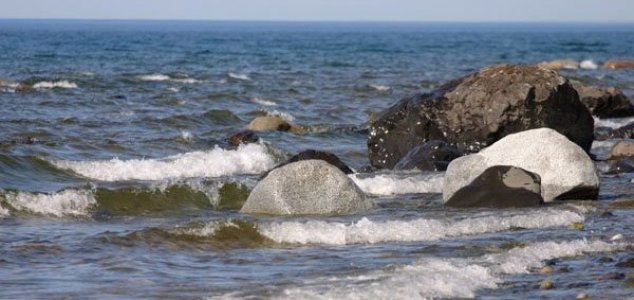 Image Credit: CC BY-SA 3.0 AlaskaTrekker
What lies within the depths of Lake Iliamna ?
A former marine ecologist is aiming to use underwater cameras to spot an elusive lake beast in Alaska.
Nestled at the north end of the Alaska Peninsula, Lake Iliamna is 77 miles long and as much as 22 miles wide, making it one of the largest lakes in the United States.
Like many large lakes, Iliamna is also home to its very own monster legend – a mysterious aquatic denizen of the deep that has been at the center of local folklore in the region for years.
Many fisherman swear by the creature's existence and even claim to have encountered it first-hand.
So great is the mystery that in 1980 the Anchorage Daily News offered a $100,000 reward for tangible evidence or scientific verification of a previously undiscovered species in the lake.
Now in a renewed bid to find out what lurks in Iliamna's depths, former marine ecologist Bruce Wright will be visiting the region this summer armed with a special underwater camera.
He will also take samples of the water so that it can be DNA tested.
His personal theory is that the sightings can be attributed to the presence of large sleeper sharks in the lake – a species that can grow to enormous sizes and live for hundreds of years.
"If we see a new species, that would be pretty fascinating," he said. "And if I find a sleeper shark, that's worth the effort too."
"There will be plenty of questions about why they're there and how do they make a living."

Source: ADN.com