By John Blake, CNN
Some people not only share their life but their moment of death with loved ones. Are these 'shared-death experiences' real or a mirage?
William Peters was working as a volunteer in a hospice when he had a strange encounter with a dying man that changed his life.
The man's name was Ron, and he was a former Merchant Marine who was afflicted with stomach cancer. Peters says he would spend up to three hours a day at Ron's bedside, talking to and reading adventure stories to him because few family or friends visited.
When Peters plopped by Ron's beside around lunch one day, the frail man was semi-conscious. Peters read passages from Jack London's "Call of the Wild" as the frail man struggled to hang on. What happened next, Peters says, was inexplicable.
Peters says he felt a force jerk his spirit upward, out of his body. He floated above Ron's bedside, looking down at the dying man. Then he glanced next to him to discover Ron floating alongside him, looking at the same scene below.
"He looked at me and he gave me this happy, contented look as if he was telling me, 'Check this out. Here we are,' '' Peters says.
Peters says he then felt his spirit drop into his body again. The experience was over in a flash. Ron died soon afterward, but Peters' questions about that day lingered. He didn't know what to call that moment but he eventually learned that it wasn't unique. Peters had a "shared-death experience."
Most of us have heard of near-death experiences. The stories of people who died and returned to life with tales of floating through a tunnel to a distant light have become a part of popular culture. Yet there is another category of near-death experiences that are, in some ways, even more puzzling.
Stories about shared-death experiences have been circulating since the late 19th century, say those who study the phenomenon. The twist in shared-death stories is that it's not just the people at the edge of death that get a glimpse of the afterlife. Those near them, either physically or emotionally, also experience the sensations of dying.
These shared-death accounts come from assorted sources: soldiers watching comrades die on the battlefield, hospice nurses, people holding death vigils at the bedside of their loved ones. All tell similar stories with the same message: People don't die alone. Some somehow find a way to share their passage to the other side.
Raymond Moody coined the concept, "shared-death experiences" after spending over 20 years collecting stories about the afterlife.
HarperOne
Raymond Moody introduced the concept of the shared-death experience in his 2009 book "Glimpses of Eternity." He first started collecting stories of people who died and returned to life while he was in medical school. Skeptics have dismissed tales of the afterlife as hallucinations triggered by anesthesia or "anoxia," a loss of oxygen to the brain that some people experience when they're near death.
But Moody says you can't explain away shared-death experiences by citing anoxia or anesthesia.
"We don't have that option in shared-death experiences because the bystanders aren't ill or injured, and yet they experience the same kind of things," Moody says.
Skeptics, though, say people reporting shared-death experiences are not impartial observers. Their perceptions are distorted by grief. Joe Nickell, a noted investigator into the paranormal, says people who've watched others die sometimes experience their own form of trauma.
They don't intend to, but some reinvent the moment of their loss to make it more acceptable.
"If you're having a death vigil and your loved one dies, wouldn't it be great to have a great story to tell that would make everyone happy and tell them that 'Uncle John' went to heaven, and I saw his soul leave and I saw him smile," says Nickell, who is also an investigative writer for the journal Skeptical Inquirer, which offers scientific evaluations of extraordinary claims.
Nickell says shared-death experiences are not proof of an afterlife, but of a psychological truism.
"If you're looking for something hard enough you'll find it," Nickell says. "This is well known to any psychologist or psychiatrist."
Symptoms of a near-death experience
The term shared-death experience may be new, but it went by different names centuries ago. The Society for Psychical Research in London documented shared-death experiences in the late 1800s, dubbing them "death-bed visions" or "death-bed coincidences," researchers say.
One of the first shared-death experiences to gain attention came during World War I from Karl Skala, a German poet. Skala was a soldier huddled in a foxhole with his best friend when an artillery shell exploded, killing his comrade. He felt his friend slump into his arms and die, according to one early book on shared-death experiences.
In the book, "Parting Visions," the author Melvin Morse described what happened next to Skala, who had somehow escaped injury:
"He felt himself being drawn up with his friend, above their bodies and then above the battlefield. Skala could look down and see himself holding his friend. Then he looked up and saw a bright light and felt himself going toward it with his friend. Then he stopped and returned to his body. He was uninjured except for a hearing loss that resulted from the artillery blast."
Moody, who coined the term shared-death experience, has arguably done more than any contemporary figure to rekindle secular interest in the afterlife. He's been dubbed "the father of near-death experiences." He introduced the concept of the near-death experience in his popular 1975 book "Life after Life."
He says he kept hearing stories about shared-death experiences during his research for "Life after Life." A genial, chatty man, Moody says he revealed these stories in books and lectures but shared-death experiences don't get the attention that near-death experiences get because they are more disturbing.
Few people want to think about what it's like to die; a shared-death experience forces them to do so, he says.
"[Sigmund] Freud made the statement that we can't imagine our own deaths," Moody says. "In the case of a near-death experience, that happens to someone else. That is somehow more comfortable to think about."
He says people who claim to have a shared-death experience tell similar stories. They recount the sensation of their consciousness being pulled upward out of their body, seeing beings of light, co-living a life review of the dying person, and seeing dead relatives of the dying person.
Some health care workers at the bedside of dying patients report seeing a light exit from the top of a person's body at the moment of death and other surreal effects, Moody says.
"They say it's like the room changes dimensions. It's like a port opens up to some other framework of reality."
Penny Sartori, who was a nurse for 21 years, says she had a deathbed vision that left her shaken. One night, she was preparing to give a bath to a dying patient who was hooked up to a ventilator and other life-prolonging equipment. She says she touched the man's bed, and "everything around us stopped."
She says her surroundings disappeared and "it was almost like I swapped places with him." She says she could suddenly understand everything the man was going through, including feeling his pain. He couldn't talk but she says she could somehow hear him convey a heart-wrenching message: "Leave me alone. Let me die in peace…just let me die."
That shared-death experience spurred her to conduct a five-year investigation into such stories and publish them in her book "The Wisdom of Near-Death Experiences." But even before that experience, she says she and other hospital workers had other eerie portents that a patient was about to die.
There would be a sudden drop in temperature at the bedside of a dying patient, or a light would surround the body just before death, she says.
"It's very common for a clock to stop at the moment of death," Sartori says. "I've seen light bulbs flicker or blow at the moment of death."
A mother says goodbye?
One of the oddest shared-death experiences comes from a woman who says she felt the death throes of her mother even though she was thousands of miles away.
Annie Cap, as a girl, with her mother, Betty. Cap says she was close to her mom in life, and at the moment of death.
Courtesy of Annie Cap
Annie Cap was born in the United States but eventually moved to England where she worked for a telecommunications company. On the day after Christmas in 2004, she says her mother, Betty, suddenly fell ill at her home in Portland, Oregon. She was hospitalized and over the next few days all of her major organs began to shut down. Cap, however, says she didn't know her mother was dying.
Yet in a strange way she says she did.
Cap learned that her mother was ill but says she couldn't get a flight during the holiday season so all she could do was wait. She was in her London office with a client one day when she started to gag, struggling to breathe. She was mystified because she says she was in good health. She struggled for air for about 25 minutes, and with a growing sense of dread regarding her mother.
"I felt and heard this strange gurgling in my throat," she says. "I started coughing and gagging. And I had this deep, growing sadness. I quickly rescheduled my client and once they had left, I ran as fast as I could to my house and called my mom's hospital room."
That's when she learned that her mother was gasping for air, on the verge of death, Cap says.
While Cap was on the phone, she says, her mother died. She's convinced that she somehow shared her mother's death throes, but she kept denying it because she was an agnostic at the time who didn't believe in the afterlife.
Now she says she does. Today Cap is a therapist in London, and the author of, "Beyond Goodbye: An Extraordinary True Story of a Shared Death Experience."
"It wasn't a blissful experience," she says of that day after Christmas. "I was suffocating."
The last photo taken of Annie Cap, left, and her mother, Betty.
Courtesy of Annie Cap
Skeptics question the claims
However dramatic shared-death experiences may be, they offer no more proof of an afterlife than near-death experiences, skeptics say.
Sean Carroll is a physicist who has participated in public debates about the afterlife with Moody and Eben Alexander, a neurosurgeon and author of The New York Times best-seller "Proof of Heaven."
Life after death is dramatically incompatible with everything we know about modern science, says Carroll, author of "The Particle at the End of the Universe." He says people who claim that a soul persists after death would have to answer other questions: What particles make up the soul, what holds them together, and how does it interact with ordinary matter?
In an essay entitled "Physics and the Immortality of the Soul," Carroll says the only evidence of afterlife experiences is "a few legends and sketchy claims from unreliable witnesses … plus a bucket load of wishful thinking."
"We are made of atoms," he says. "When you die, it's like a candle being put out or turning off a laptop. There's no substance that leaves the body. That's a process that stops. That's how the laws of physics describe life."
Nickell, the paranormal skeptic, says stories of shared-death experiences also rest on a flimsy foundation.
"That's the problem with all of them – they're all anecdotal evidence and science doesn't deal with anecdotal evidence," Nickell says.
Peters, the former hospice worker who says he had such an experience, is convinced they're real. His encounter altered the course of his life. He eventually founded the Shared Crossing Project, a group based in Santa Barbara, California, which offers counseling, research and classes to educate people about afterlife experiences.
When asked if he could have imagined his experience with Ron, the merchant seaman, Peters says "absolutely not."
"I had no idea that was even possible," he says. For him, "shared-death experiences didn't even exist."
It wasn't until Peters heard Moody give a lecture eight years after his encounter with Ron that Peters first heard the term.
He doesn't think his encounter with Ron was an accident. He believes Ron was trying to return the comfort he had given to him.
"I think what he was saying to me was, 'Don't despair. Life goes on. Look how awesome it is,' '' Peters says. "It was a true gift of love on his part."
Or, as the skeptics would say, perhaps it was just Peters rewriting the moment to help himself accept a difficult loss. Peters has considered that possibility but says he saw something else that convinced him Ron knew he was there.
He says that when he plopped back into his body after hovering over Ron's bed, Ron made no gesture. His eyes stayed closed and his body remained still.
But Peters looked closer at Ron and says he noticed something else:
A tear was running down his cheek.
Reality show to be filmed in medieval "haunted castle" in Wales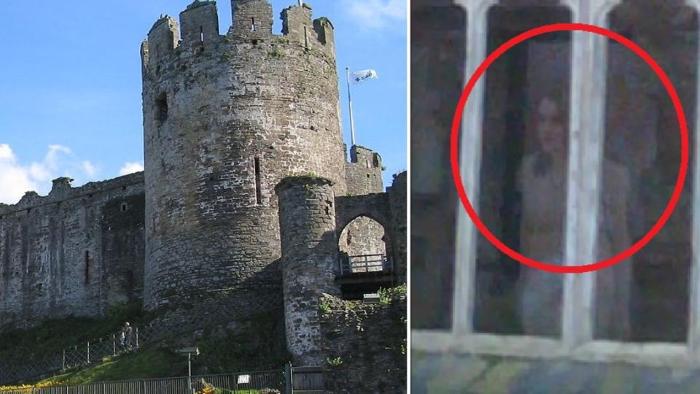 British celebrities will take part in a reality show at the medieval castle of Grich in the city-county of Conwy (Wales), which, according to legend, is full of ghosts. It is reported by The Sun.
According to data from open sources, the castle was built in 1283-1289 by order of Edward I of England. For four years one and a half thousand people erected the fortress and walls. The castle is surrounded by a stone wall with round towers and loopholes.
According to local residents, the ghost of the previous owner, Countess Dandonald, who died in 1924, wanders around the castle. According to legend, the woman's spirit is angry because her husband took the valuables out of here. 
About ten years ago, a mysterious silhouette appeared in the photo, which was noticed on the first floor of the castle in the former banquet hall. In addition, it is rumored that objects are moving mysteriously in the castle. Also, fans of everything mystical believe that there you can meet the ghosts of gamekeepers and a maid who died after falling from a horse.
The creators of the reality survival show I'm a Celebrity … Get Me Out of Here! Became interested in the legends of the ancient castle, in which celebrities perform creepy tasks. 
The producers are delighted with Greich Castle. It is planned to spend almost 1 million pounds and six weeks to prepare the location for filming.
Loftus Hall is the most famous haunted house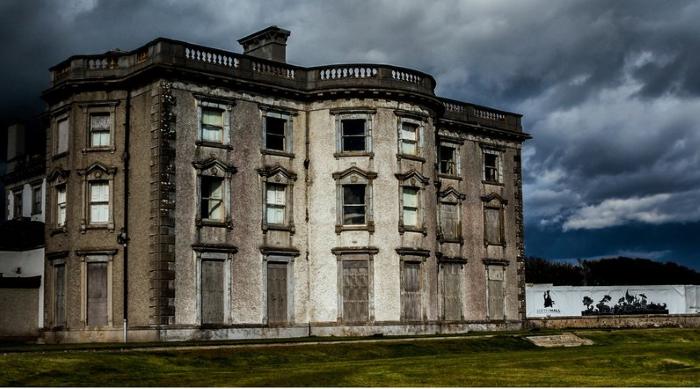 Almost any house built 150 years ago is tempting to think of ghosts. Of course, if it was not restored beyond recognition. But a special pleasure is to visit, or at least look at photographs of a house in which ghosts are definitely found. Well, exactly: in the opinion of its owners and those who live nearby.
Loftus Hall is one of those. Even if, in the opinion of the locals, ghosts were not found in it, they would be worth inventing again – this is how the atmosphere of this gloomy house located on the windswept and washed by waves of the Hook Peninsula in the Irish County of Wexford has to do this.
But, before we tell you what is so paranormal in this Loftus Hall, we suggest that you familiarize yourself with real historical events related to the house. Moreover, they are worthy of attention without any devilry.
We can say that the history of the house began in 1135, when the Norman knight, Raymond Le Gros, landed on the peninsula. To assimilate faster, the knight renamed himself the more familiar to the Irish ear by the name Redmond.
The castle, built by the knight, stood for two centuries, until in 1350 the descendants of Redmond built a new house in its place. It is interesting that they were building right during the Black Death – a plague pandemic that arrived in Ireland by ship from Bristol a year earlier. The new house, Redmond Hall, was named.
Three centuries later, in 1650, the house became the site of one of the fiercest sieges of the Irish Uprising. The owner of the house, 68-year-old Alexander Redmond, with his two sons, a couple of local activists and a tailor who happened to be in the house at an unfortunate time, barricaded himself and bravely repulsed the attack of almost 90 British for several days.
In all fairness, most of these Englishmen have crawled into neighboring villages, indulging in robbery and violence, instead of laying siege to an impregnable home.
The attack was repulsed with the help of the Irish forces arrived in time, which attacked the British under the cover of a thick fog, which in time fell on the Hoek Peninsula.
According to local chronicles, Alexander repelled several more attacks. When the British nevertheless conquered Ireland in general, and Redmond Hall in particular, Cromwell even let Alexander die in peace in his own house – for his courage.
Well, after the death of Redmond, his relatives were evicted from the house and soon the house was sold to a family of Englishmen named Loftus, who live nearby.
Subsequently, the Redmond repeatedly tried to sue Loftus Hall back, but to no avail. But as compensation, they were given land in the neighborhood.
The Loftuses moved rapidly up the court stairs. If in the 18th century the head of the family was called Baron Loftus of Loftus Hall, then already in 1800 the title of Marquis of Eli was created especially for the Loftus.
Actually, the 4th Marquess of Ely gave the modern look to Loftus Hall. A major renovation was undertaken by the Marquis in the second half of the 19th century: he very much hoped that Queen Victoria would come to visit. After all, the Marquis's mother was her maid of honor!
The Queen never came. But the 4th Marquis of Ely became the owner of a luxurious house with such unprecedented conveniences as flush toilets at that time. And, alas, the owner of huge debts. Soon the house had to be sold and its wanderings began among different owners.
In 1917, the house was sold to the monastery order of the Sisters of Providence. In 1983, the house was converted into a hotel. Well, in the early 2000s, it was acquired by the Quickly family. In 2020, it became known that the house was again put up for sale. Moreover, Quickly emphasize that they will not choose a new owner, but "the house will choose him." And that's why…
The story of how the devil sailed to Loftus Hall and what happened after his visit dates back to the 19th century. It sounds like this.
On a cold rainy night, a dark-robed rider rode up to Loftus Hall on a dark horse. He said that his ship was caught in a storm and had to dock in a nearby bay. The Loftuses were away, the family of their distant relatives, the Tottenham, lived in the house. They sheltered the rider and offered him shelter and bread.
Tottenham's daughter, young Anna, immediately fell in love with a mysterious stranger. A couple of days later, in the evening, everyone sat down to play cards. During the game, Anna dropped the map and, bending down to pick it up, saw that the stranger had cloven hooves instead of legs.
The stranger realized that he had been discovered. He immediately soared up, surrounded by devilish flames – and, as expected, made a huge hole in the roof.
It would seem that the devil is expelled, you can live on. But Anna, after the disappearance of the stranger, became not herself. She went crazy by leaps and bounds. The family, frightened by this development of affairs, locked the girl in her favorite sewing room.
There Anna sat, almost motionless, clasping her knees with her hands and soon died.
According to another version of the legend, before her death, she managed to give birth to a child – that is, the devil did not lose time during two days in the house.
Anna was not buried in an ordinary coffin: they could not straighten her and buried her in a sitting position, in which she spent the last months of her life.
Since then, according to numerous testimonies of guests and owners of the house, ghosts of a girl have been walking around the house. And the house itself has become a place of attraction for lovers of everything paranormal and creepy – excursions, especially popular on Halloween, are regularly conducted in Loftus Hall.
If you consider yourself a mystic, but do not have the opportunity to visit Loftus Hall yet, we recommend watching the gothic horror film The Lodgers 2017. It is filmed entirely in the luxe and eerie interiors of Loftus Hall, and has received excellent critical reviews. Here's the trailer:
The ghost of the Haycock Manor Hotel: a beautiful legend about a frequent visitor to an ancient building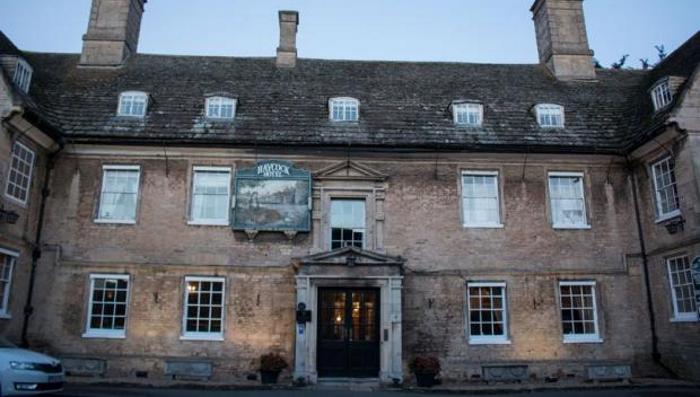 For decades, the Haycock Manor Hotel, located in the small English village of Wansford, has attracted tourists by claiming to be the home of the ghost of Queen Mary Stuart.
Mary of Scotland, aka Mary Stuart, according to legend, visited the Haycock Hotel on the way to Fotheringay Castle, where she was executed. Why, in this case, she chose a hotel in a small village as her last refuge , and not a stone castle, is anyone's guess. Nevertheless, visitors to the hotel claimed to have seen the ghost of Queen Mary, the Mirror writes.
The last resting place of Mary Stuart
Because of her intrigues against Queen Elizabeth I of England, Mary Stuart was put on trial and sentenced to death, which took place at Fotheringay Castle. On the way to the castle, Mary of Scotch stopped at the Haycock Hotel.
Despite the fact that the woman spent only one night in the hotel, this is the place she, for some reason, decided to choose as her last home. At least that's what those who encountered her ghost say.
Manifestations of supernatural powers
Many of the hotel guests, who ventured to spend the night in the last refuge of Mary Stuart, complained about strange things that happened to them.
Some guests claimed to have seen a ghost, which they identified as Mary of Scotland. Why they were so sure that the ghost was exactly Mary Stuart is not clear, because the history of England has a large number of women rulers, and it is simply impossible to remember them all.
Other hotel guests recall seeing an obscure ghostly cloud-like figure in the oldest part of the hotel. They also shared that they often encountered the feeling that there is someone else in the room – someone who cannot be seen, but can be felt.
Guests also reported that they heard quiet voices and footsteps, although there was no one else in the rooms.
Despite the fact that such stories can scare ordinary people, they are not of interest to real seekers of the paranormal, since they can easily be explained by the dilapidated state of the building.
Haycock Manor is currently closed for renovation, which means that if the phenomena of supernatural forces could be explained by the state of the hotel, then after the renovation they should disappear.