"Between us": Aliens from other dimensions visit us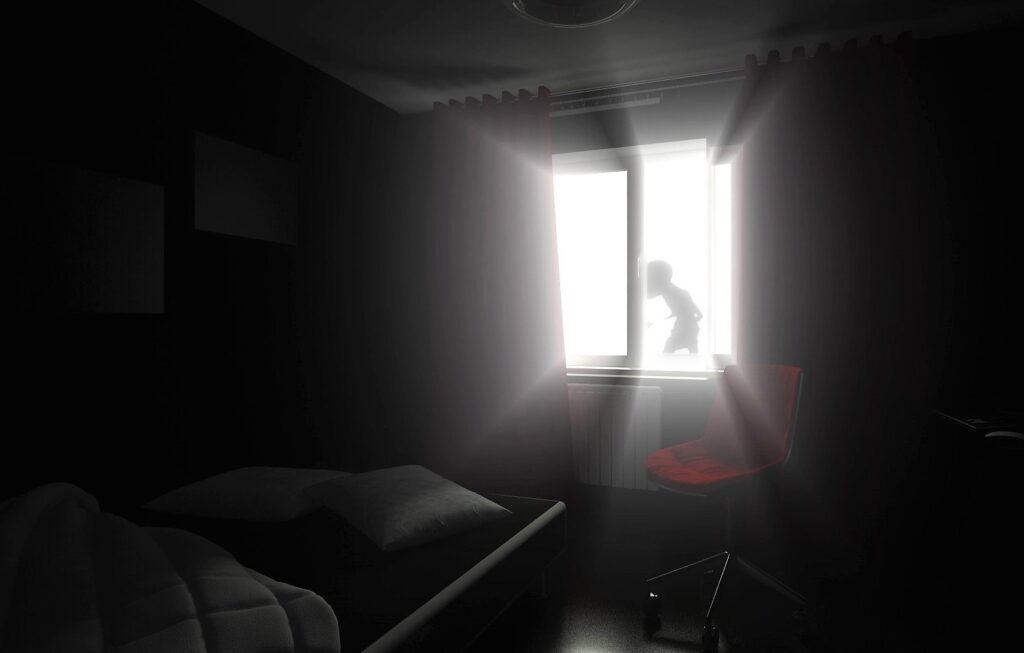 Have you ever had a chill running down your back, fear, or cold sweat before a disturbing presence that is close, but you do not see, and do not know how to explain at that time? 
Anyone will tell you that they are ghosts that hover around you. But do not forget the idea that it can be something that goes beyond that insubstantial thing that can be an entity of that nature.
What would you think, if we told you that there may be specters of other alien dimensions, leaving aside ghosts-entities that may be relatives or friends who died and appear in dreams or perhaps feel their presence intuitively?
And that we are, without knowing it, before space-time anomalies that allow the entrance of spectra of alien dimensions where their appearance is not appreciated by our eyes.
Suppose that these spectra of other alien dimensions can move around our environment, generating stress, and of course fear.
But, have you ever heard footsteps in your house when no one is present, or inexplicable noises such as banging or strange sounds. You can be subtle or quite noisy.
Doors that close inexplicably. Or you hear that they open and close. Go to the room, it is open or closed when you are sure of the position in which it was left. Or dining room or kitchen chairs that seem to have been moved.
Of lights that go out and light themselves, and when you are not, you know that you left them in one way and you find them in another. Or as often happens with televisions, radios and other electronic devices.
The sensation of strange aromas or perhaps sounds on the walls without you finding an apparent cause, especially at night.
And it turns out you're never a witness to the phenomenon when it takes place.
Who has not had the experience of not finding an object such as car keys? Surely they should be where always and disappeared. And time later, they reappear in the place where you put them first.
Or they do not appear for days or even weeks. And you find them at the least expected moment. The appearance of an inexplicable and fleeting shadow, seen from the corner of the eye. We give them, by intuition, a vaguely human, or smaller form.
Strange behaviors of animals; dogs that bark at something that can not be seen, hide for no apparent reason or refuse to enter a place and cats that can look at something that crosses a room.
Will it be that negative emotions such as anger and greed, among others, attract them? Will they be free from these spectra if we behave with a higher spiritual level, or what is the same if our acts are peaceful?
But let's go a little further from the occurrence of such strange events. And what if these can be some kind of signal or message that we can not understand? What do you think? comment below.
Discovery Channel will look for proof of alien contact on Earth in a new TV Series
The show follows investigators as they look for evidence needed to prove that extra-terrestrials have made contact with the human world.
Discovery Channel has greenlighted a series that investigates whether aliens have made contact on Earth.
The series, titled Contact, features six highly trained investigators looking to solve that mystery using "groundbreaking CIA-developed software, military special operations investigative techniques and boots-on-the-ground journalism to track down leads around the world." Discovery says this is the "first ever global investigation to determine whether or not aliens have made contact here on Earth."
Contact follows investigators as they look for evidence needed to prove that aliens have made contact with the human world, led by former CIA targeting officer Myke Cole and conflict analyst Dr. Michael Livingston, and featuring renowned astrophysicist and international space journalist Sarah Cruddas, former USMC special ops intel officer, Nick Karnaze, award-winning investigative journalist Paul Beban and former Green Beret intelligence sergeant Kawa Mawlayee.
The team takes what Discovery is calling a "radical, new and comprehensive approach by bringing together millions of data points, credible eye-witness accounts and declassified government reports" as investigators, for the first time, begin assembling empirical evidence such as "declassified footage of fast-moving objects, patterns in social media sightings that coincide with seismic activity or eyewitness accounts that connect to evidence from the past."
By using state-of-the-art technology paired with social media's unique ability to connect and share stories across the globe, investigators are able to gather intel and identify patterns like never before.
Contact premieres Wednesday, Aug. 7, at 10 p.m. on Discovery Channel and again on Tuesday, Aug. 13, at 9 p.m. on Science Channel. The show also will be available on the Discovery GO app.
Contact is produced for Discovery by Karga Seven Pictures, a Red Arrow Studios company. For Karga Seven, Jason Wolf, Sarah Wetherbee, Kelly McPherson and Emre Sahin serve as executive producers and Johnny Beechler as co-executive producer and showrunner. For Discovery, Bill Howard is executive producer and Paola Espinosa is coordinating producer.
Source: Hollywood Reporter
Plane passengers stunned as 'UFO splits into six pieces and vanishes in mid-air'
© Pen News/Lucas Kim
Neil Murphy
The Mirror
The incident was recorded out the side of the aircraft
Passenger Lucas Kim recorded the bizarre encounter as he flew from South Korea to Thailand
Lucas Kim spotted what he thought was another flight from his window
This is the stunning moment a mysterious 'aircraft' splits into six pieces and vanishes in full view of a shocked passenger aboard a nearby plane.
Lucas Kim was jetting to Thailand from his home in Seoul, South Korea, when he spotted what he thought was another flight from his window.
"At first I thought it was maybe another plane," he said. "I thought it was rare to see another plane flying next to your own.
"So I took out my phone, a Huawei P9 Lite, and recorded it."
What happened then convinced Mr Kim he'd seen something genuinely abnormal.
"When I looked closely, it was not a plane, it was six individual vehicles," he said. "It was like a pulsating greenish-yellowish light."
The incident was recorded out the side of the aircraft(Image: Credit: Pen News/Lucas Kim)
In Lucas' video, the UFO is first visible as a distant, white dot beyond the wing of his Jeju Air flight.
But as he zooms in, it quickly becomes apparent that there are several points of light, moving in formation like no regular aircraft can.
Moments later they split into pairs and disappear from view.
© Pen News/Lucas Kim
A close-up of the mystery aircraft
"That was the only time I have seen something like this," said Mr Kim.
Some viewers have told Lucas that they think the mysterious presence is best explained by reflected light from his own plane's wing – yet they've not convinced him.
"You can believe anything you want, but I truly think I encountered a UFO," he said.
"The word UFO does not mean it's 100% alien, it simply means flying objects that we don't recognize. It might also be some crazy Russian spy plane."
© Pen News/Lucas Kim
The encounter was filmed on board a flight from South Korea to Thailand
Still, Lucas is open to the idea of extra-terrestrial life.
"I am a Christian and I'm sure God gave us all of this universe to explore," he said.
"So I don't think there are other thinking species like us out there, but there might be different animals on other planets."
Kecksburg UFO Mystery: Some call it the Roswell of the East
It was a night to remember! Brilliant vapor trail…. Something crashed, starting a fire…. Military and NASA presence…. Military truck, hauling something under cover away….
That December Night in Kecksburg
Initially, people thought they were seeing a brilliant meteorite cross the sky, but later events pointed to the very real possibility that it was a UFO.
The object left a trail of vapor that lasted more than 20 minutes and was filmed by some. Debris was found at Lapeer, Michigan which was thought to be from the object. When these later analyzed, they were pieces of aluminum foil expelled by aircraft to fool radar.
Two children were the first witnesses to the object crash and start a fire. Their mother thought it was a plane and called firefighters and state police. When she got to the scene, military personnel were already there. When the police and firefighters arrived, they were told to leave. The military said they found nothing. Later NASA personnel would arrive.
Police, newspapers, radio and TV stations in the Pittsburgh area had their phone lines jammed with calls about the strange object.
The object would be sent to Wright Patterson AFB. Project Blue Book, the part of the Air Force that dealt with UFO cases, would investigate and document the incident they dubbed Project Moon Dust. When released, the official report stated the object was a meteorite.
Kecksburg – UFO Researchers Investigate
Years later, UFOlogists investigated, among them, Stan Gordon who is an expert on UFOs and, especially the Kecksburg incident.
Several pilots said their airplanes reacted to the object as if it produced shock waves. Other witnesses reported they felt the waves and heard sonic booms.
Some of the firefighters who were within two hundred feet of the object, saw flashing blue lights and noticed treetops were broken as if a large object passed through. Witnesses reported seeing a large flatbed truck leaving the area with a sheet-covered large object aboard. A man said he saw an acorn shaped object with what appeared to be hieroglyphics on it.
A man who was part of the team that retrieved the object said he was told to shoot anyone who got too close.
Various witnesses confirmed armed solders were at the village to prevent anyone from getting near the crash site. Jerry Betters, a jazz musician from Pittsburgh, said soldiers aimed rifles at him and his friends and ordered them to leave using a back road, as an Army flat bed tractor-trailer bearing an acorn-shaped object, emerged from the field.
A prominent businessman said he and his friends, then teenagers, tried to get near the site and were stopped by armed soldiers. He was frightened because he thought he was going to be shot.
John Murphy, news director of WHJB radio in Greensburg, is believed to have been the first reporter on the scene. His former wife says that she was in radio contact with him from the site that day. He told her that he went down into the woods and saw the object.
A former Air Force security policeman was one of the men who guarded the object when it arrived at Lockbourne Air Force near Columbus, Ohio said the security was extremely tight. It was there for a short time before being taken to Wright-Patterson.
A worker from Wright-Patterson described the object as the other witnesses had. At the time of the incident, he was taken out of the building and warned not to say anything. If he did, the consequences could be fatal.
Perhaps, some day, the cloud of secrecy will be removed….