Baseball star captures 'Bigfoot' on deer cam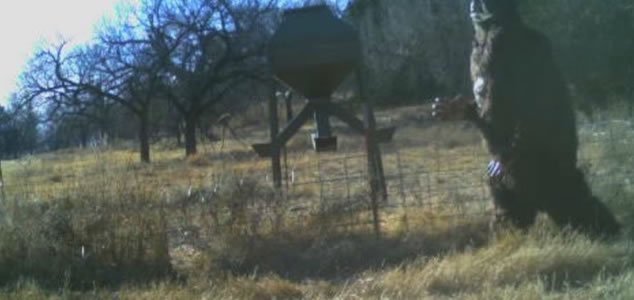 Is this Bigfoot, or is someone pulling a prank ? 
Tigers infielder Jordy Mercer has posted up two still images of an alleged Sasquatch on his property.
The 33-year-old Major League Baseball veteran reportedly captured the images on the 18th and 19th of November on his ranch in Oklahoma.
Both images show a large bipedal creature walking from right to left across the frame.
"Anyone know what this is ?" Mercer wrote. "Showed up back to back days on my deer camera!"
Little else is actually known about the images or the circumstances surrounding them and it is not even clear whether the post is intended to be serious or tongue-in-cheek.
As is often the case with such photographs, the 'Bigfoot' could simply be a person in a costume.
It is also possible that a third party was pulling a prank without Mercer's knowledge.
His original Tweet can be viewed below.
Anyone know what this is? Showed up back to back days on my deer camera! @BladeHobgood81 pic.twitter.com/dkw3J0ksjz

— Jordy Mercer (@jordy_mercer) 20 November 2019
Expedition Bigfoot' scours Oregon woods for signs of the mythical and elusive beast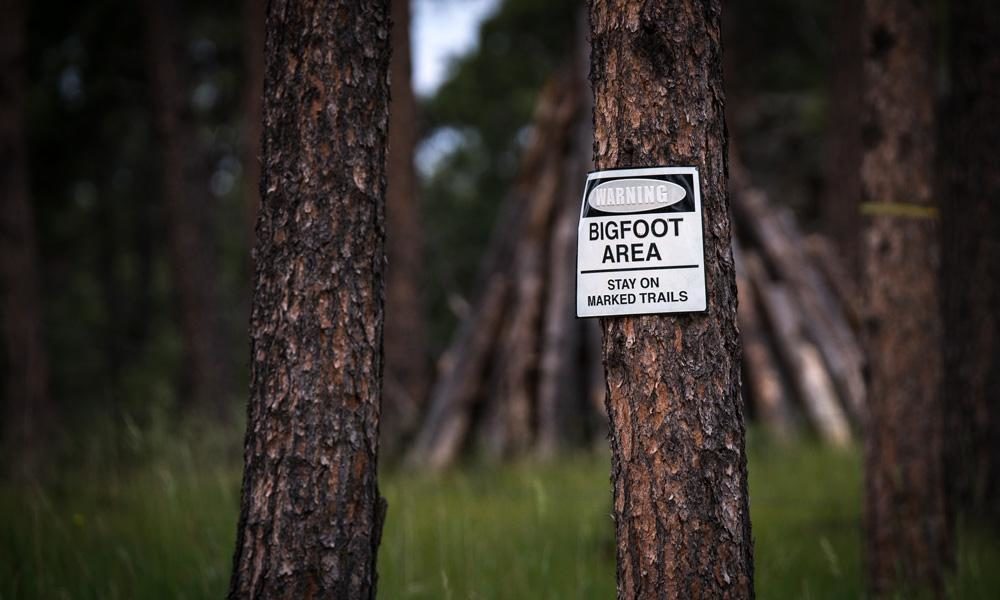 Mindy Weisberger
LiveScience
A man crouches on the Oregon forest floor late at night, peering between the trees for signs of nocturnal life. The scene is pitch-black but his face and hands are visible in infrared footage, and he scans the landscape with a thermal camera, looking for a heat signature that would indicate he isn't alone.
Suddenly, a red blob emerges in the distance.
"Do you see that?" he whispers. "It's something big."
But could it be Bigfoot, North America's fabled apelike creature? That's the question this man — author and explorer Russell Acord — and his colleagues are trying to answer, in the new Travel Channel documentary series "Expedition Bigfoot," premiered on Dec. 8 at 10 p.m. ET/PT.
More than 10,000 eyewitness accounts have described Bigfoot encounters in the continental U.S. over the past 50 years. Bigfoot even has an FBI file that was released to the public on June 5; in 1977, the agency examined 15 unidentified fibers that were suspected of being Bigfoot hairs. But the hairs were eventually found to be "of deer family origin," FBI Assistant Director Jay Cochran, Jr. wrote in a letter.
Now, Travel Channel searchers are hot on the trail of the bipedal beast, bringing the hunt to the Pacific Northwest, where about one-third of all "Bigfoot" encounters have taken place.
In the series, a team of experts — including a primatologist — embarked on a three-week search for the elusive Bigfoot. Using state-of-the-art equipment and computer algorithms, the team analyzed footprints and possible nest sites, and recorded mysterious vocalizations at Bigfoot "hotspots" around 90,000 acres of land in central Oregon, Travel Channel representatives said in a statement.
© Travel Channel
Primatologist Mireya Mayor has searched for rare and elusive animals in remote locations around the world.
Hairy and apelike
Purported Bigfoot sightings often describe a tall, hairy creature resembling a gigantic ape that walks on two legs. An enormous primate known as Gigantopithecus — standing 10 feet (3 meters) tall and weighing up to 595 lbs. (270 kilograms) — once lived in Southeast Asia, but it went extinct hundreds of thousands of years ago. And large, hairy animals such as woolly mammoths and rhinos roamed North America during the Ice Age. But to date, there is no fossil evidence showing that large primates other than humans ever inhabited North America, said primate researcher and "Expedition Bigfoot" team member Mireya Mayor, director of the Exploration and Science Communications Initiative in the College of Arts, Sciences and Education at Florida International University.
However, the idea that a new type of undiscovered primate could be hiding in dense woodlands in North America "is totally within the realm of possibility" as long as the animals have food, shelter and a habitat that isolates them from humans, Mayor told Live Science. In fact, chimpanzee researcher Jane Goodall said in a 2002 interview that she wouldn't dismiss the possibility that such creatures might be real.
"I'm a romantic, so I always wanted them to exist," she told NPR host Ira Flatow.
Big and small
In 2001, Mayor co-discovered a new species of tiny mouse lemur that is one of the world's smallest primates, weighing less than 2 ounces (57 grams). Small animals can be hard to spot in the wild, but even a very big primate such as the reported Bigfoot could conceal itself from humans quite effectively, Mayor added.
"We've seen that throughout history with other apes," she explained. "When I went in search of western lowland gorillas, because of the dense vegetation that they live in [and] the fact that they're not habituated and in fact avoid humans at all costs, there were times where we were no more than 3 feet [1 meter] away from a 450-lb. [204 kilograms] silverback, and didn't know that it was there for a good hour or two."
As Mayor reviewed eyewitness accounts of possible Bigfoot sightings, one thing that stood out was the consistency of the descriptions: a large, bipedal creature with primate-like behavior. "And when we were in the field, we were able to capture something on video that fits this description: very big and moving in an apelike — if not bipedal — fashion," Mayor said. "That, to me, is probably the most compelling piece of evidence that I've seen so far."
Mayor shared this footage with a fellow primatologist who has studied living primates around the world and is familiar with all known forms of primate locomotion.
"When he saw the footage, he was completely blown away and agreed with me that something apelike was far from its home," Mayor said.
The burden of proof
Compelling though this new evidence may be, only a recovered body or genetic data from organic tissue, feces or hairs could definitively establish this fabled creature as a newfound species. Scientifically describing any new species means establishing a holotype — a single physical specimen representing the species, according to paleontologist David Hone, a senior lecturer in zoology with the School of Biological and Chemical Sciences at Queen Mary University of London.
Describing the new species also requires a detailed outline of behavioral, anatomical, and genetic features that establish the animal's uniqueness and set it apart from its close relatives, he wrote for the Guardian.
To date, physical evidence supposedly representing Bigfoot has consisted primarily of hairs, and all of those samples that underwent genetic analysis have belonged to existing animals. In 2014, researchers examined 36 "Bigfoot" hair samples collected around the world, linking most of the hairs to raccoons, horses, deer, cows, coyotes, a Malaysian tapir and even humans.
Intriguingly, two samples did not belong to any known species. However, the DNA data showed that the mystery hairs didn't come from primates, and they likely belonged to unknown bear species, the scientists reported in their study, published in March 2014 in the journal Proceedings of the Royal Society B.
Bigfoot chasing car in Bashkortostan (video)
A few days ago, an interesting video filmed in the Birski District in Bashkortostan was widely circulated on the Internet.
The footage of the video was made by a group of local young people. They captured "something" dark and big. The creature, waving its hands, moves through the tall grass to the steppe path.
The creature apparently has a powerful back, broad shoulders and big hands.
This video intrigued so much Moscow's Bigfoot researchers at the International Homology Center that they were refusing to leave Bashkortostan.
The head of the Center is the famous Russian researcher of Yeti – Igor Burtsev, who has been searching for these cryptids for half a century (he himself is 79 years old). According to him, he "lost sleep and rest " when watching this video. He is sure that the captured video footage is a real Yeti, and they are by no means fake.
In an interview with the BTRC Bashkortostan, Burtsev says:
"This, I think, is the second such case in the world. It is very convincing. It becomes clear that this creature is running. In addition, as we were studying the video footage, I saw there at one turn a bulge – this is a woman's chest. Do you understand? This is a female."
The record was reported to have been made in 2016, but has only recently become widely available on the web. The authors of the video claim that this creature was chasing their car. At one point, it still manages to catch up with them and damage the trunk and the rear window, but that's exactly what they couldn't take.
Burtsev was already out of the forest in the Birski area and immediately saw the traces of Yeti's presence. He shares:
"When we entered the forest, we saw broken branches. We were back there days ago. There are completely fresh footprints. The locals call it shurale, and scientifically called hominoid. It's also called Yeti and Bigfoot, but these are all names of the same being. "
According to media reports, the scientists spent several days to  interview local residents if they have seen a shape-shifting Shurale, a creature in Bashkir and Tatar folklore. It's referred to as a forest spirit but believed to be a shapeshifter which can have a humanoid body with long fingers, glowing eyes, a horn on its forehead and a woolly body
Unfortunately, the original video has been removed from the web, which raises many questions …
You can see the edited video below.
The F.B.I. Once Helped in the Hunt for Bigfoot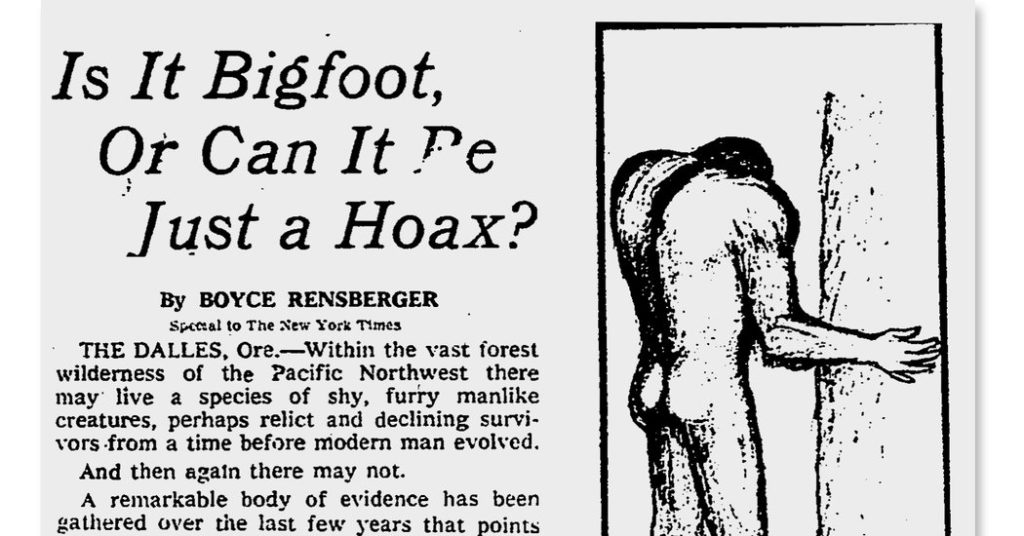 Bigfoot.That is all the F.B.I. said (well,
tweeted
) Wednesday when it released 22 pages of eyebrow-raising documents related to a 1970s hair analysis it conducted at the request of a well-known Bigfoot researcher.
The researcher, Peter Byrne, then the director of the Bigfoot Information Center and Exhibition in The Dalles, Ore., had a simple question for Jay Cochran Jr., the assistant director of the F.B.I. laboratory division: Have you been testing possible Bigfoot hair samples? And if not, would you like to start?
The 1970s were something of a heyday for Bigfoot researchers — the grainy Patterson-Gimlin film, which claimed to show one of the creatures strolling through a California streambed, was shot in 1967. Mr. Cochran did not seem terribly surprised by the question.
The F.B.I. had been asked several times in the past year whether it had been testing hair samples for possible Bigfoots, Mr. Cochran replied. "However, we have been unable to locate any references to such examinations in our files," he wrote.
Mr. Byrne had a sample he wanted the F.B.I. to examine. It was 15 strands of hair attached to a small piece of skin that was "the first that we have obtained in six years which we feel may be of importance," he wrote.
The F.B.I. laboratory was not normally in the business of examining tufts of hair for their potentially fantastical origins — it was more focused on criminal investigations, Mr. Cochran said — but for a reason that may be lost to history, he agreed.
"Occasionally, on a case-by-case basis, in the interest of research and scientific inquiry, we make exceptions to this general policy," he wrote. "With this understanding, we will examine the hairs and tissue mentioned in your letter."
Today, the idea of an earnest search for Bigfoot has become the province of reality TV shows like "MonsterQuest" and "Finding Bigfoot." Not very many people take it seriously. But the 1970s were a different time.
The documents released by the F.B.I. on Wednesday included a long New York Times feature from June 1976 that described Mr. Byrne's work, including "a handful" of Bigfoot sightings that "hold up and are given high credibility."
The article, which Mr. Byrne sent to the F.B.I. to illustrate the seriousness of his endeavor, also bemoaned the paltry state of Bigfoot studies in the United States.
The Times said interest in "America's own 'monster'" could not hold a candle to the "increasing sums of money" that were "being spent by reputable scientists to investigate Loch Ness."
In this one instance, at least, it appears that the F.B.I. tried to do its part in the hunt for Bigfoot.
According to the documents released Wednesday, the hairs sent by Mr. Byrne were subjected to a battery of tests, including examinations of root structure, medullary structure and cuticle thickness.
But when the results came back, they were bad news for Bigfoot hunters.
"It was concluded as a result of those examinations that the hairs are of deer family origin," Mr. Cochran wrote in February 1977. "The hair sample you submitted is being returned as an enclosure to this letter."
Melissa Hovey-Larsen, the president and founder of the American Bigfoot Society, said she was not surprised that the hair turned out to be from a deer.
"What we hear a lot when we get back hair samples is horse or deer or cow or bear," she said. "We hear everything. But every so often you get one that comes back and it says 'unknown source,' and then nothing ever comes of it from there."
What was more noteworthy, Ms. Hovey-Larsen said, was that Mr. Byrne turned to the federal government in his search for the truth.
"As researchers go, Peter Byrne blazed more trails to get respect for this field than anyone else in that time period, so I am not shocked he went to the F.B.I. but I am surprised," she said.
She said most Bigfoot researchers eschew that path.
"As I always say to people, 'What are they going to tell you?' First of all, we have no proof that this exists," she said. "We can't even get a clear picture. Most of us think we'll just be laughed right out of the room."
The documents, which an F.B.I. spokeswoman described as "newly released information," appeared to be the first time that federal law enforcement had acknowledged conducting any Bigfoot-related inquiry.
The spokeswoman said the release of the documents on Twitter was not intended to be an "X-Files"-style big reveal.
The account that published them, @FBIRecordsVault, automatically tweets documents that have been entered into the agency's Freedom of Information Act library after a successful FOIA request, she said.
Some at the agency were amused at the public interest sparked by the documents and the cryptic tweet that announced their arrival.
"Oh, my God," a receptionist at the F.B.I. press office said to a reporter who called to ask about Bigfoot. "I cannot believe that is why you are calling."