Baseball star captures 'Bigfoot' on deer cam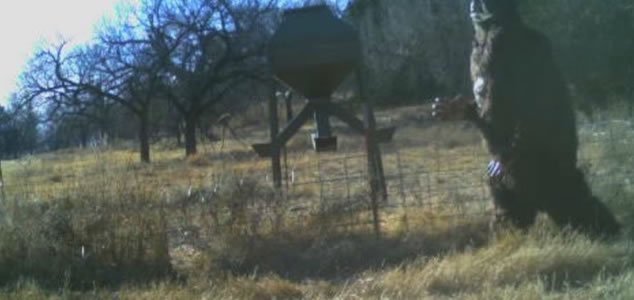 Is this Bigfoot, or is someone pulling a prank ? 
Tigers infielder Jordy Mercer has posted up two still images of an alleged Sasquatch on his property.
The 33-year-old Major League Baseball veteran reportedly captured the images on the 18th and 19th of November on his ranch in Oklahoma.
Both images show a large bipedal creature walking from right to left across the frame.
"Anyone know what this is ?" Mercer wrote. "Showed up back to back days on my deer camera!"
Little else is actually known about the images or the circumstances surrounding them and it is not even clear whether the post is intended to be serious or tongue-in-cheek.
As is often the case with such photographs, the 'Bigfoot' could simply be a person in a costume.
It is also possible that a third party was pulling a prank without Mercer's knowledge.
His original Tweet can be viewed below.
Anyone know what this is? Showed up back to back days on my deer camera! @BladeHobgood81 pic.twitter.com/dkw3J0ksjz

— Jordy Mercer (@jordy_mercer) 20 November 2019
Calanoro – a monster from Madagascar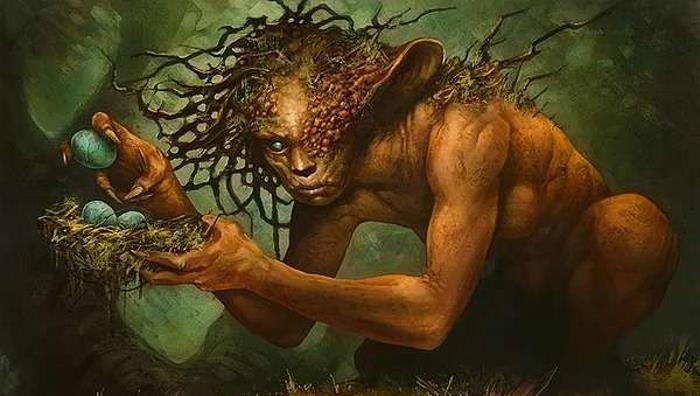 Among the many stories telling that Madagascar may be the home of several strange species of monkeys, one of the most popular is the story of calanoro.
This creature is said to be a humanoid cryptid that lives deep in the forests of Madagascar. It is alleged that calanoro can be found throughout the island, and yet encounters with it are very rare.
Local residents agree that Kalanoro exists, but they call it differently: Kotoki or Wazimba. People from the tribes of Antakarana and Tsimikheti say that in their area, the calanoro lives in caves. They say that it has been on the island for more than two thousand years and the first meetings with it took place when people just arrived in Madagascar.
Despite the large number of different names, calanoro is usually described as a creature about 60 centimeters tall, similar to monkeys and with long nails on hooked fingers. It is covered with long hair. It is sometimes said that it has feathers or scales on its back. Eyes are usually described as burning with fury.
This creature is often said to love water, and it can be seen splashing in rivers and lakes. In some cases, they believe that the calanoro has only three fingers pointing back, and they say that his eyes glow in the dark.
Like many similar creatures that are said to live in Africa, Kalanoro is a small creature with a rather complex language. Their voice is called soft, similar to a female. Kalanoro prefer to live in caves, but from time to time they can visit the villages in search of food. In 1886, a man named J. Herbert Smith wrote about calanoro.
The story appeared in one of the local magazines. It was said that, delving into the jungle, the researchers heard from the locals about the calanoro, the "wild forest man" covered with wool and beard in the case of males.
One of the witnesses said that once he stayed overnight in the forest, started a fire and could not sleep. Gradually, the fire died out, and when the coals were already smoldering, the man noticed a dark figure warming at them, which fully corresponded to the description of the calanoro.
Realizing that it was noticed, the creature grabbed a stick and threw hot coals in the face of the man. In another similar case, it was said that the bonfire attracted the calanoro, but first a male appeared who became interested in the rice left in the pot, and then, when the calanoro became convinced that there was no threat to him, he called his girlfriend, they sat next to the fire and began to eat from a bowler passing it to each other.
What really is calanoro remains unclear. No purposeful expeditions were made to search for it, since it is considered only a legend and there is no clear evidence of his existence.
Perhaps this is even better for the calanoros themselves.
Bigfoot filmed in Canadian National Park
This amazing video, shot in the Canadian National Park Near Banff National Park, was uploaded on January 1, 2020, but only a couple of days ago began to gain views.
According to the description, the video was shot by David Beaver, a local resident, who hunted moose in these forests. A more accurate location is the North Saskatchewan River Valley.
Beaver was walking through the forest, among snow-covered trees, when he suddenly saw, hanging in front of him,  not very high above the ground among the branches of a clean-nosed skeleton of some animal.
Next to this tree, there was something huge, dark and hairy. This creature was not like a bear or any local animal. In the video, which, unlike many similar videos from the Bigfoot/Yeti, is clear and not blurred, you can see that the partially snow covered animal looks like gorilla and  it is standing upright, apparently on two legs, because its head is at the very top, like a person.
The creature stands perfectly still, only occasionally moving it's head. Maybe it is resting or dozing. Considering that a large gnawed skeleton of an animal hangs on a tree very close to this creature, perhaps this creature is resting after a hearty lunch. Beaver believes that he managed to shoot a huge big foot, and not only one, it looks like there is another big foot hanging on his back, only much smaller, apparently a cub. He clings to the back of his parent like a gorilla or chimpanzee cub does.
Beaver very quickly realized that being so close to a huge living creature was very dangerous, regardless of whoever it was, so he quickly left this area. Many commentators on the net believe that this video is a good fake, however, as with many similar videos, it is very difficult to prove it's authenticity without a thorough analysis of the original recording by professionals.
De Loys' Ape: Does This Cryptid Exist?
The reported discovery of the De Loys' Ape by Swiss Zoologist Francois De Loys in 1920 is just one of many unknown primate claims made over the years. South American forest natives often claim encounters with large monkeys.
These elusive creatures have been known by many names for many centuries . Natives commonly referred to a "mono grande", or king monkey, also known as "mono rey." Pedro Cieza, a Spanish explorer claimed to have seen large apes referred to as "marimondas" in 1533; Dr. Edward Bancroft witnessed 5 ft apes referred to as "didi" in 1769; and Alexander von Humbolt recorded stories of "salvaje" or hairy ape men between 1799 and 1804.
These anecdotal sightings along with one lone picture have kept the controversy surrounding De Loys' Ape alive for nearly 100 years.
Sighting of the De Loys' Ape
Swiss geologist Francois De Loys and his crew were among the numerous Europeans taken to Venezuela by oil companies to prospect the vast oil reserves.
During the expedition, his group was ambushed by two threatening creatures that resembled apes. De Loys' men shot one of the creatures while the other one escaped. Marveling at the unique appearance of the primate, they decided to take a photo of it.
The ape corpse was sat on a crate with its head propped using a stick placed under its chin. After the photo was taken, the creature was skinned in order to prepare the skeleton for transportation.
Unfortunately, the hardships of de Loys' expedition resulted in the loss of all his equipment and specimen, including the creature's remains. Only the photograph was saved, though it was enough to cause a sensation.
Description of De Loys' Ape
The apelike South American primate was given the scientific name "Ameranthropoides Loysi" by George Montandon in 1929, while Arthur Keith proposed that it be called "Ateles Loysi".
Scientists claim that it is an unknown species of primate that walks bipedally in the jungles of South America. Its physical appearance resembles that of a monkey but lacks a tail like the apes.
Based on the single photograph of the creature that was saved during the expedition, it was determined that the primate was around 5 feet tall. This was established from the fact that the creature was set on a Standard Oil Company packing crate that was known to have a standard size.
In addition, the creature was described as having a thick coat comprising long grayish-brown fur and an oval face with a developed forehead. There was also an indication of a triangular pale pigment patch on the forehead, and round ridges around the eye sockets.
It had a flat nose with flared nostrils and a strong jaw with thirty two teeth, which contradicts the typical thirty six in platyrrhine monkeys in South America. An examination of the creature revealed that it did not have a tail, which is an attribute of great apes as opposed to monkeys.
Other distinct features include its broad shoulders, flat chest, sturdy arms, monkey like hands with long fingers, vestigial thumbs and long toes.
Possible Explanations
There were strong arguments against de Loys' discovery, with individuals such as Sir Arthur Keith suggesting that the entire saga had been fabricated. While George Montandon, an anthropologist friend to de Loys thought that his friend had discovered an unknown South American species, Keith claimed that the primate was just a large Black spider monkey whose tail had been cut off.
Montandon promoted the existence of the De Loys' Ape since he found it quite convenient in filling the missing pieces in his evolution theory called "Polygenism". This evolution theory claimed that different human races had evolved autonomously from various species of ape.
The existence of an American anthropoid allowed Montandon to justify his theory by claiming that it could have evolved into the Native American race.
Keith, on the other hand, suspected De Loys of manipulating the creature for the camera. However, this explanation is doubtful since spider monkeys are significantly shorter with a height of about 3 feet, six inches when standing upright on the hind legs. The absence of a tail, less body hair, and a massive body also disagree with the features of these monkeys.
However, it is highly possible that the creature was a white-bellied spider monkey, scientifically known as " Ateles belzebuth ". This assumption is based on Montandon's estimation of the size of the crate on which the creature was seated: measures 16 inches instead of the usual 18-20 inches.
With just a photo to support the newly found species, De Loys' Ape was never included in any analysis of primate evolution. There were other efforts to find the creature along Guyana's Maruzuni River, where De Loys was attacked by the ferocious creatures.
However, Italian explorers in 1931 never found it though they claimed that there were eyewitnesses supporting its existence. American scientist, Phillip Herschkowitz, also retraced the route taken by De Loys and his crew and came to the conclusion that the mono grande was a hoax and a mythical exaggeration of the spider monkeys.
In 1951, a Frenchman called Roger Courteville revealed another photo of a mysterious ape from Rio Tarra in South America, but he was accused by skeptics of modifying the original photo to uphold the hoax.
Keith's deductions that the discovery was a misidentification were also supported by a variety of other anthropologists and cryptozoologists such as Ivan Sanderson in the 1960s, after re-examination of the photo.
The primary question regarding this mysterious creature is whether De Loys' Ape is indeed, a new species. Based on the lack of supporting evidence besides the single photo, the other two possibilities are that it was a deliberate hoax, or that it was an honest misidentification supported by trumped-up reporting.
The idea of a hoax could be true especially when argued from Montandon's point of view, since he wanted to support his evolution theory to the scientific world. The integrity of De Loys can also be put to question, based on a letter written by Dr. Enrique Tejera in reaction to a story published about the ape.
In his letter, Dr. Tejera claimed to have been on the expeditions with de Loys, and that De Loys was a practical joker, and he had been given a white-bellied spider monkey, whose tail had been cut off. The idea to photograph it came to him after it died in 1919.
The truth of the matter is not known, but to this day, scientific interest in mono grande persists, though with a lot of skepticism.