Authorities Find 123 Missing Children in Just One Day During a Michigan Sex Trafficking Operation
More than 120 missing children have been found in just one day during a wide-scale law enforcement operation in Michigan.
Authorities located 123 children in the Wayne County area, which includes Detroit, as part of the one-day sweep last month.
The U.S. Marshals Service said Operation MISafeKid placed an emphasis on locating missing children who were victims of sex trafficking.
The one-day initiative, which took place on September 26, recovered 123 of the 301 children that had been reported missing in the area following weeks of investigations.
Michigan authorities located 123 children in the Wayne County area, which includes Detroit, as part of the one-day sweep last month
All of those children were physically located and interviewed about potentially being sexually victimized or used in a sex trafficking ring during the time they were missing.
Authorities discovered three cases that were related to sex trafficking and one homeless teen who had not eaten anything in three days.
The children were turned over to Child Protective Services for aftercare.
The operation involved multiple law enforcement agencies, including the U.S. Marshals Service's Detroit Missing Child Recovery Unit, Michigan State Police and Wayne County officers.
Participating officers started investing the missing child case files prior to the operation.
They visited last known addresses, friend's homes and schools in the hope of finding the children in a safe place.
The U.S. Marshals Service said Operation MISafeKid placed an emphasis on locating missing children who were victims of sex trafficking
The U.S. Marshals Service said they had been requested to assist on 30 missing child cases in the two weeks prior to the sweep.
Marshals located and recovered nine children prior to the sweep and another seven during the operation.
They also received information on two missing children in Texas and one in Minnesota, which they are still actively investigating.
The U.S. Marshals Service also said Michigan State Police have asked for assistance with 14 other cases.
'The Eastern District of Michigan is fully committed to assisting state and local agencies with locating and recovering missing children and the prevention of their falling victim to sex trafficking,' the U.S. Marshals Service said.
'The Detroit Missing Child Recovery Unit is tasked with investigating and recovering missing children upon request by a law enforcement agency currently attempting to locate a missing child.
'The message to the missing children and their families that we wish to convey is that we will never stop looking for you.'

Scripps Media, Inc Privacy Policy
Ex Youtube Staff Exposes Corporate And Star Favoritism For Rule Breaking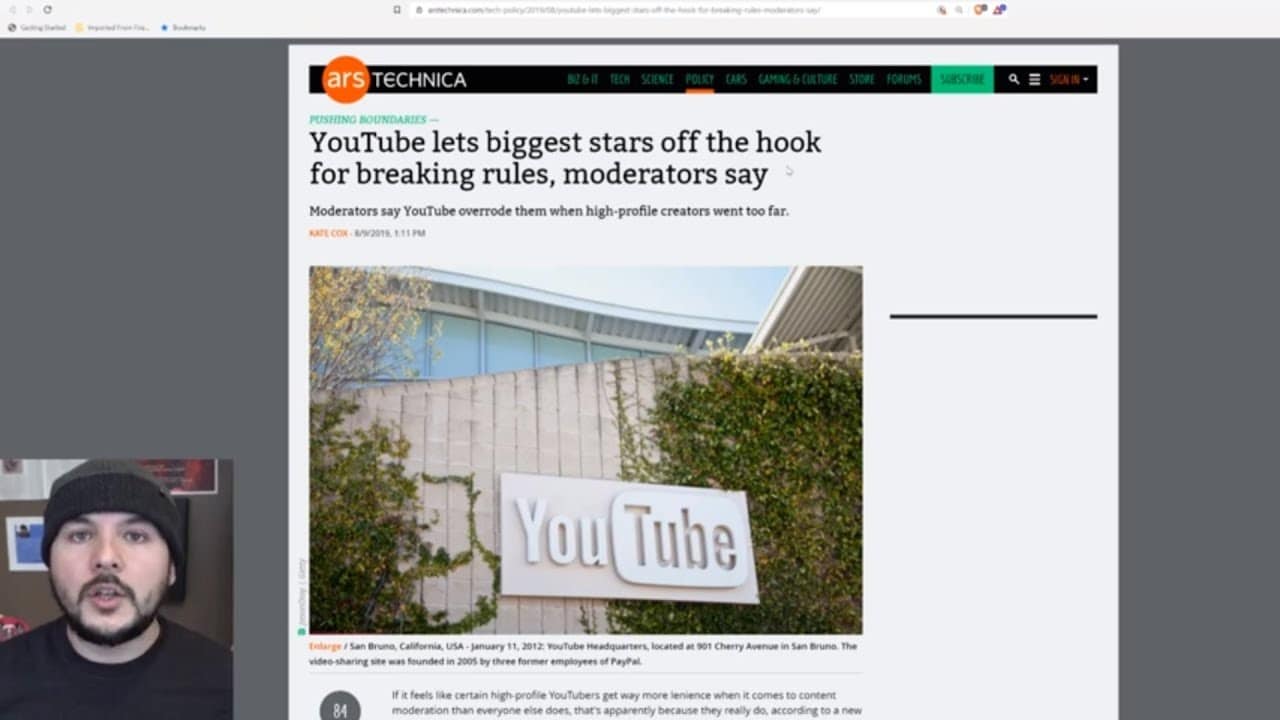 Censorship of information is critically important for the Deep State to maintain their false reality paradigm, which is the foundation of the mind control system used to enslave the individual and society at large. The preceding information reveals one such method the powers that be are using to censor information. Properly understood, one can begin the process of liberating their mind from false conceptions of reality, particularly those incomplete bits of knowledge that if contemplated fully, would activate the truth-seeking urge and result in the development of mental autonomy—critical thinking and discernment skills.
Who Inflicts the Most Gun Violence in America? The U.S. Government and Its Police Forces
YouTube Lets Its Stars Break Rules, Say Moderators
Double Standard
Officially, YouTube only has one set of content guidelines. Unofficially, though, it has two: one for its most popular content creators, and another for everyone else.
That's according to eleven current and past YouTube content moderators, who recently shared their experiences policing the platform's video content with The Washington Post under condition of anonymity — and, they said, it all comes down to money.
Almighty Dollar
When someone breaks YouTube's rules — by posting hateful or extremist content, for example — moderators flag the video, sending it to higher ups in the company. Those higher ups can then decide to strip ads from the video, or even the creator's entire channel.
The more popular a video is, though, the more advertising revenue it generates — and because YouTube splits that revenue with content creators, the platform has a financial incentive to keep its most popular videos raking in the ad dollars.
Clock's Ticking
That incentive has led to a double standard in guideline enforcement, moderators told WaPo, with higher ups granting more leniency to the platform's stars.
YouTube, however, denies this double standard exists — the company applies its policies "consistently, regardless of who a creator is," spokesperson Alex Joseph told the paper.
Whatever the truth of the matter, YouTube — and practically every other major social platform — is currently under closer scrutiny by government agencies as they attempt to crack down on hateful online speech. So if it's letting stars get away with bending the rules, it might not be for long.
READ MORE: YouTube's arbitrary standards: Stars keep making money even after breaking the rules [The Washington Post]