Wisconsin serial killer and grave robber Ed Gein's deviant acts are the subject of author Frank Ladd's first novel.

Author Frank Ladd with the Ed Gein house in the background, via @frankwladd
I've been researching and writing about Ed Gein a long time. I answer questions from visitors all over the world interested in Gein, some hoping to dig up additional facts to flesh out their school reports. If fact, I recently learned that my work is apparently being taught in at least one Canadian high school classroom. For better or worse, that will probably be the pinnacle of my achievement.
I am fascinated by this particular ghoul because his story is horrific, tragic, and, most importantly, he's local – a gruesome campfire story that really happened right in my own backyard. This isn't ghosts or goatman. Ed Gein really exhumed freshly buried corpses and filled his farmhouse with the creations he made from those remains.
Related:
While there is still much mystery surrounding the case, it's a story over 60 years old and there seems to be little new to add. Gein admitted to two murders, and was only tried and convicted of one. Yet there is evidence, including unidentified body parts found amongst his collection, that he may have killed least several other young women. Two hunters who went missing in 1951, along with their entire truck, may be buried somewhere on the Gein property. Some even claim to know where, though most of those stories come second or third hand these days.
Then there is the cauldron that hit the auction block a few years ago with a dubious story that can never be confirmed because anyone who could is long dead.
The Real Ed Gein
I thought there was nothing left to get excited about when it comes to Ed Gein, until I stumbled onto an Instagram account run by Frank Ladd, a writer who set his sights on the Butcher of Plainfield as the subject of his first novel.
Ladd's account @therealedgein showcases "research on Ed Gein and Plainfield, Wisconsin in 1957 from my novel in progress." Posts include vintage photos and relics of Gein and Plainfield history, which would be enough to get my attention. But it's the captions, Ladd's inspection of a scene in which the object or location in the photo may have been involved in Gein's story, that drew me in.
Of course, Ed Gein has inspired numerous books, movies and other media over the years. But the historical fiction Ladd is constructing feels different, deeper – a mold-covered and moth-eaten thing exhumed from the past, still stinking of damp earth and worms. The combination of photos and prose with each post captures what feels like an authentic and eerily intimate moment, the isolation and desperation of small town life in mid-century rural Wisconsin that both enabled and drove Gein to seek companionship with the deceased.
This post, written from the perspective of Waushara County Sheriff Art Schley (whose abuse of Gein during interrogation caused the killer's initial confession to be ruled inadmissable):
The western bite of the county felt like a lost cause. The great dead heart of Wisconsin—Sheriff Schley had heard the old saying and found little reason to argue with it. Plainfield put on a good show with its shops and diner and crumbling theater, but the Opera House had closed a decade ago. Same for the Mitchell House. Two filling stations counted for something, he supposed. Worden's sold most of what notions folks might need, and Gamble's carried the rest. The bank still gave out subsistence loans. Plainfield scratched out just enough livelihood to call itself a town.

But drive six miles west and the farms sagged. Fields browned with decay. A scatter of turkey vultures kited in the distance, late for their yearly migration, stalking the scent of death. If he kept on county trunk D into Adams county, the pine barrens and wild marsh would swallow him.
Here is another example – Ed's perspective of his mother's room which he sealed off after her death, and the grave directly in front of the Gein family plot in Plainfield Cemetery that Ed robbed. The grave is still empty today, though the headstone marking what was intended to be Eleanor Adams' final resting place remains.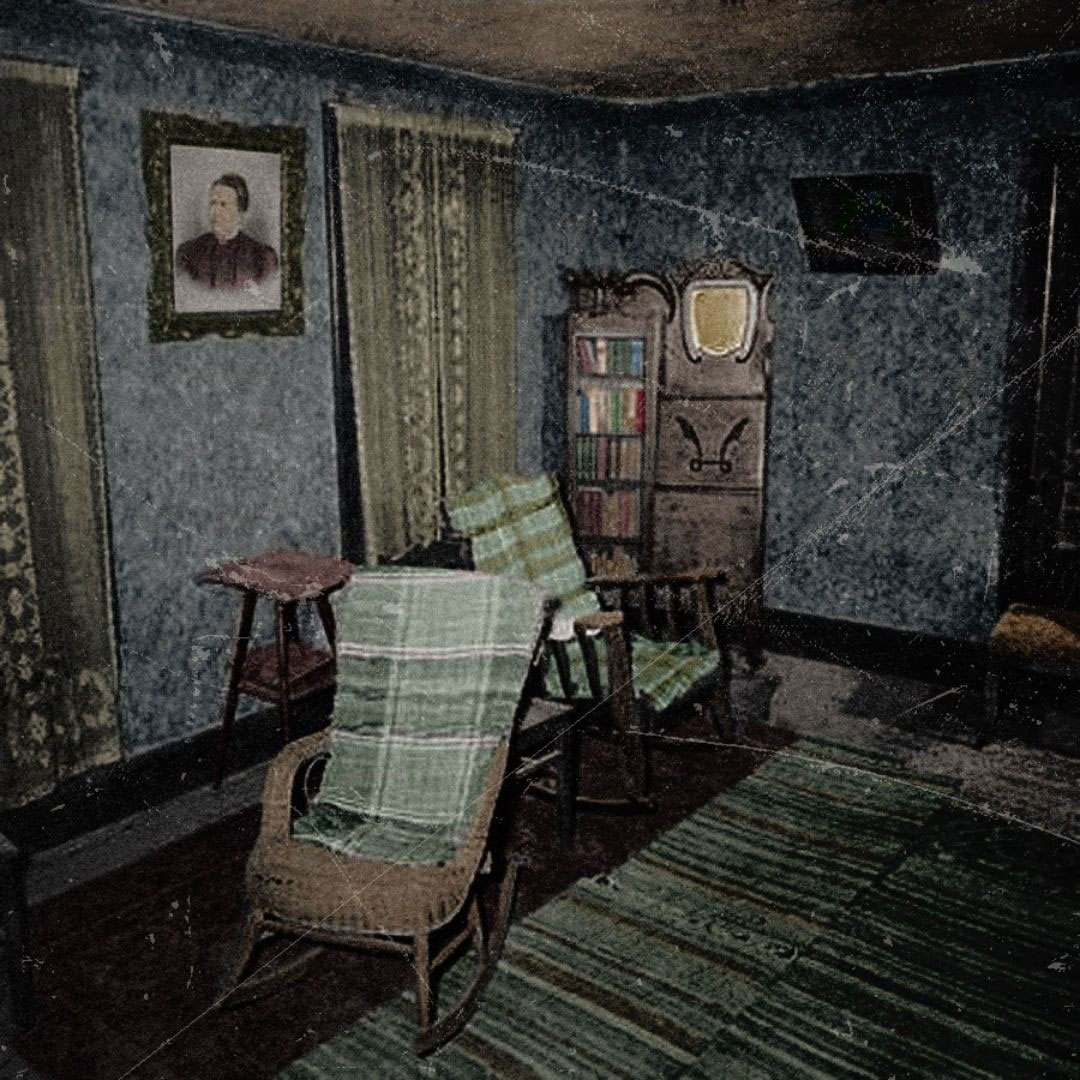 The summer kitchen opened to the kitchen proper. Vines and berries on the wallpaper—that's Ma. Her old lace curtains twitched in the early winter draft. This would always be her house. We kept it for her. How many times she fried tongue or creamed peas at that cook stove, we didn't care to reckon.

A knot in the board nailed across the hall door showed into the parlor. Her rocking chair didn't move an inch. Ma was stubborn. We'd stood at her grave until our knees locked and neck ached for a week from all the concentrating and focusing our powers on her cold body. She refused to rise. The woman next plot over was appealing, though. We'd felt something. Maybe the ground was softer there, now that we recall. Early spring of '46 and still brutal cold.
Here's another: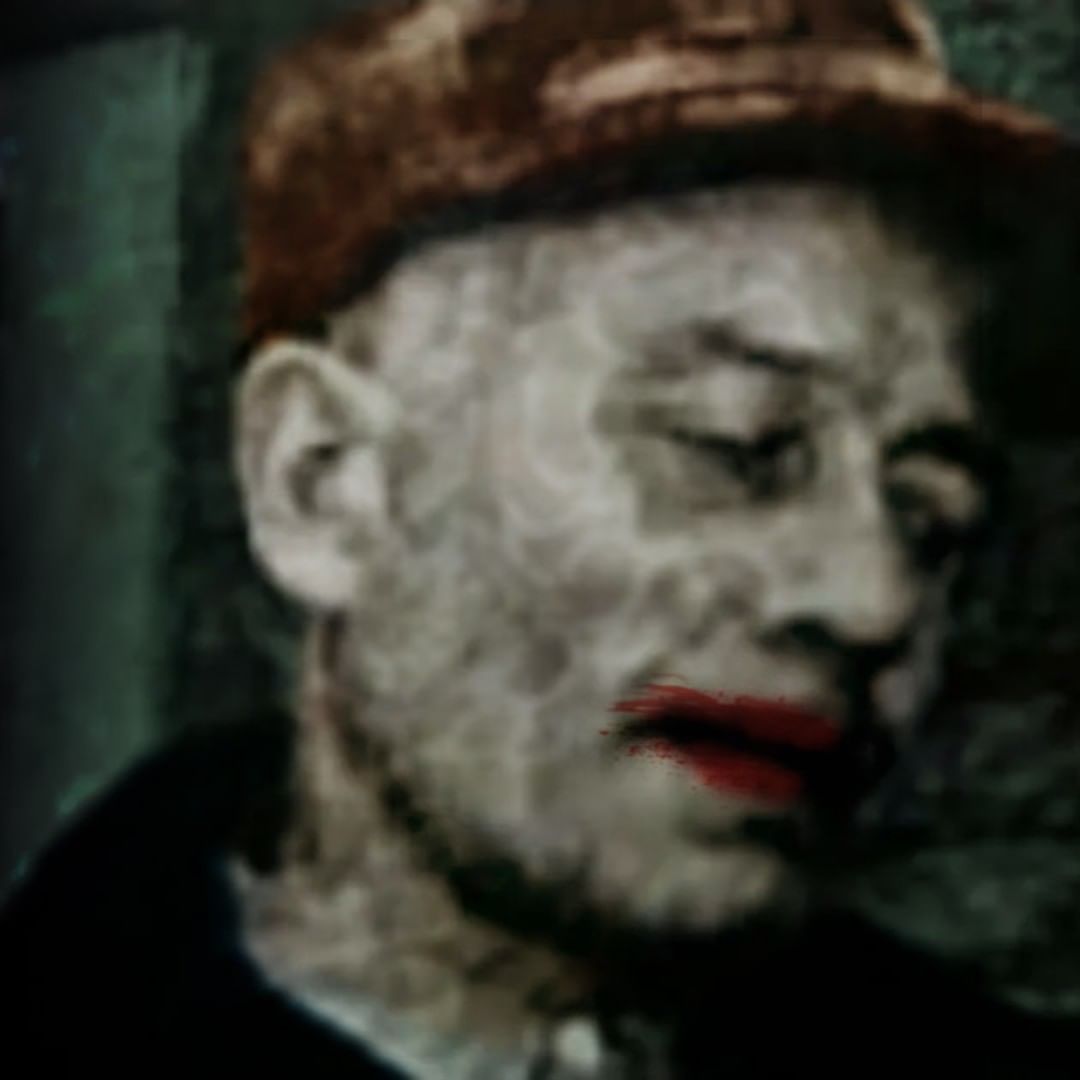 We lit a candle by Ma's cloudy mirror. Unwrapped the secret we'd borrowed from Georgia—found among her oddments and sundries, the powders and scenty waters laid atop her dresser. Soft wax packed in a bullet shell. We unscrewed the base and a round stick rose like butter, red for a tart's lips and dark as dried blood. Tasted of burning fat. Bitter as wormwood. We slid the lipstick across our mouth: a bright slippery gash. It was still our face staring back. A wash of moon through sooted lace mottled our skin with shadow, like the tattooed savages we'd read about in magazines, island tribes who ate their own.
You'll notice throughout the posts that anytime Gein is referring to himself, Ladd uses "we" instead of "I" – an interesting choice I'm eager to explore.
With his work, Ladd is weaving the historical details and desolate reality of life in Plainfield into a compelling narrative of Ed Gein's state of mind as he committed the crimes that still scar the town and its people. I feel like I can swipe a finger through the dust and grime accumulating on the garbage piled up in Gein's house, and smell the mildew on the discarded human remains mouldering within.
If these posts are any indication of what to expect from the novel, I'll be first in line for the pre-order.
Follow @therealedgein to keep up on Frank Ladd's work and Ed Gein research.