You may see this image on places like Pinterest and Instagram, posted without fact checking as proof of ancient super technology. This is art by Steven Parker. It's a parody.
The story is fun. There is this video:
…. When I mentioned that I had colleagues in Iraq who could be counted on for logistical support, his encouragement became enthusiastic, and we spent the rest of the evening discussing the creation of such an expedition.  He was especially interested in my ability to travel inconspicuously in areas typically not visited by tourists or scholars. …
I immediately got in touch with a colleague who could not only navigate the difficult paths of government support for my work in Iraq, but also verify the age of any artifacts I would discover.   I engaged the services of Dr. Jemyel Sedyeqh, from the local Carbon Dating Service, and we spent that first evening discussing the goals of my expedition. …
Dr. Sedyeqh  was extremely skilled and knowledgeable, with connections in the highest places.  She related that one of her steady clients was quite a high ranking official who owned a large private collection of artifacts from Mesopotamia which had never been made available to the academic community.   …
The day of my tour arrived, and Dr. Sedyeqh informed me that we would be going to the collection in the late evening for an undisturbed viewing. …  Offering  to show me her client's favorite piece, Dr. Sedyeqh removed a small object from a case and handing it to me, explaining that it was from the realm of Nebuchadnezzar II, around 600 B.C.E..  At that moment, we heard the sound of a distant door opening, and I saw a look of panic on Dr. Sedyeqh's face.
She said, in a low and urgent tone, "Hu is at the door!"
I replied, "I don't know, who is at the door?"
Dr Sedyeqh:  "Yes – it is Sad!"
I did not understand what was so unhappy about the situation, but perhaps Dr Sedyech had forgotten to make all of the proper notifications for our visit.  Cautiously inspecting the hall outside, she quickly brought me back the way we came, out to the car, and back to my quarters.
When we arrived in my rooms, I realized that I still held the object that Dr. Sedyeqh had given me in the gallery, and I asked her to tell me about it.  The panicked look that had almost left her face was replaced by one of abject terror.  She told me that our accidental removal of the piece would be considered theft and an act of espionage, and that her known possession of the keys would implicate her.  She advised me that she was leaving town immediately, and that I should do the same if I valued my life.  …
Not wishing to cause any more trouble for Dr. Sedyeqh, I left Baghdad on the next flight out, without incident, retaining the cylinder seal to guard it against any mishap until I was able to return it safely to the gallery where it rightly belonged. …
Arriving back in my studios in New York, I immediately began a study of the cylinder seal.  The intaglio was carved into a cylinder of gold, capped on one end by polished lapis lazuli (Fig. 1),  and on the other by a flat seal carved in gold with the symbol of Ishtar,  an eight pointed star (Fig. 2).
Here's an image of the cylinder seal on their web site.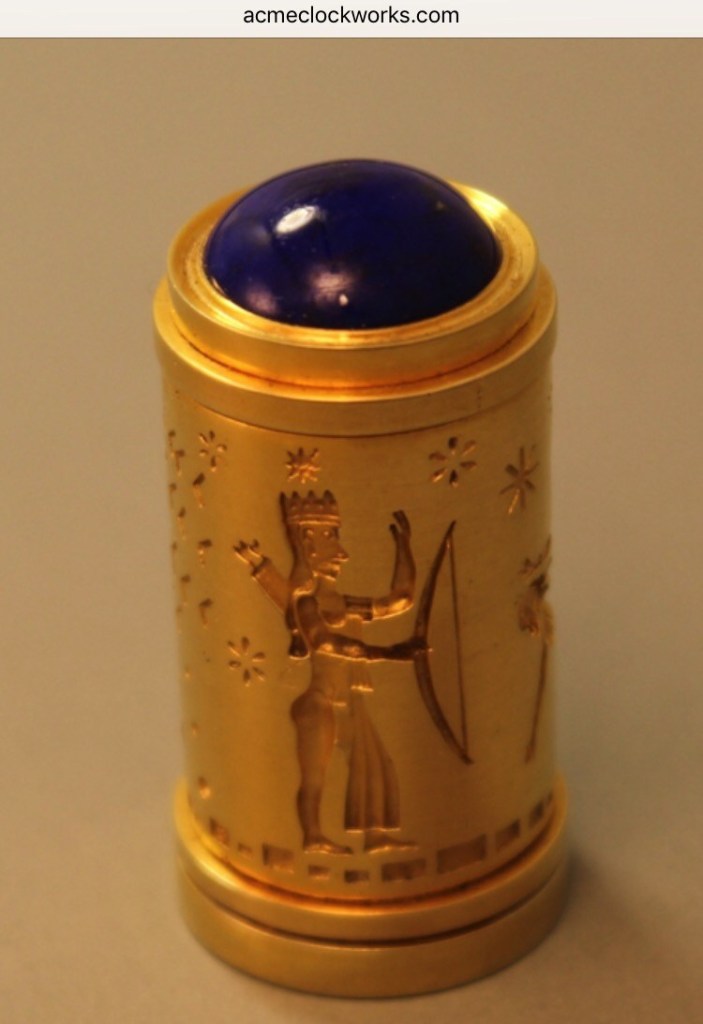 It opens to reveal two more inner seals, one of which has the bomb imprint.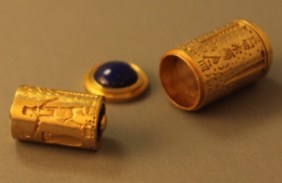 Quite inventive. Nicely done. It would be an amusing piece to own, to perhaps keep in a glass trophy case to show special friends who think you are a world traveling mystery collector.
I do hope you noticed right away that it looks in improbably excellent condition for an artifact that is supposedly 2,600 year old.
Nebuchadnezzar II did rein as a king of Babylon around 605-562 BC, so that small detail was true.
If you read the "About" page on the acmeclockworks web site, however, you see that it is a parody.
Acme Clockworks represents the work of Steven Parker.  As you browse through the site, you will also find pieces that result from collaborative efforts with other artists – the synergy of such creation is incredibly rewarding.

Over the years, Steven Parker has been active in the design and manufacture of product in two industries – toys and jewelry. The work you see here brings together the knowledge culled from that experience with the elements of mechanics, narrative, and an interactive experience woven throughout. Another element present in some of Mr. Parker's work may be apparent in the discoveries documented here of Mr. Parker's alter ego, Dr. Kent Streaver – a barely perceptible hint of parody.

We hope you enjoy the work shown here, and look forward to adding more to the mix.