Athlete Confined To Wheelchair After Her Third Gardasil Vaccine Takes Merck To Court
The Facts:This article was written by Lyn Redwood, R.N, M.S.N., President of Children's Health Defense. Posted here with permission.
Reflect On:Why is this type of information virtually ignored by mainstream media and medicine? What's going on here? Why is gardasil marketed as completely safe and necessary when clearly, that doesn't seem to be the case?
On Wednesday January 9th, I attended Science Day Presentations in the Jennifer Robi vs. Merck and Kaiser Permanente case in Los Angeles Superior Court. I want to report to our community on the outcome of this important event and provide some personal commentary.
It is difficult to describe the feelings of elation and frustration that I experienced during the full day of furious arguments that began at 9:30 am before Judge Maren Nelson. Due to the restrictions of the National Childhood Vaccine Injury Act, my son and thousands of children like him, have never been able to have their injuries acknowledged in a court of law.  This day gave families around the globe whose children's health was permanently harmed by the HPV vaccine a glimmer of hope that their injuries and suffering would finally be acknowledged. The frustration I felt came from the obvious fact that the science relied on by our federal agencies to approve the HPV vaccine was criminally inadequate and that Jennifer's injuries and those of the thousands of others like her could have been prevented.
Prior to Science Day, plaintiffs' attorneys worried that because Judge Nelson threw out a $472 million 2017 jury verdict against Johnson & Johnson for causing ovarian cancer in women exposed to its asbestos-containing baby powders, the Court might not be very receptive to their arguments here. However, Judge Nelson gave scrupulous attention to the science presentations by both sides and clearly seemed to be approaching the Robi case with an open mind.
A red-letter day
After 20 years of advocating for vaccine safety, this was the first time that I've watched vaccine science issues adjudicated in a true court of law.  It was truly a red-letter day. Jennifer's lawyers brilliantly laid bare Merck's anemic case for Gardasil, dissecting the science in withering presentations challenging both the efficacy and safety of the Gardasil vaccine, and then chronicling the horrifying agency and corporate corruption that lead to its approval.
Jennifer Robi is a 24-year-old former athlete and scholar who has been confined to a wheelchair since receiving her third Gardasil vaccines at age sixteen. She suffers continual uncontrolled neuro/muscular contractions (jerking) and postural orthostatic tachycardia syndrome (POTS) and many other symptoms of systemic autoimmune dysregulation.
Jennifer's attorney, Sol Ajalat, initially brought her case in Vaccine Injury Compensation Program and then, following a judgment in the program, elected to proceed in civil court. Since VICA (the Vaccine Injury Compensation Act) forbids recoveries for product defect or negligence, Ajalat brought Jennifer's civil case under the theories that Merck committed fraud during its clinical trials and then failed to warn Jennifer (and, by implication, other injured girls) about the high risks and meager benefits of the vaccine.
In order to support Sol Ajalat and his sons Greg, Larry, and Steve, who compose the Los Angeles firm Ajalat & Ajalat, a blue ribbon A-Team of the nation's leading plaintiffs' law firms have joined Jennifer's trial team. These include the firms most feared by Pharma: Weitz & Luxenberg (countless major pieces of litigation over 30 years), Morgan & Morgan (Vioxx, Phenphen, Breast Implants, Tobacco), Baum Hedlund, (Monsanto $289 million verdict 2018 and the $54 million 2000 verdict against Bayer in Haemophiliac/AIDS case) as well as Children's Health Defense's own Robert F. Kennedy, Jr. and Kim Mack Rosenberg (a co-author of The HPV Vaccine on Trial). The plaintiff's bar has steered clear of vaccine lawsuits since the 2008 Thimerosal fiasco which nearly bankrupted several big firms. Now, Merck, through its reckless overreaching with Gardasil—a public health flimflam currently emerging as the most dangerous vaccine in history—has brought the nation's leading trial lawyers back to the brawl.
The three Merck attorneys who made presentations were Dino Sangiamo, Sally Bryan, and Christina Gaarder. Jo Lyn Valoff represented Kaiser.
Among vaccinologists, it's axiomatic that duration of immunity correlates directly to the toxicity of the adjuvant: the more toxic the adjuvant, the longer the duration of immunity.
Gardasil's super-powered aluminum adjuvant
Plaintiffs began the day with a 2.5 hour presentation. Sol Ajalat first introduced Paul Pennock of Weitz & Luxenberg. Pennock ran through a riveting 50-minute slide show demonstrating how Gardasil's super-powered Amorphous Aluminum Hydroxyphosphate Sulfate (AAHS) adjuvant over-stimulated the immune systems of vaccine recipients tipping them into autoimmune conditions in which their redlining immune defenses begin attacking their bodies' own organs. This "autoimmune process" causes a cascade of illnesses that, in Jennifer Robi's case, resulted in damage and deterioration in diverse organ systems throughout her body.
Victims like Jennifer are left exhausted as the body fights off disease on multiple fronts.  Pennock explained that vaccine makers add aluminum adjuvants (to weak antigens and a long list of other potentially toxic ingredients) to elicit an immune response, hoping to extend the short-term immunity otherwise provided by most vaccines. Among vaccinologists, it's axiomatic that the duration of immunity correlates directly to the toxicity of the adjuvant; the more toxic the adjuvant, the longer the duration of immunity. Most vaccines provide immunity for only 5-10 years. Gardasil's promoters were promising lifelong protection, and needed a super toxic adjuvant that would provide this unprecedented level of protection. After all, Merck was promising regulators, pediatricians and the public that inoculations given to 9-12-year-old girls would provide immunity against a relatively rare cancer that typically doesn't kill until age 58!
Pennock explained that Merck has refused to disclose the contents of AAHS or to provide samples to independent and university scientists for testing.  AAHS, astonishingly, has never been safety tested by government regulators or by Merck. Studies on animals conducted by world renowned independent scientists like Dr. Chris Exley, Dr. Yehuda Shoenfeld, Dr. Chris Shaw and others have found that mice and sheep exposed to aluminum adjuvants, at concentrations comparable to those found in vaccines, develop strange behavioral patterns and illnesses resembling autoimmune diseases.
Using a poisonous placebo in the control group allowed Merck to mask the cascade of injuries suffered by girls in the Gardasil group during the clinical trials.
A parade of deceptive canards
Robert F. Kennedy, Jr. next gave the court an explosive 50-minute presentation of 112 disturbing slides describing the parade of deceptive canards that composed Merck's clinical trials. Kennedy described a series of fraudulent gimmicks employed by Merck to deceive regulators during the clinical trials including the use of a "spiked" extremely toxic AAHS placebo rather than a true inert placebo that is standard for control groups in blue ribbon safety studies for other pharmaceutical products. Using a poisonous placebo in the control group allowed Merck to mask the cascade of injuries suffered by girls in the Gardasil group during the clinical trials.  Half the girls in the Gardasil group and half the girls in the spiked placebo group suffered serious injuries, including several deaths, in the first seven months of the clinical trials, yet Merck was able to claim that reactions in the study group "were similar to the reactions in the placebo group," and that, therefore, the vaccine was safe. Merck reported most of these serious injuries as "new medical conditions" not adverse events, dismissing any connection to the vaccine by fiat. Information about this parade of grave injuries appears nowhere in the Gardasil package insert.
Merck committed its boldest fraud in its key clinical trial, Protocol 18.  Merck told FDA that Protocol 18 was the single study in which its researchers gave the control group a true inert placebo.  For this reason, FDA declared Protocol 18 "of special interest."  However, in reality, Merck appears to have taken the precaution of removing half the aluminum from the vaccines administered to this study group. Plus, The Company laced the "placebo" with a witches' brew of other toxic chemicals. This study, the only "controlled" study that included children in the target cohort of 9-12-year olds, may not have in fact tested the vaccine that Merck went on to inject into millions of young children around the world. Kennedy told the judge that this is not just scientific malpractice, it is outright fraud!
Merck's control groups did not reflect the target population for its drug
Another tactic utilized by Merck was to purge the study group of anyone with the slightest vulnerabilities to the vaccine or its ingredients despite the fact that the vaccine would ultimately be marketed to girls with the very vulnerabilities excluded during the clinical trials.  This precaution allowed the company to mask effects that occur only in vulnerable subgroups.  Mr. Kennedy drew laughter from the large court room audience when he described how Merck had prescreened the study subjects to exclude people with allergies, immunological or nervous disorders, more than 4 lifetime sexual partners, genetic vulnerabilities to cancer or to any other medical condition, or with any hint of general infection, a history of alcohol or drug abuse, or a serious or chronic illnesses, and so forth. Finally, Merck told its researchers to exclude any individual with "any condition which in the opinion of the researchers might interfere with the study objective." The remaining participants were an elite club of super healthy individuals. "You couldn't get into the clinical trials unless you were a superhero," Kennedy told Judge Nelson. "You had to be eligible for the Avengers." The problem, of course, is that none of the people receiving the vaccine under CDC's mandate are screened for these vulnerabilities. In other words, Merck's control groups did not reflect the target population for its drug.
The mayhem caused by Gardasil
Even these flimflams could not conceal the mayhem caused by Gardasil.  Kennedy showed the court data from Merck's own package insert showing that 2.3 % of the girls receiving the vaccine complained of symptoms of autoimmune disease within 7 months. Since cervical cancer kills only 1.5 Americans in every 100,000, he noted, "Merck's own data show that the chances of getting an autoimmune disease from this vaccine are 1000 times the risk of dying from cervical cancer."
Merck's own data showed that administering the Gardasil vaccine to girls who had previous exposure to HPV actually raised their risk of developing precancerous lesions (or worse) by almost 45%
Not only did a heartbreaking 50% of the subjects in both the study group and the spiked placebo group experience a serious adverse event within the seven months of the trial, death rates among girls in the study were double background rates. In fact, the rate for girls during the clinical trials (85/100,000) was 37 times the death rate from cervical cancer!  Birth defects among children conceived during the study period were 5x those of the control group and miscarriages were doubled over background rates. Reproductive problems among vaccinated girls were 10x background rates. Finally, Merck's own data showed that administering the Gardasil vaccine to girls who had previous exposure to HPV actually raised their risk of developing precancerous lesions (or worse) by almost 45%. This revelation is particularly frightening since sexual behavior is only one of many vectors for acquiring HPV. Many children are exposed in the birth canal. Kennedy cited numerous studies showing many very young children are exposed to HPV, including one in which upwards of 34% of girls had exposure to HPV prior to age 10.
Kennedy closed his powerful presentation by chronicling the parade of corrupt conflicts that caused HHS officials to turn a blind eye to the rife fraud that characterized the clinical trials. Merck loaded the two FDA and CDC panels that approved Gardasil, with paid toadies. He showed that the pharmaceutical industry actually pays 45% of FDA's annual budget and that NIH and its officials own part of the patents to the Gardasil vaccine and collect royalties on every vaccine sold.  NIH collects tens of millions of dollars annually from Gardasil sales.  Finally, 45% of CDC's budget goes to promoting and purchasing vaccines.  Merck exerts control over the CDC with millions of dollars in contributions to the CDC foundation, which allows funding for pet projects.  This level of support gives Merck the power to also punish the CDC by withholding funding if displeased by the agency.
Jennifer's illness due to Gardasil
Nicole Maldonado of Baum Hedlund next described the onset of Jennifer's illness which worsened with each stage of the three vaccine series and how her symptoms were identical to the symptoms seen among hundreds of injured women during the clinical trials around the world, in places as diverse as Japan, Australia, Colombia, and Denmark (where special clinics have been set up to treat Gardasil's victims), as well as among many girls here in the United States. These symptoms included menstrual irregularities, gastrointestinal dysfunction, musculoskeletal pain, neurological conditions and even death.
One courtroom observer, a concerned mother identifying herself as Rachel Harris said she felt sick to her stomach at the revelations. Jennifer Robi's mom told me that she felt elated that Mr. Kennedy had mastered the facts so completely and that their family's story was finally being told.
Merck's AAHS adjuvant was safe because of the small quantities of this known neurotoxin in each vaccine. She told the judge that 'the dose makes the poison,' and that even water in large enough doses can be toxic
The rebuttal
The Defendants' three-hour rebuttal was mainly toothless. Sangiamo doggedly described six studies, that he claimed were relied upon by the plaintiff, that had been retracted. However, only one of those studies was even mentioned on the plaintiff's lengthy exhibit list (Plaintiff's attorneys never referred to it in their briefs) and that study was republished elsewhere after the original journal retracted it under pressure from its pharmaceutical advertisers.
Sangiamo argued that the plaintiff had relied on case studies rather than large scale epidemiological studies of the kind largely funded by industry or the NIH which owns the Gardasil patent and profits on every injection sold.  He cited five of those NIH and industry-authored epidemiological studies that found no causal relationship between Gardasil and autoimmune diseases.  All are plagued by fatal defects such as only looking for a very limited number of potential injuries for a short period of time following exposure to the vaccine, despite the fact that autoimmune diseases can take months or years to manifest.  The authors of these studies had financial ties to Merck.
Finally, Merck's Sally Bryan rose to the podium to explain to Judge Nelson that Merck's AAHS adjuvant was safe because of the small quantities of this known neurotoxin in each vaccine.  She told the judge that "the dose makes the poison," and that even water in large enough doses can be toxic. She pointed out that there are only 225 micrograms of aluminum in each vaccine. To illustrate how small this is, she asked Judge Nelson to imagine a dollar bill – which weighs one gram – cut into 1 million tiny pieces. She pointed out that only 225 of these pieces would be in any Gardasil vaccine, far too little to cause any adverse outcome. So in one breath, Merck was telling Judge Nelson that the amount of aluminum in Gardasil was substantial enough to permanently alter a person's immune system to prevent cancer for the next half century and, at the same time, small enough to cause no harm.
The path forward
At the end of a long day, Judge Nelson ordered both sides to work out a discovery schedule and to reappear in court on February 7 to resolve any differences.
In Merck's zealous promotion of the Gardasil vaccine, the company and its allies have shamed parents into vaccinating their children, through a series of misleading ad campaigns which play on parental instincts to protect their children from harm, especially from a disease as frightening as cancer. One commercial depicts young girl and boy actors recounting how they developed cancer from HPV and asking their parents if they knew this could have been prevented. "Did you know – Mom and Dad?"  Jennifer Robi has had the courage to tell a real-life story that the public rarely hears – about the risks of the Gardasil vaccine itself.
Watch RFK, Jr. describe his plan to take this issue to the courts
RFK, Jr. (from the video): "We're going to fight this battle for you. We're going to take it to the streets. We're going to take it to Congress. We're going to take it to the regulatory agencies. We're going to force the press to start covering this issue honestly for the first time, and allowing this debate to take place. And above all, we're going to take it to the court room, and we're going to win these cases. We're going to find justice for you, for your families and for our country at last. If we're going to do this effectively, we need your support."   www.childrenshealthdefense.org/donate
'Drone' that shut down Gatwick Airport for days last December 'could see what was happening on runways, was eavesdropping on radio communications'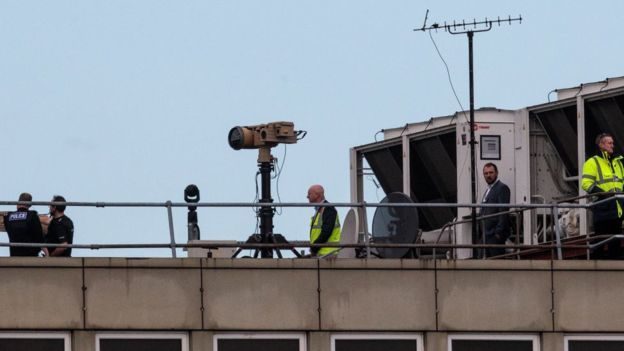 © Getty
UK military deployed equipment at the airport to 'catch' the 'drone' but it evaded them every time
The drone attack that caused chaos at Gatwick before Christmas was carried out by someone with knowledge of the airport's operational procedures, the airport has said.
A Gatwick chief told BBC Panorama the drone's pilot "seemed to be able to see what was happening on the runway".
Sussex Police told the programme the possibility an "insider" was involved was a "credible line" of inquiry.
About 140,000 passengers were caught up in the disruption.
The runway at the UK's second busiest airport was closed for 33 hours between 19 and 21 December last year – causing about 1,000 flights to be cancelled or delayed.
In his first interview since the incident, Gatwick's chief operating officer, Chris Woodroofe, told Panorama: "It was clear that the drone operators had a link into what was going on at the airport."
BREAKING: #Drone operators had a link into what was going on at @Gatwick_Airport during the drone attacks in December says #Gatwick's Chief Operating Officer.

Chris Woodroofe has spoken to BBC Panorama in the airport's first interview since the incident. pic.twitter.com/cEzJDkedAN

— Panorama 🌐 (@BBCPanorama) April 14, 2019
Mr Woodroofe, who was the executive overseeing the airport's response to the attack – the "gold commander" – also said that whoever was piloting the drone could either see what was happening on the runway, or was following the airport's actions by eavesdropping on radio or internet communications.
And whoever was responsible for the attack had "specifically selected" a drone which could not be seen by the DJI Aeroscope drone detection system that the airport was testing at the time, he added.
'No overreaction'
Despite a huge operation drawing resources from five other forces and a £50,000 reward, there is still no trace of the culprit.
Sussex Police says its investigation is ongoing and expected to take "some months to complete".
The first sighting of the drone was at 21:03 GMT on 19 December but it was not until 05:57 GMT on 21 December that flights resumed with an aircraft landing.
Gatwick says it repeatedly tried to reopen the runway but on each occasion the drone reappeared.
Airport protocol mandates that the runway be closed if a drone is present.
So all these sightings and not 1 person got their phone out and recorded it, not even the security officers who went out too check the runway???? Don't usually do conspiracies but something's not as it seems here???

— steph (@stephnkaiser) April 14, 2019
And yet every time it "reappeared" no one managed to film it.

— Bourbon Biscuit (@Borbassi) April 15, 2019
Well, masses of people are said by the Chief to have seen the drone on multiple occasions Why haven't they come forward? Why no photos in one of the most heavily CCTVed places on earth? Unhappily comes across as an exercise in back covering. We live in an age of incompetence.

— James Wyburd (@WyburdJames) April 14, 2019
Mr Woodroofe denied claims the airport overreacted, describing the situation it faced as an unprecedented, "malicious" and "criminal" incident.
"There is absolutely nothing that I would do differently when I look back at the incident, because ultimately, my number one priority has to be to maintain the safety of our passengers, and that's what we did.
"It was terrible that 140,000 people's journeys were disrupted – but everyone was safe."
Mr Woodroofe also dismissed the suggestion that the number of sightings had been exaggerated – and a theory, circulating online, that there had been no drone at all.
These claims have been fuelled by the fact that there are no verified pictures of the drone, and very few eyewitnesses have spoken publicly.
Police told the BBC they had recorded 130 separate credible drone sightings by a total of 115 people, all but six of whom were professionals, including police officers, security personnel, air traffic control staff and pilots.
Mr Woodroofe said that many of the drone sightings were by people he knew personally and trusted – "members of my team, people I have worked with for a decade, people who have worked for thirty years on the airfield, who fully understand the implications of reporting a drone sighting".
"They knew they'd seen a drone. I know they saw a drone. We appropriately closed the airport."
Panorama has been told witnesses reported seeing an extremely fast-moving, large drone with bright lights.
At least one person noted the characteristic cross shape while others described it as "industrial or commercial" and "not something you could pop into Argos for", an airport spokesperson said.
Toxic Aluminum in Vaccines
Jon Rappoport, Guest
Waking Times
I hope that aluminum, an ingredient in many vaccines, keeps moving up on the chart of key issues in the vaccine wars. The mainstream medical forces believe they can ward off any critiques. They're wrong. But the exposure of the truth has to keep escalating.
At Robert Kennedy, Jr.'s site, the World Mercury Project, there is a science library of studies referring to toxic aluminum in vaccines. I recommend reading all the citations. They're highly informative, and some of them make excellent ammunition. Here are a few examples:
"Aluminium has been shown to be present in brain tissue in sporadic Alzheimer's disease. We have made the first ever measurements of aluminium in brain tissue from 12 donors diagnosed with familial Alzheimer's disease. The concentrations of aluminium were extremely high…Overall, the concentrations were higher than all previous measurements of brain aluminium except cases of known aluminium-induced encephalopathy…The unique quantitative data and the stunning images of aluminium in familial Alzheimer's disease brain tissue raise the spectre of aluminium's role in this devastating disease." ("Aluminium in brain tissue in familial Alzheimer's disease," Ambreen Mirza, Andrew King, Claire Troakes, Christopher Exley. Journal of Trace Elements in Medicine and Biology, November 2016.)
"Vaccine adjuvants and vaccines may induce autoimmune and inflammatory manifestations in susceptible individuals. To date most human vaccine trials utilize aluminum (Al) adjuvants as placebos despite much evidence showing that Al in vaccine-relevant exposures can be toxic to humans and animals…It appears that Gardasil via its Al adjuvant and HPV antigens has the ability to trigger neuroinflammation and autoimmune reactions, further leading to behavioral changes…In light of these findings, this study highlights the necessity of proceeding with caution with respect to further mass-immunization practices with a vaccine of yet unproven long-term clinical benefit in cervical cancer prevention" (Rotem Inbar, Ronen Weiss, Lucija Tomljenovic, Maria-Teresa Arango, Yael Deri, Christopher A Shaw, Joab Chapman, Miri Blank, Yehuda Shoenfeld. Immunol Res, July 2016.)
"Infants and young children throughout the world receive high quantities of aluminum from multiple inoculations. Incremental changes to the vaccination schedule during the past several years significantly increased the quantity of aluminum in childhood shots. Numerous studies provide compelling evidence that injected aluminum can be detrimental to health. Aluminum is capable of remaining in cells long after vaccination and may cause neurologic and autoimmune disorders. During early development, the child's brain is more susceptible to toxins and the kidneys are less able to eliminate them. Thus, children have a greater risk than adults of adverse reactions to aluminum in vaccines. Millions of children every year are injected with vaccines containing mercury and aluminum despite well-established experimental evidence of the potential for additive or synergistic toxicity when an organism is exposed to two or more toxic metals." (Neil Z. Miller. Journal of American Physicians and Surgeons, Winter 2016.)
"In young children, a highly significant correlation exists between the number of pediatric aluminum-adjuvanted vaccines administered and the rate of autism spectrum disorders. Many of the features of aluminum-induced neurotoxicity may arise, in part, from autoimmune reactions, as part of the ASIA syndrome [Autoimmune Syndrome Induced by Adjuvants]. Aluminum is added to vaccines to help the vaccine work more effectively, but unlike dietary aluminum which will usually clear rapidly from the body, aluminum used in vaccines and injected is designed to provide a long-lasting cellular exposure. Thus, the problem with vaccine-derived aluminum is really twofold: It drives the immune response even in the absence of a viral or bacterial threat and it can make its way into the central nervous system. It is not really a matter of much debate that aluminum in various forms can be neurotoxic." (Chris Shaw, L. Tomljenovic. Immunologic Research, (2013) 56:304–316 DOI 10.1007/s12026-013-8403-1.)
Based on these, and many other suggestive citations from studies, what honest researcher wouldn't want to probe the aluminum-vaccine issue to its depths?
A recent paper by several authors, including aluminum expert, Christopher Exley, details a finding of alarmingly high levels of aluminum in the brains of children with autism. The research doesn't implicate vaccines directly, but it certainly points the way to follow-up investigation—and what should be a moratorium on the production of vaccines using aluminum.
Robert Kennedy, Jr.: "Dr. Exley's findings have shocking implications for today's generation of children who receive 5,000 mcg. of aluminum in vaccines by the age of 18 months and up to 5,250 additional mcg. if all recommended boosters, HPV and meningitis vaccines are administered."
Here is a list of U.S. vaccines containing one or more aluminum adjuvants: Dt, Td, DTaP, Hib, Hep A, Hep B, HPV, Meningococcal, Pneumococcal, DTaP-IPV, DTaP-IPV/Hib, Hep A/HepB.
About the Author
Jon Rappoport is the author of three explosive collections, THE MATRIX REVEALED, EXIT FROM THE MATRIX, and POWER OUTSIDE THE MATRIX, Jon was a candidate for a US Congressional seat in the 29thDistrict of California. He maintains a consulting practice for private clients, the purpose of which is the expansion of personal creative power. Nominated for a Pulitzer Prize, he has worked as an investigative reporter for 30 years, writing articles on politics, medicine, and health for CBS Healthwatch, LA Weekly, Spin Magazine, Stern, and other newspapers and magazines in the US and Europe. Jon has delivered lectures and seminars on global politics, health, logic, and creative power to audiences around the world. You can sign up for his free emails at NoMoreFakeNews.com or OutsideTheRealityMachine.
(To read about Jon's mega-collection, Exit From The Matrix, click here.)
This article (Toxic Aluminum in Vaccines) was originally created and published by Jon Rappaport's Blog and is re-posted here with permission.
The Global Sensorium – Life at High Velocity
Kingsley L. Dennis, Contributor
Waking Times
"The only solution now is to move constantly or flee definitively." ~Paul Virilio, The Administration of Fear 
Life for many of us has entered a period of uninterrupted time which gives us the sense of speed and acceleration. Events are already moving so fast that it's hard to keep up with the news on the latest innovations, technological research, discoveries, and the rest. Too many things are happening all over the place at such a rapid pace. No one person has all the information or is able to connect all the dots together in order to see where all this is going. It's just too much, and it's scattered all over the globe. It 'should' all come together at some point; yet until we reach that moment we are swimming in unprecedented change and movement. Time is literally being reorganized, and instead of opposing longer working hours people are now embroiled in an all time-consuming availability. Accelerated time is also about how many more hours we have made ourselves available. We don't leave the office behind at six o'clock when we go home. In an accelerated world we seldom have the luxury of leaving things behind. More and more it is about living in the elongated ever-present. We can imagine this as living in a domed global sensate city called the 'Global Sensorium.'
The global sensorium is obsessed with the instant. The instant is both the future and the now; or rather, both are merged into one instant. We are living the future by being present. Perhaps that is why many people cannot find anything to look forward to because there appears to be no forward beyond the present instant. Human civilization has entered a period of intensified life that many of us experience as being high-velocity, highly connected, and information dense. We are now living in a kinetic reality that is increasing its spin of velocity. We are measuring in milliseconds rather than seconds.
If space-faring travelers were to visit our modern lives they would probably conclude that we were in a primitive technological stage of worshipping instantaneism. We are wanting to live in the omnipresent as if we can now become the all-seeing, all-knowing participants of a new world happening in 'real-time.'
Welcome to the Now of 'Real-Time'
Modern life has pushed us to the point where we are obsessed by real-time, on-time, and the everything-now. And this is especially the case for life in urban-dense environments. Delay must always be avoided (eradicated!) as if it were a dangerous virus. In fact, we can buy insurance to compensate us if we are subjected to the experience of unnecessary delay. Waiting for the slow webpage to download threatens our well-being. The previous state of 'real time' that our parents experienced now delivers to us a sense of inertia. This real time of our parents is equated with the euphemistic term of 'quality time' which means being with the family, spending time in the garden, or strolling aimlessly through shopping malls. It used to signify that a time or an event was real, such as a music concert or a sport event. We would make travel arrangements to arrive at the event venue; we would wait in queue to enter; find our seats; and then count down the minutes in anticipation for the event to begin. This was real time and it involved the unfolding of time in a very real sense.
Real time as we once knew it now takes on a different meaning and represents the slow time that exists as two separate words. Whereas the 'real-time' of today is so instant it requires to be written as a hyphenated word in order to distinguish it from the 'real' real time of yesteryear. Real-time is linguistically entwined and cannot be a space apart – it is happening too fast to be written as two separate words. Real-time now means having the event streamed into our lives – into our device or our living room – at the exact moment it is happening without us having to be there. We are synchronized with it by being simultaneously afar. This is the real of real-time now: the immediate download, the simultaneous streaming that needs no waiting. We can access it whilst on the move, on public transport or annoyingly in a restaurant with friends.
Real-time is not equitable – it favors the favored. High speed and high velocity are almost always rolled out to the privileged first. And the favored are those deemed worthy to have the right of access. Real-time, if you want it now, is an access economy. If you pay for it, then you get it streamed to your account.
But if you stream without paying then we'll get you like we got Kim Dotcom.
Time as we once knew it as a measurement is becoming obsolete. Our quantum sciences tell us that we are all simultaneously connected at a fundamental field level; that is, we are always 'there' as well as 'here.' Our spinning atoms may be both inseparable and light years apart at the same time. In our reality we are thus both connected and separated at the same moment. We are secretly connected and yet we rarely truly communicate. Where is the sense of 'time' in this?
Many of our children are being encouraged to train in techniques of accelerated speed reading – to read faster and comprehend more – to save hours of time. Publishers of books for children are now selling box-sets of 'Accelerated Readers' for young schoolchildren. An online promotion on Amazon claims that 'Thousands of schools across the UK use the Accelerated Readers program to boost Children's Literacy levels and love Reading.' Books are available with such titles as Accelerated Learning Techniques for Students: Learn More in Less Time, and Accelerated Learning in Accelerated Times. And, fortunately for the eager reader, they are 'available for immediate download' so you don't even have to wait for the next-day delivery. Waiting is now almost considered as something negative; as if waiting is a barrier to achieving what we want rather than preparing us for something we can gain from. And then there's the speed of information.
Information without meaning is, after all, only a jumble of letters or digits. Information is rapidly accumulating yet it's still not clear whether it is adding to meaning or not. Supercomputers are now operating in petaflops, which is way, way faster than flip-flops. When the 47th edition of the TOP500 list of the world's top supercomputers was released, the world's number one ranked supercomputer was China's 'Sunway TaihuLight' with ninety-three petaflops per second. But wait a minute (a whole minute?!) – what's a petaflop? Well, a petaflop is equal to one thousand million million (1015) operations per second. That is, a thousand trillion operations per second. In other words, it is equal to quadrillion calculations per second. So that means that our supercomputer here can perform a record-busting ninety-three quadrillion calculations per second. Hold on – what does that mean? No really, what does it mean when the human mind is incapable of comprehending such speeds. It makes no human or humane sense.
There is so much going on now that it is as if we have entered an echo chamber full of bouncing data, information, voices, and thoughts; and we cannot tell where they are all coming from. All we can manage to get hold of are the traces these speeding data sounds leave behind. Or perhaps we have become the traces – each one of us, speaking into our devices and leaving a part of ourselves in our social media posts. We are like a multitude of fractal data-bites for archiving in some cloud (and that's not a real cloud, by the way).
Fractal Places
French philosopher Paul Virilio believes that we have now entered the acceleration of reality. He says that in the current era we have reached the limits of instantaneity, the limits of human thought and time. Also, that this era of accelerated reality has led now not to the end of history, as some have wanted us to believe, but to the end of geography.[i] Virilio says we have polluted our measurement and sense of distance and place, and within this there is a loss of body; a loss of the corporeal. Time, place, and space have become fractalized. That is, our historical sense of continuum, of physical expanse, is being eroded and broken-up into fractals. We need to stop this fractalization of reality, says Virilio – but how? Places are now becoming less important than the connections that serve them. It is the interconnecting flows that create the status, the significance, rather than the static physical location. Hubs are only as important as the places to which they connect to and the flows which they facilitate. In this case some of the busiest airports in the world are those that offer the best connections rather than final destinations.
According to current statistics, the third busiest international airport is in Dubai. Yet Dubai has very little final traffic, apart from business people and the few excitable shopping tourists. And the busiest international airport in the world is in the United States. This may not surprise anybody; yet it isn't JFK (New York), or O'Hare (Chicago), or Los Angeles; it is Hartsfield-Jackson Airport. That's right; Hartsfield-Jackson International Airport has been the world's busiest airport consecutively since the year 2000, with currently around 105 million annual passengers. And where is this airport? It is in Atlanta, Georgia. Exactly, it is in Georgia. Are roughly 105 million people visiting Georgia annually? I doubt it. Yet Georgia is a hub airport – it deals in connections, with transit flows. It is not a place but a place-connector. In the high-velocity world of the global sensorium it is not the place that is the attractor; it is the flows, the endless possibility for continued movement. Likewise, it is no longer the light that attracts the human eye (or the moth), but the lightning – the blitzkrieg.
We're now in Blitzkrieg
War is the sad and unfortunate example of this blitzkrieg (lightning war) strategy. It is an accelerated hit hard and fast tactic, so they don't see it coming. This military policy has now transferred into so many other areas of our modern lives; from economics, education, entertainment, security/policing (drones), video gaming, communications, and inevitably social relations. Time is now a culprit in our global sensorium: we are living under the dome of high-velocity everything.
This strategy has especially infiltrated into global trading and taken it beyond human grasp. Blitzkrieg high-frequency 'flash trading' is now rampant within the world's global stock exchanges as turbo-capitalism takes our finances into orbit. This military terminology is apt as the technologies now used in the financial markets are as powerful as those used in military defense. It is no surprise either that the military and the financial sector are now the biggest funders of research into artificial intelligence. Together these sectors seek to exploit the ever-faster realms where no human mind can reach. It was in the early 1980s when global stock exchanges were first connected in what was real-time back then; this connection was called 'Program Trading.' Ever since then the global financial markets have operated at ever faster speeds, and in increasingly unmanageable ways when viewed from a human perspective. And then algorithmic trading was introduced, leading to high-frequency 'flash' trading practices on computers that are as sophisticated as those used at the highest defense levels. Next to come on the scene is AI financial trading.
The majority of financial trading has no time context that either you or I would be familiar with. It is too quick to be humanly shared, and thus exists beyond the capacity for human cognition – it is beyond our senses and operates in a hyperreal realm. It is no longer in the hands of operators; competition is no longer negotiated, it is flash traded before we can blink. Yet all is not smooth as the markets also contain their own fears (and their trader's fears) in what they have dubbed 'the fear index' – the Market Volatility Index (MVI). It appears that instantaneity, high-frequency flash trading and algorithmic trading in the markets induces its own fears – no need to invent more. Stock markets worldwide can plummet in seconds causing widespread panic. Everyone trembles at the possibility of impending loss, not knowing from where it will come next. The only thing we can be sure of is that it will come again. Will it be from one of the over-ambitious 'flash boys'? Or from a Ponzi scheme revelation? Perhaps it will come from the slip of a human finger or the acerbated act of an algorithm?
In short, algorithmic economies are beyond our comprehension. Time is too slow for artificial algorithmic 'intelligence,' which is now conducting its very own insider trading. Previously, insider trading and financial scams were conducted in chronological time – in hours and days – by human perpetrators who could be named and shamed in media trials. Now the economy has been taken 'out of time' – beyond chronology – and into a blur. Yet algorithms cannot be taken to court and jailed, so everything's alright – right?
Economies, and hence debt, now run into the trillions, and yet these numbers have no possible physical reality to them. They are illusionary digits that by fiat (consensual decree) bind and control our global affairs, as well as making and breaking (i.e., devastatingly ruining) individuals, groups, corporations, and nations. Yet it seems there is no getting away from this incumbent system as all markets are now interconnected. Like airports, it is their interconnections that matter more than their location. To be 'in' the market you need to be 'of' the market, which means being one of their connections, and going with the flows of their rules and regulations. Otherwise your connection is cut – economic death.
Likewise, in order not to face being cut out of the connections, modern life is increasing its always-on connections and flows. And it seems that things are becoming somewhat congested.
Are we at Saturation Point?
Modern western culture is taking itself to a saturation point, and with accelerating velocity. It is possible that this high-velocity is required in order to trigger a necessary tipping point that will initiate the next phase. Similar to how an airplane needs to achieve a certain degree of high-velocity acceleration on the runway in order to initiate take off. Of course, the question that then needs to be asked is – what will come after saturation?
There is already a high degree of psychic stress bubbling up within modern life; much of this coming from the velocity of dis/mis-information arriving at full throttle. Connectivity is cool, no doubt about that, but now the global world has arrived on our doorstep bringing new risks, new obligations, and unprecedented circumstances. Naturally, people are feeling overwhelmed.
In a world of constant updates we are always behind on catching-up. Life is being lived more and more through our inboxes, our social media messages, our online profiles, listings, and through our own obsessive personal updates. We are racing against ourselves within a high-velocity, hyperreal environment to be always catching-up. The result is that a new form of wealth has been created. Whereas wealth has traditionally been defined through financial acquisition and consumption, the 'new wealth' is now measured in freedom from or the power over time, availability, connection, and movement. A measure of our wealth is also the power we possess over our own mental time. Welcome to the global sensorium – a whole sensory apparatus, brimming full of emotional stimuli, connections and flows, time-constriction and, for some, senses overload. As Virilio declares – 'I prefer the revelation to the revolution.'3
Velocity Revelation
Time has revealed itself to be simultaneously running away and running the show. We have our clocks, our watches, and an increasing array of digital devices that manage time automatically. We no longer have to think about switching between the seasonal differences to save daylight as our devices do this for us. When we chat online with friends or colleagues across the world we often forget (or prefer not to remember) that their time zone is different. It doesn't matter that they are in their pajamas as the only time to talk is now, in real-time. And if this means one unlucky person (probably in the minority time-zone) getting out of bed then so be it. Time no longer gives us a fixed location with an excuse. Time is that flux-zone that makes us available as it rushes away from us. We only get the briefest of opportunities to say whether we are available or not – and even this choice is sometimes taken away from us by the automated decisions of our devices. And through this we are being delocalized. Yet this delocalization occurs in many ways. It may be through a loss of fixed available time; a loss of fixed work space; or being in the position where we are unable to say 'no' to inconvenient requests. In fact, inconvenience is no longer a possibility. Sedentary life is being gnawed away at until it becomes a mausoleum.
New modes of imagination and innovation, as well as a whole new range of impacts, are affecting our senses. As a species we are trying to adapt – to re-wire our senses – yet we are faced with a velocity of change that can feel overwhelming and gives us the impression that we cannot keep up or re-wire in time. This high velocity is affecting, and changing, how we think about and experience cause and effect. Our understanding of linearity is becoming fuzzed in the turbulence of accelerating events. Maybe it's time to W8 up B4 its 2lte, as the modern parlance now goes.
Sound bites are ideally suited to the size of the devices which transmit them. Images are quickly consumed and then forwarded, shared through Whatsapp, Messenger, Instagram, Snapchat, and the rest, and so on, ad infinitum etc – you get the picture. It's an incredibly fast movement of the image. They speed around the world as if inside a social Hadron Collider. Our data – bits of binary code – are traveling almost at the speed of light and smashing into each other as if replicating their own version of the Big Bang. And everything is sealed into this high-velocity perspective of reality. The global sensorium is all-inclusive and all-consuming.
Seeking Inertia
In the face of rapid acceleration and high velocity there is a compelling need to find a state of inertia that is a state not of apathy but conscious inactivity. Conscious inertia is a counteraction against excessive acceleration and the exhaustion of velocity. It is learning how to create still moments amidst the rush of our modern high-frequency lives. Time really is one of our rarest commodities, and as such it must be saved from a social execution. It may be necessary for us to try to develop these 'still moments' as a way to step back from our high-velocity lives.
As the global sensorium expands it will become ever-more necessary to detach from situations that are distracting, noisy, or confusing. In a high-velocity world it is necessary that we make sure our energies are not sucked away from us. It is about making choices not to allow the external impacts to affect us, or to enter into our private inner space. Sometimes the global sensorium needs to be kept at bay.
It's not about leaving the world behind either: we still need to be relatively alert in case some online stranger from the African continent wishes to use our bank account to transfer huge amounts of money to their dying mother. It is about being attentive to the fast-moving world of information, discussion, emotions, and the rest. It is not only about creating a physical withdrawal but also, perhaps more significantly, creating a mental and emotional private space of inertia. Or, to use modern terminology, it is about unplugging from the global sensorium.
Life in the global sensorium is about exercising patience and restraint under the right conditions if we want to find balance in such a high-stimulus environment. The alternative may be that we unconsciously get sucked into a high-frequency 24/7 info-entertainment Disneyfied world more akin to The Matrix on acid. Maybe we need to take time out from the tablet, the posting of photos on social media, or scrolling through the endless messages on Facebook that are increasingly interspersed with customized advertising. Life in the global sensorium is as much about knowing when to let go of things that cling to us.
Sometimes, as the popular phrase goes, we are our own worst enemies. Being connected allows us access to a whole gamut of information, news, false news, gossip, celebrity culture, and virtually the whole world stage. There seems to be no greater time than the present to be in control of our senses at a time of senses overload.
Taken from his latest book Bardo Times – hyperreality, high-velocity, simulation, automation, mutation – a hoax? 
About the Author
Kingsley L. Dennis is the author of The Phoenix Generation: A New Era of Connection, Compassion, and Consciousness, and The Sacred Revival: Magic, Mind & Meaning in a Technological Age, available at Amazon. Visit him on the web at http://www.kingsleydennis.com/.
Endnotes:
1 Cited in Virilio, Paul. 2012. The Great Accelerator. Cambridge: Polity Press, 80
 2 Urry, John. 2014. Offshoring. Cambridge: Polity Press, 64.
 3 Virilio, Paul. 2012. The Administration of Fear. Los Angeles, CA: Semiotext(e), 71.
[i] A reference here to Francis Fukuyama's treatise The End of History