Astrophysicists Publish Instructions For a Do-It-Yourself Wormhole
Have you ever sat in bad rush hour traffic (isn't that redundant?) and said to yourself, "I could get out of this if I had a wormhole"? Me neither, but apparently some astrophysicists have and they've developed and published a set of step-by-step do-it-yourself instructions for building one – along with the prerequisite admonishments that these are for informational purposes only and you shouldn't try this at home. HA! Let's get started with our wormhole.
"We construct traversable wormholes by starting with simple four-dimensional classical solutions respecting the null energy condition and containing a pair of oppositely charged black holes connected by a non-traversable wormhole. We then consider the perturbative back-reaction of bulk quantum fields in Hartle-Hawking states. Our geometries have zero cosmological constant and are asymptotically flat except for a cosmic string stretching to infinity that is used to hold the black holes apart. Another cosmic string wraps the non-contractible cycle through the wormhole, and its quantum fluctuations provide the negative energy needed for traversability."
OK, so all we need are a couple of oppositely charged black holes and two cosmic strings. For where to order those online, you might want to check with Zicao Fu, Brianna Grado-White, and Donald Marolf, authors of "Traversable Asymptotically Flat Wormholes with Short Transit Times," a preprint paper published recently in arXiv.org. Fu is a PhD candidate, Grado-White a graduate student and Marolf a professor in the Department of Physics at the University of California, Santa Barbara. Their paper does indeed give step-by-step instructions, including the supporting documents and mathematical formulas, for building a wormhole that doesn't have the instability problem most wormholes have.
"But this wormhole-via-charged-black-holes has two issues. One, it's still unstable, and if something or someone actually tries to use it, it falls apart. The other is that the two oppositely charged black holes will be attracted to each other — both through gravitational and electric forces — and if they fall together you just get a single, big, neutrally charged and altogether useless black hole."
Fortunately for those of us who are not astrophysicists, astrophysicist, Paul Sutter at The (trademark pending) Ohio State University has a simple explanation in Live Science. His good news is that charged black holes are real. His bad news is that using a pair with opposite charges means they want to come together right now over me. (John Lennon would have LOVED the idea of wormholes.) The good news is, a cosmic string – extremely thin 1-dimensional topological defects which may have formed during the early days of the universe – could be used to keep them separated … not perfectly, but better than the referee between contestants in a professional wrestling match. The paper suggests getting two cosmic strings and forming a closed loop between the black holes. The loop would then vibrate and churn the space around them until the energy goes negative, creating a negative mass that would stabilize the wormhole, allowing matter (cars?) or even just messages (Anybody home? Marco!) to pass through.
The bad news is (you knew there was more), cosmic strings are hypothetical. However, Sutter gives one more tantalizing bit of good news:
"Still, there's no reason they can't exist, so they're fair game."
Fair game? Game on! Stop wasting your time honking your horn in that traffic jam and start figuring out a way to get some black holes and a couple of cosmic strings.
Source: Mysterious Universe
Scientists decoded the giant squid genome and saw that this creature has a very developed brain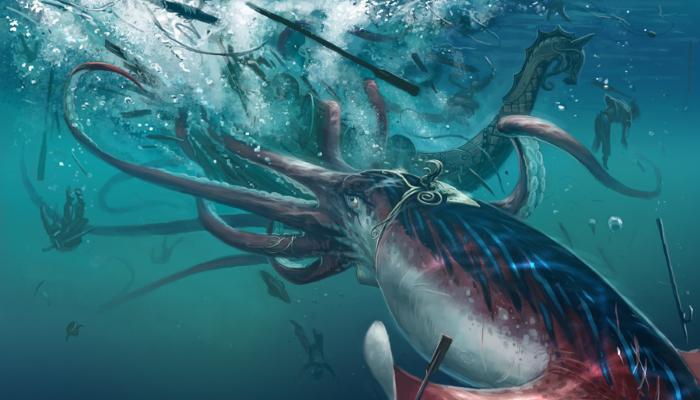 Giant squids of the genus Architeutis are one of the largest invertebrate creatures, which, according to official data, can reach about 8-10 meters in length, and twice as much according to unofficial ones.
Pictures of live squids were first obtained by Japanese researchers in 2004, before that scientists had ideas about giant squids only from their remains found in the stomachs of sperm whales or washed ashore.
Until now, not a single giant squid fell into the hands of scientists, which is associated not only with the fact that these creatures live mainly at great depths, but that that they rarely swim to the surface, as they sperm whale's favorite treat.
The genome of giant squid was analyzed by a team of researchers from the University of Copenhagen (Denmark), as well as researchers from the Marine Biological Laboratory of the State of Massachusetts under the leadership of Caroline Albertin. In total, this group sorted the genomes of several cephalopods at once, including octopus, cuttlefish and nautilus mollusk.
DNA samples of a giant squid were taken from a frozen piece of flesh of this creature, found many years ago on the ocean and preserved in one of the laboratories.
Researchers first found that the size of the giant squid genome is not that far behind the human genome. The giant squid had about 2.7 billion complementary pairs of DNA, which is about 90% of the human genome.
Although the size of the genome is not necessarily related to the creature's complexity and intellectual development, more than a hundred giant squid genes have been linked to a family of specific protocadherin proteins that are responsible for complex brain structure.
According to Caroline Albertin, as a rule, these proteins are found in very little (or not at all) in invertebrates, and the presence of more than 100 protocadherins in the giant squid genome can be compared to the finding of a "smoking gun", because this directly indicates that these creatures are very smart.
By the way, in the octopus genome in 2015, the same proteins were also found in approximately the same amount.
Other unusual finds include a unique set of genes responsible for the growth and development of giant squid, which were not in the genome of octopus, cuttlefish and nautilus. This probably explains why giant squids grow so huge.
The results of this curious study were published in the scientific journal GigaScience.
Abnormal particles whose origin remains inexplicable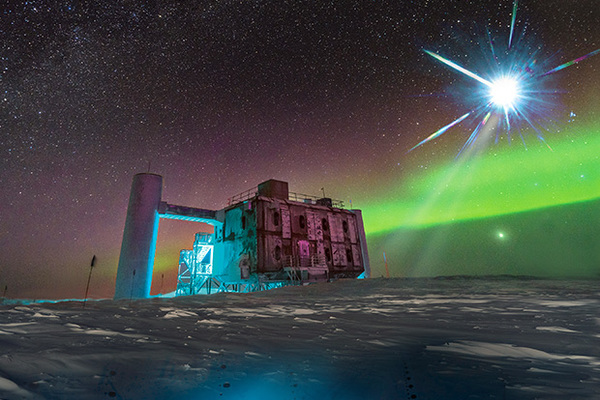 An international team of scientists has detected abnormal particles whose origin remains inexplicable. The discovery, which can refute modern ideas about particle physics, is reported in a preprint published in the arXiv.org repository .
Researchers have discovered several neutrino candidates using ANITA atmospheric probes (Antarctic Impulsive Transient Antenna). Two of the three events, which are interpreted as tau neutrinos, turned out to be associated with the atmospheric shower of high-energy particles that arose during the interaction of the Earth's atmosphere with tau leptons. The latter flew out of the core of the Earth, with which tau neutrinos interacted, which came from the other side of the planet.
The third possible neutrino was found during the search for the Askaryan effect – radiation that occurs when particles at light speeds pass through the Earth's substance. However, scientists also did not exclude that this event is associated with background radiation.
Physicists tested the hypothesis that all recorded neutrinos were of cosmic origin and originated in natural accelerators (for example, blazars). In this case, a secondary stream of low-energy neutrinos should have arisen, to which IceCube detectors with certain characteristics are sensitive. The data collected by the under-ice neutrino observatory over seven years were analyzed, but no signs of such a flow were found.
High-energy neutrinos were first detected by IceCube detectors in 2013. It is believed that part of these particles is born from the interaction of cosmic rays and matter (or radiation fields) in the vicinity of natural cosmic accelerators. Another type of high-energy neutrino occurs when cosmic rays interact with the cosmic microwave background. These particles pass through the Earth from all directions in a uniform flow.
According to scientists, the origin of the recorded neutrino candidates cannot be explained within the Standard Model. In the case of a uniform flow, ANITA was supposed to record similar events from different viewing angles. No possible neutrino source was also found in the direction for the neutrino candidate resulting from the proposed Askarian effect. However, these anomalies can be explained by new physics, which suggests the presence of axionic and heavy dark matter, sterile neutrinos, and supersymmetries.
Video: Researchers in the US created the first live robots
Researchers in the US have announced that they have created tiny living machines, a kind of biological robot that can be programmed to perform various tasks, from transporting medicines into the body to cleaning up toxic waste in the environment.
Artificial biological organisms (called xenobots) were created from living cells obtained from frog embryos, designed on a supercomputer, and then assembled into completely new millimeters of life. They can move on their own to a goal and self-heal after a cut.
The researchers, led by robotics professor Joshua Bogard of the Department of Computer Science at the University of Vermont, published this in the journal of the US National Academy of Sciences (PNAS). "These are innovative living machines. They are neither traditional robots nor any known species of animal. It is a new category of creation: a living programmable organization, "said Bongard.
"We can imagine various useful applications of these living robots, which other machines cannot do, such as dispatching in radioactive contaminated environments, collecting ocean-going microplastics, or cleaning the interior of arteries from the atherosclerotic plaque ," Mike Levin said, director of the Center for Renaissance and Developmental Biology at Tufts University, according to the Athens News Agency.
Some artificial organisms have been created in recent years, but now, for the first time, according to researchers, "completely biological machines have been designed from scratch." A special evolutionary artificial intelligence algorithm has helped to create and test thousands of candidate designs for new forms of life, until the best possible one is found. A supercomputer – led by the algorithm – has assembled again and again several hundred simulated cells, creating various test shapes and body shapes.
After the creation plan was finally selected, embryos from the embryos of the African frogs Xenopus laevis (hence the name xenobot) were used as raw material, which were microscopically assembled on the basis of the proposed computer design. Thus were created forms of life that do not exist in nature and are capable of moving on their own.
Just as some animals in nature can regenerate their cut parts, so too can the xenobot restore its integrity. "We cut the biological robot almost in the middle, but it reattached its two parts and kept moving. This is something that typical engines cannot do, "Bogard said.
"From a cellular and genetic point of view, xenobots are frogs. Their DNA is 100% derived from frogs, although they are not frogs. So one wonders what else these cells can make, "Levin said.
The groundbreaking research is funded through the Lifelong Learning Engines program by the now-existing US Pentagon's Advanced Defense Research Programs Service (DARPA), which is apparently also monitoring military applications.